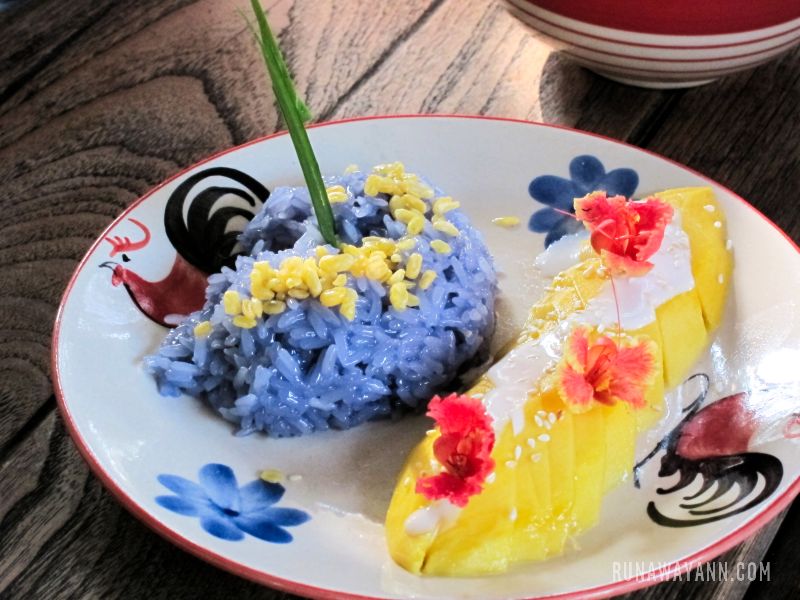 The Best Cooking Classes In Chiang Mai – Check Out Where To Learn How To Cook In Thailand
One of the main attractions of Chiang Mai is undoubtedly participation in cooking classes organized by local residents. Since Thai cuisine seduced us from the very beginning with its simplicity and richness of aromas, we decided to sign up for a cooking classes on a Thai farm, so that after returning to Poland we could continue to enjoy the taste of our favorite dishes. What is the best cooking school in Chiang Mai? How to prepare Thai yellow curry or mango sticky rice? You will find out in this post.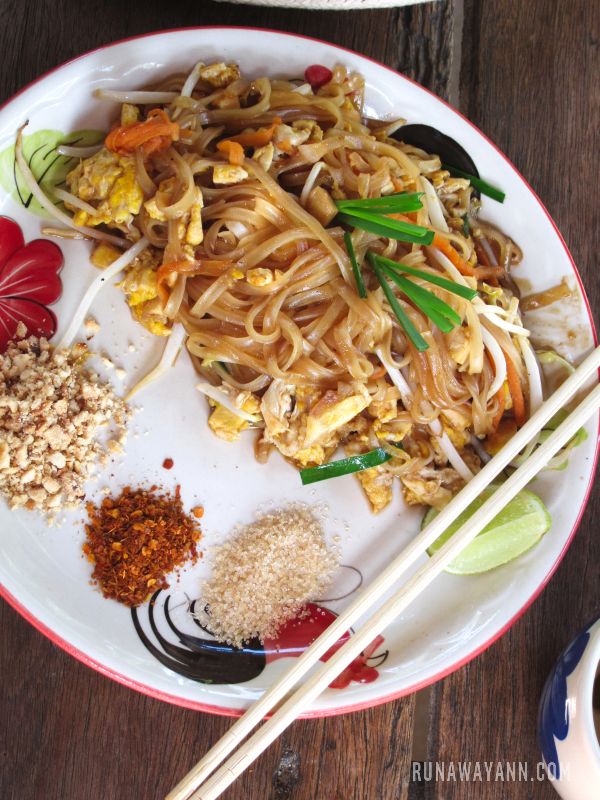 What cooking classes to choose in Chiang Mai?
We decided to take a cooking course at the Thai Farm Cooking School. At the time of writing this post, this place was number one on Trip Advisor's list of recommended schools. And we're not surprised at all. In addition to exploring the secrets of traditional Thai cooking, we have the opportunity to visit a local organic farm, learn more about the cultivated plants and collect the ingredients needed to prepare our dishes.
The one-day cooking course at Thai Farm Cooking School costs 1500 bahts per person. The price includes refreshing drinks (water, lemon grass tea), papaya salad, jasmine rice, six dishes that we ourselves choose and learn to cook and a cookbook. Below we present what our day on a Thai farm looked like.
A visit to the Ruamchook market
As our hotel is located in the center of Chiang Mai, around 8.30-9.00 a special bus arrived to pick us up. On the way to the farm we stopped at the local Ruamchook market, where our teacher Yummy explained to us how important in Thai cuisine is rice, how to get fresh coconut milk and how to properly select spices for each dish. After a short introduction, we had a moment to walk between the stalls, take a few pictures and see what the local vendors are offering.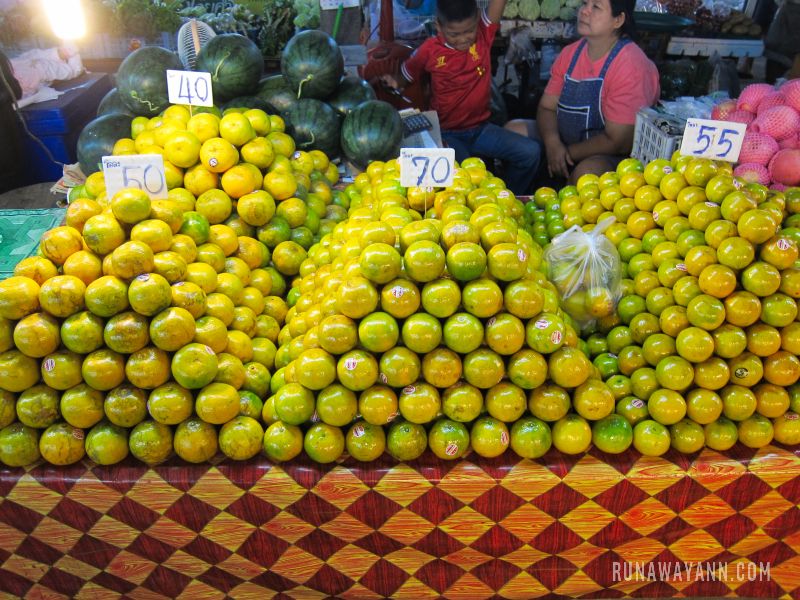 Walk around the organic farm
After visiting the local market, we boarded our bus and headed for an ecological farm, where we had our own cooking stations. But before we got to work, our guide gave us a refreshing tea and took us for a short walk around the farm. Scenic mountain views, silence and lush green make us feel like in the countryside. Yummy told us about organic plants at farm that are grown using traditional methods, without the use of chemicals. For the first time we had the opportunity to see how the lemon grass grows and how the papaya tree looks like. Everything was 100% organic, so we were sure that the ingredients we are going to use in our dishes are tastier and healthier.
Cooking time!
After picking the selected herbs straight from the plot, we started the proper cooking lesson. Lessons were held in the open air, on the terrace over an idyllic pond where we later ate meals. Our teacher showed us how to properly prepare jasmine rice and traditional sticky rice, then each participant had their own cooking station and started with preparation of curry paste (red, green or yellow) in the mortar which was the main ingredient of our first dish – chicken curry. Then after brief instructions each participant prepared a soup of their choice, stir-fry, noodle and dessert (six dishes, including curry paste).
We learned how to prepare / cook the following dishes:
red and yellow curry paste
Tom Yam soup with shrimps
Tom Kaa Gai soup with coconut milk and chicken
stir-fry chicken with cashew nuts
stir-fry chicken with holy basil
springrolls with Thai dip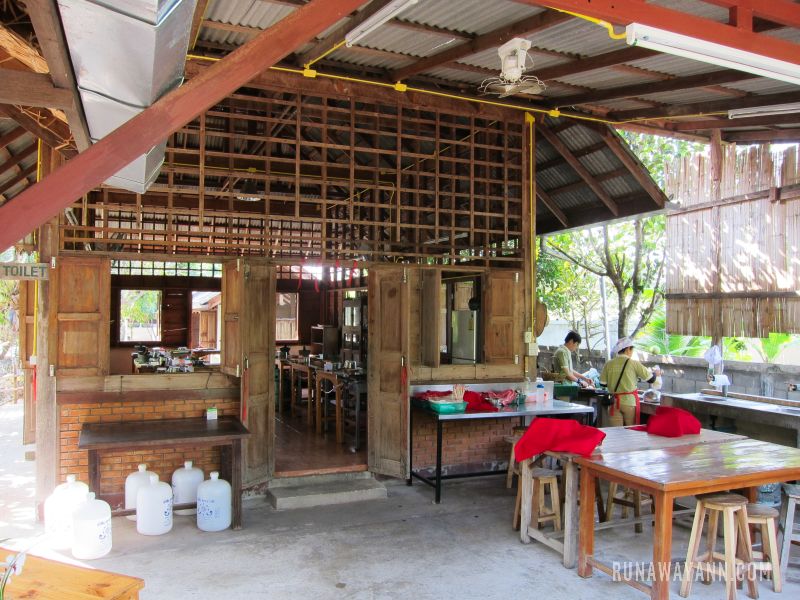 Recipe for coconut soup with chicken (Tom Kaa Gai)
Ingredients:
100 grams of sliced chicken
1/4 cup of chopped galangal
1 stem of lemon grass (cut into 2.5 cm pieces)
1/4 cup of sliced tomatoes
1/2 cup of sliced mushrooms
1-5 crashed bird eye's chilli peppers
1 stem of chopped onion chives
2 teaspoons of lime juice
1 tablespoon of fish or soy sauce
Preparation:
Prepare broth by pouring water into a saucepan and adding lemon grass, galangal, shallots, tomatoes and mushrooms. Heat to boil. Add coconut milk, chicken and bird eye's chilli peppers. Spice with fish sauce, sugar and salt. Mix well. Once the chicken is ready, add the coriander, kaffir leaf and onion. Finally add the lime juice. The whole should be creamy, salty and a bit sour.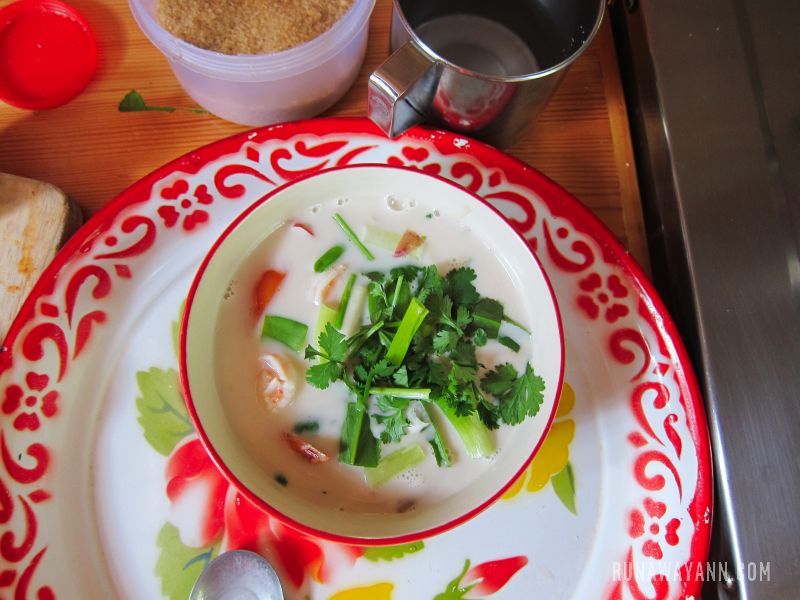 Recipe for chicken with Thai holy basil (Phad Kaprao Gai)
Ingredients:
100 grams of chopped or minced chicken
3 cloves of crushed garlic
1/3 cup of chopped long bean (or green bean root)
2-3 bird eye's chilli peppers
1 cup of holy basil leaves
1 tablespoon of fish sauce
1 tablespoon of oyster sauce
Preparation:
Pour oil into wok and heat on low heat. When the oil is hot, add garlic, onion, bird eye's chilli peppers and chicken. Stir to the characteristic odor and until the chicken is well fried. Then add long bean (or green bean sprouts), fish sauce, sugar and oyster sauce. Add a little water and mix thoroughly. Finally add the holy Tahi basil leaves and mix again. Serve with rice.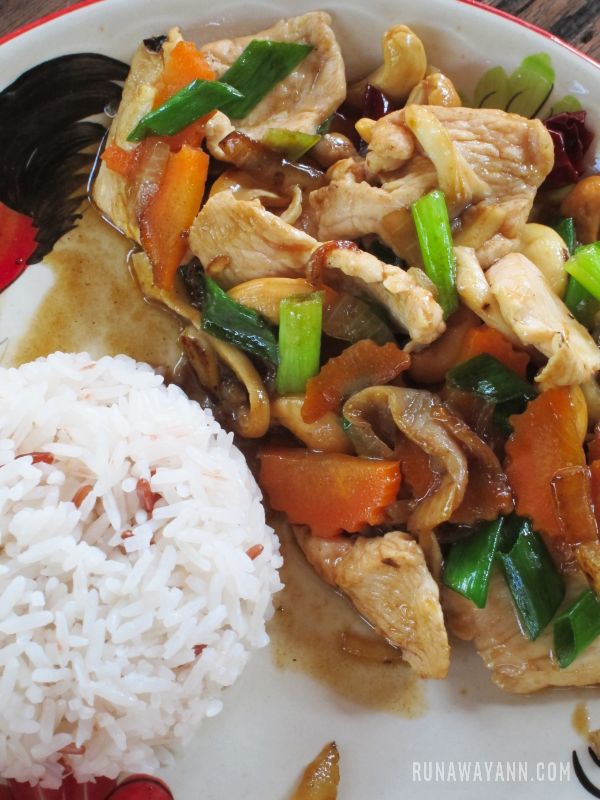 Recipe for yellow curry with chicken (Kaeng Ka Ri Gai)
Ingredients for curry paste:
1 red dried chilli pepper (soaked in water for 20 minutes and chopped)
2 red dried bird eye's chilli peppers
1 tablespoon of chopped shallots
1 teaspoon of sliced galangal
1 tablespoon of sliced lemon grass
2 cloves of crushed garlic
1/4 teaspoon of roasted cumin seeds
1/4 teaspoon of roasted coriander seeds
1 teaspoon of chopped turmeric
1 teaspoon of yellow curry powder
Other ingredients:
70 grams of sliced chicken
1 cup of chopped boiled potatoes
1 tablespoon of fish sauce or soy sauce
1 red chilli pepper (for garnish)
Preparation of curry paste:
Put all the ingredients into the mortar and carefully pound until the paste is smooth.
Preparation of curry:
Heat 5 teaspoons of coconut milk in a saucepan. Add 1 tablespoon of oil. Add curry paste and turn on medium heat. Stir and fry until fragrance is released. Add chicken and potatoes. Add the rest of the coconut milk and water. Turn on the big heat. Add sugar, fish sauce and salt. The whole stir. When everything is ready, add sweet basil and kaffir leaves. Season to taste and decorate with chopped red chilli peppers. Curry taste should be slightly salty, creamy and spicy.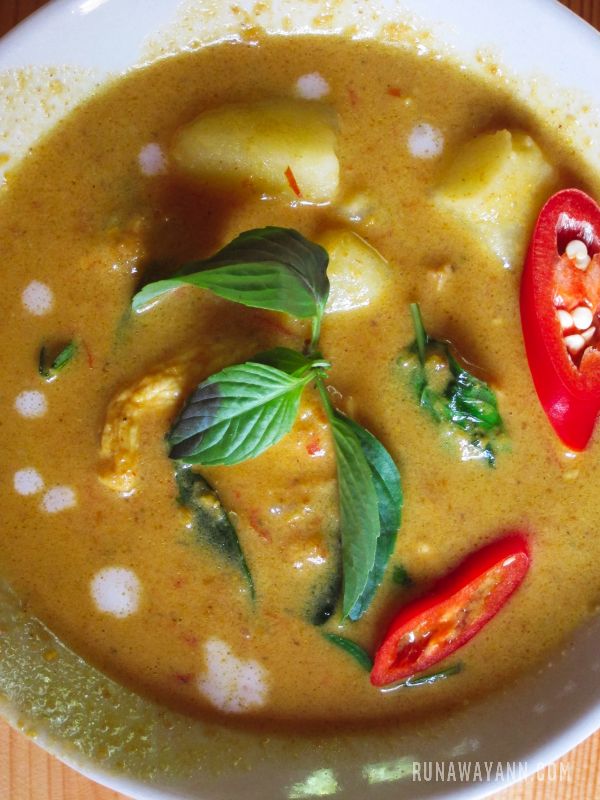 Recipe for mango sticky rice
Ingredients:
1 cup of steamed sticky rice*
1 ripe mango (peel and slice into pieces)
1-2 tablespoons of palm or brown sugar
1 tablespoon of roasted mung beans
1 pandan leaf (chopped 2.5 cm long)
* Before steaming, the sticky rice must be soaked for at least 4 hours (preferably overnight) in water. Then rinse it at least 2 times with fresh water and then place in the steamer and steam for about 30 minutes until soft. When it's ready, keep it under cover so it does not dry out and harden.
Preparation:
Add coconut milk and pandan leaf to the saucepan. Heat until boiling. Turn off the heat and take out the pandan leaf. Pour 2 tablespoons of coconut milk and set aside. Transfer the rest of the coconut milk to the bowl. Add palm sugar and salt. Mix well. Add the steamed sticky rice and mix again. Put on a plate, sprinkle with mung bean and top with 2 tablespoons of coconut milk. Serve with ripe mango.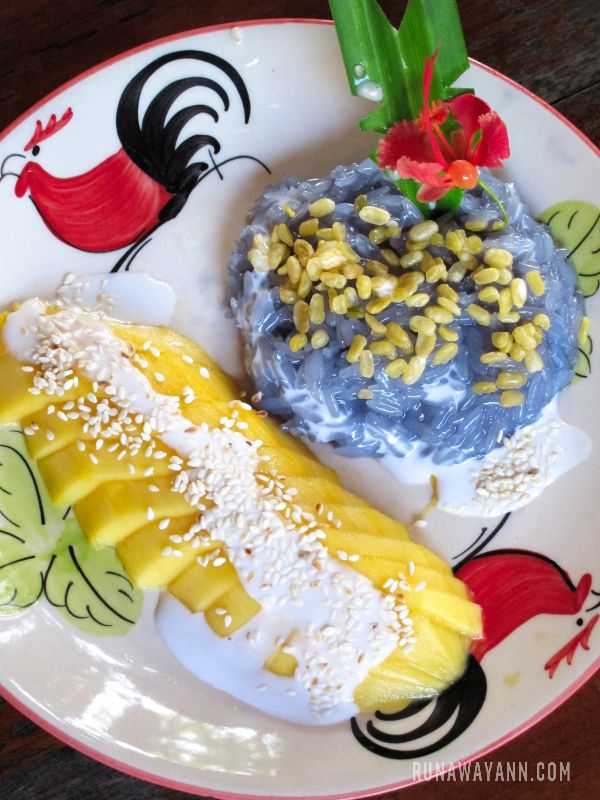 Food tasting
Undoubtedly, the nicest point of the day was the tasting of our dishes on the terrace in beautiful natural circumstances. Of course, everything was delicious, fresh, aromatic and extremely filling. We liked the stir-fry chicken with Thai holy basil and pad thai, which could easily compete with the one we had the chance to try at Thip Samai Restaurant in Bangkok. Apparently most people feel so fed up after dinner that some of the dishes they take with them to the hotel and eat for a dinner. We as usual ate everything 🙂 During the feast we also had the opportunity to get to know the other participants of the course who came to Chiang Mai from various corners of the world. We were surprised when one of the couples from Australia told us that they just came back from a trip through Poland and they was really delighted with the amount of our monuments 🙂
Is it worth taking a cooking class in Chiang Mai?
The day spent at cooking workshops at Thai Farm Cooking School was definitely a good one. With a clear conscience we can recommend this school to anyone who want to know the secrets of Thai food and to ordinary gourmets. During the course we were able to explore the secrets of making perfect curry paste, aromatic pad thai or instant stir-fry chicken which we can readily recreate in our kitchen in Poland. We have learned that the key to success in the kitchen is not just the ability to prepare the perfect dish, but also the joy of cooking and the common celebration of food. Thanks to our instructor Yummy we learned the difference between a tourist spicy and spicy 😉
Pin it for later!