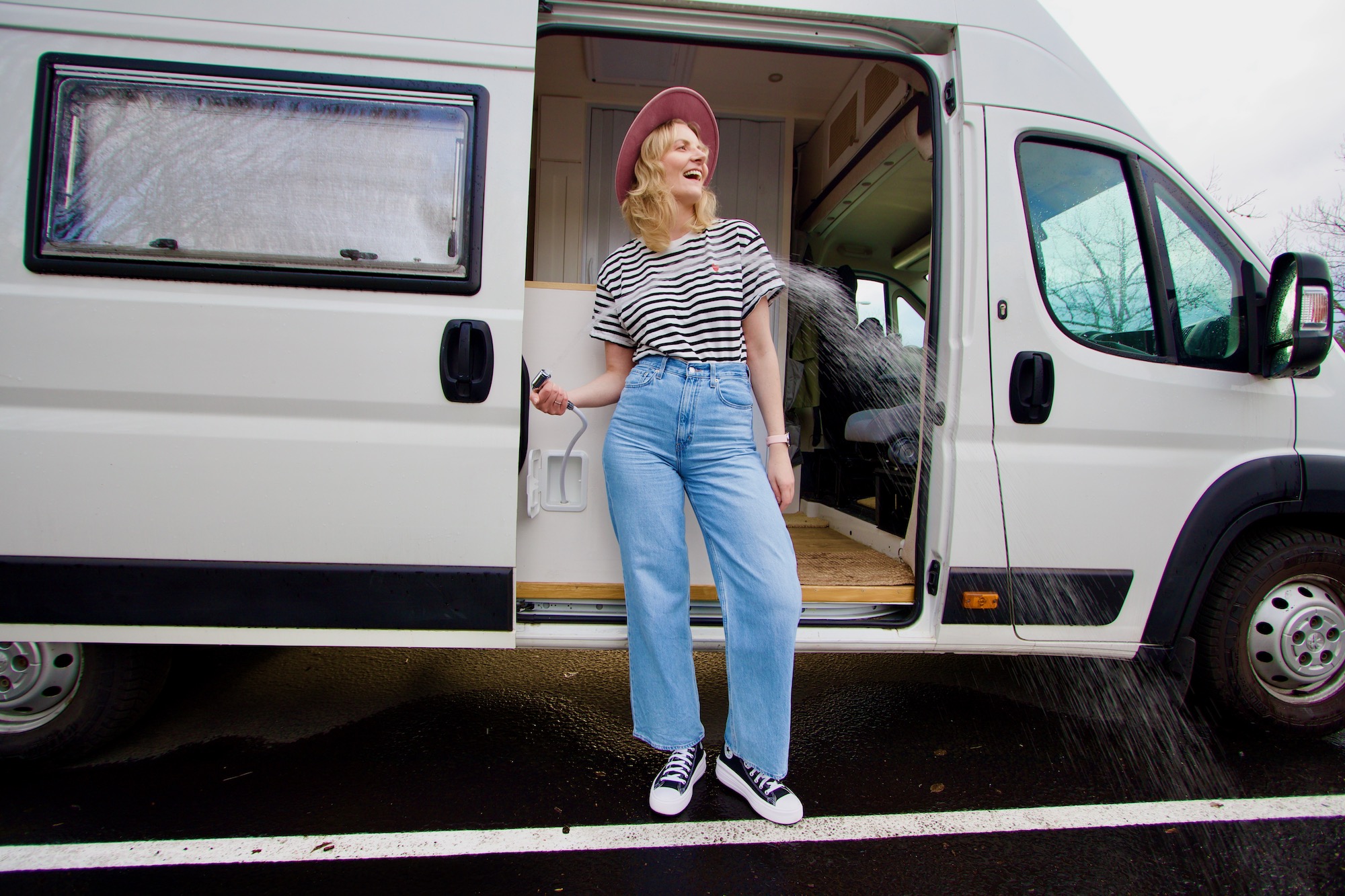 20 Genius Vanlife Hacks to Make Your Traveling Life Easier
Vanlife is a popular lifestyle trend attracting a growing number of individuals seeking freedom and adventure beyond traditional travel. A van trip offers an opportunity to explore stunning destinations worldwide in a comfortable and relaxed way. To make your vanlife experience even more comfortable and inspiring, consider implementing these 20 vanlife hacks for upgrading your motorhome. From easy hacks to more complex upgrades, I have personally tested each one and recommend them with confidence. With these straightforward tricks and modifications, your camper van experience will become even more fulfilling and motivating. So embark on your adventure and enjoy the full freedom and exploration opportunities that vanlife has to offer!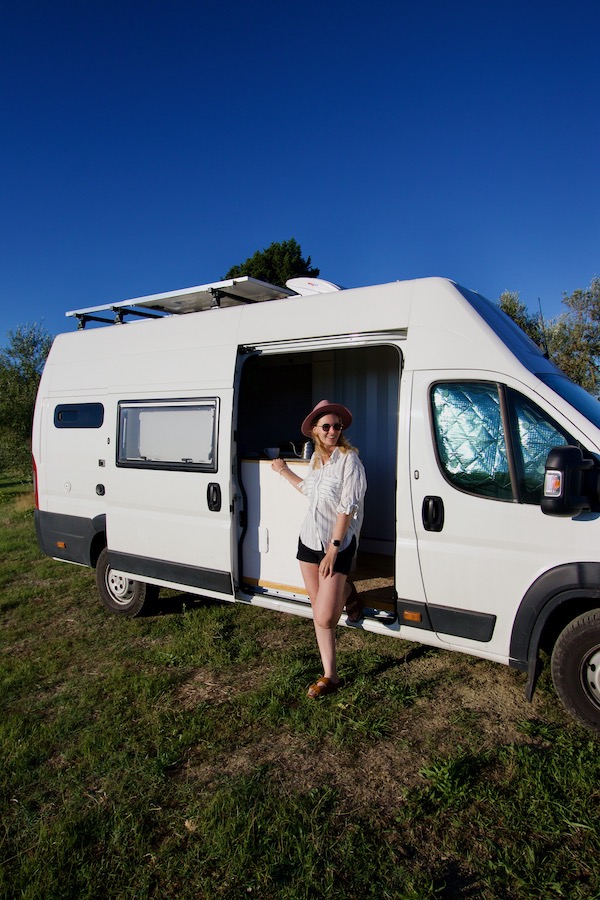 1. Rotating Passenger Seat: Functionality and Comfort in One Piece of Furniture | Vanlife Hacks
If you're looking for ways to improve the comfort and convenience of your van, consider adding a rotating seat. Not only does this solution make the most of the available space, but it also provides extra room for work or entertainment, which is especially beneficial for families on long trips.
With a rotating seat, communication inside the van is also easier, making it an excellent investment for families with children who need space to play and have fun. And the best part? Installing a passenger swivel seat is a simple DIY project that doesn't require specialized knowledge or tools.
Overall, a rotating seat is a smart investment that quickly pays off in terms of improved comfort, communication, and quality of life on the road. It's also a healthy option for your spine and ideal for remote workers. So why not invest in a swivel passenger seat to enjoy greater comfort and convenience during your travels?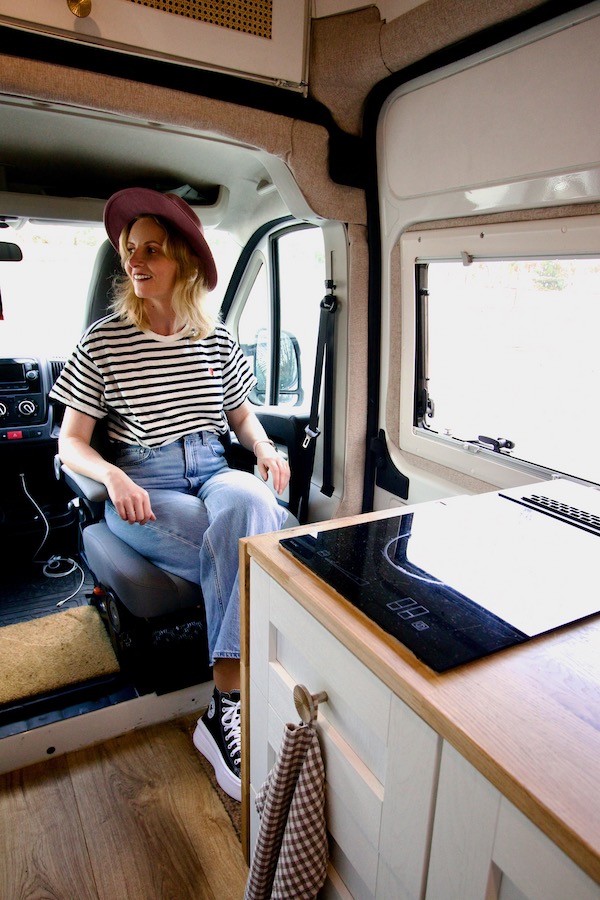 2. Composting Toilet – an Ecological Solution for Your Motorhome
Are you dreaming of traveling by camper to remote and wild places? Don't overlook issues related to comfort and hygiene. Investing in a composting toilet is an eco-friendly solution that guarantees a comfortable trip while also protecting the environment.
Composting toilets process waste without the use of harmful chemicals or water. With special biological processes, they eliminate unpleasant odors and increase travel comfort. Plus, they have practical advantages – requiring less frequent emptying than traditional toilets, which is particularly beneficial for long trips. And, they look great in a camper!
In summary, a composting toilet is an excellent investment for travelers who value comfort, aesthetics, and environmental responsibility. Enjoy a carefree and comfortable camper trip while contributing to the protection of our planet.
3. WiFi in a Motorhome – How to Ensure a Constant Internet Connection While Traveling? | Vanlife Hacks
Van travel is becoming increasingly popular, and staying connected to the internet is now a must. With technological advancements, a constant internet connection is now possible with WiFi connected to a 4G modem and local SIM card. The 4G network is more reliable than WiFi at campsites, making it easier to browse the internet, post on social media, work, navigate, and listen to music on the road.
Using the internet during a van trip can also be helpful in finding interesting places, making reservations, and checking road conditions. However, it's important to use the internet wisely to avoid excessive data consumption and any additional costs. Setting data limits or using the internet in moderation is a good way to manage this.
If you're planning a van trip, make sure to equip yourself with WiFi connected to a 4G modem and local SIM card to stay connected. Using the internet in moderation will not only save you money but also help you make the most of your travel experience.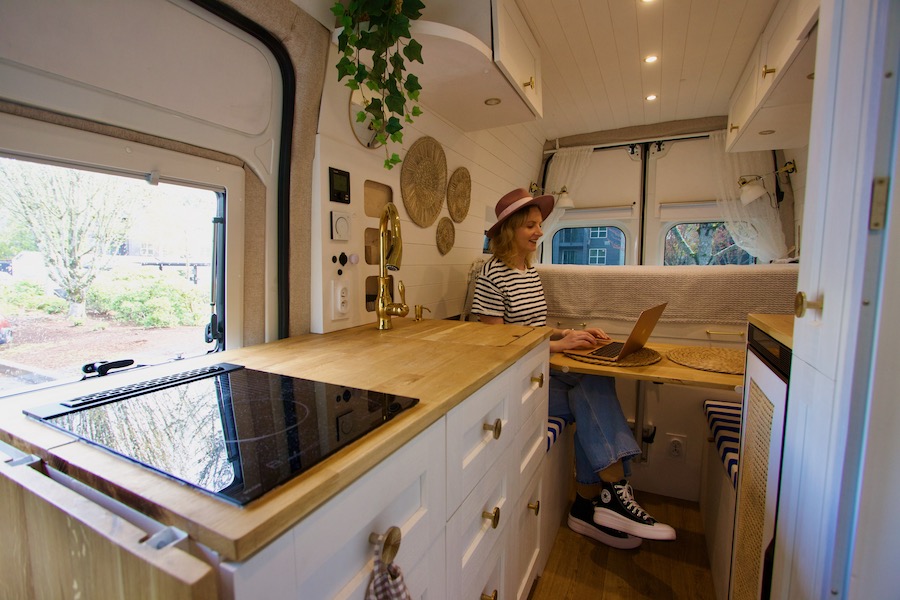 4. Foam Protector – a Simple Way to Avoid Damage When Traveling in a Motorhome
When traveling by camper, it's important to be prepared and take precautions. One common issue is the risk of glasses, cups, and plates breaking or getting damaged during transit. To prevent this, investing in a foam protector is highly recommended.
This foam protector is easy to use and install, fitting perfectly into drawers and holding up to 8 plates and 6 cups, which is typically enough for a camper trip. By using this foam protector, you can avoid worrying about the condition of your kitchenware, as your favorite porcelain will arrive undamaged.
Investing in a foam protector is a cost-effective way to increase your travel comfort. It not only protects your items from damage but also makes storage and organization easier. This small but practical solution is a must-have for any motorhome trip.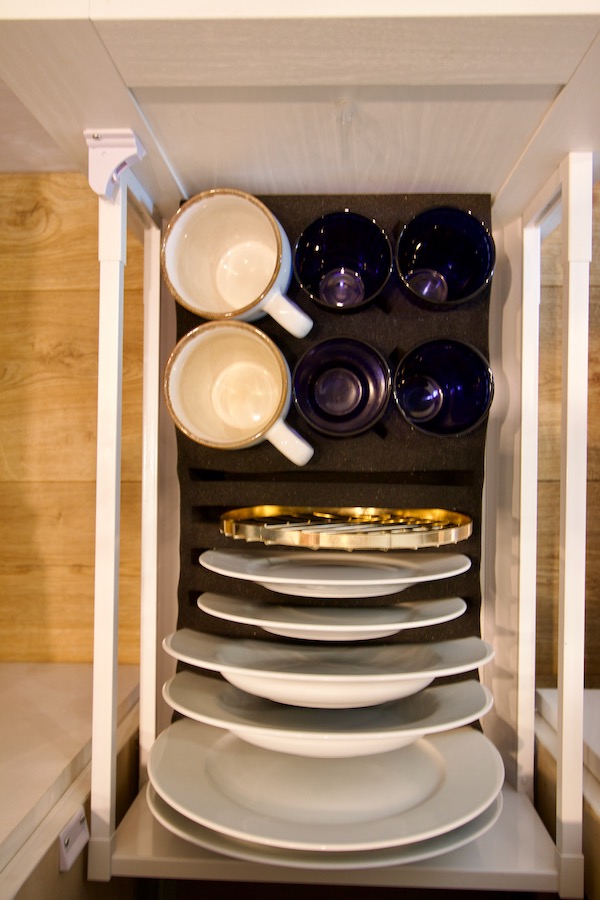 5. Outdoor Shower in a Motorhome – How to Ensure Comfort During Vanlife? | Vanlife Hacks
If you're planning a camper van trip, an outdoor shower is a must-have! Not only is it a convenient solution, but it also allows you to maintain cleanliness and order inside the vehicle. With an outdoor shower, you can easily get rid of dirt and sand that accumulates after a day spent on the beach or during a hike, which is perfect for active travelers.
An outdoor shower is also a comfortable solution, especially on hot summer days when the temperature inside the vehicle can be very high. It allows for pleasant cooling and refreshing, which enables you to relax and unwind in the midst of nature. And because it's very portable and takes up very little space, you can easily store it in a kitchen cabinet, which saves valuable space in your camper.
In addition, an outdoor shower provides greater freedom of movement, as there is no need to restrict yourself to any room. This makes it a great choice for travelers who like to explore and enjoy the great outdoors.
Overall, an outdoor shower in a camper van is a practical, comfortable, hygienic, and environmentally friendly solution. So if you want to enjoy a comfortable and hassle-free trip, be sure to equip yourself with an outdoor shower and make the most of your camping experience!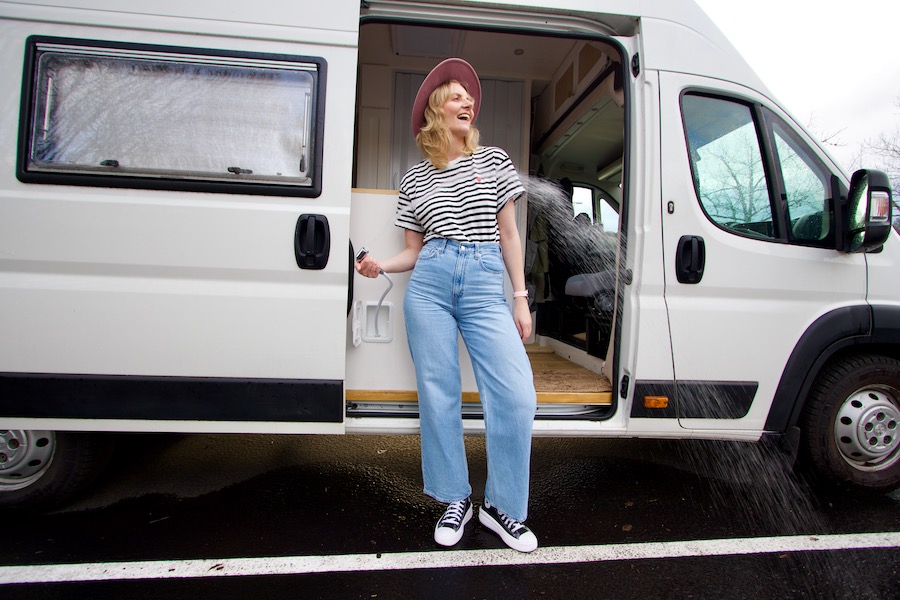 6. Self-adhesive Tape – an Essential Tool for Every Vanlife Lover
Self-adhesive tape for campers is an affordable and practical way to keep your belongings organized and secure while on the road. With its easy-to-remove adhesive, you can safely store everyday items without the fear of damage or loss during your journey.
This versatile tape is perfect for securing items that may shift or tip over, such as cups, plates, and cutlery, as well as for organizing small tools and electronic devices. It's also great for decorating your camper van with items like photo frames, vases, and candle holders.
One of the biggest benefits of self-adhesive tape is its ability to be removed without leaving any residue or damage to surfaces. This allows you to reorganize your items as needed, giving you the flexibility to adapt to your changing needs.
With its compact size and low cost, self-adhesive tape is an essential addition to any camper's toolkit. Keep your belongings safe and secure while on the road with this easy-to-use and versatile tape.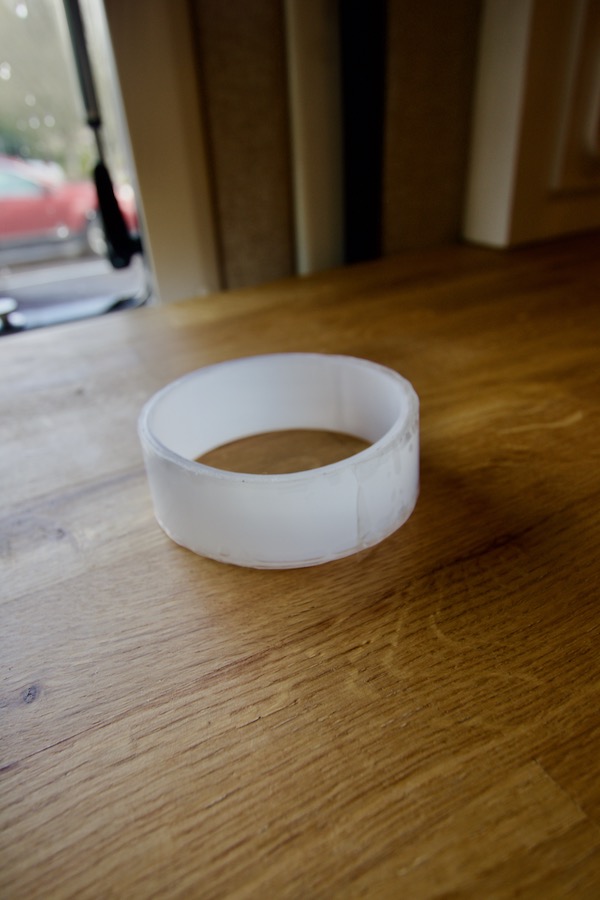 7. Storage Above the Cabin – a Practical Solution for Use in a Motorhome | Vanlife Hacks
If you're looking to optimize the limited space in your camper van, the storage compartment above the cab is a must-have. Not only is it perfect for storing larger items like bedding and towels, but it also offers a valuable opportunity to maximize the use of your available space.
In a camper van, storage is at a premium, so making the most of every inch is crucial. The storage compartment above the cab is easily accessible, so you can quickly and conveniently access any essential items without having to dig through your cabinets.
Plus, the higher your van is, the larger the storage compartment above the cab, which means more space for your belongings. If you're planning to live in a van, it's worth considering investing in a taller vehicle to ensure you have ample storage space and greater freedom and comfort during your travels.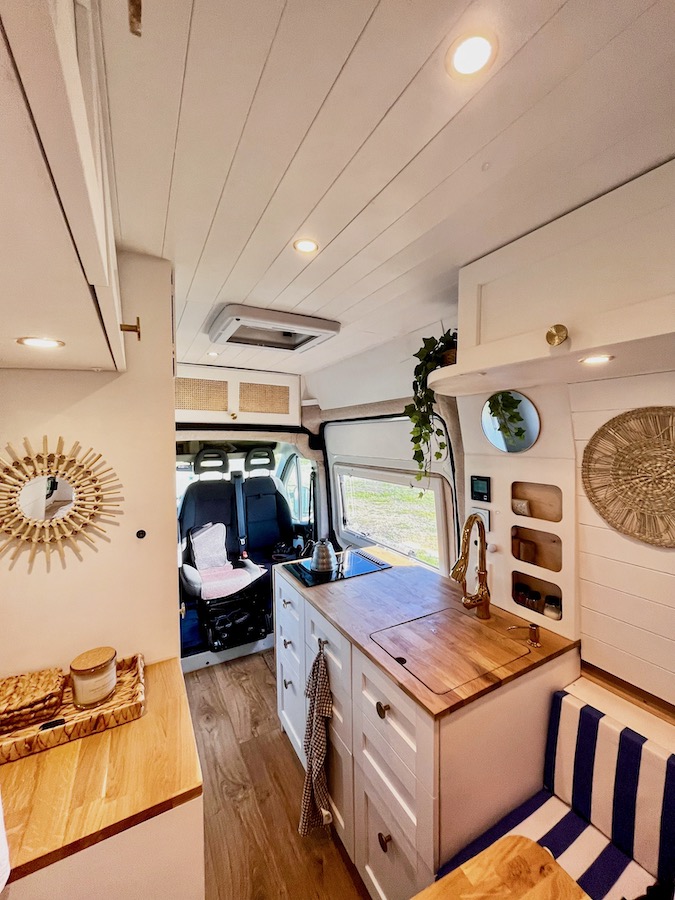 8. Pull-out bed in a Camper Van – How to Make the Most of Space in a Camper Van?
If you're a vanlife enthusiast, you might want to consider a pull-out bed for your camper van. This practical and ergonomic solution allows you to sleep comfortably while utilizing space during the day. It's especially great for taller people who often experience back pain with regular cross-beds.
But don't worry, the pull-out bed isn't just for tall folks. Anyone who values convenience and comfort during sleep will appreciate its easy unfolding and folding, making it perfect for transforming the space into a play area for kids.
What's more, you can easily mount a pull-out bed on the factory van structure, saving weight and installation time. Although it may require some effort, the benefits are worth it.
So if you're looking for a comfortable and space-saving solution for your camper van, a pull-out bed is definitely worth considering. Enjoy full comfort during your van travels, no matter where you decide to spend the night.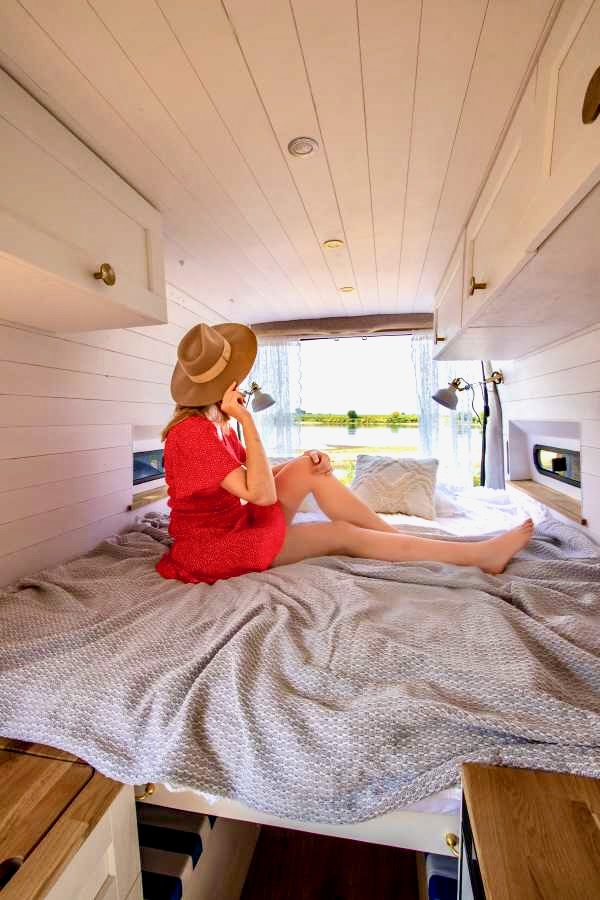 9. Foldable Kitchen Counter in a Motorhome – an Ideal Option for Cooks on Vacation | Vanlife Hacks
If you're someone who loves life on the road and wants to enhance the functionality and comfort of your camper van interior, a foldable kitchen counter is a great option. This counter allows you to optimize space usage, maintain kitchen order, and increase your workspace.
Installed near your motorhome's entrance and mounted in a kitchen cabinet, the counter is incredibly easy to use. Simply fold it away when it's not needed, and unfold it quickly when you need additional workspace. There are multiple mounting options available, making it easy to find the perfect system for your van.
The foldable kitchen counter is also versatile enough to double as a desk, which makes remote work possible in combination with a swiveling passenger seat. This feature takes your travel experience to the next level, making it even more comfortable and functional.
To sum it up, investing in a foldable kitchen counter is an excellent choice for those who prioritize practicality and organization. By utilizing this counter, you can make the most of your camper van's space while also enjoying additional workspace and functionality in your interior.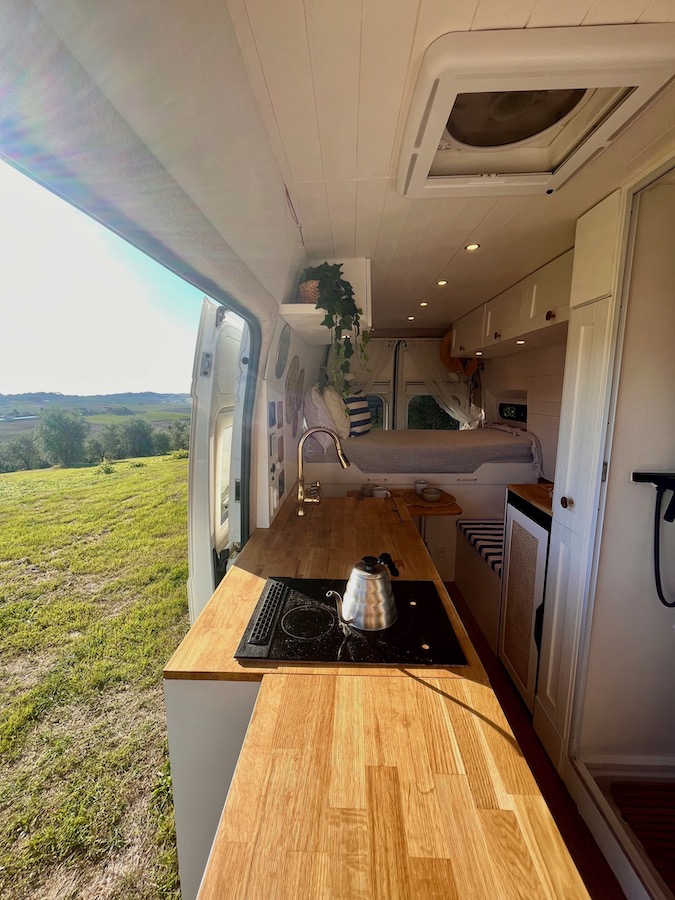 10. A Movable Table in a Motorhome – a Functional Solution for a Vanlife Fan
A movable table is one of the most practical pieces of equipment in a camper van. It allows you to adjust the space according to your current needs and make it easier to move around in a small area. The table can serve as a place to eat or work on your computer, and its mobility allows for flexible use of space.
One of the biggest advantages of such a table is its sturdiness and the ability to easily lock it, preventing it from moving during travel. In addition, the adjustable height of the table allows for customization to the needs of each user. The installation of a movable table is simple and does not require specialized tools, and its construction can hold up to 23 kg, making it an ideal solution for families and larger groups traveling in a motorhome.
A movable table is an extremely important element of the kitchen equipment in a camper van, allowing for flexible and functional use of space. Therefore, if you want to enjoy maximum comfort while traveling in a camper van, a movable table is definitely a must-have item that should not be missing from your equipment.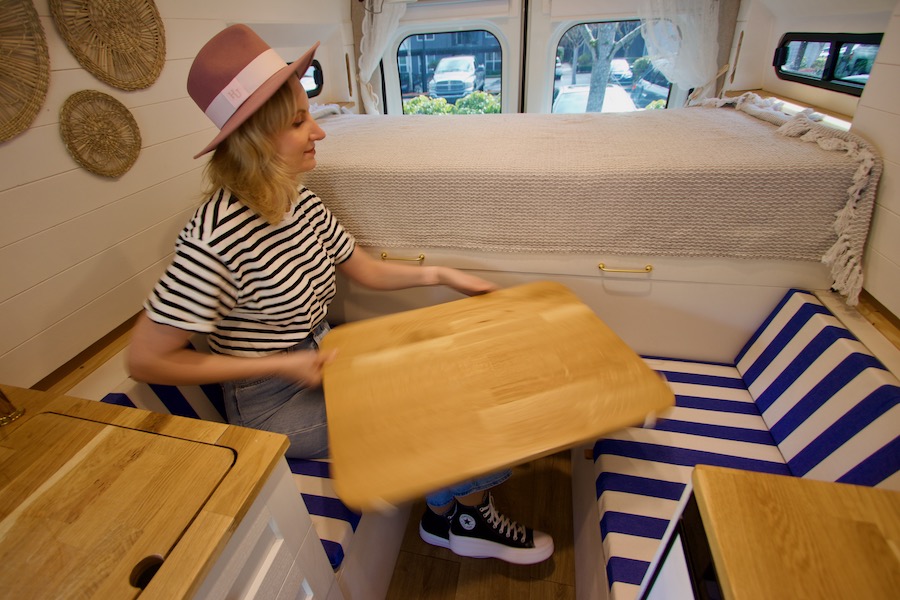 11. Additional Locks in a Motorhome – How to Increase Security When Traveling with a Motorhome? | Vanlife Hacks
Traveling in a motorhome is a fantastic way to spend quality time with your loved ones while exploring new places and enjoying the freedom of the open road. However, safety should always be a top priority when driving. That's why I recommend applying a few simple tricks before hitting the road to help ensure a safe journey.
One of the most effective ways to enhance safety in your van is by installing additional locks on your camper doors. Factory locks on delivery vehicles are not always reliable, and adding extra locks to the van's metal structure can make it much harder for potential thieves to break in. By installing these locks on every door, you can significantly reduce the risk of burglary and travel with peace of mind.
To summarize, road safety is a critical consideration when traveling in a camper van. By taking a few simple precautions, such as installing additional locks on your camper van doors, you can help ensure a safe and enjoyable trip for you and your companions.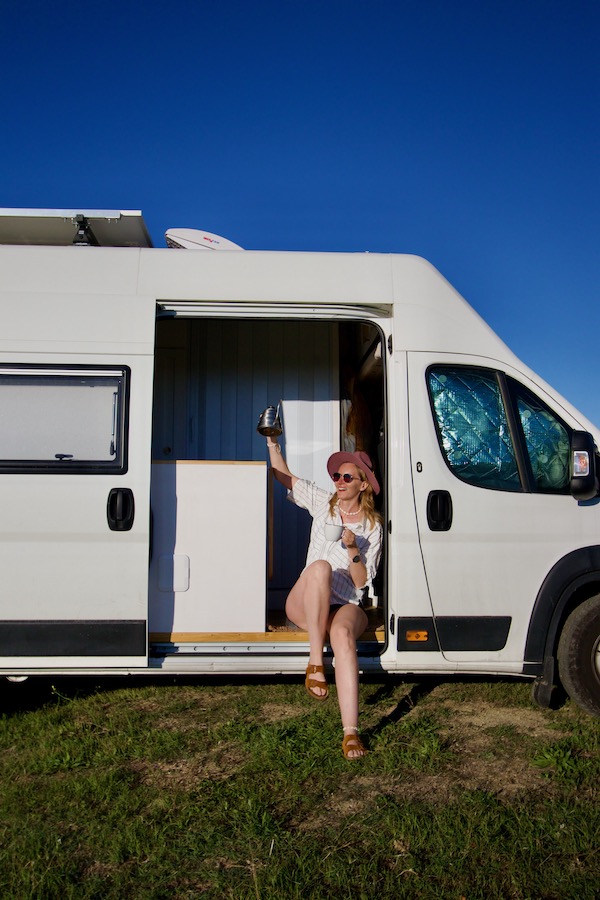 12. Foldable Dish Dryer – a Practical Addition in the Kitchen of the Motorhome
When traveling in a motorhome, basic household appliances like a dishwasher are often not available. Consequently, hand washing dishes is necessary, and having a dish dryer on hand is crucial.
To optimize space, it's best to choose a foldable dish dryer that is both lightweight and practical. This dryer is perfect for camper travelers since it's easy to store while driving and won't take up too much space. When folded, it will fit in any cupboard or drawer, making it an ideal space-saving solution.
Notably, a foldable dish dryer is low-maintenance and simple to unfold when necessary, especially for those who cook frequently in their motorhome.
A foldable dish dryer is a must-have item for anyone traveling in a camper van. It is a practical and easy-to-maintain solution that allows for space optimization in the camper van. Undoubtedly, it greatly facilitates daily life during camper travels and is one of the best ways to maintain cleanliness and order in a small space.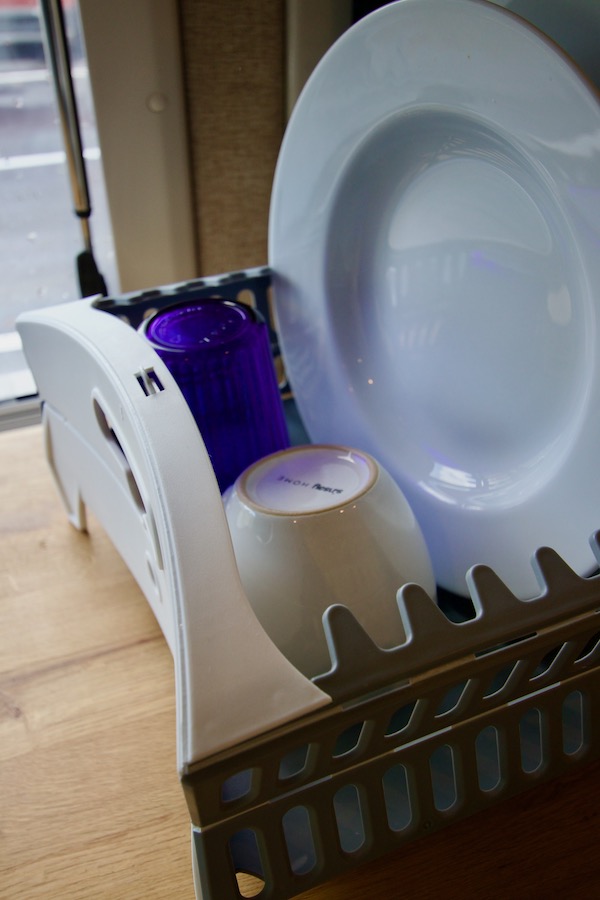 13. Magnetic Drawer Locks – How to Prevent Drawers from Sliding Out while Driving a Motorhome? | Vanlife Hacks
Magnetic safety locks are an essential addition to any motorhome. They solve the issue of drawers and cabinets opening while driving, without the need for drilling holes or specialized installation. The self-adhesive tape allows for easy and effortless installation and removal.
Magnetic safety locks come with a convenient magnetic key that can be attached to furniture and kept within reach. Locking drawers during transit is as simple as placing the lock in position, and unlocking them requires only the magnetic key. Additionally, the lock can be easily disabled during stops, allowing drawers to be opened without the key.
Not only are magnetic safety locks functional, but they are also aesthetically pleasing, as they are concealed within cabinets, preserving the camper's tidy and organized appearance. This is particularly crucial for individuals who value their van's aesthetics and want to maintain a clean look.
Investing in magnetic safety locks not only provides a secure and worry-free journey but also ensures that your belongings remain safe and secure. The cost is minimal and will undoubtedly pay off in the long run, allowing you to enjoy your travels without any unnecessary issues.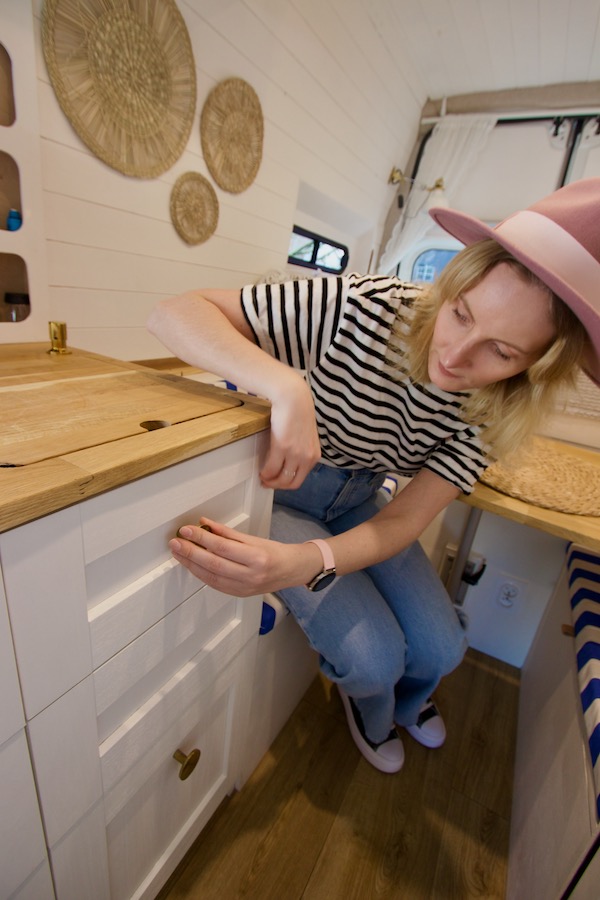 14. Cutting Board on the Sink in a Camper Van – an Irreplaceable Helper in the Kitchen During Vanlife
If you're looking for a practical and stylish way to increase your workspace in a camper kitchen, a wooden cutting board on the sink is a great option. The wood material gives the kitchen a warm and cozy atmosphere, and the board is easy to clean and won't damage your knives, which is essential when cooking in a small space.
One of the most significant benefits of using a cutting board on the sink is its practicality. It can be easily moved around to suit your needs, and once you're finished with it, you can put it back on the sink and free up your workspace.
In addition, the sink board can serve multiple purposes, such as draining vegetables or fruits and providing a stable surface for hot pots or pans. When you need to use the sink, you can quickly remove the board and use the space for other tasks.
Overall, a wooden cutting board on the sink is an excellent addition to any motorhome kitchen, providing both practicality and style while giving the interior a cozy and charming feel.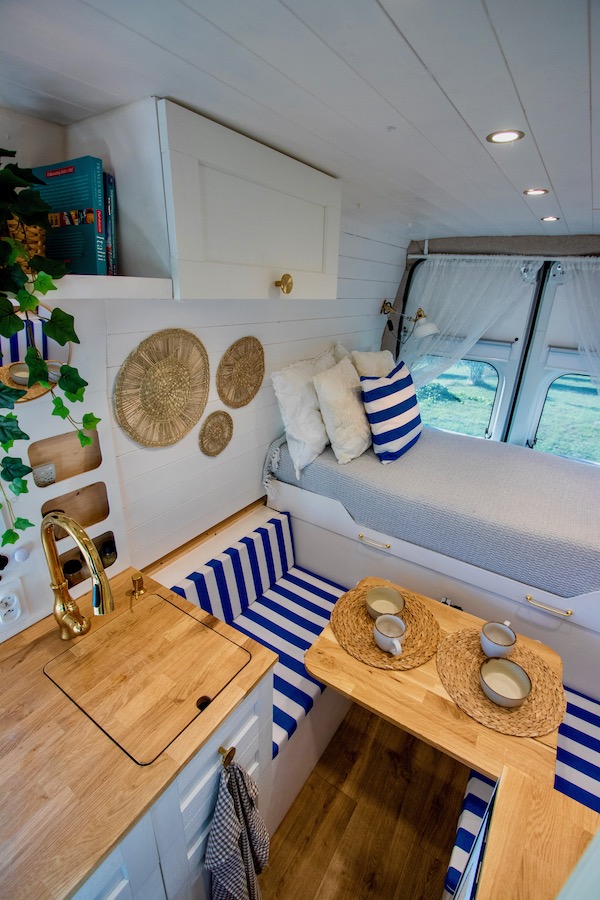 15. Flameless Gas Stove – a Safe Solution for Cooking in a Motorhome
When traveling in a camper van, having a comfortable living space is crucial. However, it's equally important to use equipment safely and efficiently. Investing in a flameless gas stove is an excellent way to achieve both. Not only does it offer convenient cooking, but it also enhances the safety of the camper, particularly when traveling with children or pets.
Additionally, a flameless gas stove saves gas. Because the plate operates cyclically and stops gas intake when the surface is adequately heated, it consumes 30-50% less gas than traditional camper stoves. This feature is especially useful when traveling to locations where gas is scarce.
Moreover, a flameless gas stove is modern and aesthetically pleasing. This feature is essential for individuals who value the interior design of their camper van.
In summary, a flameless gas stove is an ideal solution for a safe, gas-efficient, and convenient camper van experience. Consider investing in one during the camper van construction phase to ensure that your journey is both safe and comfortable.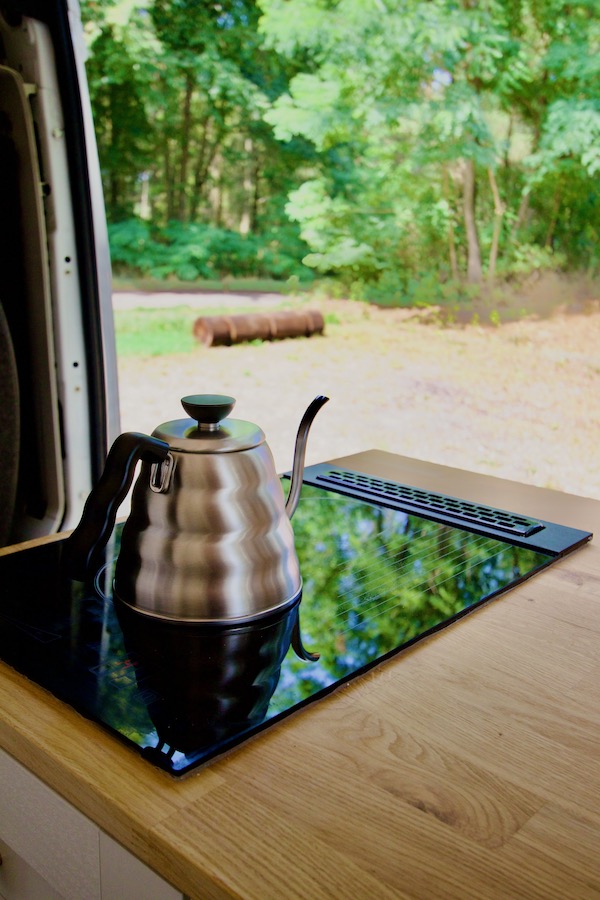 16. Water Canister – an Essential Element of Motorhome Equipment During Vanlife
Are you planning a camper trip? Don't underestimate the importance of a water container! While a hose may not always be an option, having a water container on hand is essential. It's a versatile piece of equipment that can prove invaluable in many situations.
When you're unable to connect to a tap or the tap is too far away, a water container is particularly useful. With it, you'll have access to water no matter where you are. And in winter, when some taps are inaccessible, you can fill up at home and carry it to the van.
Just remember to also bring a funnel for the container to make pouring easier and avoid any spills.
A water container is a must-have for any motorhome trip. So, make sure you equip yourself with this necessary gear for a comfortable and trouble-free journey. It's a small investment that can save you a lot of headaches.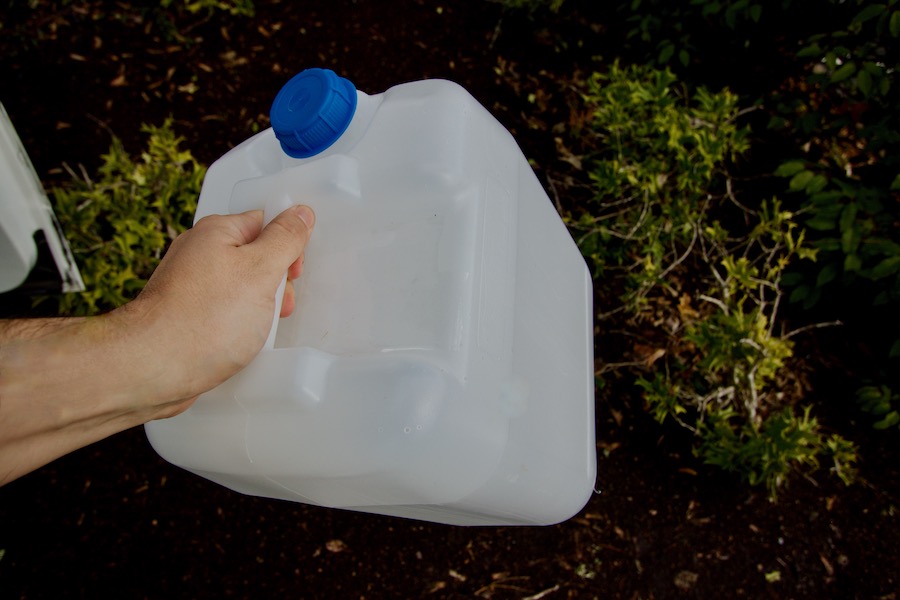 17. Kitchen Faucet with a Pull-out Spout – a Functional Tool for Using Water
A pull-out spout kitchen faucet is a must-have for any camper van kitchen. Not only does it save space, but it also provides valuable features that are essential during holiday trips. With the pull-out spout, you can control the water flow precisely and reach hard-to-access areas, making it ideal for washing dishes or cleaning up.
In addition, a kitchen faucet with a pull-out spout allows you to rinse vegetables and minimize water splashing, making it perfect for health-conscious individuals. Moreover, it simplifies the process of cleaning larger items like pots and pans, and some models offer multiple water streams, giving users greater flexibility to adjust the water flow to their needs.
If you mount a faucet with a pull-out spout near the camper van's door, it can also double as an outdoor shower, providing a convenient way to wash off sand and mud. All these features make the pull-out spout kitchen faucet an indispensable part of any motorhome kitchen. Without it, life in a camper van can be more challenging and less comfortable, so be sure to add it to your checklist before your next trip.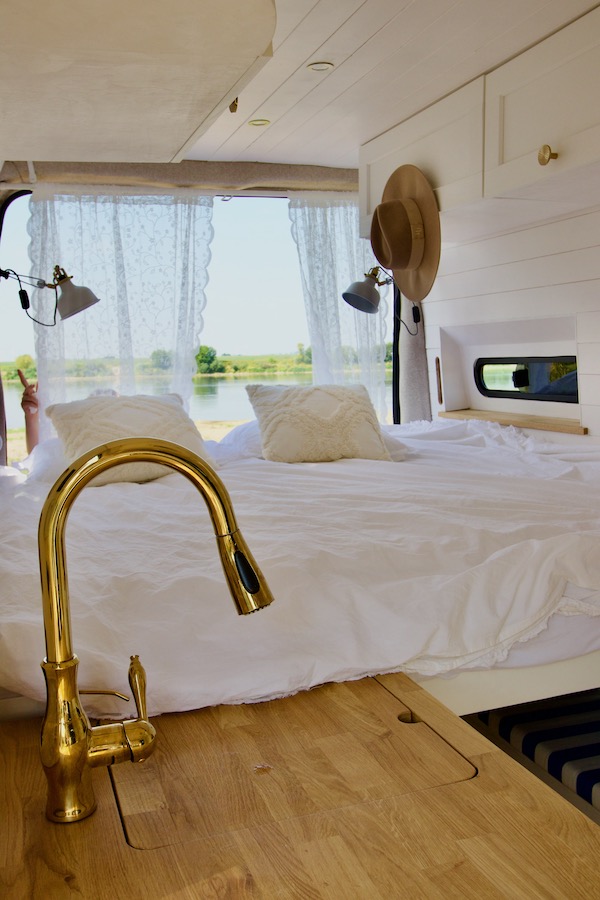 18. Shoe Organizer – a Functional Gadget for Storing Shoes in a Motorhome
Traveling in a camper van offers a peaceful escape from city life and allows you to slow down and appreciate the simple things. However, organizing shoes in a motorhome can be a challenge, especially when there is limited space due to the removal of partition walls.
Thankfully, a vertical shoe organizer is a practical and easy solution. This compact accessory can be easily mounted on the wall and provides each shoe with its own separate pocket, keeping things organized and tidy. Compared to traditional shoe cabinets, this organizer takes up minimal space, which is especially beneficial for small camper vans.
Hanging shoe organizers are readily available on the market, including at popular furniture store IKEA, and are priced affordably. These organizers are versatile and can hold various small items, making them an excellent space-saving solution.
In conclusion, a vertical shoe organizer is a must-have for travelers in campers who value organization and maximizing their living space. This convenient and effective solution ensures comfort and functionality without compromising the camper's livable space.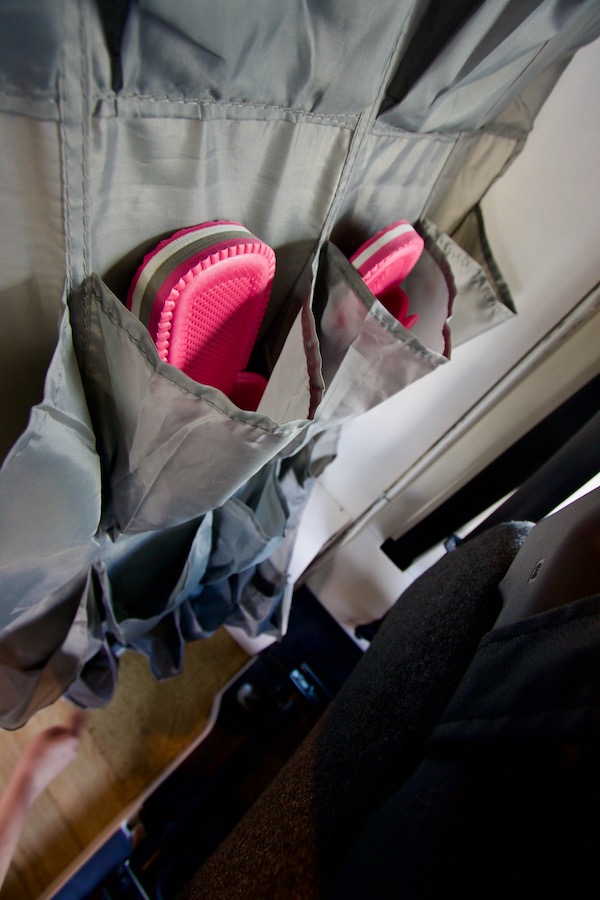 19. Thermal Covers for Motorhome Windows – Effective Protection Against Extreme Temperatures
As a passionate camper, you understand the importance of having a comfortable interior in your vehicle no matter the weather. That's why investing in thermal window covers for your camper van is a smart choice. These covers provide excellent thermal insulation and protect you from the sun's rays.
Thermal covers insulate your motorhome's interior from extreme temperatures, making sure you stay comfortable during your trip. They are easy to use and can be attached to your camper's windows quickly. Plus, they take up little space and can be stored easily when not in use.
Aside from providing thermal insulation, these covers also offer privacy, making them an essential piece of equipment for any camper enthusiast. Whether you're traveling in the summer or winter, investing in thermal covers will ensure your vehicle is functional and comfortable for years to come, allowing you to focus on your journey instead of worrying about the weather.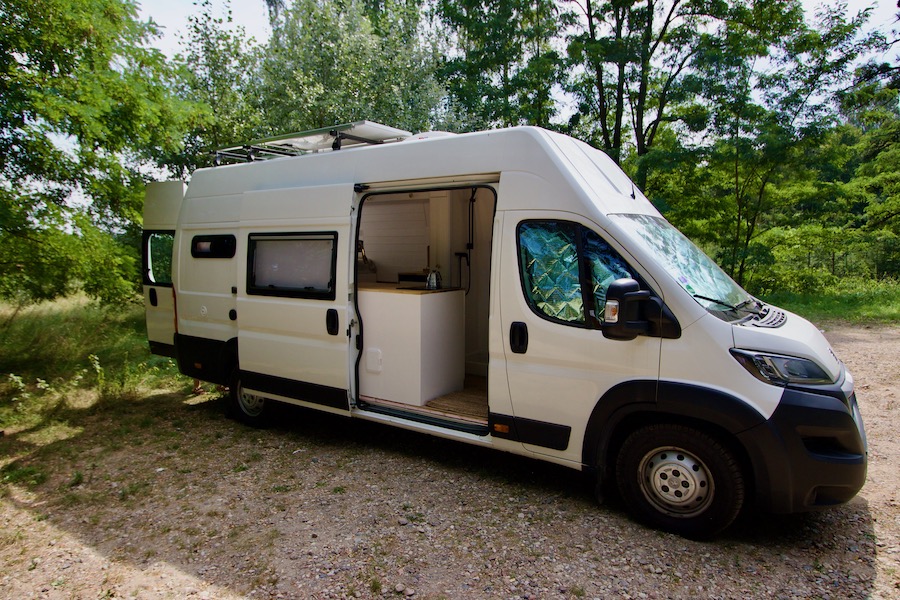 20. Cabinet Organizers – Practical Accessories for Campers and Vanlife Fans
If you're someone who loves traveling in a camper van, you know how important it is to stay organized in a small space. That's where cabinet organizers come in handy. They're incredibly practical and offer numerous benefits. Firstly, they allow for better use of cabinet space, which is especially crucial in small campers. This can reduce clutter and create more free space inside your motorhome.
Cabinet organizers also make it easy to sort items by category, so you can quickly find what you need. Whether it's cosmetics, food, clothing, or camping accessories, you can keep everything in its place in a clear and functional way.
Moreover, organizers keep things from falling over inside the cabinet, ensuring safety and preventing damage to your belongings. They're also simple to use and relatively affordable. In short, cabinet organizers are the perfect solution for anyone who values order and organization in their motorhome while also wanting to save space and money.
Pin it for later!
Summary
Traveling in a motorhome is an incredible adventure that can be even better and more inspiring if you take care of the appropriate comfort and convenience in your vehicle. That's why I shared with you my 20 simple ways to improve your camper and enjoy stress-free vacations on wheels.
From installing cabinet organizers to incorporating a movable table, there are many ways to optimize your motorhome's space and amenities.All the methods I presented have been tested and are not only practical but also effective. To improve your camper van travel, you don't need large financial investments or special skills. Just a bit of creativity and a few ideas can go a long way in making your journey more enjoyable.
I also encourage you to share your ways of comfortable motorhome travel and create an inspiring community of enthusiasts of this wonderful lifestyle. Together we can make changes that will make traveling in a camper van even more exciting and unforgettable! Don't hesitate to join the conversation and share your tips with me.