A Step-By-Step Guide On How To Build A Campervan – 12 Easy Steps To Your Dream Home On Wheels (+ Bonus!)
If you're looking to build your own campervan, you're not alone. Many people ask themselves how to build a campervan, and our step-by-step guide can help. We've created a comprehensive list of all the necessary stages to convert a van into a campervan, based on our own project and what we learned during the process. Our guide covers everything from designing your van to choosing the right base car and building each motorhome element. By following our guide, you'll learn how to design a van that suits your needs, choose the right car as a base, and start building each element of your dream campervan. So, whether you're a seasoned DIY-er or a beginner, our guide will help you build the campervan of your dreams. Start reading now and turn your van into a cozy home on wheels!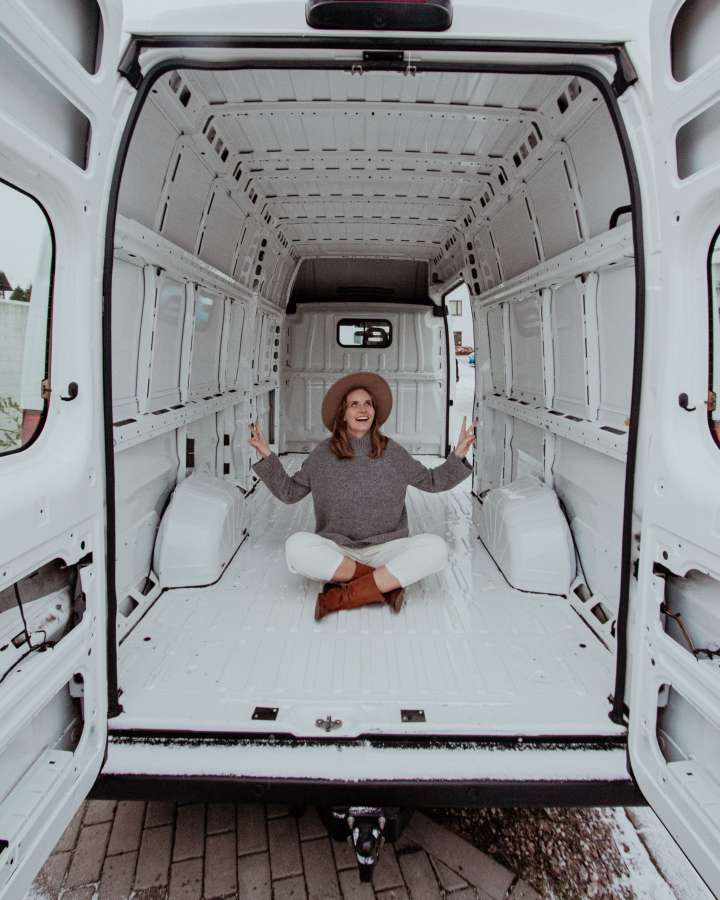 1. Building a Campervan: How to Get Started with Your Project
Project and layout selection are key stages in building a successful campervan. At the project stage, you'll spend time thinking over the general concept, drawing the design, and in many cases building a prototype. It's important to invest time in this stage as it will impact the rest of the construction process.
Layout Selection
When it comes to layout selection, it's crucial to understand the capacity limitations of a campervan. Not everything will fit into it, unless you're converting a bus. To choose the right layout, you need to decide what's a priority for you. The most important things to consider are:
Bed size and orientation: Determine how big of a bed you need and whether you want to sleep across or along the van. This will impact the overall layout of the campervan and should be decided early in the planning process.
Bathroom and shower: Consider whether you want a bathroom and shower in your campervan. While they offer convenience, they also take up a significant amount of space and can be difficult to build.
Number of passengers: Decide how many people will be traveling in the van and whether you need to add additional seats. This will impact the available space for other equipment and amenities.
Kitchen space: Plan for the amount of space you need to prepare meals. A kitchen cabinet with a sink and hob is typically installed next to the sliding door.
Seating and workspaces: Consider the need for comfortable seating and tables if you plan to work or spend a lot of time inside the van. Some arrangements use the work table as a dining table, and it's popular to rotate the front seats towards the interior and use them as seats in a recreational area.
Garage space: Think about the need for space in the garage to transport larger items such as sports equipment. This may impact the overall design of the van.
Weight limitations: Even if everything fits within the dimensions of the van, you must also consider the total weight of the vehicle. In Europe, the weight of motorhomes based on vans cannot exceed 3.5 tons, while in the USA, the limits are slightly higher.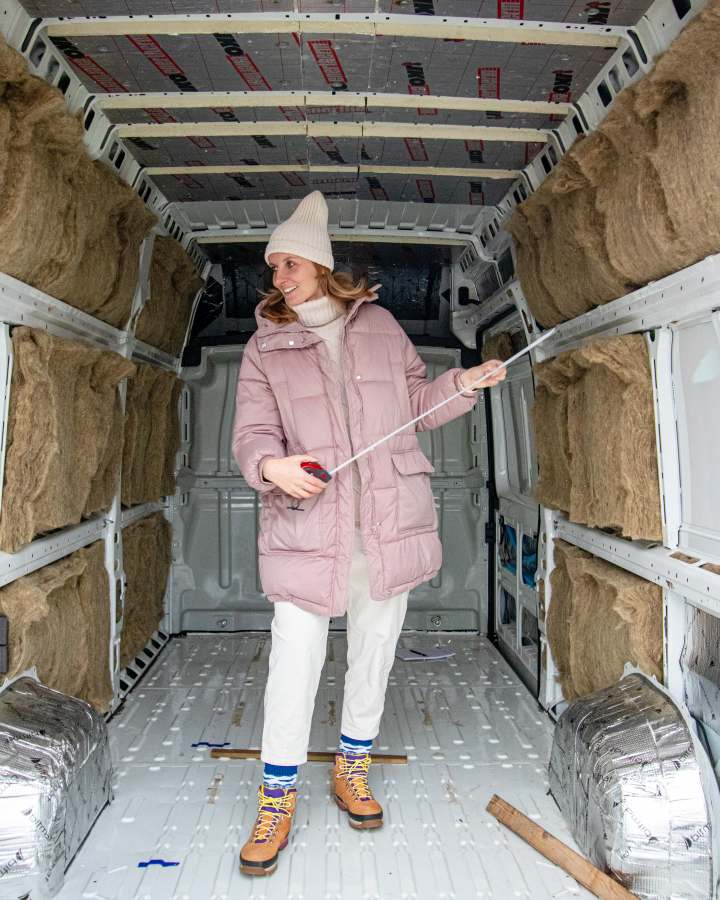 Our Campervan Layout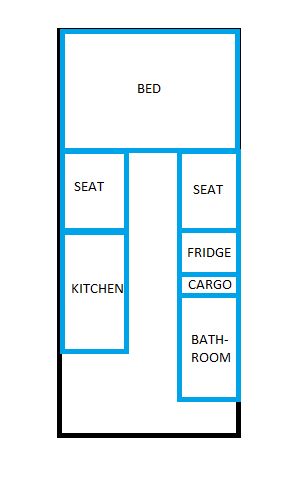 Our sliding bed is 180 cm x 200 cm and allows for comfortable sleeping along the van. While it required precision in construction, it's well worth the effort. Additionally, our bathroom with shower and toilet measures 100 cm x 60 cm, ensuring you can freshen up on the go. For cooking and dining, our 120 cm x 65 cm kitchen cabinet and 60 cm x 45 cm folding table combo provide ample space for meal prep and eating. And with 2 seats that are 80 cm wide and a movable table measuring 50 cm x 70 cm, you can comfortably work or relax while on the road. Finally, our van includes 2 driving places and a swivel passenger seat for added flexibility.
What tools to use to design a campervan?
Pinterest: This platform is perfect for collecting inspiration, ideas, and creating mood boards for your campervan project.
Sketchup: This free online design tool is great for designing furniture or even the entire van model. While it requires some practice, there are plenty of tutorials available on the internet, for example this one.
Pen and Paper: A simple pen and paper can be useful for sketching out simpler drawings, and writing down exact dimensions (which you'll need to measure several times!).
Cardboard, Plywood templates, etc: These materials are great for creating initial mock-ups of your campervan structure or when you need to make identical elements.
Excel or Google Spreadsheets: These tools are helpful for estimating the cost of building your campervan and keeping track of expenses along the way.
2. Choosing a Van: What is the Best Van to Convert to a Campervan?
Choosing a van affects all subsequent stages. Models from different manufacturers differ in many parameters, but the most important are the dimensions and engines. There are 3 groups to choose from on the market:
Choosing the right van is crucial in building your dream campervan. While there are various van models to choose from, the dimensions and engine are the most important factors to consider. Here are the top 3 groups of vans to choose from:
"Triplets" – Ducato, Boxer, Jumper (US: Ram Promaster)
When it comes to choosing the right van for a campervan conversion, the "Triplets" (Fiat Ducato, Peugeot Boxer, and Citroen Jumper) are the most popular and widely used models for many reasons. Firstly, the construction of the cars is based on the same platform and they have identical dimensions, making it easier to find accessories and parts that fit all of them. Secondly, they offer different engine options to choose from, depending on your needs. However, it's important to note that the Ram Promaster is the equivalent of the Ducato in the US market, but not all sizes are available.
Additionally, the wider box of the "Triplets" allows for a comfortable bed placement across the van. For taller people (over 195 cm tall), the highest version is the only option that can accommodate them comfortably. All of these factors make the "Triplets" the default choice for most campervan builders.
Ford Transit
Ford Transit is a versatile option, offering several base variants such as the jumbo model, 4×4 model, and more. This van is suitable if you prefer a bed alongside the van, want a 4×4 van, or prefer a newer model with an engine below 2.0 liters.
Mercedes Sprinter & Volkswagen Crafter
If you want to make a really big build, Mercedes Sprinter and Volkswagen Crafter are the perfect choices. They are long but narrower, giving you more space for customization.
Why did we choose Peugeot Boxer?
The spacious interior is ideal for tall people, and the 2.0L engine meets specific regulations to avoid high excise duties. Additionally, the Boxer boasts the largest selection of dedicated accessories, making it a top choice for any campervan builder.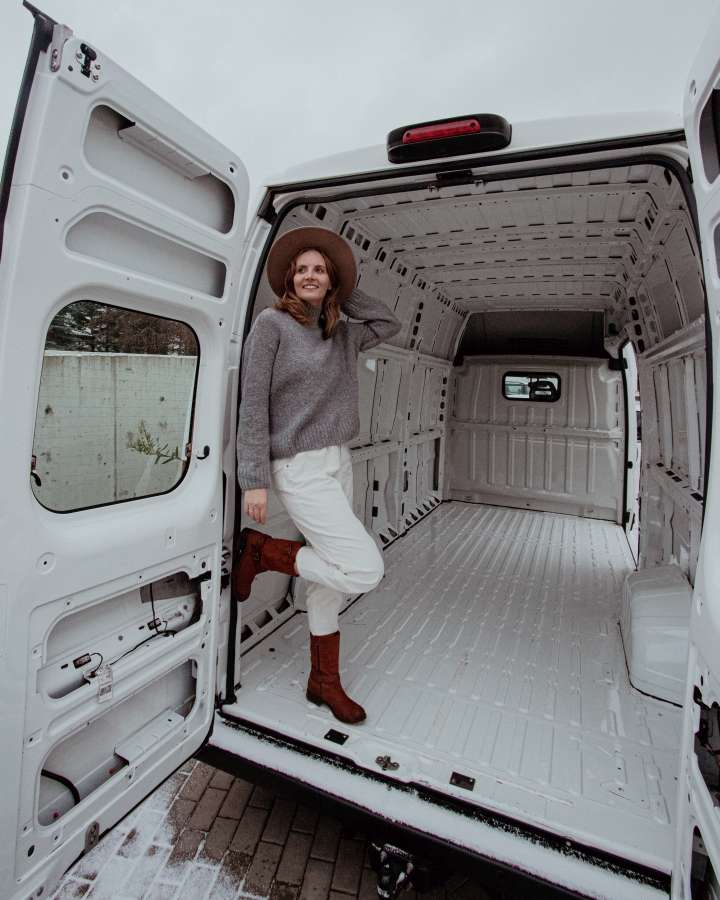 3. Transforming Cargo Space Into a Personalized Campervan: Tips and Tricks
Starting the conversion of a van into a campervan by cutting holes for windows is a great way to improve the livability of the cargo space. Popular choices include large windows on the sliding side door, roof windows, and roof fans like the MaxxAir MaxxFan. For our motorhome, we chose a motorhome side window, a MaxxAir MaxxFan fan, and two small windows (80 cm x 20 cm) at the back of the bed for ventilation.
To optimize your campervan for comfortable and self-sufficient living, it's important to consider additional features such as water inlet and external charging sockets. Installing a small vent in the bathroom and a 4g + WiFi antenna on the roof can also enhance your mobile living experience. Many modern campervans are equipped with solar panels to provide renewable energy. In this case, it's crucial to install a grommet to allow for cables between the panels and the solar charger. Don't forget to plan ahead and choose the right accessories to make your campervan feel like home.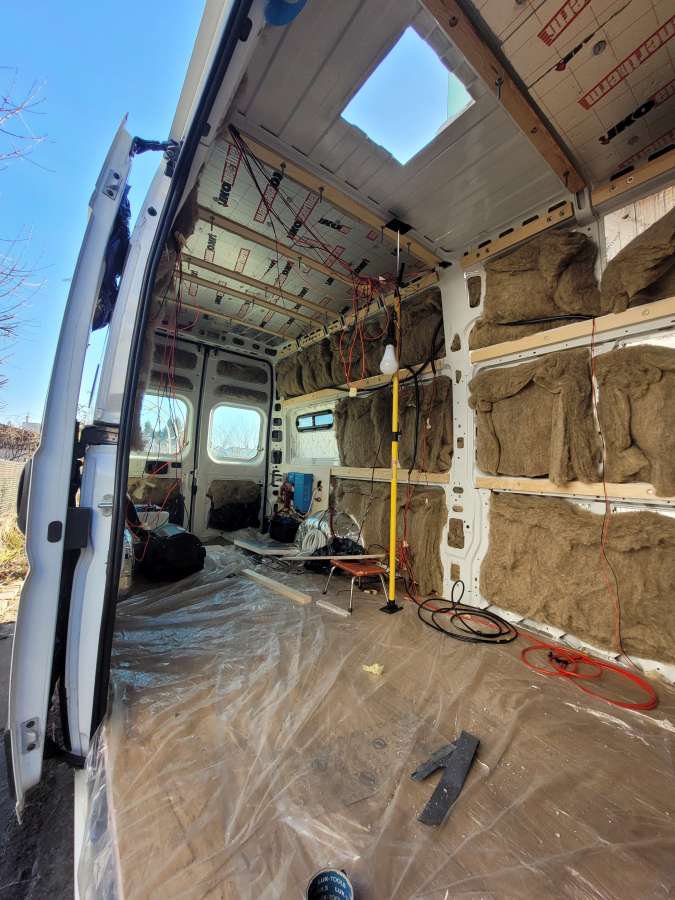 4. Insulating Your Campervan: Best Materials for Floors, Walls, and Ceilings
If you're planning to insulate your campervan, it's crucial to decide whether you'll use it in all seasons or just the warm ones. Effective insulation not only keeps the interior warm in the winter but also prevents overheating in the summer. It also helps to reduce condensation caused by temperature differences between the inside and outside of the van. For multi-seasonal use, thicker insulation, especially for the floors, is recommended.
Insulation plays a key role in maintaining a comfortable indoor temperature and preventing the build-up of water vapor on walls. Without proper insulation, the temperature difference between the interior and exterior surfaces can cause steam to form on bare metal.
To insulate the campervan, we used polyethylene foam, XPS board, plywood, vinyl panels, sheep wool, PIR, and Alufox boards. The walls and ceiling were covered with 9mm thick wooden paneling, which we painted white. Framing is essential to connect the van's metal structure with the interior elements.
Besides thermal insulation, butyl mats can help to soundproof the campervan. However, since they're heavy, it's crucial to find the right balance between soundproofing and weight.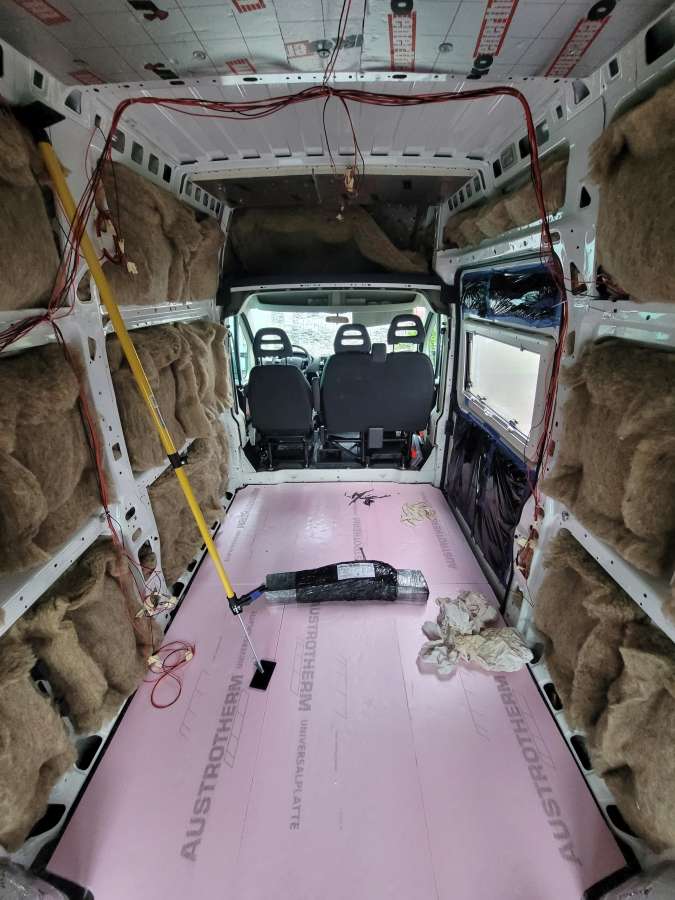 How do you insulate a van?
If you're wondering what materials to use for your campervan insulation, it's best to prioritize those that offer excellent thermal insulation while also being non-flammable and non-toxic. While not all materials meet all of these criteria, it's important to strike a balance that works best for your needs. The most commonly used materials for motorhome insulation include PUR foam, XPS and PIR boards, polyurethane foam, and mineral and sheep wool. By selecting the right insulation materials, you can ensure that your campervan will be comfortable and energy-efficient all year round.
5. Powering up Your Campervan: Everything You Need to Know About Electrical Systems
Having electricity in your campervan is essential, not only for lighting but also for operating other systems like heating and water pump. Without electricity, building a functional system in your van would be impossible.
How does electricity work in a campervan?
A campervan's power system consists of two main parts: elements that charge the battery (such as solar panels) and elements that consume electricity (known as receivers, like the fridge or charging sockets). In between these two parts is the hotel battery, which is separate from the car's factory battery. When the hotel battery is charged, the receivers can draw electricity from it. However, since the battery has a limited capacity, it needs to be charged regularly.
For our campervan, we used a 200 Ah capacity battery, 350 W solar panels, and a converter that allows charging from an external 230 V source, as well as charging from the alternator while driving. This configuration allows us to travel comfortably, even when using power-hungry receivers like computers and a fridge.
In a campervan, receivers can be powered by either 12 V direct current from the battery or 230 V alternating current generated by the converter. Connecting devices directly to the battery is easy and safe, while using 230 V electricity allows you to use devices that require a standard home socket.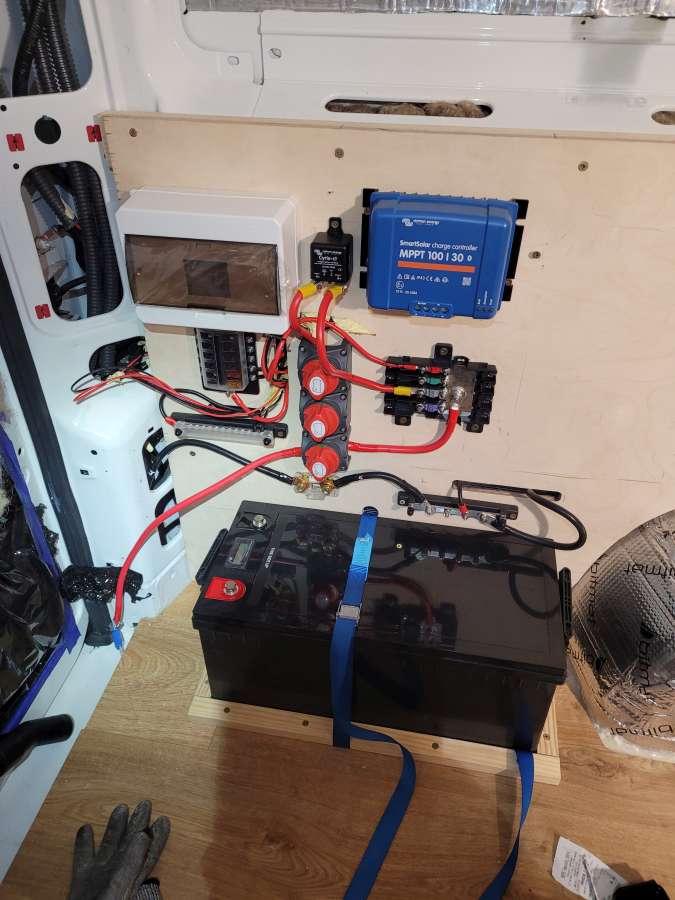 6. Water, Gas, and Heating in a Campervan: How to Choose and Install the Right Systems?
Installing a clean water tank and a water pump is essential for having running water in a campervan. The water pump draws water from the tank and distributes it through pipes to the tap or shower. If hot water is desired, a boiler or flow heater can be added to the system, which usually runs on gas or fuel from the car tank and can heat the entire living area. It is crucial to discharge all the used water, or gray water, into the gray water tank, typically mounted under the car.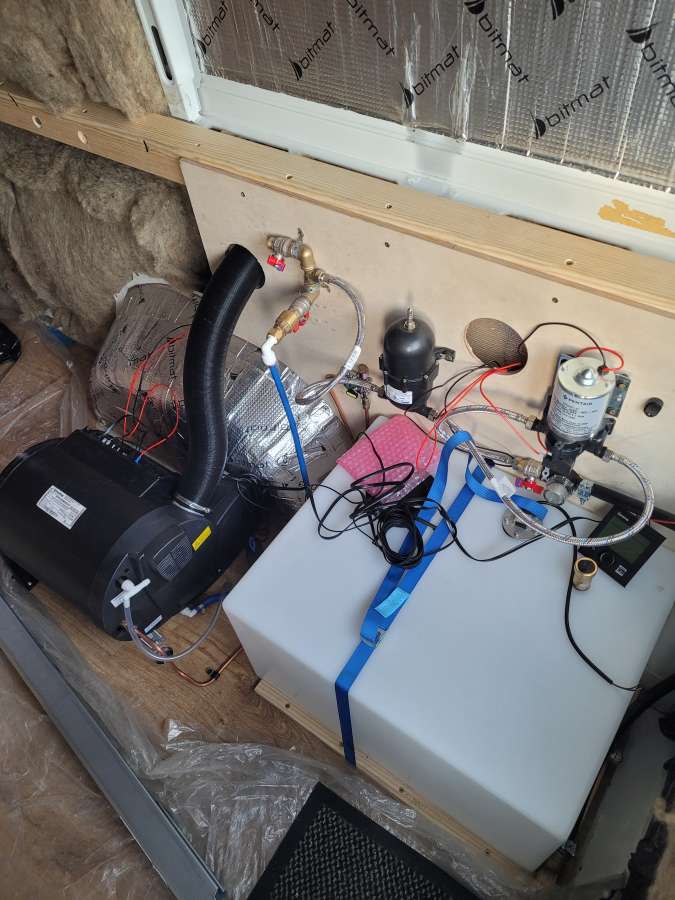 How much does it cost to convert a van into a campervan?
The total cost of converting a van into a camper van depends on various factors, such as the type of materials used, the size of the camper van, and the extent of modifications. In our case, the estimated cost of constructing the camper van was approximately 16,000 Euro, excluding the vehicle price. The water, gas, and heating system accounted for around 4,500 Euro, while the electrical systems, panels, and electronics totaled about 3,000 Euro. The insulation, window installation, and ventilation amounted to approximately 2,500 Euro, with an additional 2,500 Euro for furniture and interior fittings. The bathroom with a kitchen cost around 3,000 Euro.
7. Campervan Bed Building: Tips and Tricks for a Cozy Night's Sleep
When building out your van, choosing the right bed configuration is crucial for a comfortable living space. If you're under 180 cm (6 ft) tall, a fixed bed is likely the most comfortable option. However, if you're taller, consider a sliding bed or dinette setup. Both the fixed and sliding bed options offer a lot of storage space in the "garage" under the bed. The dinette setup provides the most living space, but sacrifices the garage.
A fixed bed is permanently mounted to the structure of the van and is typically 75-100 cm (2.5-3.3 ft) above the floor. This type of bed offers two main advantages: ample space for water modules, electrics, and the garage, and a simpler construction. On the other hand, a sliding bed requires certain elements to slide and unfold, making it a more complicated option, but it saves space during the day. Other bed configurations include the Murphy bed or a bed that can be lowered from the ceiling.
Our design features a bed that extends above the seats and table on a Lagun leg. While these seats are not meant for use while driving, they provide ample storage space and can be used for meals and work when parked. The table is movable, allowing for comfortable eating and work spaces. If you want additional seats with belts for driving, an authorized company must install them.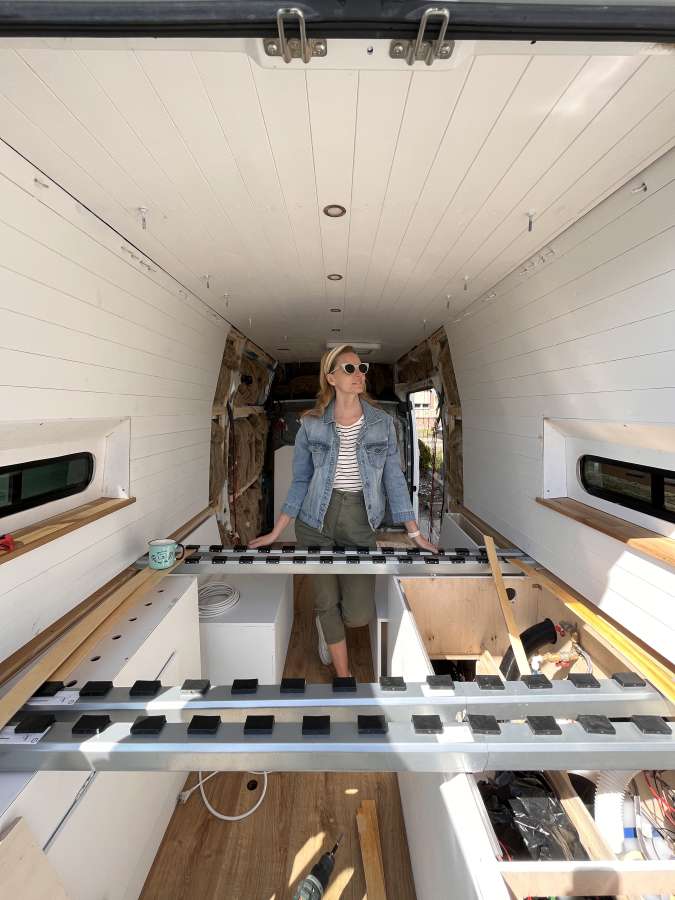 8. Campervan Kichten Design: Tips and Ideas for Building a Functional Kitchen
In Poland, it's a legal requirement for campers to have a designated space for preparing meals. A typical kitchen module includes a sink, a worktop, and a gas plate, as well as cabinets and drawers for storing kitchen utensils and food. Our cabinet walls are made of plywood, and we opted for a 2 cm oak top.
In addition to cabinets, it's important to plan for a refrigerator. Portable and camper refrigerators are available, but for longer trips, a 12 V camper fridge is recommended. As for our kitchen setup, we went for non-camper solutions, including a spacious steel sink, a large pull-out faucet, and a gas plate without an open flame. Though these options weigh a bit more than their camper counterparts, they look much better. Finally, we also built a high cargo cabinet for storing dry food.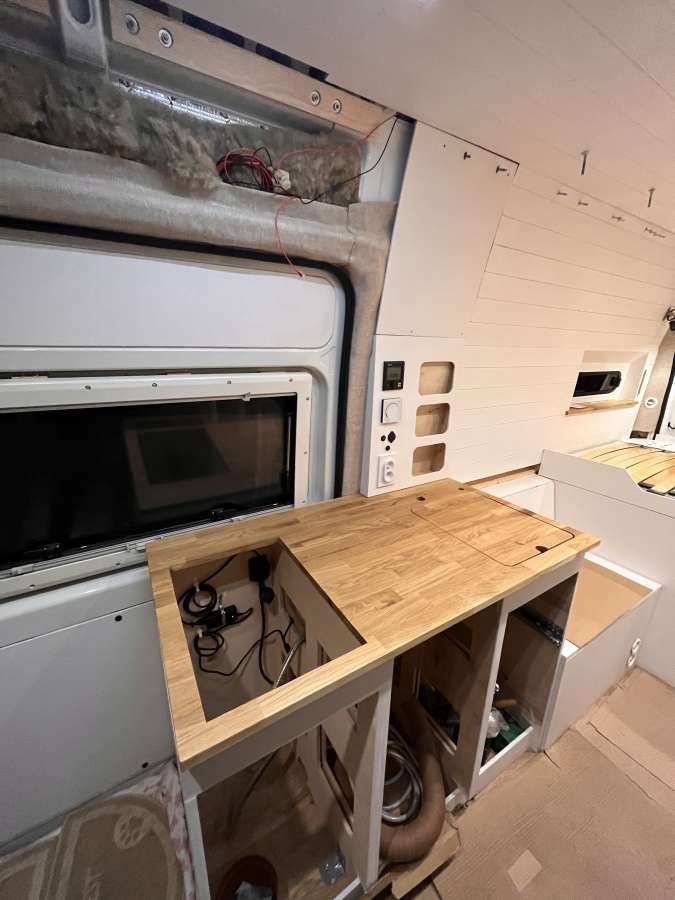 What are the best materials for building a campervan?
When it comes to building campervan furniture, choosing the right materials is crucial. One popular material for campervan furniture is birch plywood, which comes in different thicknesses depending on the application. For example, 3 mm plywood is often used for decorative elements, while 6.5 mm is suitable for lightweight cabinets and walls. For most cabinets, 12 mm plywood is ideal, while 18 mm is recommended for high-stress areas such as seats.
Another option is to use wooden or aluminum profiles as a base and mount camper plywoods on top. This technique is often used for cargo cabinets and shower walls.
When selecting materials for your campervan furniture, it's important to consider factors such as weight, durability, and aesthetics. By using high-quality materials and taking the time to plan your furniture design, you can create a functional and stylish interior for your campervan.
9. Creating a Bathroom in Your Campervan
While a bathroom is optional in a campervan, many people prioritize having one for comfort and independence. You can install a shower and toilet in your camper to avoid using public facilities at rest stops and campsites. Our camper's bathroom measures 100 cm x 60 cm, with a 60 cm x 60 cm shower tray and a waterproof toilet. The toilet doubles as a shower after sliding the door closed.
We constructed our shower from plywood and coated it with yacht paint for complete waterproofing. Standard harmonious doors serve as the entryway, but other options include camper bathrooms or plexiglass walls. Ensure you pay special attention to corners and other connection points.
While chemical toilets are popular in motorhomes, we opted for the Nature's Head composting toilet for ecological and ease-of-use reasons. Though it may be pricier, it is a great and simple product.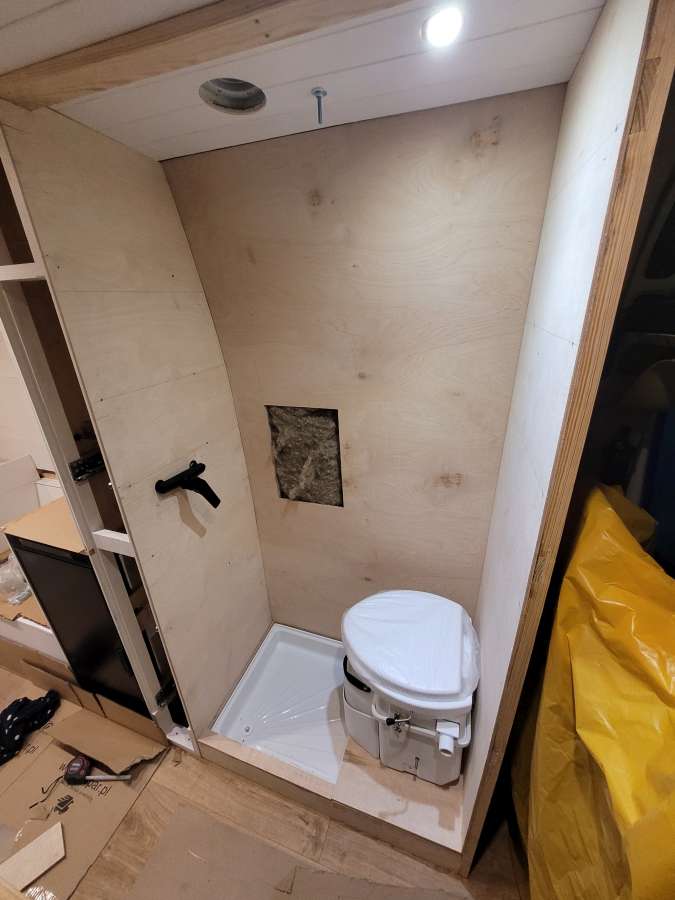 10. Campervan Details: Choosing the Right Decorations
One of the reasons we chose to build our own campervan was because we wanted to avoid the generic look of factory-built motorhomes. Our priority was to create an interior that was both cozy and aesthetically pleasing, with natural materials, harmonious colors, and expressive details. We chose a coastal boho style, which incorporates natural elements with beach-inspired decor. For instance, we added white pillows for seats that resemble beach baskets and included hat hangers and other small accessories. While we used typical motorhome solutions for electrics and water systems, we incorporated classic interior accessories to achieve the desired style.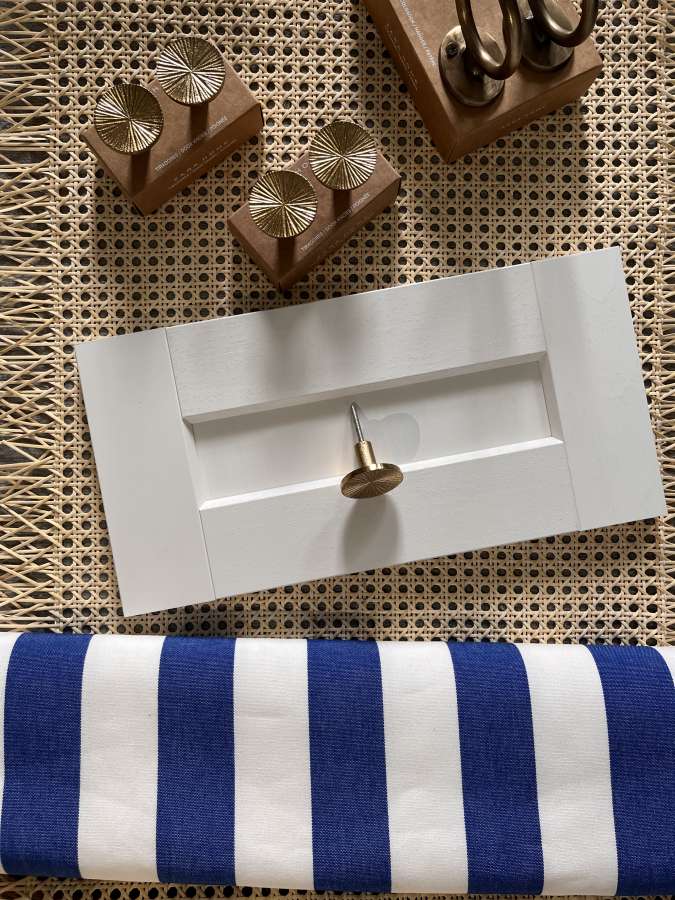 11. Must-Have Campervan Accessories for a Successful Road Trip
When building our campervan, we made sure to include various accessories that are helpful while traveling, but not necessarily mounted within the vehicle. These accessories include camping chairs, a fold-out table, a yoga mat, thermal window mats, and pillows and blankets that match the interior style. We also have kitchen and bathroom accessories that are useful on the road. For water refilling, we use a hose with different tap tips, and we have a 230 V power cable for electricity. At campsites, we use leveling driveways, and we also have a basic set of tools in case of any technical issues with the van.
12. Registering Your Converted Van as a Campervan
When rebuilding a campervan, the final stage is to formally re-register it as a camping vehicle. To do this, you must meet the basic requirements of a camping car, which include having a sleeping place, a place to prepare meals, sitting area, and a table that can be dismantled for driving. Additionally, you must pass a technical examination, weigh the car, pay excise duty, and visit the appropriate office. While this process may seem daunting, it can be done efficiently with proper preparation.
It's important to note that regulations may vary by country, so it's essential to check the requirements for your specific location before beginning this process. With the right knowledge and resources, you can successfully register your rebuilt campervan as a camping vehicle and enjoy the freedom of the open road.
How long does it take to convert a van to a camper?
The duration of converting a van to a camper depends on several factors, such as the size of the campervan, chosen layout, workforce, and available time. In our case, the conversion from a van to a camper van took approximately 8 months. It's important to note that we dedicated our time to the project outside of regular working hours, primarily on weekends.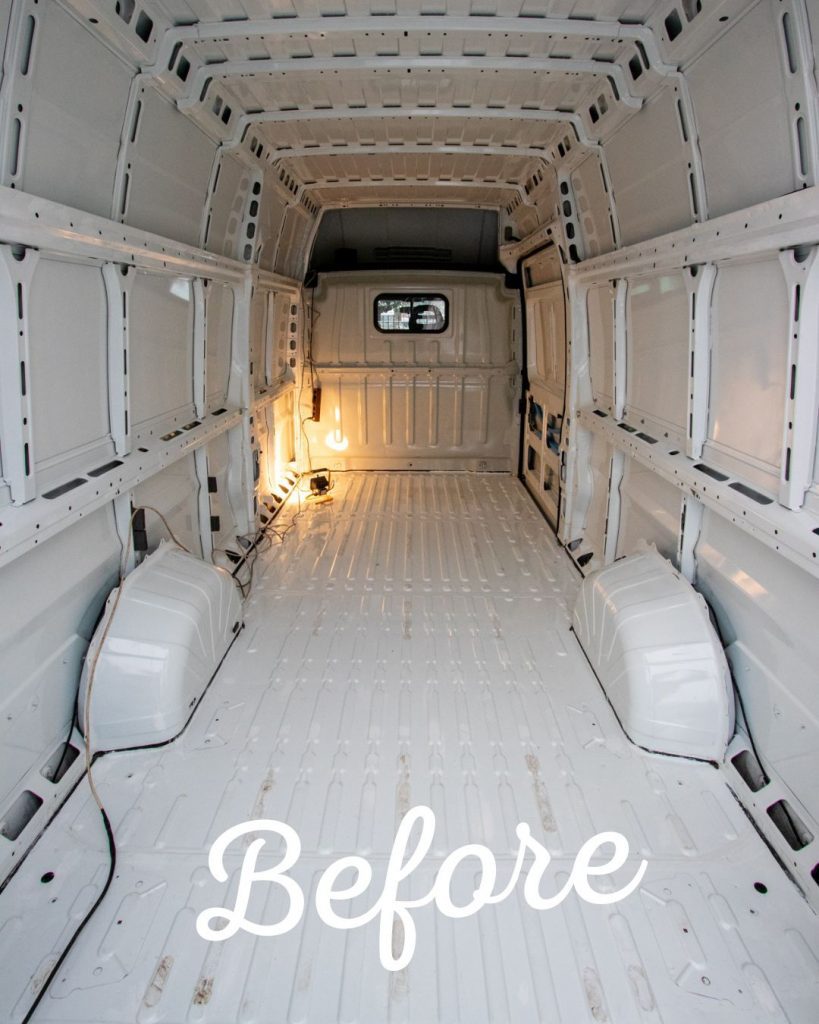 Bonus: Essential Skills for Converting a Van to Camper
Constructing a campervan is not an easy task, but with the right resources and patience, you can learn everything you need to know during the construction process. Below are some of the most important skills that will be useful in building your own campervan, along with some tips to help you get started. It is important to note that safety is a crucial factor in every area of construction, so be sure to read up on basic work techniques and use personal protective equipment.
Woodworking is a crucial skill when building a campervan because almost everything is custom made. To learn more about woodworking, we recommend reading a book on the topic or watching YouTube channels such as this one. With a few basic tools and knowledge of at least one wood combining method, you can build your own cabinets with ease and satisfaction.
Electricity and electronics can be more challenging, but it is easier to find someone who can help you develop a concept or install the system for you. However, if you want to take on the challenge, you can start by learning about the differences between fixed and alternating current, selecting wires, installing fuses, and connecting elements. Be sure to read the instructions of the devices you're using, as they often provide a comprehensive guide to installation.
Plumbing is relatively simple, as long as you make sure that the parts of the installation that are under pressure (i.e. fresh water) don't leak and the outflow parts are connected properly. To get started, learn about how the elements are connected and build a test system outside of your van. This system can consist of a water tank to which you connect a pump with hoses. After mounting the final system in the van, conduct several leakage tests.
Gas assembly is best commissioned to specialists as gas leaks can result in serious consequences. However, if you want to attempt this on your own, you must learn to connect elements and have the necessary tools to test the tightness of the installation.
Metalworking involves cutting holes in the van plate, and having good quality tools is key. Using poor quality blades or jigsaw can result in damaged sheets, so investing in good quality tools can make the job much easier and reduce the risk of errors.
Car mechanics is not a big concern as vans are popular cars, so finding a reputable workshop for repairs or servicing should not be a problem. It is best to commission this type of work to the professionals and focus on learning the skills useful in campervan construction.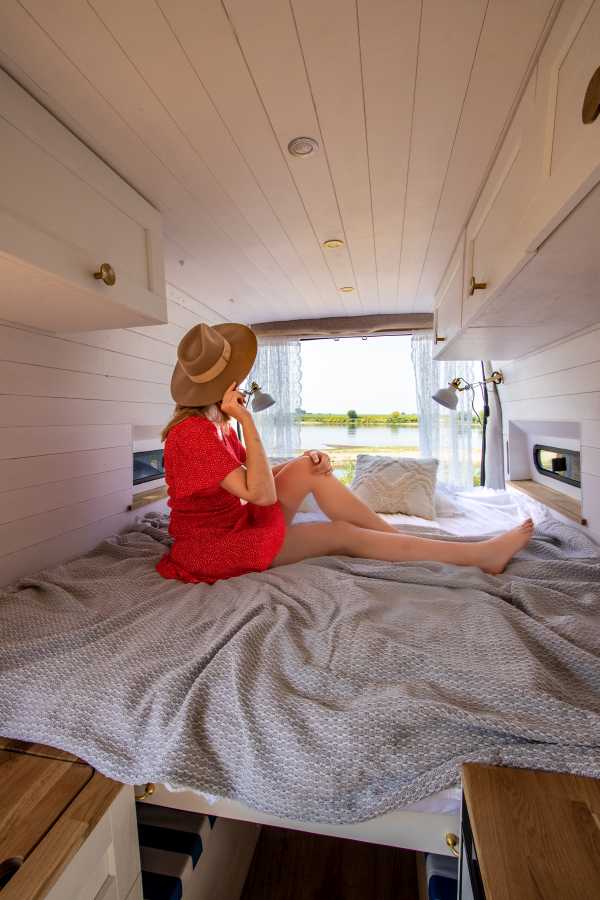 Campervan Build Video: Watch Our Van Conversion from Start to Finish
Summary
If you're interested in building your own campervan, it may seem overwhelming at first, but with a bit of patience and knowledge, it's not as difficult as it seems. The first step is to create a plan and find a suitable van. Once you have the van, you can begin the implementation process, which includes installing electricity, water, and heating systems. The next step is to build cabinets and choose accessories before planning your first trip!
While we've provided a brief overview of the key stages involved in building a campervan, each stage could easily be expanded into a comprehensive article. If you have any specific questions or would like us to delve deeper into any of the points mentioned above, please let us know in the comments. Don't hesitate to pursue your dream of building your own campervan!
Save this pin!