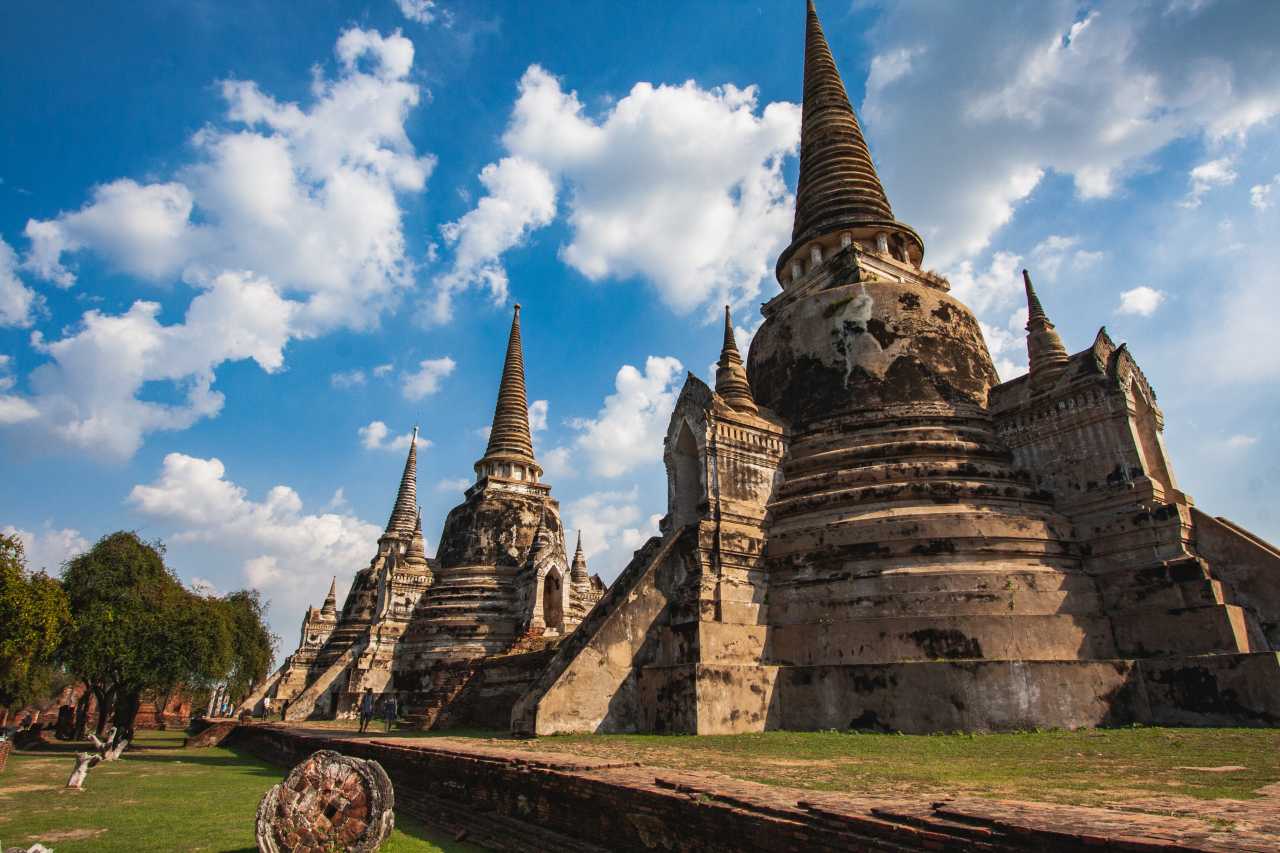 Thailand Best Travel Guide – How To Plan Your Trip In The Most Popular Asian Destination
Thailand is without a doubt one of my favorite travel destinations. I have prepared the best travel guide to this wonderful country especially for you. There you will find a lot of useful information that will help you plan your dream trip step by step. You will learn, among others when to go, what to see and what are the approximate costs of a trip to the Land of Smile. Happy reading!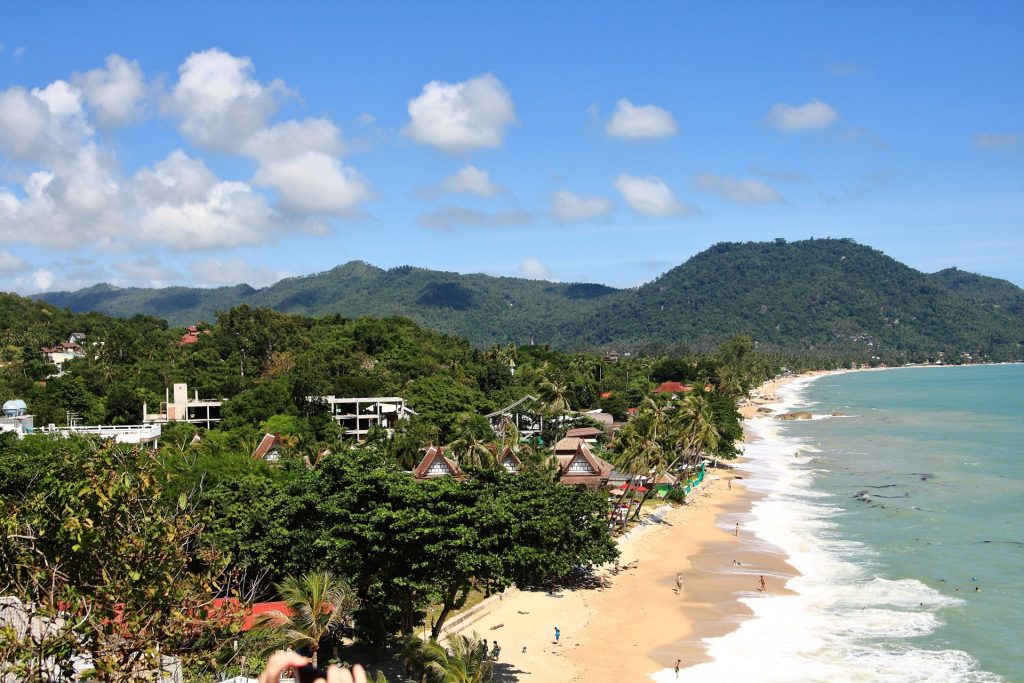 Best time to visit in Thailand
Most of Thailand is located in a tropical humid climate zone with monsoon air circulation. In the country, we can distinguish the following three seasons: hot and dry (from April to June), hot and humid (from July to October) and cooler (which does not mean that it is not warm then) and dry (from November to March). Of course, the most crowded season is the last season (considered by Thais to be winter;)), so we can expect that the prices will also be higher, nevertheless the weather actually seems to be the most suitable for an average European (it rains little & its not too hot). The worst possible time to travel to Thailand is certainly hot and humid season, when the country is almost unearthly heat (April and May are one of the hottest months) and there is the greatest rainfall (from morning drizzle to heavy downpours and flooding). This time, however, has one major advantage - tourists are then like a cure and it is easier to find accommodation at a good price.
Of course, when is the best time to go also largely depends on the region we intend to visit. And so, while it is best to visit the northern country Chiang Mai and Mae Hong Son and the central Bangkok from November to March, the southern part of Thailand (Malay Peninsula) has its own rules. It is best to go to the Koh Samui island between December and August, and to Phuket - between October and April.
We went on our trip to Thailand at the turn of December and January. The weather in most of the places we visited (Bangkok, Chiang Mai, Krabi) was almost perfect, while on Koh Samui, which has a specific tropical microclimate, it sometimes rained (which did not prevent us from lazing on the beach ;)).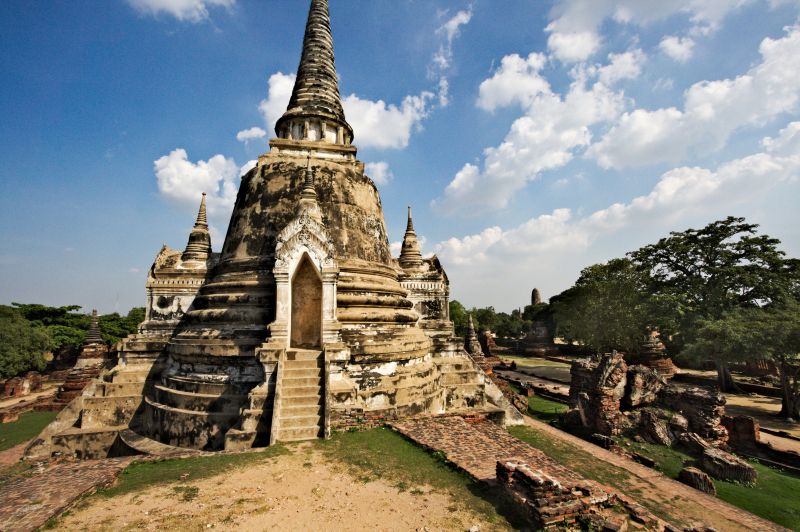 Thailand travel costs
Currency
The currency of Thailand is Thai Baht (THB, Baht). One Thai Baht is 100 satangs. At the time of writing this guide, 1 baht amounted to USD 0.033. It is best to change a small part of the money (in the form of dollars, euros or pounds) right after arrival at the exchange office at the airport (in such amount that it is enough for the first few days of stay), and the rest - in the city bank. Please note that each ATM withdrawal carries an additional transaction fee (for foreigners) and many places do not accept card payments.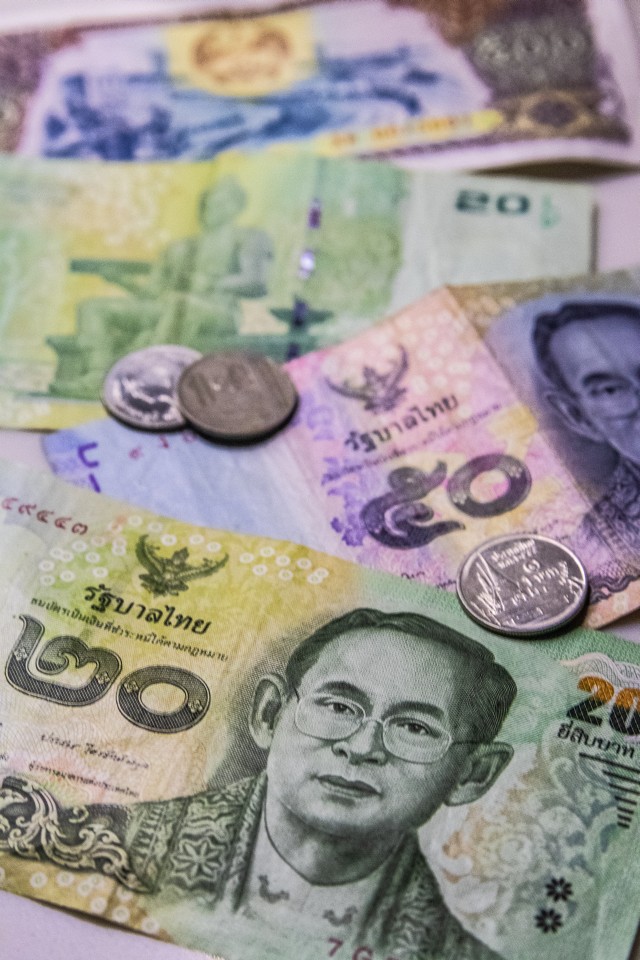 Visa
If you plan your trip to Thailand for no more than 30 days, then you do not have to apply for a visa (you will receive a residence permit at the airport in the form of a passport stamp upon arrival). If you arrived in Thailand by plane, you will receive a permit for a maximum of 30 days, and if by land - 15 days. However, if you are going to the Land of Smile for a longer time, then you must apply (at least 2 weeks in advance) for a visa (for a maximum stay of 60 days) at the Embassy or General Consulate of the Kingdom of Thailand. The cost of a single entry visa is about $ 50, and a multiple entry visa is about $ 200. 
When entering the country, it is necessary to present a passport with a validity date of at least 6 months (from the date of entry to Thailand). It is also required to have a return ticket and funds for the stay (THB 10,000 per person). Failure to meet these conditions is tantamount to refusal to enter the country. Sometimes other documents are also required, such as hotel booking confirmation or travel plan.
Vaccinations
Fortunately, no vaccinations are compulsory before coming to Thailand. Nevertheless, for the sake of your own health, it is worth getting vaccinated in advance (at least a few weeks before departure). Recommended vaccinations that you should definitely consider (of course, after consulting your travel medicine doctor) are: against hepatitis A, against hepatitis B, against diphtheria, tetanus and polio, against rabies and against Japanese encephalitis. It should be borne in mind that vaccination prices vary depending on where we perform them and are sometimes quite an expense compared to the total cost of the trip.
Malaria
Contrary to popular belief, the risk of contracting malaria in Thailand is quite negligible. Of course, it all depends on the places were going to visit. If you are planning a trip to less frequented regions of the country, far from the beaten path, it is definitely worth considering the use of appropriate anti-malarial drugs (of course, after prior consultation with a doctor). Nevertheless, if our itinerary includes typical tourist places (such as Bangkok, Chiang Mai or Krabi), in our opinion, you can safely limit yourself to the use of strong insect repellants (the recommended repellant is MUGGA, the preparation with the strongest available on DEET concentration on the market - 50% - which you can order e.g. online) and following a few simple rules, such as sleeping under a mosquito net, wearing impregnated clothing with long sleeves/ legs, or spraying the room with mosquito repellent at night.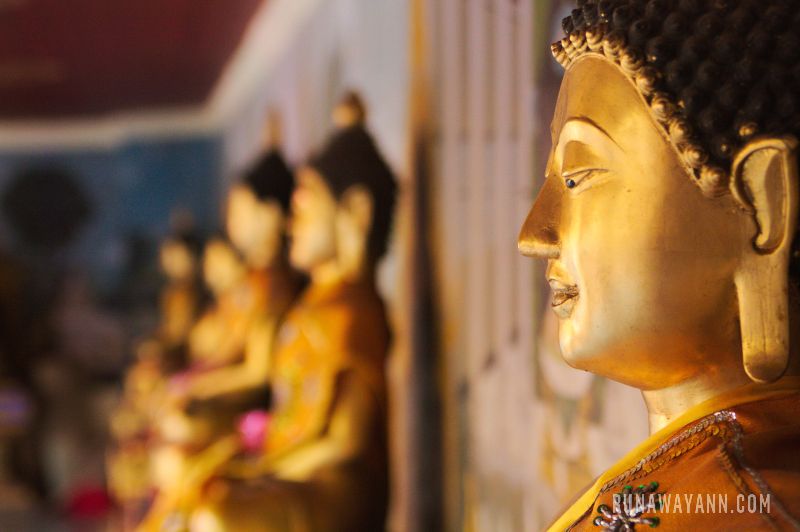 Accommodation
Thailand can boast a very rich and varied accommodation base. So you will find here both cheap hostels (ideal for solo travelers, at a price of approx. THB 1000 per night), family guesthouses (so-called homotels, of various standards: with or without breakfast, with air conditioning or fan, with private or shared bathroom, priced around 1000-3000 THB per night), hotels of various types (on average 2000 THB per night, but not worth the price in our opinion), as well as luxurious resorts (mainly in more touristic places, e.g. in Thai islands, prices up to 5000 THB per night). If you have a limited budget, it is certainly best to stay in a bed and breakfast, and if you want to not pay at all, you can always take advantage of the increasingly popular couchsurfing option and stay with someone from the locals (it is said to be the best way to experience the real Thailand ). During our trip, we mainly relied on boutique guesthouses (the exception was Koh Samui, where we stayed in a resort with a private pool, located right next to the beach) and the accommodation cost us on average 2500 THB (approx. $ 84) per night.
Although many tourists visiting Thailand (and Asia in general) prefer to look for accommodation only on the spot, we always try to book our accommodation in advance (e.g. via booking.com), choosing accommodation with breakfast included and the option with free cancellation. Of course, this approach has its advantages (saving time with a tight travel plan) as well as disadvantages (lack of flexibility and the possibility of changing plans), and it will work especially when you plan a shorter (i.e. less than 30 days) trip and do not have unlimited time.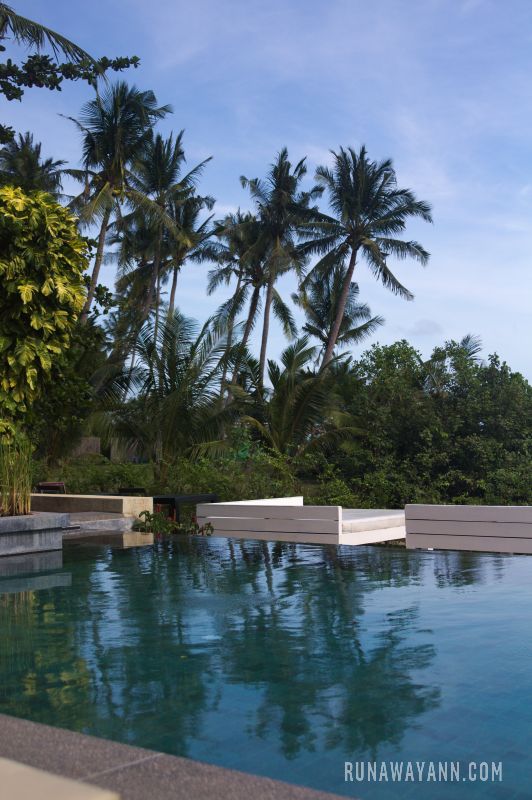 Food
Thai food is one of the main reasons why we love this country (and Southeast Asia in general) and to our delight, you can buy it almost anywhere, at a price that the average European (and not only) can only dream of. The daily cost of food for one person is about a few hundred Thai Bahts per person, depending on where we eat.
We can choose from a number of different types of eateries: from street stalls with simple, authentic Thai (and not only!) food for a dozen/ several dozen Thai Bahts (the best curries and satayas we had in Thailand are those bought on the street in Bangkok for a one dollar), to more sophisticated restaurants where we eat equally well, but more expensive, but more imaginatively and in slightly better conditions (when eating on the street, you have to be prepared that sometimes you wont even eat at the table, just crouching on the ground).
We recommend you to try a few different options for dining out in the city and find the perfect one for yourself (not everyone will like eating in street conditions, but being in Thailand, it is really worth leaving your comfort zone for a while and try a typical, street food, especially in Bangkok).
Of course, when eating out, it is absolutely necessary to follow the basic rules of hygiene and thoroughly disinfect your hands before each meal (we recommend handy antibacterial gels, perfect for taking with you on the road). You should also avoid ice cubes in drinks, do not buy meat on the street, wash fruit before consumption with bottled water, eat only what has been prepared in front of our eyes and eat only where the locals eat (it may turn out that you will get much better food at a street stall than at an expensive restaurant).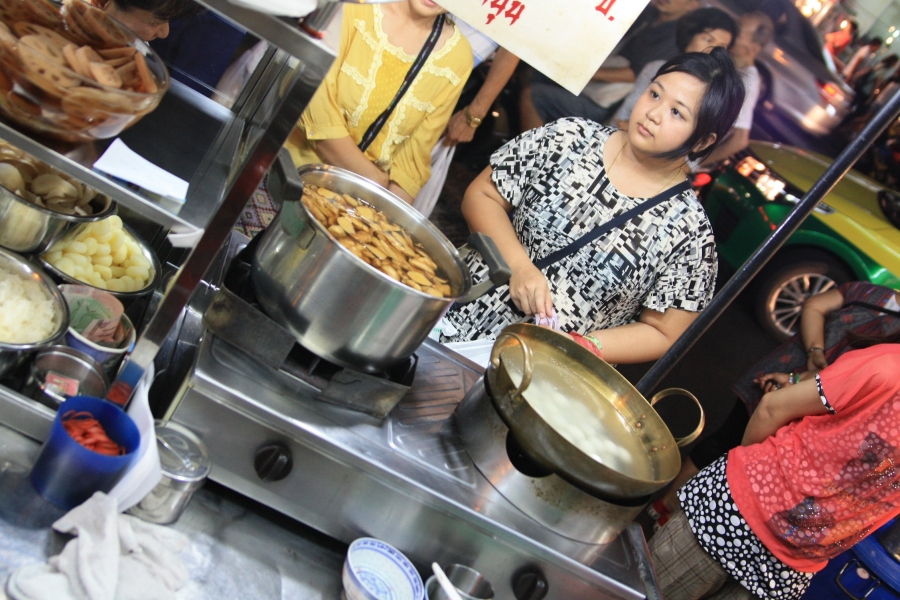 Insurance
For a trip to Thailand, as well as to any other non-European country, it is advisable to take out insurance. It is worth paying attention to the fact that the insurance covers a high amount of treatment costs. Be sure to also check what are the exclusions from the insurance (e.g. diving can be considered an extreme sport and you need to buy an additional variant). The basic option of insurance for a trip to Thailand costs approximately $ 270 in Poland. Fortunately, we have never had to use any compensation so far 😉
Transport
How to get to Thailand?
Unfortunately, there are currently no direct flights from US to Thailand. When it comes to Europe, there are many direct flights to Bangkok, e.g. from Paris, London, Copenhagen, Frankfurt, Munich, Vienna, Brussels, Amsterdam, Stockholm, Oslo. The flights from other European countries are usually with a transfer in one of the Arab cities (e.g. in Dubai or Doha), or in one of the European cities. The total journey time from Europe is usually around a dozen hours, while from US about twenty hours. We decided to fly from Gdańsk to Berlin (with Airberlin), from Berlin to Abu Dhabi, and from there to Bangkok (with Etihad Airways, probably one of the best weve flew so far) for PLN 3250 (about $ 870 USD) per person (we flew in the most popular period, Christmas and New Year, hence the price was higher), but in fact you can get air tickets at a price of about PLN 1,500 per person (about 330 EUR). Acc. to the infromation on cheapflights.com, the cheapest flight price from the USA to Thailand is about $ 300. On average, you can expect to pay about $ 1,500. The most popular route (from Los Angeles to Bangkok) can usually be booked for about $ 450.
It is worth booking flights well in advance or at the last minute, it is worth choosing flights at unpopular times or those in the middle of the week, and when booking them, have the private mode option set in the browser. You can also join various loyalty programs, such as Miles & More. We mostly book air tickets via skyscanner.com. Kiwi.com is also a recommended site for booking airline tickets.
Tuk-tuk and other taxis
One of the most popular and recommended ways of getting around the city in Thailand is renting a tuk-tuk, in the form of a three-wheeled vehicle, which in theory can accommodate up to three passengers, and in practice much more 😉 Tuk-tuk usually works similar to taxis, and sometimes they run on a strictly defined route. Of course, when renting a tuk-tuk you have to bargain (its best to set a price before getting into the vehicle and stick to it). The price for a kilometer of tutor rickshaw ride should not exceed approx. THB 30. In addition to the tuk-tuk, another form of Thai taxi is a motorcycle, which (with the driver, of course) can be rented for a price from around 10 THB (a nice option that works mainly if you want to move quickly somewhere in a jammed city), or songthaew (slightly larger vehicle converted from pick-up or truck, prices around 50 THB).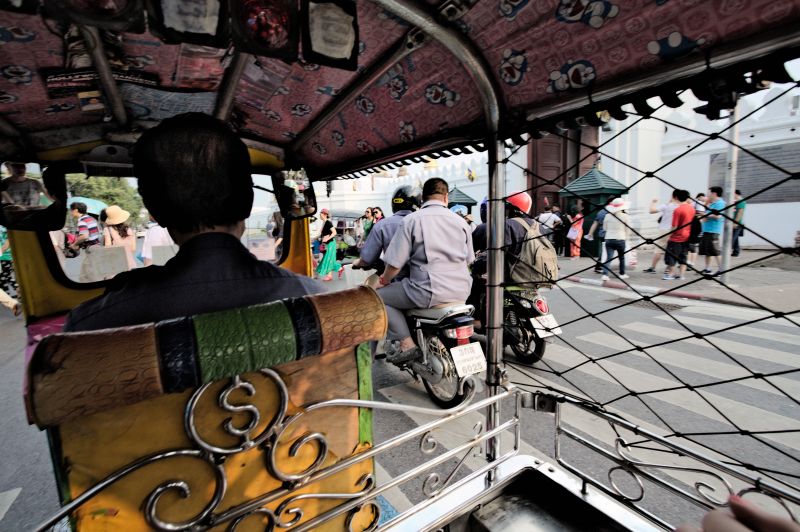 Domestic flights
The fastest, and at the same time the most expensive option to travel around the country is by plane. Most of the air connections are, of course, served from Bangkok. From the capital of Thailand, we can fly to places such as: Chiang Mai (ideal solution when we have a tight schedule and limited time), Koh Samui or Krabi, sometimes for really little money. We decided to fly from Bangkok to Chiang Mai with Thai Lion Air (approx. $ 27 per person), from Krabi to Bangkok with the same airline (approx. $ 95 per person) and from Chiang Mai to Koh Samui with Bangkok Airways (approx. $ 240 per person) and we were very satisfied.
Buses
Another way to get around Thailand is through government buses or tourist minivans. Of course, the buses are much cheaper than the tourist minivans, but nevertheless, in our opinion, the comfort of travel is definitely worse. Tickets for government buses can be bought directly at the stations (usually called BKS stations). The advantage of tourist minivans is the fact that they are air-conditioned, they can usually be booked well in advance via the Internet and that they drive up to the hotel for us. The downside is that when traveling in minivans, together with other tourists, we feel a bit isolated, because we naturally have less contact with the locals.
Trains
Thai trains seem to be a much better option than buses, which are ideal for relatively short (such as from Bangkok to Ayutthaya) or extremely long routes (such as from Bangkok to Chiang Mai). You can find a detailed train schedule here. Train tickets can be booked online (currently only from Bangkok or Chiang Mai), at any travel agency or (if we want to avoid additional brokerage fees) directly at the train station. It is best to book tickets for the long-distance train with couchettes well in advance (maximum 90 days before the planned date of travel). In the event of an early cancellation, there is a possibility of a partial refund. In general, there are several classes of trains in Thailand (3, 2 and 1), and the ticket price depends not only on the class, but also on the air conditioning and the type of train (Special Express, Express, Rapid, Ordinary). We paid around 250 THB per person for a trip by an air-conditioned express train from Bangkok to Ayutthaya. Please note that first class (with a private air-conditioned 2-seater compartment) is only available on selected train types. In addition, our experience shows that regardless of whether we choose an express train or a regular train, we still have to take into account very long delays (this was the case, for example, during our trip to Ayutthaya). If you decide on the option with air conditioning, remember to take a warm sweatshirt with you (air conditioning in public transport in Asia is always set to the maximum and can be really tricky).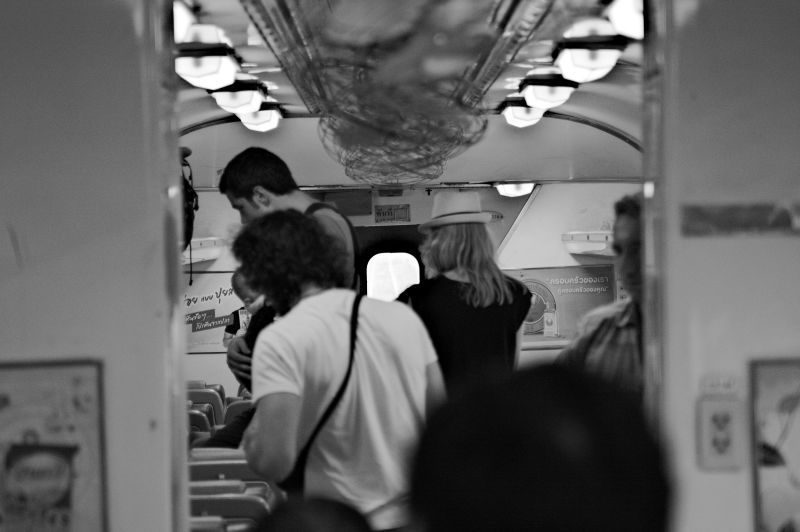 Boats
An interesting form of transport in Thailand are traditional boats, the so-called long-tail boats that can be used to move around some cities in the country (e.g. Bangkok canals, ticket price approx. 10 THB). These types of boats also run between some islets and the coast (e.g. between Ao Nang and James Bond Island in Krabi), and also appear on the so-called floating markets. Nevertheless, currently, mainly water transport in the country is carried out with the use of much faster speedboats (we sailed this type of boat from Ao Nang to Phi Phi islands during an organized, one-day trip).
Motorcycle and car rental
Another way to travel around the country is to rent a motorcycle (prices from around 150 to 200 THB per day, fun way to explore the countryside and outskirts, always ask for a protective helmet) or a car (prices from around 1000 THB per day). Theoretically, to be able to drive a car in Thailand, you need an international driving license, but in practice this law is not enforced. However, before we decide to rent a car or motorcycle in Thailand, you should bear in mind that traffic has its own rules and drivers rarely follow the rules. Accidents and reckless driving of Thai people is on the agenda (we have often witnessed the careless driving of bus or minivan drivers). An additional difficulty is the fact that car traffic in Thailand is left-hand, the roads are of average quality and often poorly signed, and there are many types of vehicles on the streets that we will not meet in Europe or US. For these reasons, we sincerely advise you not to drive a car in Thailand.
Must-see places in Thailand
There is nothing to hide - Thailand boasts one of the most interesting attractions in the world. Regardless of whether you are a lover of monuments or sunbathing, you will surely find something suitable for you. Below I have compiled a list of the best places worth seeing while traveling in the Land of Smiles.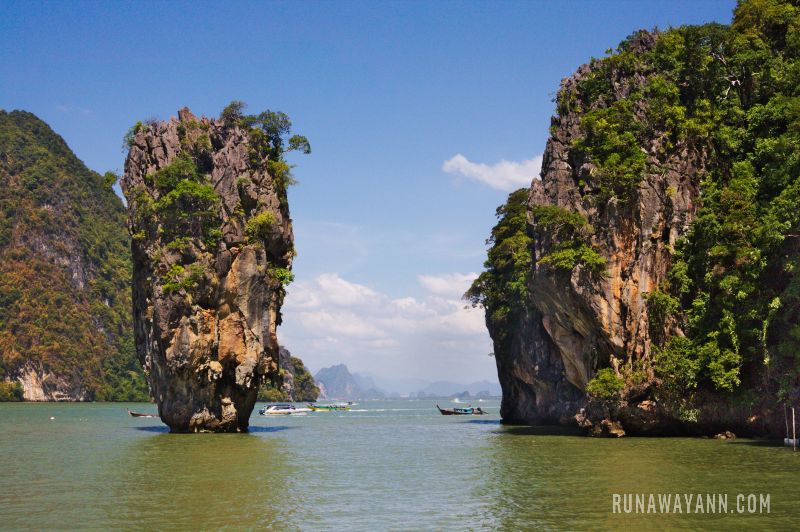 Bangkok - the capital and largest city of Thailand, which seduces travelers with its diversity, the magic of Buddhist temples, probably the best cuisine in the world and always smiling locals.
Ayutthaya - a historical province of Thailand with the capital of the same name, a magical place filled with the ruins of ancient Buddhist temples, there are so many temples that it is impossible to see them all in one trip.
Koh Samui - the second largest island in Thailand, known for its long sandy beaches, coconut trees and beautiful coral reefs, the perfect place for doing nothing.
Koh Lipe - a paradise island near the border with Malaysia, boasting beaches with soft, white sand and coral reefs just in time for diving.
Phi Phi Islands - a group of six islands in the Andaman Sea, which, thanks to its picturesque landscapes and excellent diving conditions, attracts crowds of tourists from all over the world each year.
Phang Nga National Park - a picturesque bay located in the southern part of Thailand, it is one of the local islands where one of the adventures of agent 007, played by British actor Roger Moore, was filmed.
Khao Sok National Park - an extremely photogenic park, encompassing ancient rainforests cut by rivers, known for its impressive size rocks emerging majestically from the water, an ideal place for lovers of unspoiled nature.
Ao Nang - one of the most popular resorts in southern Thailand, the main city of Krabi, with a beach where you can enjoy wonderful sunsets.
Chiang Mai - the largest city in northern Thailand, full of temples, great food, elephant reserves and countless cooking classes.
Chiang Rai - a town with a one-of-a-kind temple, which was called white for a reason, a great starting point for a cruise on the Mekong River and a visit to the land of opium.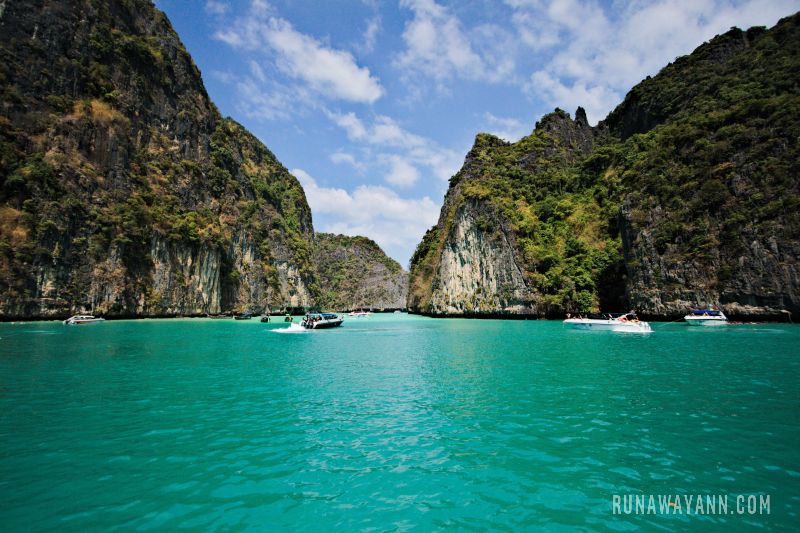 Best places to eat in Thailand
When traveling around Thailand, you must try the local cuisine, which is one of the best in the world for a reason. Below you will find a list of recommended places where you can eat well in Thailand.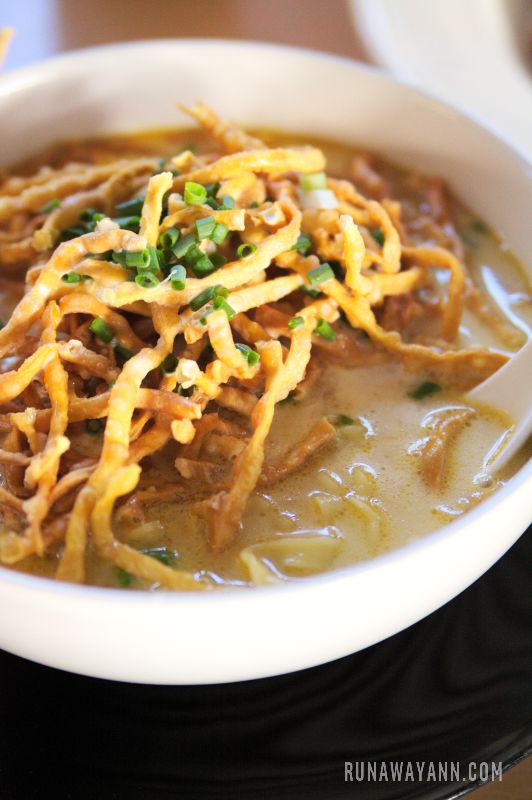 Thailand 3-week itinerary
I have to be honest with you - Thailand is such a large and diverse country that it is impossible to see it in its entirety during a short vacation, so it is worth planning carefully in advance what you want to visit. Below you will find my 3-week itinerary where I tried to include most of the most important attractions.
Day 1-6: Bangkok (Chern Hostel)
Day 6-11: Chiang Mai (Werun Boutique Hometel)
Day 11-17: Koh Samui (Zara Beach Resort Koh Samui)
Day 17-21: Krabi (U Residence Hotel)
Summary
Thailand is the perfect destination for your first backpacking trip in Asia. Heavenly beaches, delicious cuisine and beautiful temples are just some of its greatest attractions. I hope that the above tips will help you organize your trip on your own. Be sure to let me know in the comments below, what else should be kept in mind before traveling to Thailand.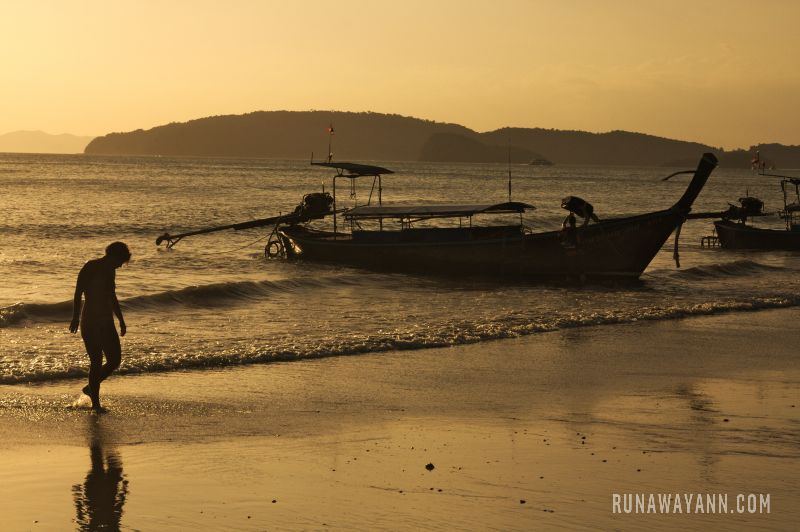 Pin it for later!