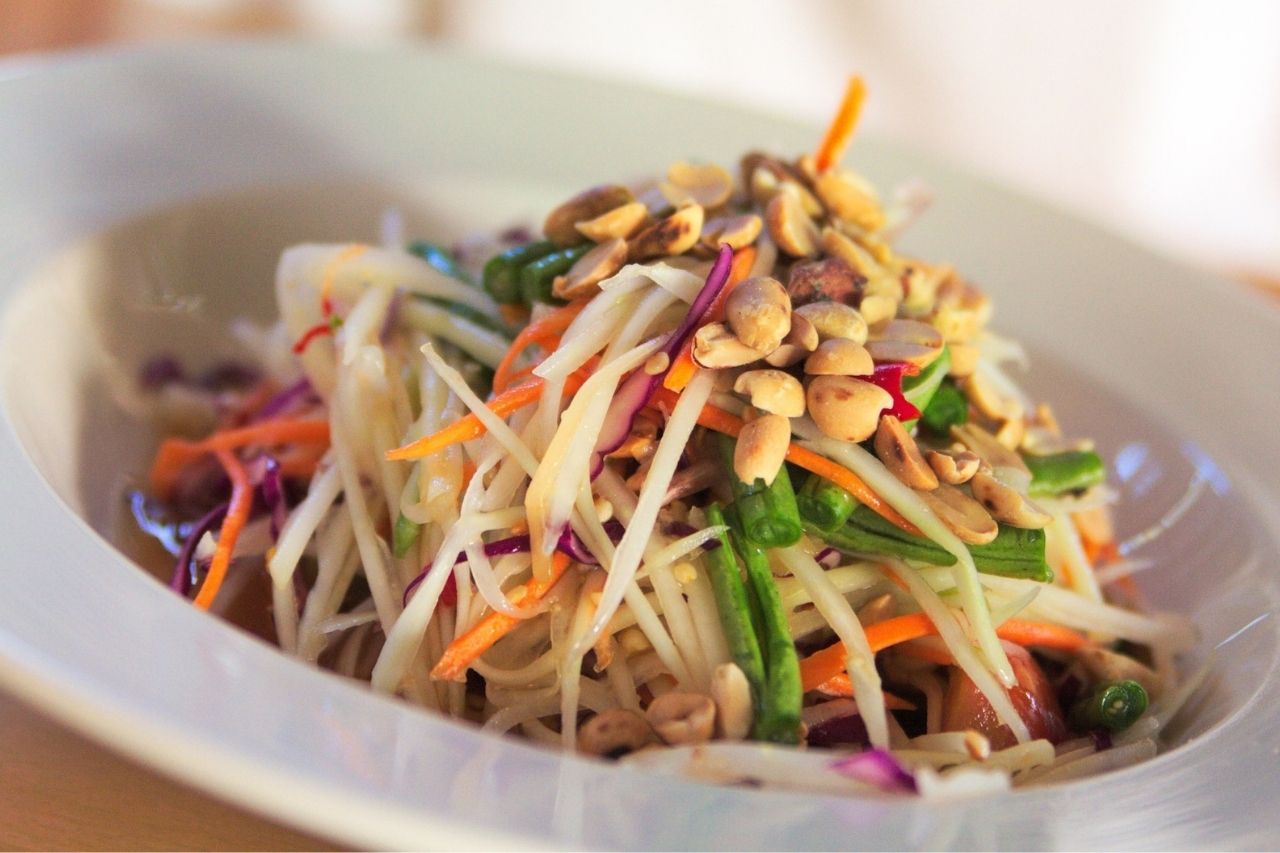 Thailand is without a doubt a foodies paradise. We do not hide that for us it was one of the main reasons why we went to the Land of Smile. It was on the streets of Bangkok that we first encountered authentic Asian cuisine, which we cannot part with until now 😉 Whenever we have an opportunity, whether in Poland or abroad, we always choose places serving Thai specialties. Because who could resist the aromatic khao soi soup, the nutritious green curry, or the reliable classic in the form of pad thai with shrimp? Certainly not us 😉 Whats the best food in Thailand? Below you will find a list of 10 recommended dishes that you must try while traveling in Thailand. Let me know which one is your favorite!
1. Khao soi
Number one on our list is our beloved soup eaten mainly in northern Thailand, namely khao soi. We tried it for the first time at Mr Kais during our stay in Chiang Mai and we have not had enough of it since then 😉 This dish is a great combination of aromatic coconut milk soup and curry paste with crispy noodles (rice or egg) and pieces of meat (chicken or beef). Khao soi owes its intense yellow color to turmeric. In addition, various types of pickles (e.g. cabbage), shallots or ground chili peppers are also added to the soup. Just dont forget to sprinkle some lime on the top of the soup! Its sour taste perfectly complements this dish.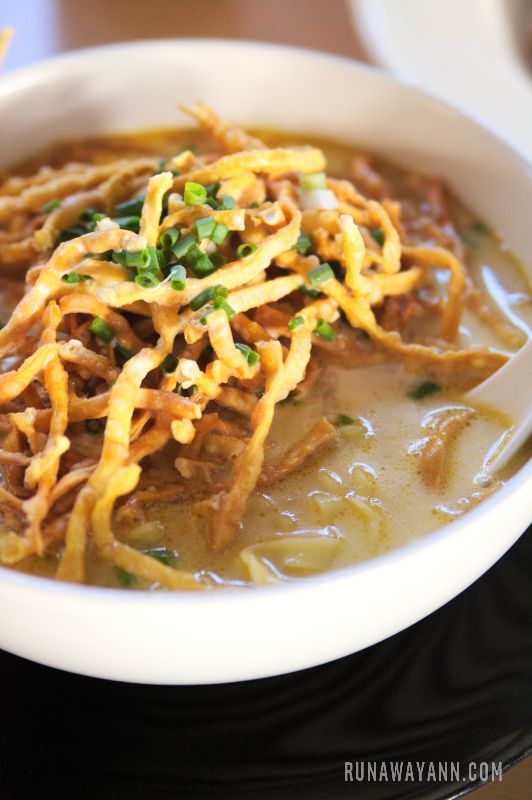 2. Pad thai
Of course, no list of Thai dishes would be complete without the famous pad thai. Visitors to Thailand consider this dish to be the basis of the local cuisine, while Thai people themselves.. not necessarily. This dish consists of rice noodles fried in a wok with egg, bean sprouts, tamarind paste, fish sauce, tofu, shrimp and/ or pork. The pad thai prepared in this way is additionally sprinkled with crispy peanuts and sprinkled with lemon. This dish captivates us with its simplicity and at the same time a real explosion of flavors. It is not only sweet, but also spicy and salty. We ate our best pad thai at Thip Samai in Bangkok. You absolutely have to go there!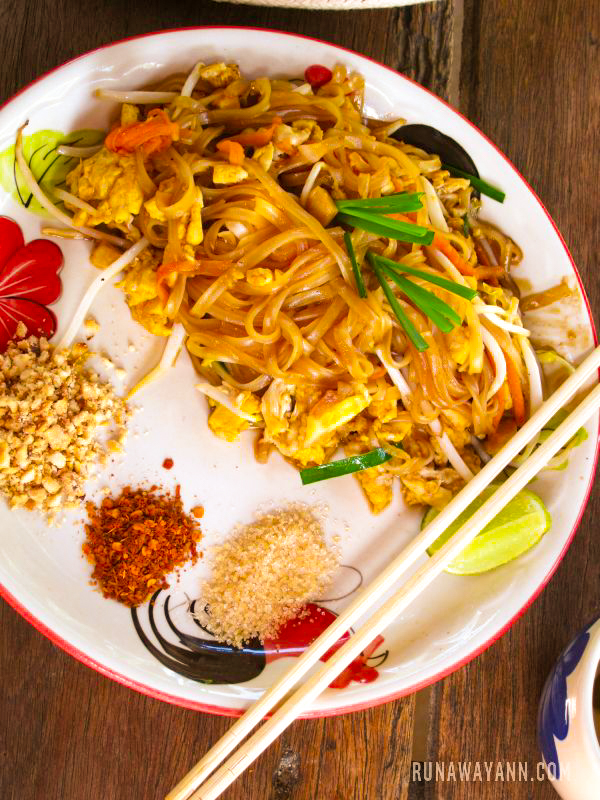 3. Phad krapow gai
Another specialty that you must try in the Land of Smiles is phad krapow gai, which is nothing else than chicken with Thai basil. This dish is our hit, and the intense smell of fried Thai basil (giving an anise aftertaste) will forever remind us of holiday time. A great, nutritious stir-fry dish, which consists of chicken (or beef/ pork) meat fried in a spicy brown sauce and Thai basil (not to be confused with Italian basil!). In our opinion, phad krapow gai tastes best when combined with a fried egg on top (somewhat reminiscent of fried eggs) and rice. Note! Thanks to the chili pepper, this dish is extremely spicy!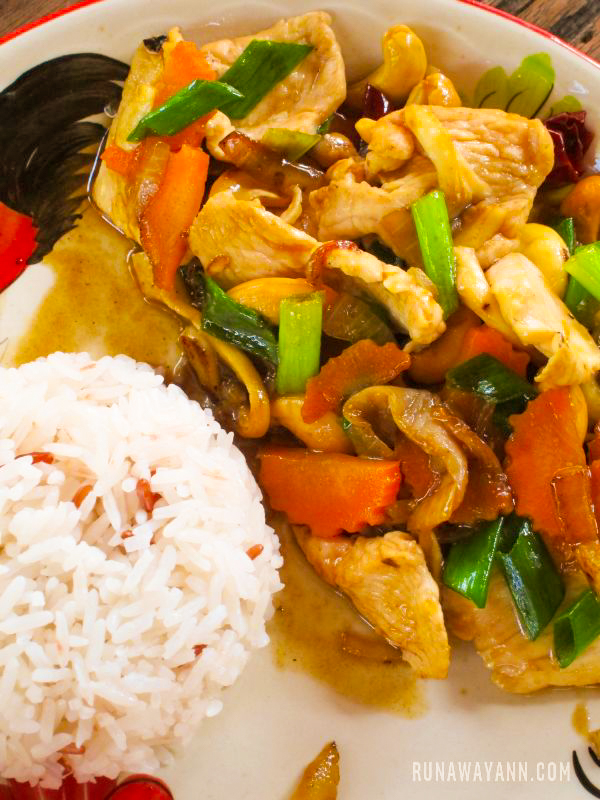 4. Kaeng khiao waan
The fourth place on our list of dishes to try in Thailand is kaeng kiao waan, a spicy dish with green curry paste which is made with green chili peppers. Most often they are served with pork or beef, but we also came across a version with tofu or seafood. Regardless of which option you choose, you can be sure of one thing - it will definitely be insane 😉 The spicy taste of the dish is balanced by a sweet addition in the form of coconut milk. In addition, green vegetables in the form of Thai eggplants, as well as sweet basil, are also added. Of course, the dish is most often served with rice. Little drops of heaven!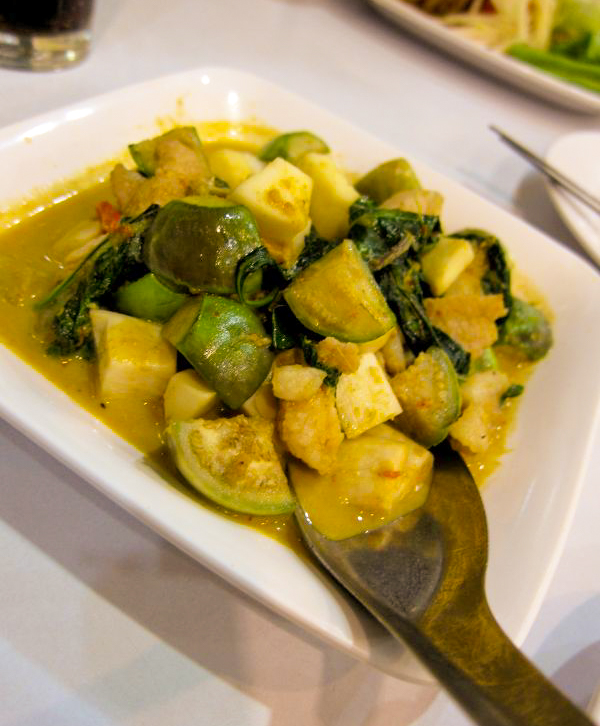 5. Tom yam
The next dish you must taste in Thailand is the queen of Thai soups, namely tom yam. You can find this dish literally everywhere - from street food stall to more sophisticated restaurants. The taste reminds us a bit of Polish broth, but in a truly Thai version (i.e. spicy and sour). The main ingredients of the soup are shrimp or pork, but not only. Mushrooms, lemongrass, kaffir lime leaves, galangal, fish sauce, as well as red chili peppers are also added to dish. You must try it! Best with a lot of fresh coriander on top 😉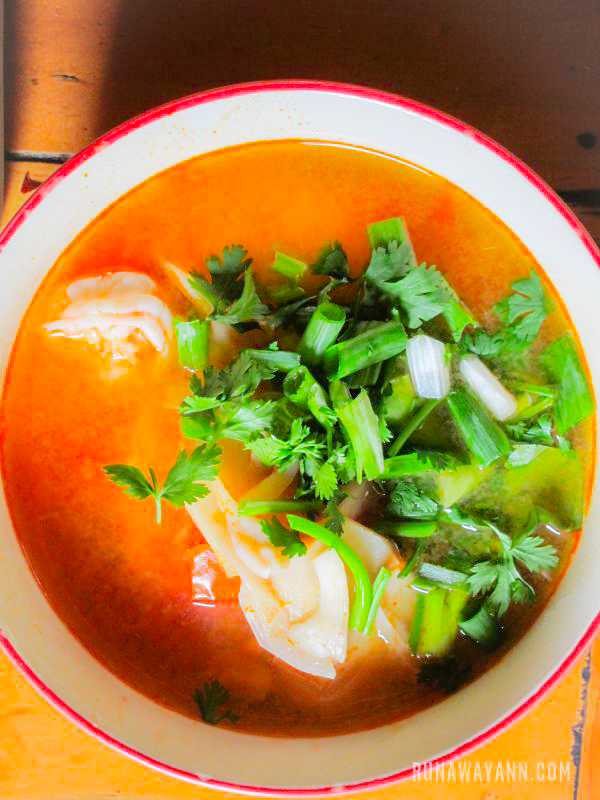 6. Boat noodles
Another Thai specialty that we recommend to you is an intense noodle dish, called boat noodles for a reason. In the past, this dish was served only from… boats that sailed on the canals of Bangkok. For the convenience and safety of the buyer, it was served in small bowls. Although today this dish can also be purchased on land, it is still served in a similar way. The main ingredient of the dish (apart from noodles) is pork and beef (in the form of thin slices), marinated tofu, dark soy sauce and a few spices that give the dish a specific flavor. Additionally, boat noodles are served with meatballs and liver. We were especially delighted with the boat noodles served at Lunglek Boat Noodles, small restaurant in Ayutthaya. We say definitely yes to such inconspicuous yet delicious dishes! And you?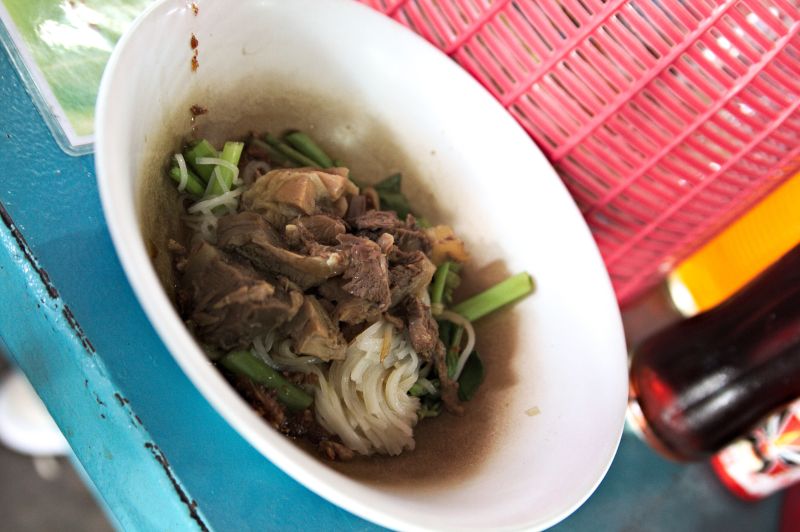 7. Kaeng kari kai
Another curry in our list that you absolutely must try is the one made on the basis of yellow paste - kaeng kari kai. This dish is also one of the most popular and the tastiest dishes served on Thai streets, what we experienced firsthand. In addition to yellow curry paste, kaeng kari kai also includes chicken, coconut milk that gives a sweet taste and potatoes. Its color, like in case of khao soi, is due to turmeric. The best yellow curry we have ever had was prepared in front of our eyes in a Khao Gaeng Jake pot in Bangkok. It was delicious! And in addition, it did not cost us more than one dollar 😉 It was for dishes like this that we loved Asia. Try it and see for yourself 🙂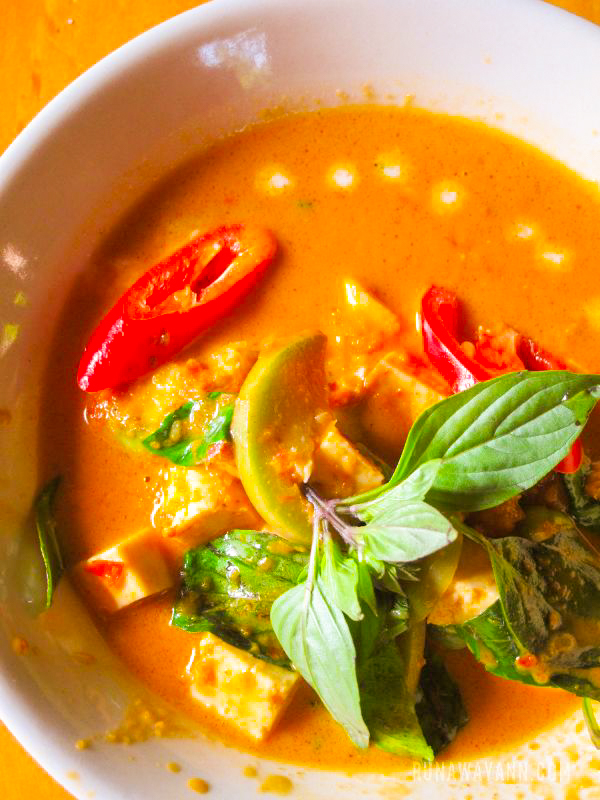 8. Som tam
No trip to Thailand can take place without tasting som tam, spicy unripe papaya salad. This dish, despite its simplicity, is extremely multidimensional in taste, because it combines the acidity of lime, the spiciness of chili, umami of fish sauce, and the sweetness of palm sugar. Other ingredients that are added to som tam include among others our beloved green beans, crab, carrots or peanuts. It is definitely one of the tastiest salads we have eaten in Asia, light and refreshing, just perfect for the Thai heat. Most often it is eaten with rice and chicken but it can also be combined with noodles. The best papaya salad we had opportunity to try at Mr Kai in Chiang Mai, but the one from one of the Krua Apsorn in Bangkok was very delicious too 😉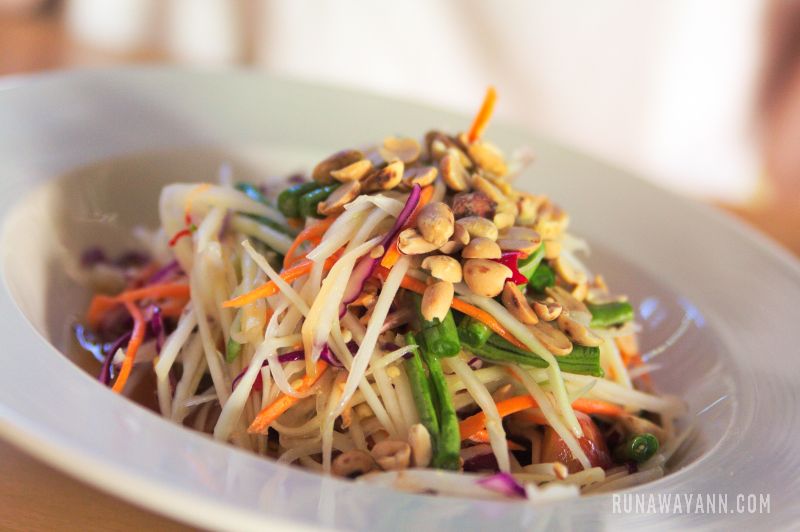 9. Tom kha gai
The penultimate dish that we would like to recommend to you is a simple but extremely tasty tom kha gai soup. This dish, unlike most Thai dishes, is moderately spicy (despite the presence of chili) and sweet at the same time (thanks to the large amount of coconut milk). In addition, ingredients such as galangal, kaffir leaves, lemongrass, coriander, mushrooms, chicken pieces, fish sauce and lime juice are added to the soup. All these ingredients together create a slightly spicy and sour whole that goes perfectly with coconut milk. For lovers of Asian soups, a must-try!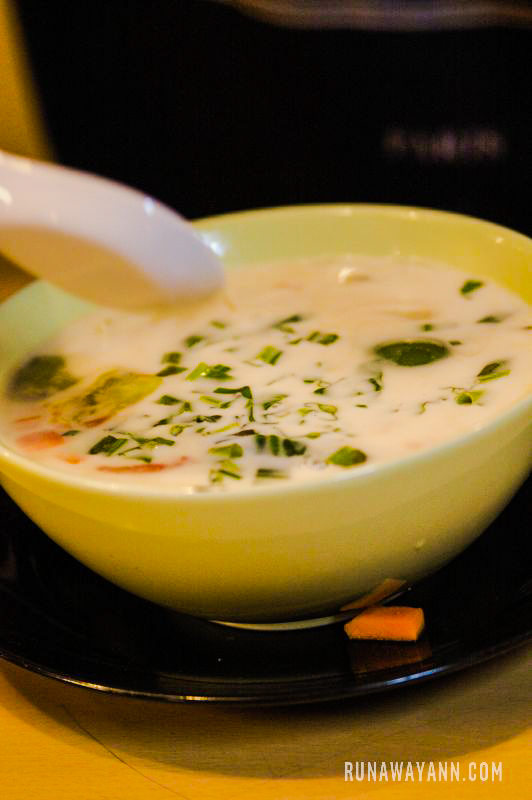 10. Mango sticky rice
There is probably no one who would not hear about the most popular dessert in Thailand, namely mango sticky rice. Undoubtedly, no visit to the Land of Smiles can take place without tasting this dish! This dessert is available almost everywhere, from street stalls to fine dining restaurants, and it almost never disappoints. Thanks to its sweet and sour taste, it is the perfect complement to spicy dishes. It consists of nothing more than steamed sticky rice, which is then mixed with coconut milk, and sliced ripe mango. An extremely simple and filling dish which in our opinion is the essence of Thailand 😉 The best mango sticky rice we have eaten was served on the street in Bangkok and prepared by ourselves on a Thai farm. You can find a recipe for this delicious dessert here.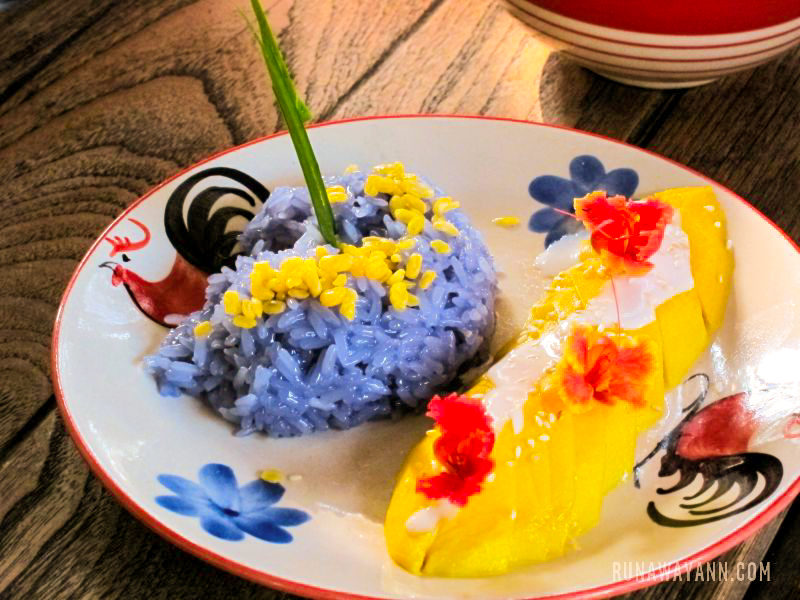 What dishes do you recommend trying in Thailand? Do you have any of your favorites? Be sure to let me know in the comments below 🙂
Pin it for later!