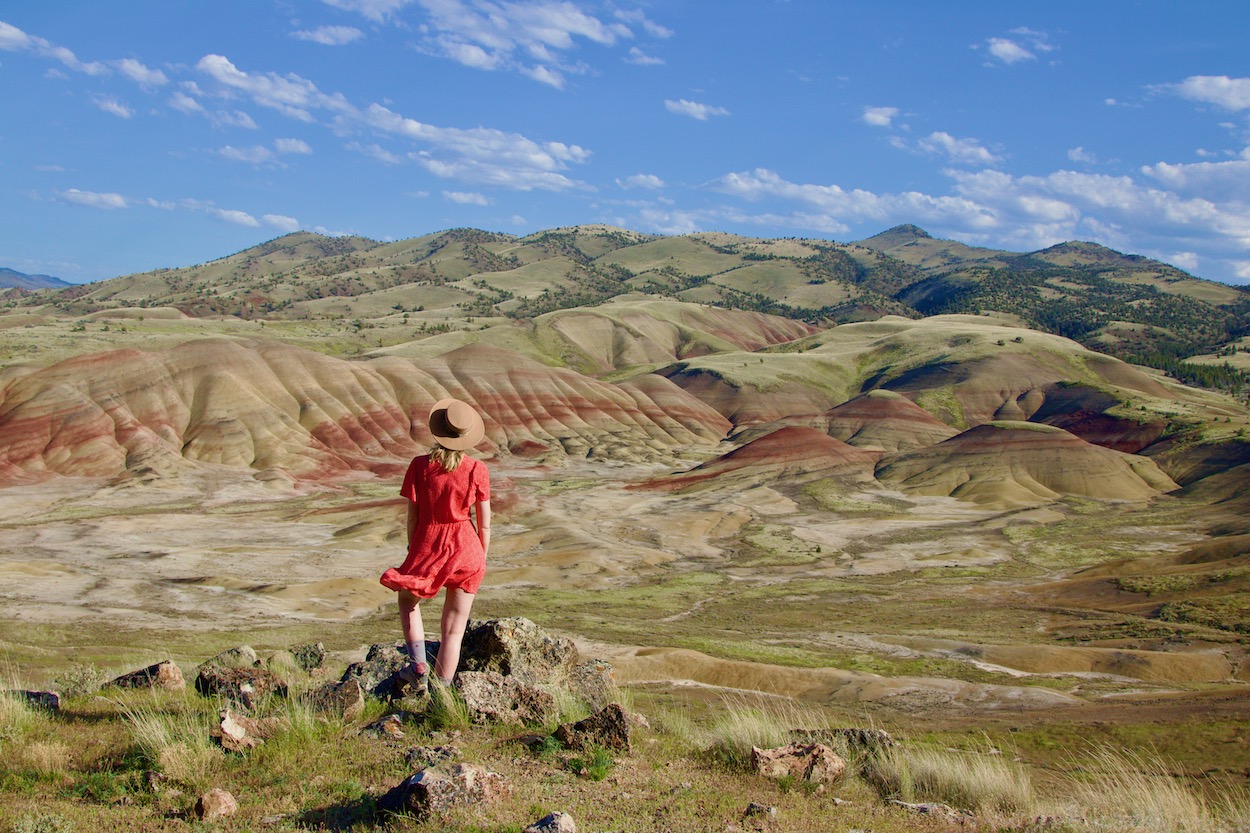 Experience the Magic of Painted Hills and Trillium Lake: One Day Trip from Portland
If you're planning a trip to Oregon, make sure to include a visit to one of the region's seven wonders—the mesmerizing Painted Hills. These hills are renowned for their stunning colors and captivating patterns, making them an absolute must-see for landscape enthusiasts. Personally, I was awe-struck by their beauty. Here's an exciting idea for a one day trip from Portland that allows you to experience not only the magnificent Painted Hills but also the fascinating rock formations of Claro Unit and the picturesque Trillium Lake, with the majestic Mount Hood volcano overlooking it all. This day trip is perfect for those with limited time, as it showcases the region's enchanting attractions. When it comes to planning your trip, this information will prove invaluable. Explore Oregon's natural wonders and create unforgettable memories!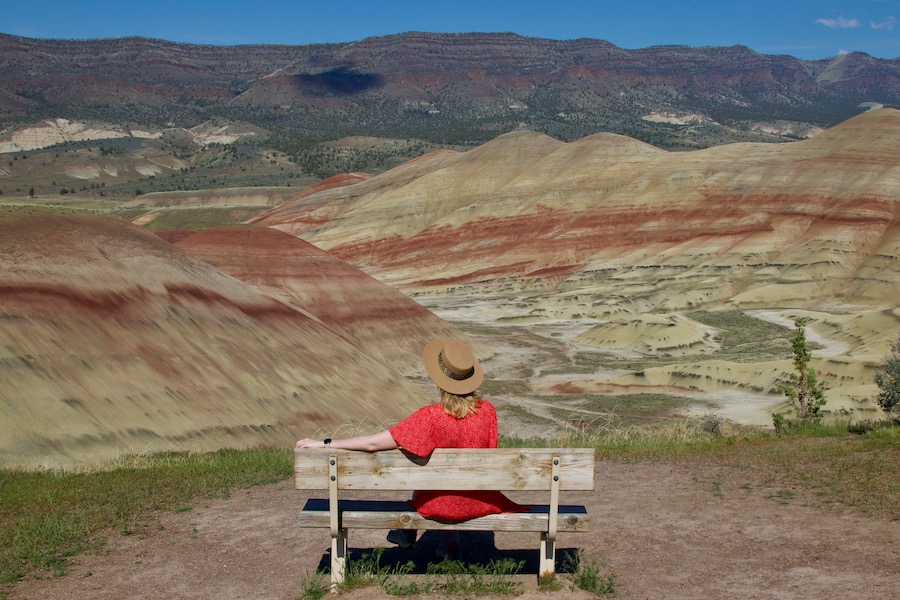 One Day Trip Route Map
1. Shaniko: Oregon's Best-Preserved Ghost Town
Begin your Oregon exploration from the vibrant city of Portland, an excellent base for your travels. Follow the breathtaking Journey Through Time Scenic Byway, renowned for its picturesque routes. Make a stop at Shaniko, the best-preserved ghost town in the state, and immerse yourself in its rich history.
Experience the nostalgia of a bygone era and witness the captivating transformation of this once-thriving town. Explore the fascinating past of Shaniko as the renowned "Wool Capital of the World", once a transit hub for the Columbia Southern Railway. Discover its remaining attractions while supporting the preservation efforts of the Shaniko Preservation Guild.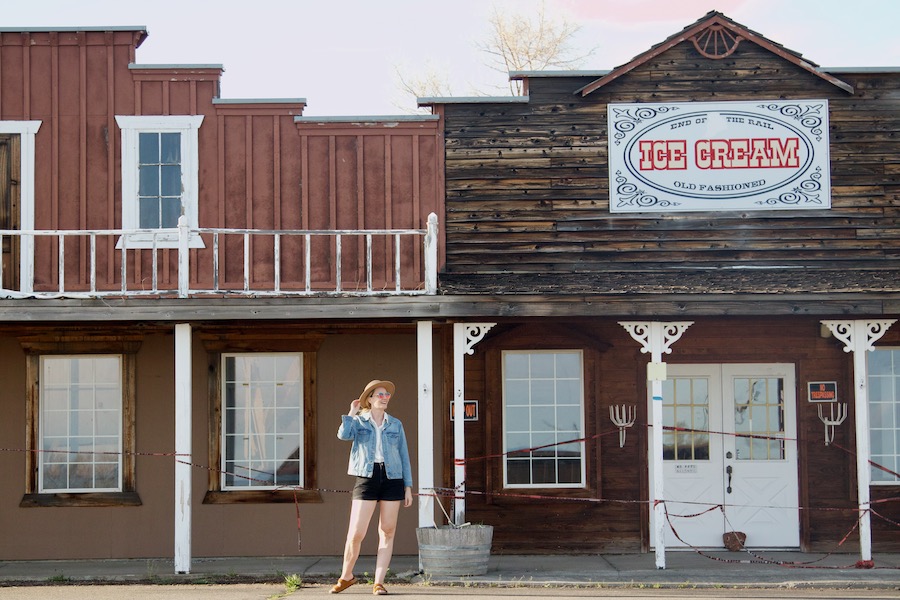 2. Clarno Unit: Ancient Fossils and Serene Landscapes
Next, head to the stunning Clarno Unit rock formations, located approximately 30 kilometers from Fossil. Together with Painted Hills and Sheep Rock, the Clarno Unit formations contribute to the splendor of the John Day Fossil Beds National Monument.
Explore this ancient site, which dates back millions of years and is famous for its abundant fossils from a time when the area was lush with vegetation. Despite its desert-like conditions today, Clarno Unit offers a glimpse into the past. Enjoy three short trails and a peaceful picnic area for visitors.
One of the advantages of Clarno Unit is its secluded location and relatively low visitation, ensuring a more exclusive experience for visitors. Take advantage of this opportunity to immerse yourself in the serene beauty of this remarkable attraction.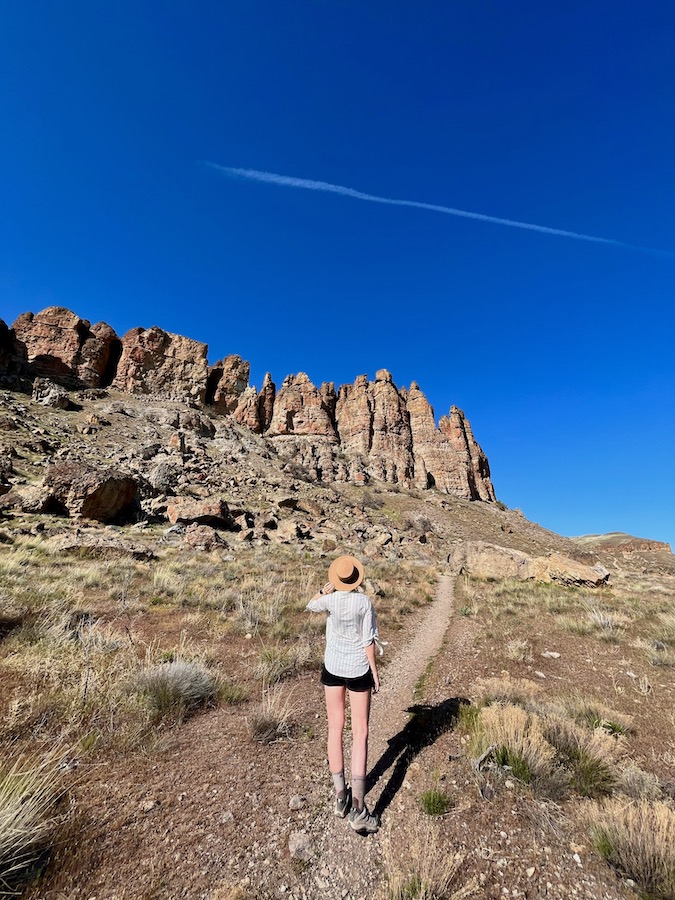 3. Painted Hills: Oregon's Awe-Inspiring Geological Masterpiece
After an enchanting visit to Clarno Unit, continue your journey to the highlight of the day: the awe-inspiring Painted Hills. Located approximately 2 hours away from Clarno, these vibrant hills hold a captivating beauty that has earned them a well-deserved place among Oregon's Seven Wonders. It's hard to believe that these hills, with their painted-like appearance, are the incredible work of Mother Nature and not that of a renowned impressionist artist.
How far from Portland to Painted Hills?
Traveling from Portland to Painted Hills typically takes around 4 hours. En route, you have a choice of two scenic routes. The first passes through Biggs Junction, boasting captivating views of the desert plateau and chances to visit the historic ghost town of Shaniko, along with Clarno Unit. The second route traverses Mt. Hood National Forest, offering spectacular vistas of Oregon's tallest summit.
Each layer of the Painted Hills represents a distinct geological epoch, dating back an astonishing thirty-five million years. During that time, this area was once a lush river floodplain. The striking array of colors is a testament to the numerous climate changes that have shaped the region. The rich red layers harken back to a more tropical period, while the golden yellows reflect a drier and cooler era. The seamless blending of these hues creates a truly mesmerizing landscape that is a testament to the wonders of nature.
Are the Painted Hills in Oregon worth visiting?
Visiting Painted Hills is truly a worthwhile experience! I've personally visited multiple times, and I can confidently attest that each return is more enchanting than the last. These captivating hills rank among Oregon's seven wonders, boasting an unparalleled charm. The breathtaking landscape here is a sight to behold. If you're in search of unforgettable vistas and remarkable destinations, be sure to include Painted Hills on your must-see list!
It is these breathtaking views that make the journey well worth it. Prepare to be captivated by the beauty and majesty of the Painted Hills, an extraordinary testament to the ever-evolving wonders of our planet.
What is the best time to visit Painted Hills?
While Painted Hills remains accessible throughout the year, the optimal periods to visit, in my opinion, are late spring or early fall. Springtime presents breathtaking views of blooming flowers, while the increased rainfall during fall enriches the vibrant colors of the landscape. Additionally, these seasons offer ideal weather conditions for hiking, with temperatures averaging around 20°C. However, I would discourage visiting during summer when desert temperatures can exceed 30°C.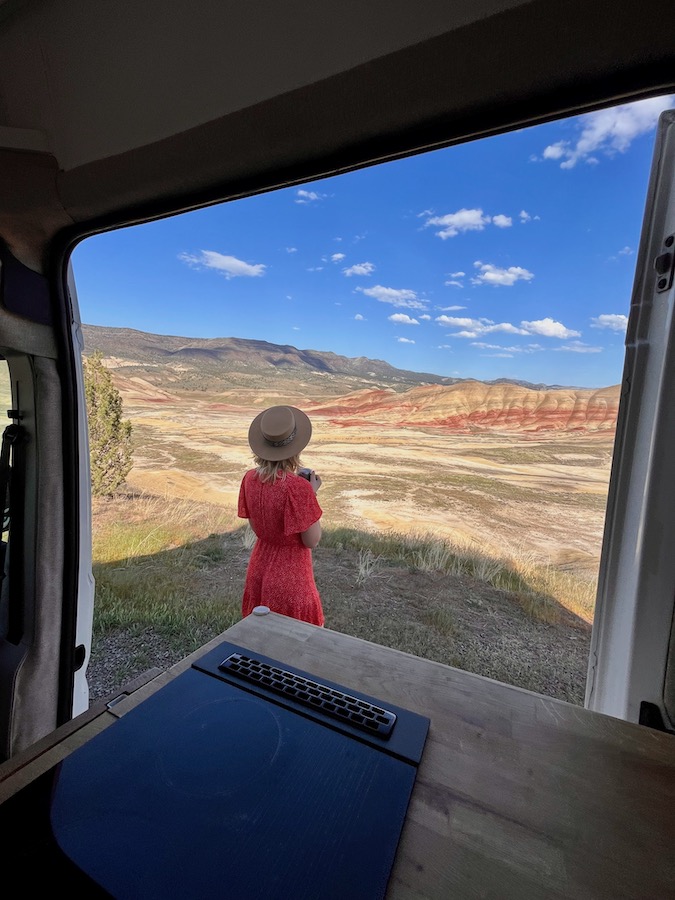 What are the best hikes in Painted Hills?
When planning a visit to Painted Hills, you'll find a variety of easy and short trails to explore. Among them, the renowned Painted Hills Overlook Trail stands out as a favorite, spanning approximately 1 kilometer. This trail leads to the picturesque Painted Ridge viewpoint, where you can capture stunning shots from the comfort of a bench.
For a slightly shorter option, the must-visit Painted Cove Trail offers an immersive experience. Along this trail, you'll traverse an elevated wooden promenade, showcasing the intensely red hills and providing excellent photo opportunities.
For the more adventurous and energetic, the Carrol Rim Trail awaits, offering the longest local trek at around 3 kilometers. This trail rewards hikers with panoramic views from the summit of Carroll Rim, showcasing the breathtaking beauty of the surrounding hills and valleys. Prepare to be captivated!
Can you drive through the Painted Hills?
Without a doubt, all areas of the Painted Hills are accessible by car, providing you with the convenience to drive and explore. Park at designated lots, then take brief hikes to access the awe-inspiring viewpoints.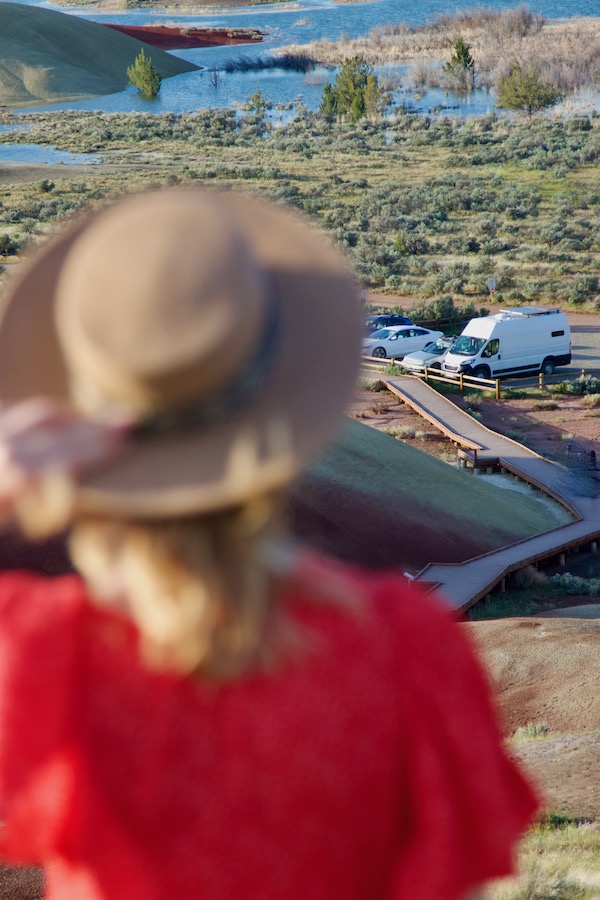 5 Essential Tips for a Safe and Enjoyable Trip to Painted Hills
1. Watch out for the snakes! Keep an eye on your surroundings and stick to marked trails to avoid encounters with the local snake species.
2. Leave your drones at home. To preserve the fragile ecosystem, drone usage is prohibited in the area.
3. Stick to designated trails to protect the delicate landscape and ensure your own safety.
4. Camping within Painted Hills is not permitted, but you can choose from nearby dispersed campgrounds for accommodation.
5. Stay hydrated! Remember to bring an ample supply of water, especially during hot and dry weather conditions.
For more detailed information about visiting Painted Hills, please visit the official website.
4. Trillium Lake and Mount Hood: A Captivating Finale to Your Trip
Make sure to include the stunning Trillium Lake and the majestic Mount Hood as the final stop on your trip. This picturesque destination, located approximately 3 hours away from Painted Hills, offers a breathtaking sight of Mount Hood reflecting in the tranquil waters of Trillium Lake. Ensure you arrive early to fully immerse yourself in this captivating experience.
How deep is Trillium Lake?
Trillium Lake features a maximum depth of 6 meters (20 feet) and an average depth of 2 meters (7 feet), creating an ideal backdrop for a range of outdoor pursuits amidst breathtaking natural vistas.
With its beautiful scenery and abundant recreational facilities, Trillium Lake is an ideal camping spot. In winter, you can even enjoy skiing activities here. Explore the approximately 3-kilometer trail encircling the lake, which entices hikers with its scenic allure. I highly recommend witnessing the beauty of Trillium Lake at sunset, as the lake's surface perfectly mirrors the majesty of the volcano, creating a magical play of light. This spot is also ideal for a romantic picnic for two!
Can you swim in Trillium Lake?
Yes, Trillium Lake permits swimming. This popular recreational destination offers visitors the opportunity to engage in activities such as swimming, fishing, and kayaking in its clear waters, all while being enveloped by the scenic vistas of Mount Hood and the surrounding forest.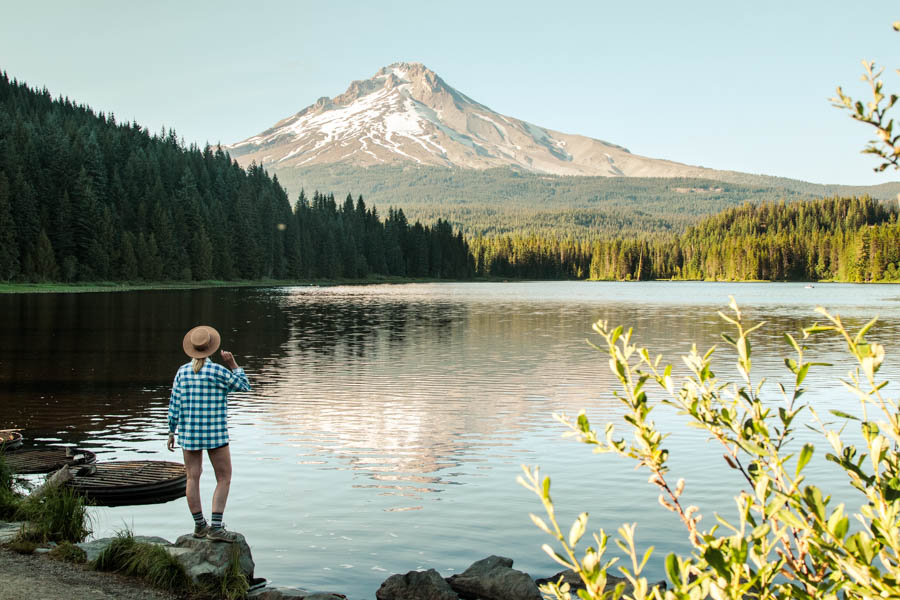 Summary
Discover the captivating beauty and majesty of the picturesque Painted Hills and Trillium Lake, perfect for a day trip from Portland. These breathtaking destinations offer unforgettable views that make them must-visit spots. If you enjoyed this post or have recommendations for other fascinating places in Oregon, please share your thoughts in the comments below. I would love to hear from you!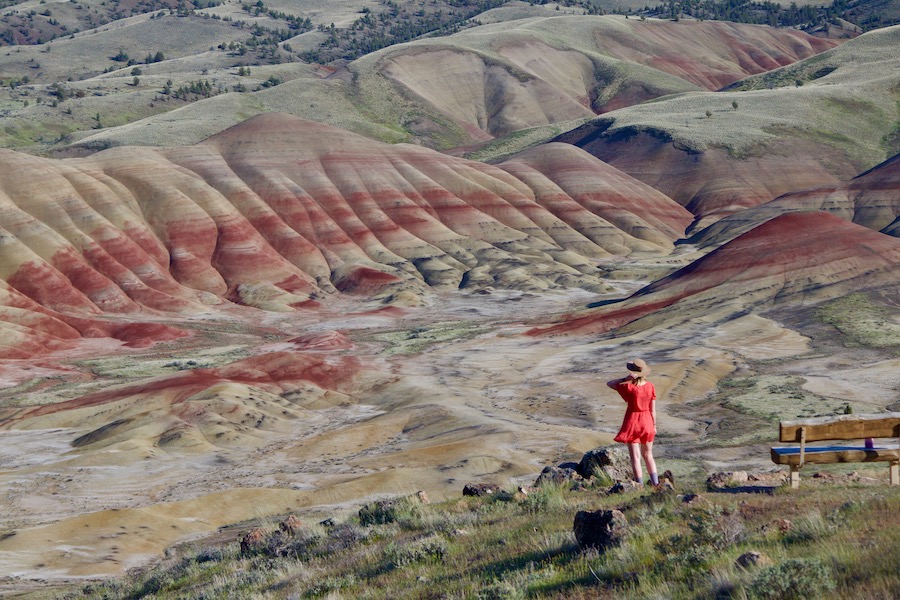 Pin it for later!