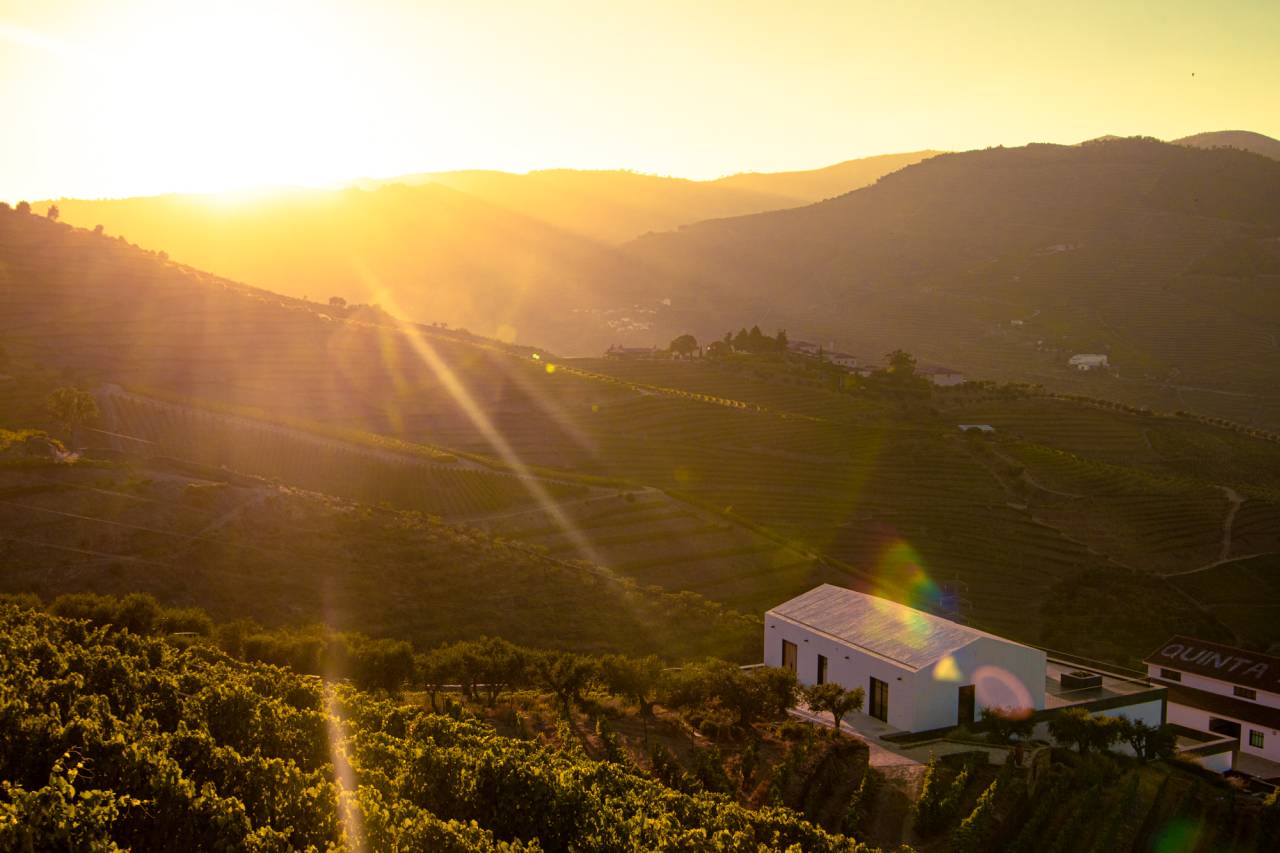 The Ultimate Travel Guide to Douro Valley, Portugal
No trip to the north of Portugal would be complete without a visit to the wonderful Douro Valley. There are no words that would describe the beauty of this place well. Even the best photos do not fully reflect its charm. The Douro River winding among the green hills, vertical slopes covered with grapevines, traditional quintas with stunning views, great regional food and delicious port wine are just some of the reasons why this region of Portugal is worth visiting. However, if you still hesitate to go to the Douro Valley, below you will find our travel guide to this beautiful place which should dispel all your doubts 😉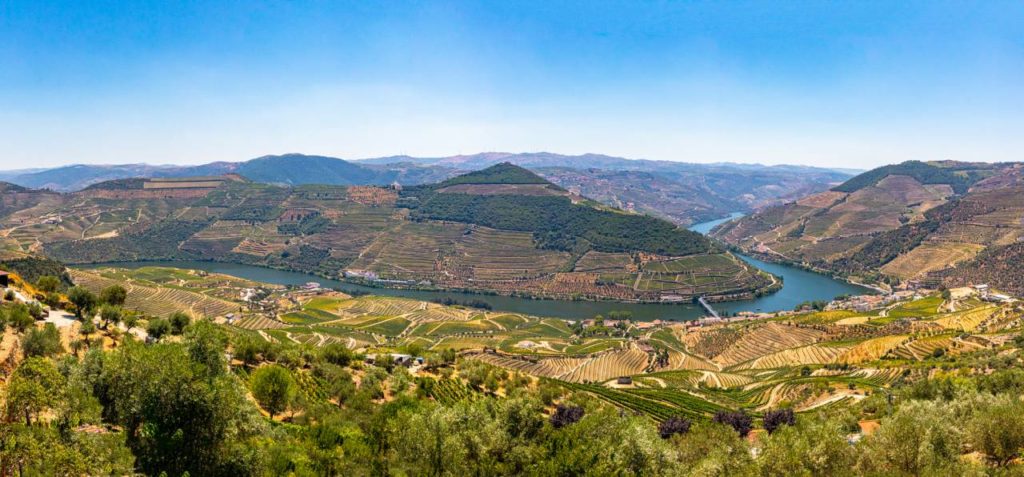 A few words about the valley
The Douro Valley, known as Alto Douro, is a wonderful area situated on the picturesque River Douro (one of the most important rivers of the Iberian Peninsula, nearly 900 km long) in Northeast Portugal. This place was the first in the world to obtain the official status of a wine region. There is evidence that wine in the Douro Valley was produced already in Roman times, i.e. in the 3rd-4th centuries AD! No wonder that in 2001 this place was added to the UNESCO World Heritage List.
Of course, the main alcoholic drink produced in the Douro Valley is the internationally recognized fortified port wine. Until recently, only wines from the Vila Nova de Gaia cellars (the city to which the port wine was transported by boats) were referred to as port wine, but now (which makes us very happy) port is also matured and bottled in the Douro Valley.
History of Port Wine
According to the legend, the origin of port wine is attributed to the English who were deprived of access to French wines after the war with France. Looking for new sources, English merchants came to Porto and liked the local drink so much that they decided to bring it to England. Unfortunately, the wine often spoiled when traveling by boat. To prevent this from happening, high-percentage alcohol was added to barrels of wine. This is how port was created – a fortified wine with a deep, characteristic aroma.
The Douro Valley is divided into three zones: Baixo-Corgo, Cima-Corgo and Douro Superior. The first one covers the capital of the region – Peso da Régua – and is the wettest and coolest of all zones. It mainly grows grapes intended for the production of the most popular port, i.e. ruby and tawny. In the second zone (mainly around Pinhão), the main cultivation is higher-class strains, which are used for the production of tawny and vintage port. The last zone (located to the east) is characterized by the driest and warmest climate, and is at least exploited.
It is worth noting that, apart from port wine, the Douro region can also boast a great table wine, which we had the opportunity to taste. Grapes are grown here such as Bastardo, Mourisco tinto, Touriga Francesa, Touriga Nacional, Tinta Roriz (black grapes), or Donzelinho branco, Malvasia Fina, Gouveio, Rabigato (white grapes). In addition to great conditions for growing vines, the valley also has an ideal microclimate for growing olives and almonds (the local olive oil has become one of our favorites!).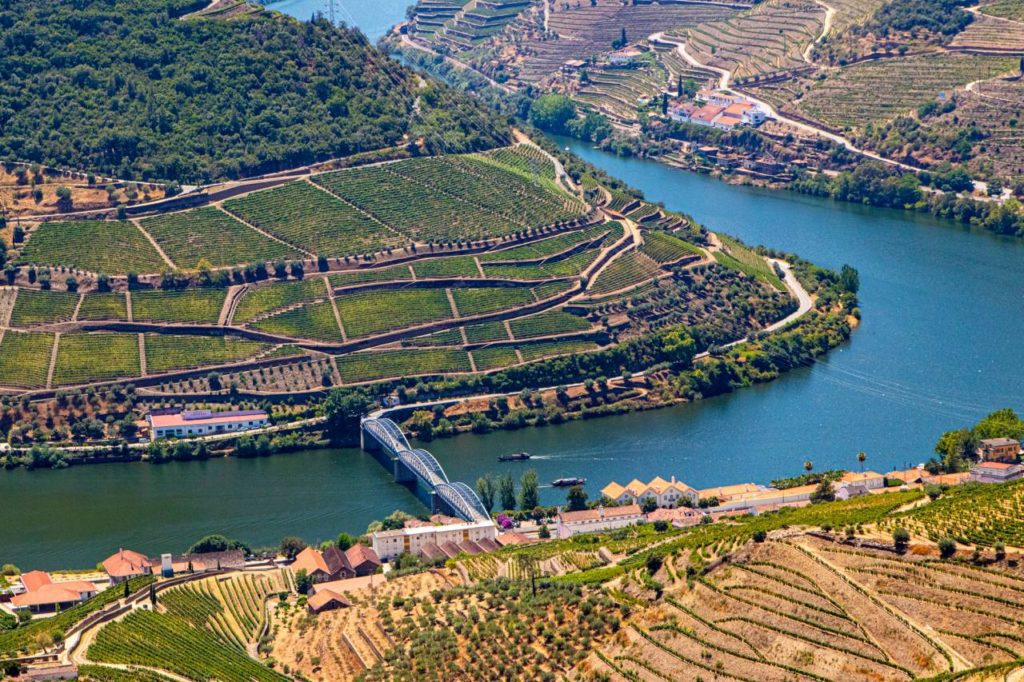 When to go?
Apart from winter, every season is suitable for a visit to the Douro Valley. Each of them, however, has something different to offer. Hiking and cycling enthusiasts should go here in late spring (May-June) or early autumn (September-November), when the weather is the most favorable for this type of activity. Then, however, you have to take into account some showers of rain. If, like us, you are sun lovers and you do not mind high temperatures (often above 30ºC), the summer season (July-August) will be the most suitable for you. Wine lovers, on the other hand, should visit here in September because that's the harvest season. Many quintas (wine-producing estates) then allow their visitors to participate in harvesting and kneading grapes (so-called lagaradas), thus introducing them to the local tradition spanning many generations. We decided to visit the Douro Valley in July and we enjoyed the beautiful sunny weather all the time.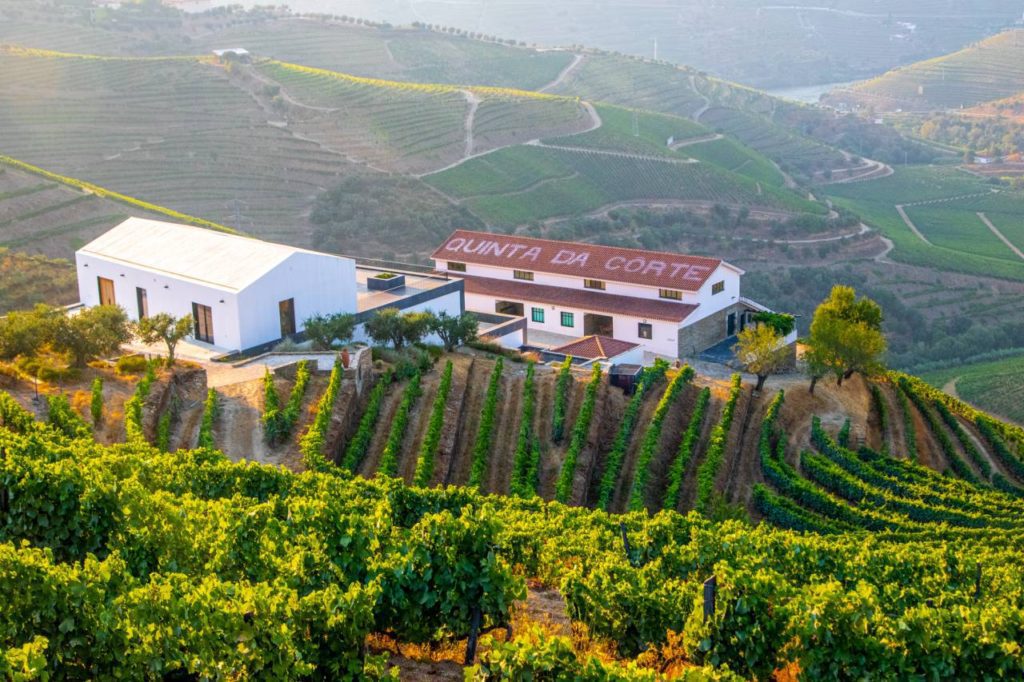 How to get there?
We have already written about how to get to Porto in this post. There are many ways to get to the Douro Valley from Porto. The cheapest of these is, of course, to travel by train or bus. The railway route from Porto to Pocinho (approx. 3.5 h) is considered to be one of the most picturesque in the whole country. This solution, however, has its drawbacks, namely the lack of flexibility and the need to use taxis to get to the slightly off the beaten track vineyards.
Another way to reach the valley is to use the services of local travel agencies and visit the quintas with an organized tour. Unfortunately, it is also the most expensive option, although thanks to it you can enjoy wine tasting as much as you want, without worrying about who will drive the car and how you will return to the hotel (the roads in the valley are quite winding).
Another fun option for getting there from Porto is a scenic cruise along the Douro River, which can be combined with a visit to a local winery. This method is certainly more to the liking of adventure and landscape lovers than true wine connoisseurs, as most of the time is spent on the ship.
In our opinion, the best way to get to the Douro Valley (and to fully enjoy its charm) is to rent a car and stay there for longer (the travel time from Porto is about 1.5 hours, and the cost of renting a car in Portugal is about 35 euros a day). Believe us, nothing will let you feel the atmosphere of this place as staying in one of the breathtaking quintas combined with private wine tasting and visiting a vineyard. Additionally, with a rented car you can go on a road trip around the area and visit many interesting viewpoints and charming towns.
What we highly recommend to you is taking the picturesque scenic route along the Douro River (e.g. from Porto to Pinhão), considered one of the most beautiful in the world. This route initially runs along the N108 and then the N222. Great views guaranteed! Note: due to the numerous bends and narrow road, we recommend this route only to experienced drivers!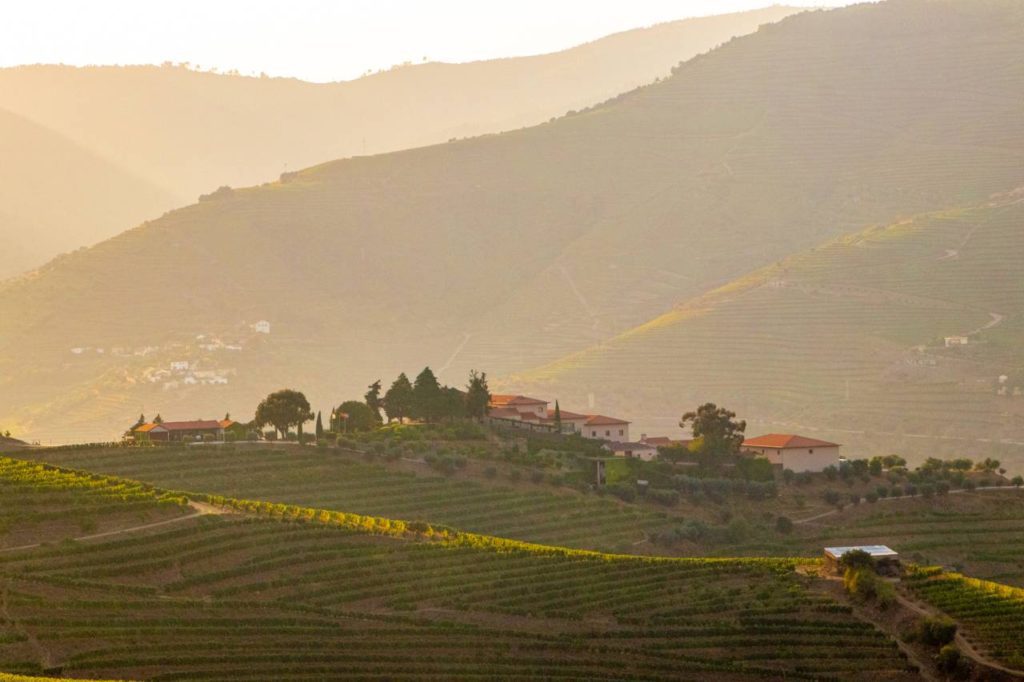 Where to stay?
In addition to the magnificent landscape and great wine, the Douro region also boasts a rich base. Regardless of whether you travel by car or public transport, you should find something suitable for you. You can choose from budget hostels (from 20 euros), mid-range hotels (from 40 euros), luxury resorts overlooking the river (from 200 euros), as well as rustic farms located on wine slopes (from 50 euros).
If you came to the valley by train, it is worth staying in one of the local towns, such as Peso da Régua, Pinhão, Provesende or São João da Pesqueira. Staying in the city has its advantages, which include, among others, the proximity to museums, a greater choice of restaurants, or the possibility of communing with residents. The downside of this solution is the need to hire a taxi every time you want to go for a tasting to local vineyards.
What we decided to do and what we highly recommend you is renting a car and staying in the countryside in one of the wonderful quintas. What could be better than relaxing in nature with a glass of your favorite port in hand? In our opinion, nothing 😉 And when you add an infinity pool with a breathtaking view of the entire valley and delicious food, we get a recipe for a perfect holiday.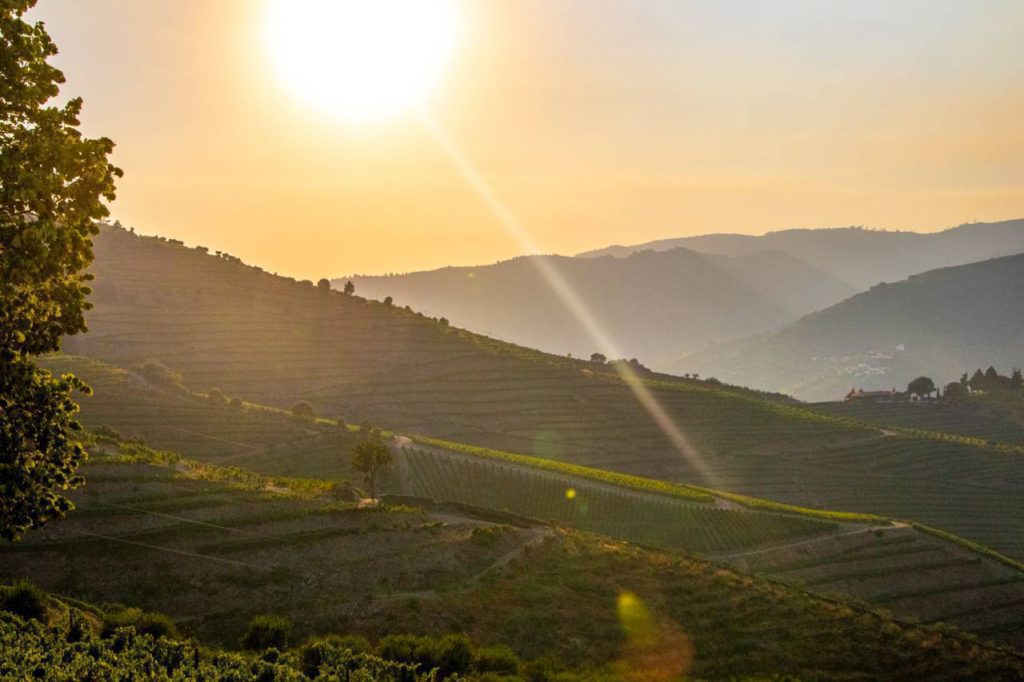 We have to admit that as there are so many great quintas in the Douro Valley, it took a long time to decide which one to choose. Ultimately, our choice fell on the majestically situated (in Valença do Douro) Quinta da Côrte and we do not regret it! From the very beginning, this place captivated us with its unique atmosphere and great service. You can choose between rooms in a beautifully restored mansion and in a former farm building located next to it. Tradition is harmoniously combined here with modernity, which is not surprising at all, taking into account the fact that the interior was designed by a renowned French architect, Pierre Yovanovitch. The quinta has a small, but picturesquely situated swimming pool at guests' disposal, as well as well-decorated common areas, where you can relax with a good book or a cup of tea. Every morning on the terrace with unforgettable views, a delicious breakfast is served, consisting of only regional products (such as cheese, jams, hams, bread), as well as coffee, tea, freshly squeezed juices and fruit. We could eat such a breakfast every day!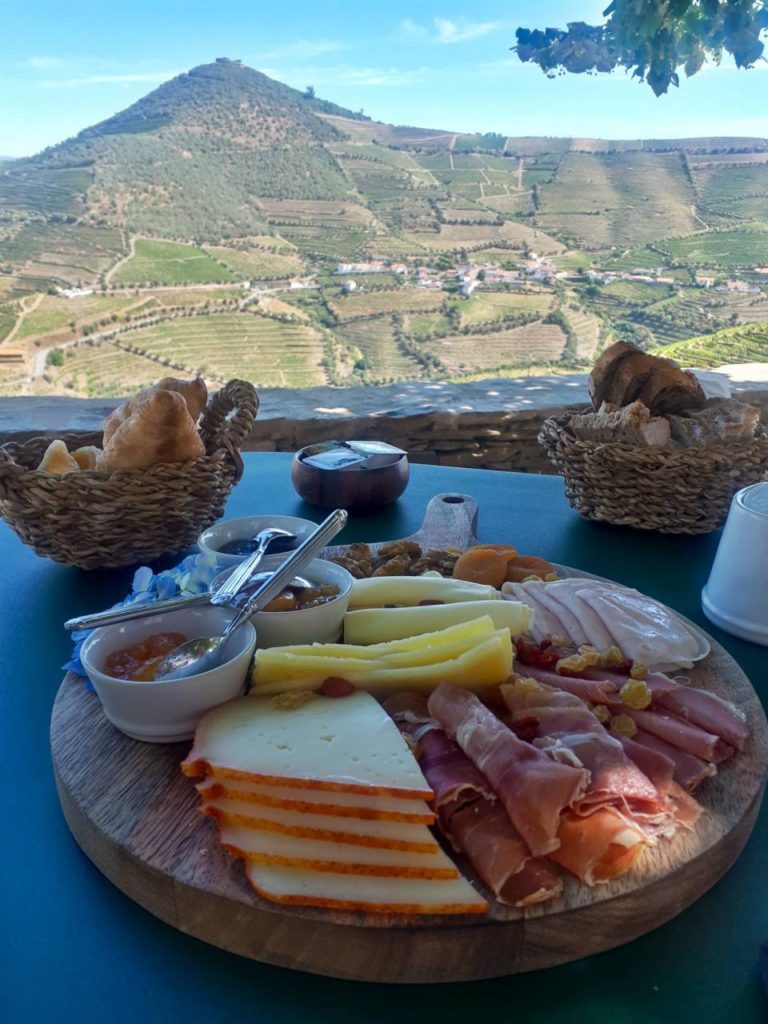 In addition to rich and varied breakfasts, in the quinta you can also order lunch (during the day), or a three-course dinner (in the evening), which many chefs would not be ashamed of. You have a different menu every day, so you can try many local (and not only) dishes – from fish and seafood to poultry and juicy steaks, as well as home-made olive oil and of course great wine. The culmination of every dinner in the quinta was a delicious dessert (just look at the photos below!), and the icing on the cake – a vineyard tour with free wine tasting. What more could you want? We were delighted!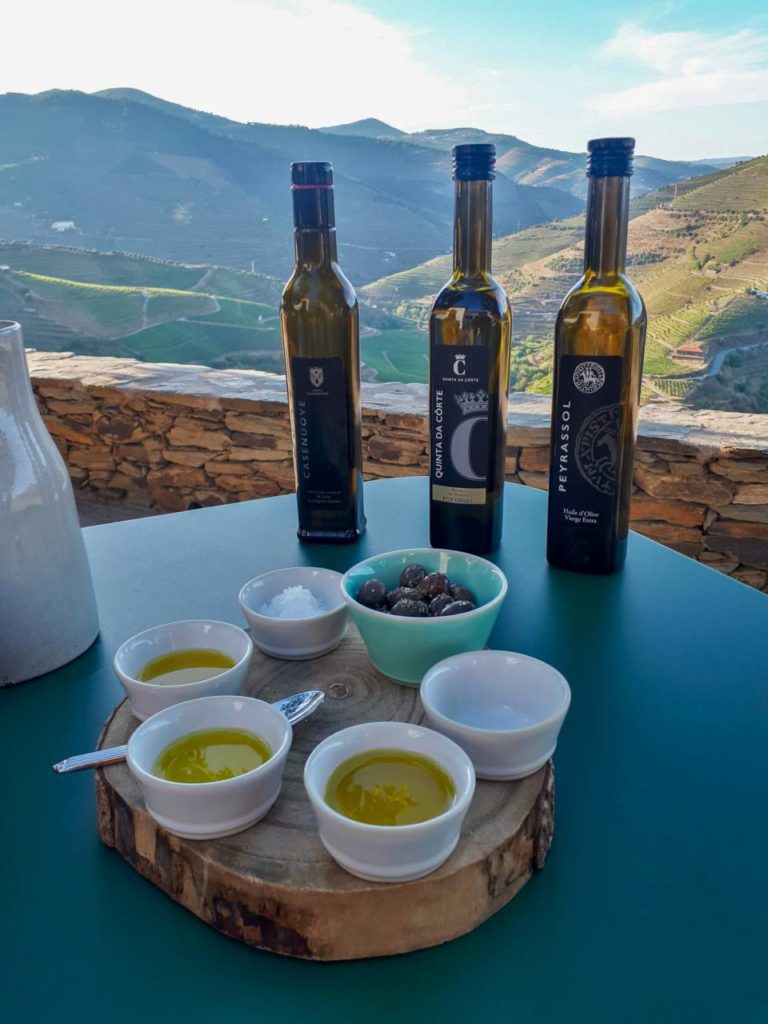 Price range: approx. 200 euros (bed and breakfast), 15 euros (lunch), 25 euros (three-course dinner with three glasses of wine).
What to do in Alto Douro?
Visit the vineyards and see how port wine is made
Of course, no trip to the Douro Valley would be complete without visiting one of the local vineyards and tasting port wine. There are many different wine estates to choose from, from small family businesses to world famous brands. We strongly encourage you to visit the first ones, and you will find out that small does not mean worse (and often the opposite) and at the same time you will contribute to the development of local entrepreneurship.
Regardless of which vineyards you choose, you can be sure of one thing – there are many attractions waiting for you in each of them. During your visit to the quinta, you will have the opportunity not only to taste good wine, but also to see how port wine is made up close and (if you go here in autumn) take part in the local grape harvest.
You can read about how port wine is made and what types of it are in this post. In general, port wine is made by adding high-strength wine alcohol (called aguardente) to wine, which stops the fermentation process and gives it a sweet taste.
There are many types of port wine (ruby, tawny, vintage, LBV), which differ in color (red, white, pink), whether they are blended, which vintages were used for their production, in which barrels they were aged (some of the barrels have one hundred years!), and also (or above all) how long they are aged and when they are bottled. After trying many types of port, we can confidently say that our favorite is the slightly drier-tasting 20-year-old tawny.
Recommended vineyards that are worth visiting while in the Douro Valley include: Quinta de la Rosa, Quinta do Crasto, Quinta da Pacheca, Quinta Nova, Quinta do Vallado, or the aforementioned Quinta de Côrte.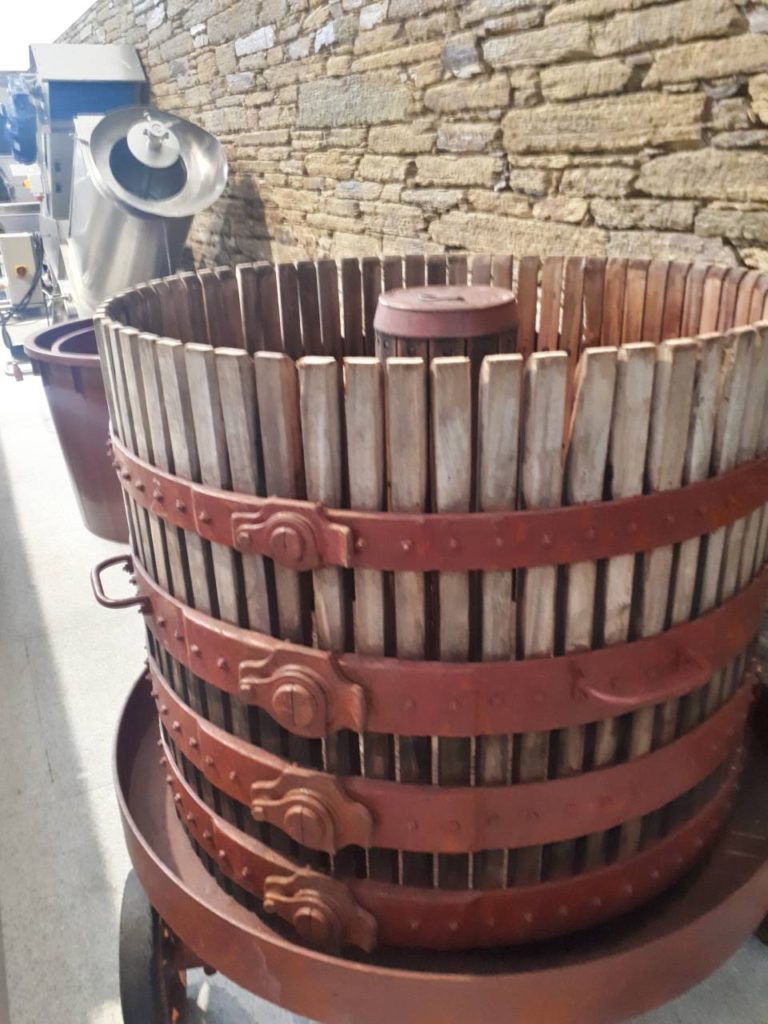 Price range: from 15 euros (hourly vineyard tour with tasting 4 types of wine) to tens of euros per person (private tour).
Take a boat trip on the Douro River
If you get bored with wine tasting, you can always go on a wonderful cruise on the picturesque Douro River. Ships run between Porto and Barca de Alva, a town right on the Spanish border. You can choose from the cruises (1- or 2-hour, half-day or full-day) as well as tours combined with a cruise and sightseeing (2- or 3-day). You can go on a cruise on a traditional wooden boat, which used to carry barrels of wine (the so-called rabelo), or on a modern ship with all possible amenities (accommodation, meals, drinks, etc.).
Choosing the right cruise largely depends on your budget and the amount of time you have. However, no matter which trip you choose, we guarantee that each of them will provide you with an unforgettable experience.
The most popular cruises on the Douro River include the one-day cruises on the Porto – Peso da Régua and Porto – Pinhão routes (one-way cruise, return by train), but the 1- or 2-hour cruises on the Pinhão – Romaneira – Pinhão and Pinhão – Tua – Pinhão routes also enjoy a lot of interest. The first of them will be suitable for people who are not focused on wine tasting but only admiring the beautiful views, while the second of them – for those who spend the night in the valley, and treat the Duero cruise only as a supplement to their stay.
In addition to the above-mentioned cruises, there are also cruises on the Peso da Régua – Pinhão route, but nevertheless the landscapes passed by on the way are not so spectacular.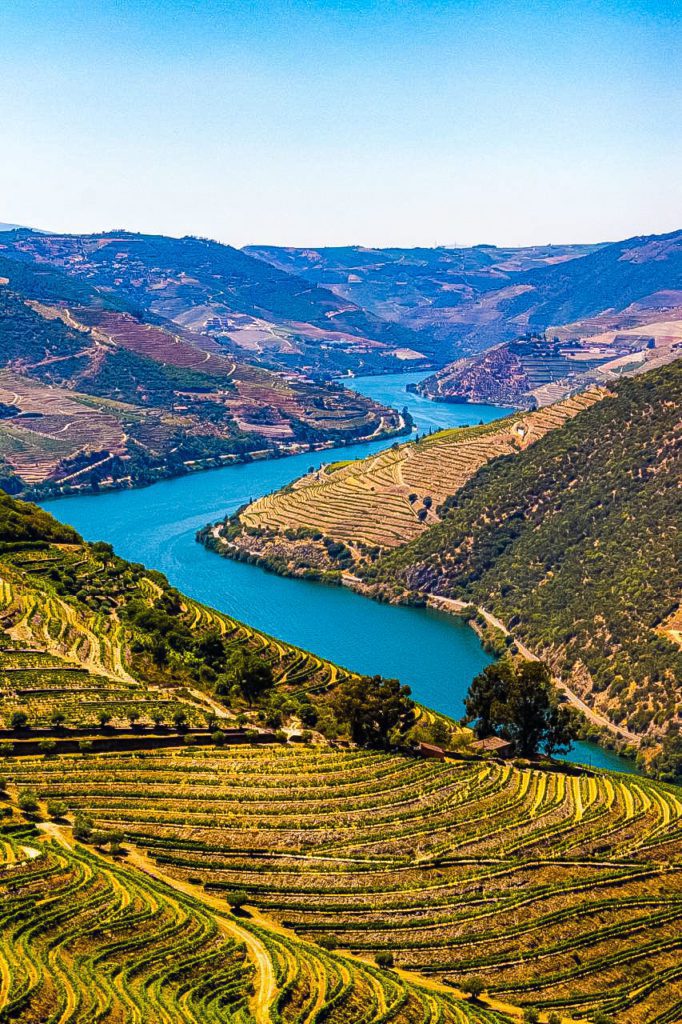 Price range: from 10 euros (Pinhão – Romaneira – Pinhão cruise), from 20 euros (Pinhão – Tua – Pinhão cruise), 60-120 euros (Porto – Peso da Régua and Porto – Pinhão), 200-300 euros (2-day trip with a cruise), 400-500 euro (3-day trip with a cruise).
Note: Due to restoration work on the river, cruises are scheduled between April and October.
Admire the viewpoints
While in the Douro Valley, you must also go to one of the local viewpoints, which offer spectacular views of the entire area. During our stay, we visited places such as: São Salvador do Mundo, Casal de Loivos and Cruz de Ventozelo and believe us, each of them was breathtaking! The majestic Douro River against the background of the vine-covered slopes looks like painted and will forever remain in our memory. It is for views like this that it is worth going to the north of Portugal. In addition to the above points, be sure to also visit Alto de Vargelas and São Leonardo da Galafura. Unfortunately, we did not have enough time for it, but we will certainly make up for it someday!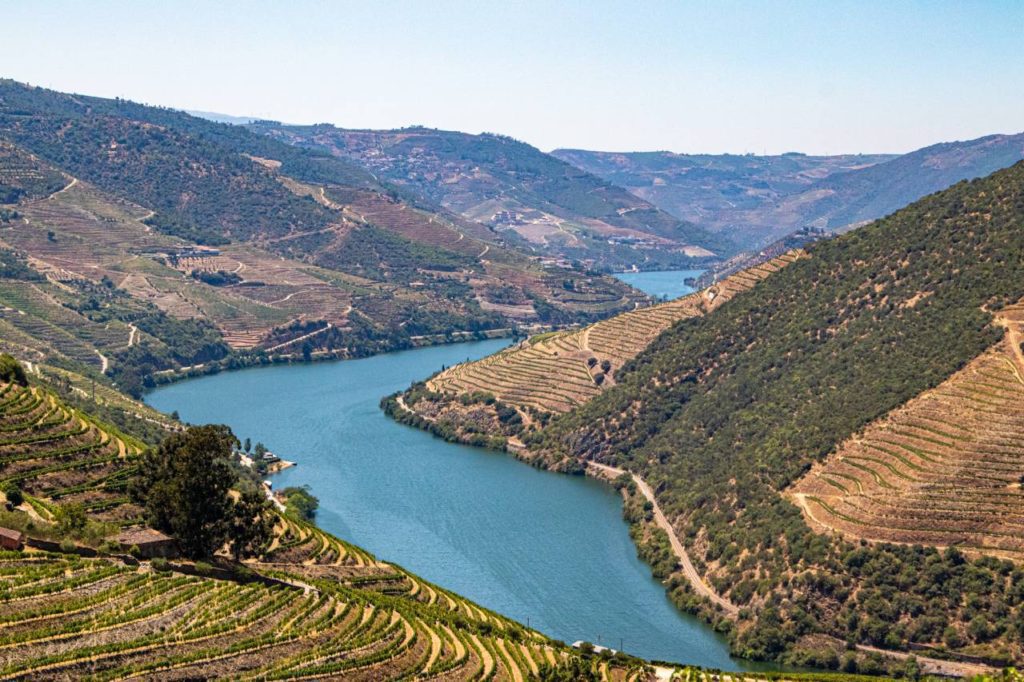 Visit the charming towns
Another reason why you should go to the Douro Valley is a visit to one of the climatic towns. The most interesting of them are undoubtedly Pinhão, Lamego and considered the capital of the entire region – Peso da Régua. In the picturesque Pinhão, located along the river, in addition to great vineyards offering tastings, other attractions await you, such as the beautifully decorated (with azulejos tiles) railway station and numerous restaurants where you can try a traditional Portuguese specialty – salted cod bacalhau (more about Portuguese national dishes you can read in this post). In the ancient town of Lamego, it is worth seeing the church of Nossa Senhora dos Remédios located on the hill, the medieval cathedral of Sé, as well as the remains of a former castle. Lovers of sacred art should definitely go to the Museu de Lamego, and enthusiasts of history and good local wine – to the Museu do Douro in Peso da Régua. While walking around the capital of the region, do not forget to stop by one of the charming cafes for a traditional almond cake (toucinho do céu) or the famous custard tartlets (pastéis de nata). Both desserts taste delicious!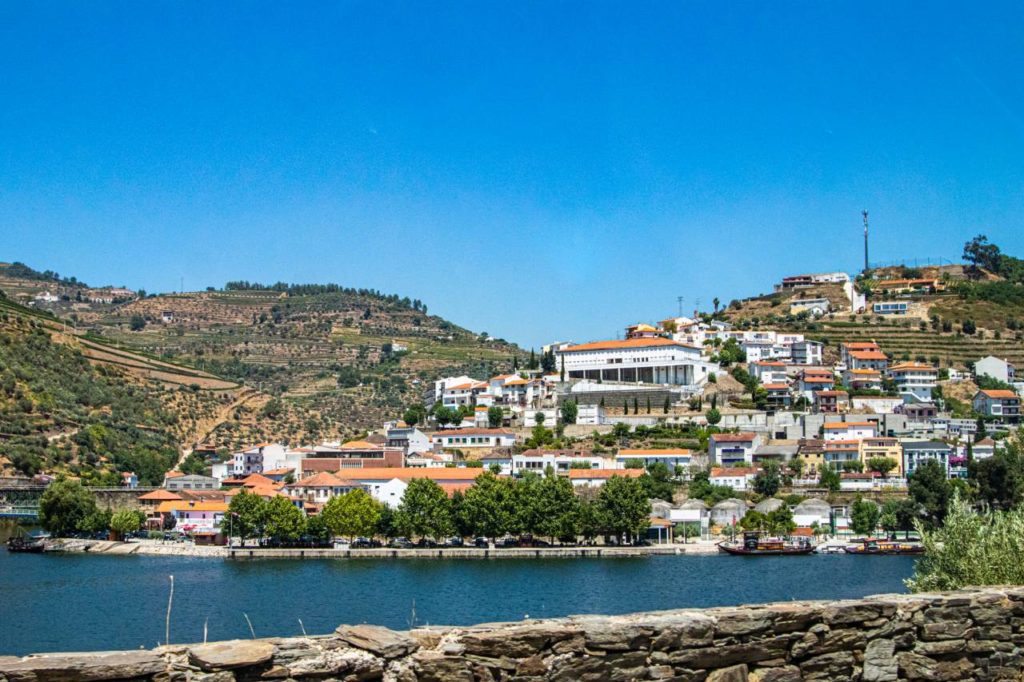 Take a ride on the historic railroad
If you plan to visit the Douro Valley between June and October, you must also take a ride in a historic locomotive. The train is over a hundred years old (!), consists of five cars and runs between Peso da Régua and the small town of Tua. While a one-way trip takes just over an hour, it is enough to make you feel like you are stepping back in time. During the ride you will have the opportunity to admire the wonderful landscapes, and the trip will be made more pleasant by local singers and… a glass of local port wine. Does it sound great?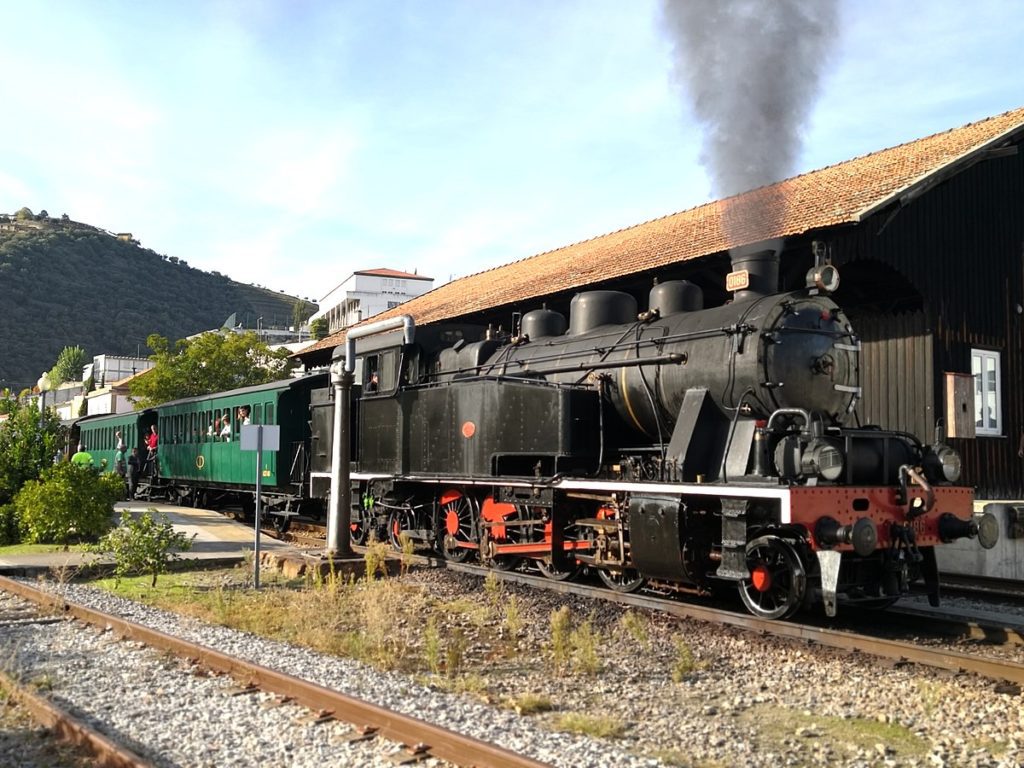 Price range: from 20 euros (children) to 42.50 euros (adults). You can buy tickets for the historic train here (it is best to book them well in advance).
Go on a bike trip
The last way to discover the charms of Alto Douro, which we would like to recommend to you, is a bike trip. What can we say, the local roads are perfect for cycling, and the landscapes passed by the road are breathtaking. Although most routes lead through significant hills, all the hardships of riding a bike uphill are compensated by the wonderful views. One of the most popular cycling routes in the region is the scenic N222 road (between Peso da Régua and Pinhão). Of course, we would like to point out in advance that this way of exploring the valley is not for everyone. Due to the local terrain, we recommend it mainly to experienced (or at least intermediate) cyclists.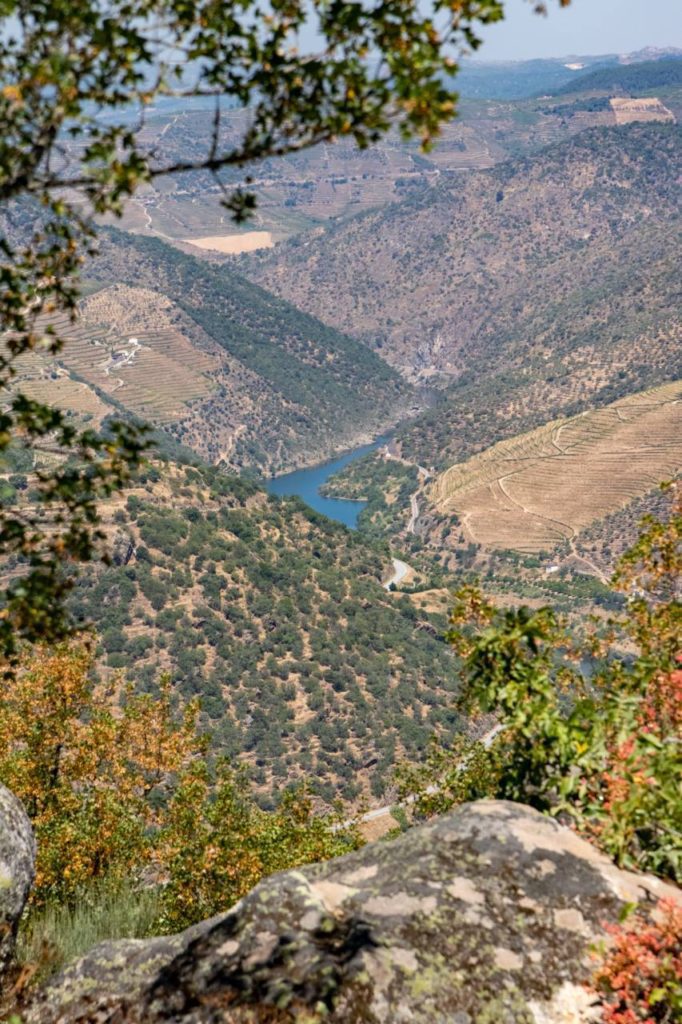 Summary
To sum up, the Douro Valley, located less than 1.5 hours drive from Porto, is a perfect holiday destination. This region will appeal not only to wine lovers, but also lovers of blissful relaxation in the countryside, small medieval towns and beautiful landscapes. In our opinion, this place is much more beautiful and, at the same time, much more intimate than, for example, a very touristic Tuscany. So if, like us, you value good food, stunning views and extraordinary attractions, be sure to go to Alto Douro in the north of Portugal. Trust us, you won't want to leave!
Pin it for later!
Have you been to this region of Portugal? What do you think about Douro Valley? Be sure to let me know below 🙂