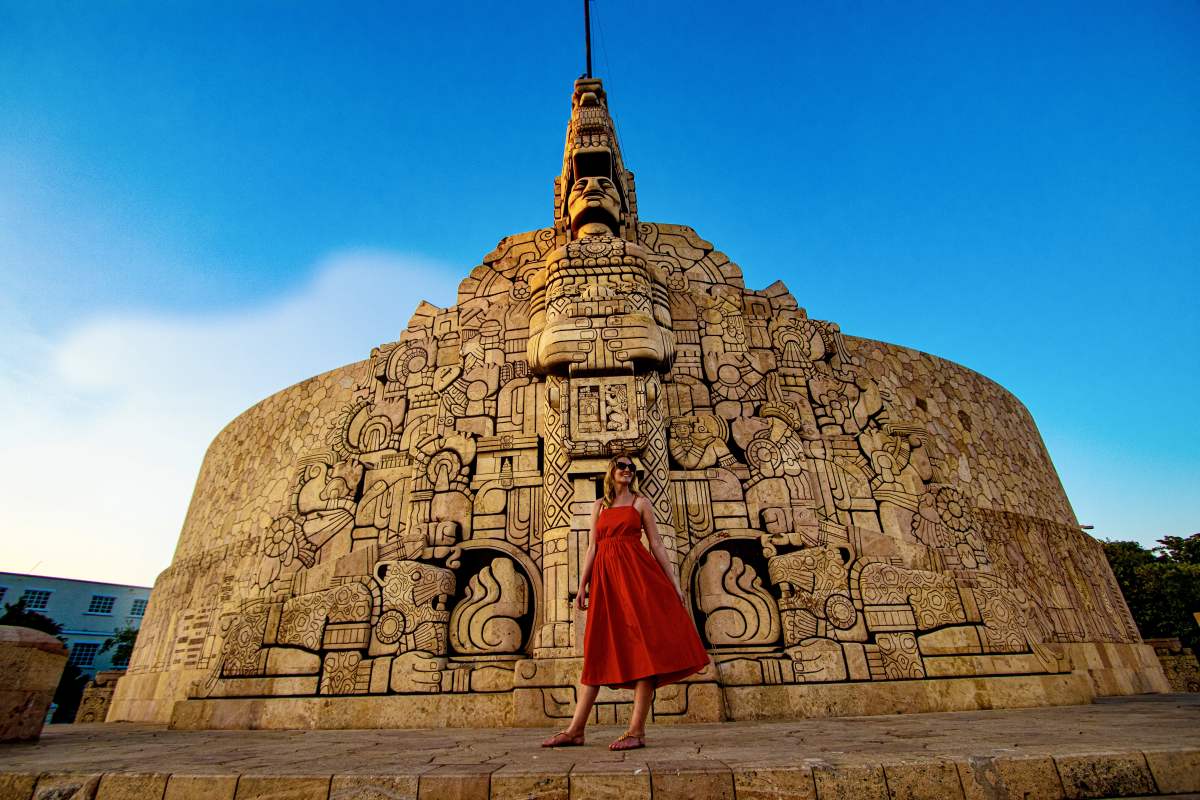 Discover Yucatan's Secrets: A 3-Week Epic Road Trip in Mexico
There is nothing like the Yucatan Peninsula in Mexico. The beauty of nature, tropical climate, unique Mayan heritage and fantastic beaches are just some of the reasons to visit this wonderful region of Mexico. Discover the magical charms of the peninsula, visit pre-Columbian ruins, take a walk through colonial towns and enjoy the flavors of Mexican cuisine. Forget about all your worries and spend unforgettable moments in Yucatan! Read my travel guide and find out how to organize a 3-week road trip in Yucatan. Enjoy reading!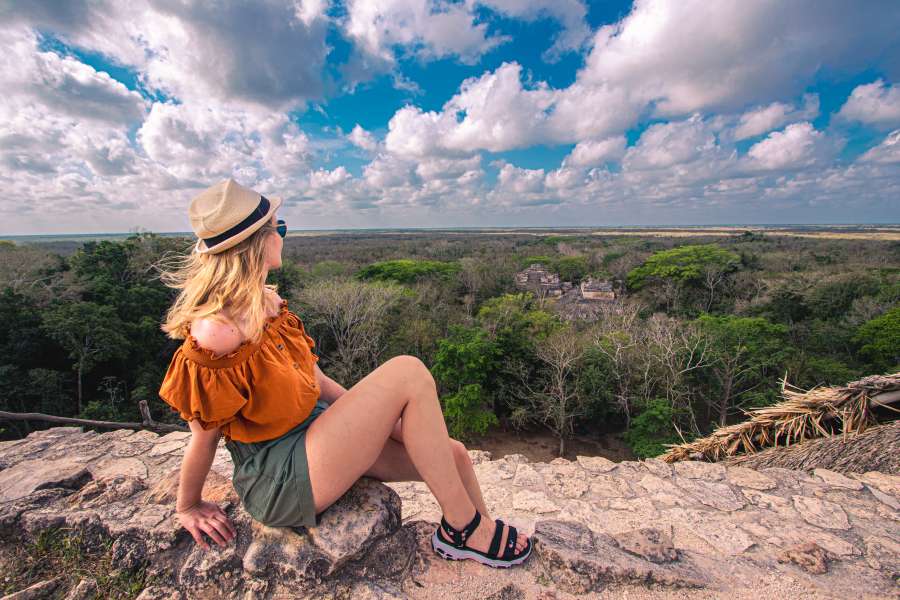 How to get to Yucatan Peninsula?
The fastest and most convenient way to get to Cancun from Europe is a direct flight from one of the European cities. You can fly directly to Cancun from London, Paris, Frankfurt, Amsterdam or Madrid, among others. The duration of the flight to Cancun, Mexico is approximately 11 hours, and prices range from €750 for a return trip.
When to go to Yucatan Peninsula?
Although the Yucatan Peninsula is warm year-round and the temperature rarely drops below 25 degrees, the best time to travel to this region of Mexico is from December to April, which is the dry season. The rainy season in Yucatan usually starts in May and ends in October. During this time, it rains almost every day, and there is also the risk of hurricanes.
The wettest month of the year is September and the driest is March. If you care about good weather and want to avoid the biggest crowds, it is worth going to the Yucatan Peninsula at the beginning or end of the dry season. Personally, I recommend the first option, because in April seaweed can already appear on some beaches of the Yucatan.
How to get around the Yucatan Peninsula?
In my opinion, the best way to get around Yucatan is by renting a car. This option allows you not only to move around the peninsula comfortably and efficiently, but also (and perhaps above all) to save a lot of time. Contrary to appearances, the comfort of driving on the streets of Yucatan is not much different from that in Europe. For example, the drive from Cancun Airport to the popular tourist resort of Tulum takes about two hours.
Most rental companies are located near the airport and are easily reached by the free shuttle bus. It is best to book a car in advance online, e.g. through Rentalcars.com. The price of renting a car per day is about €20-€30. It is worth remembering to buy good insurance and photograph the car before setting out on the road to avoid later misunderstandings.
Note! Although in Mexico you can use a European driving license and rent a car on its basis without any problems, it is recommended to have an international driving license.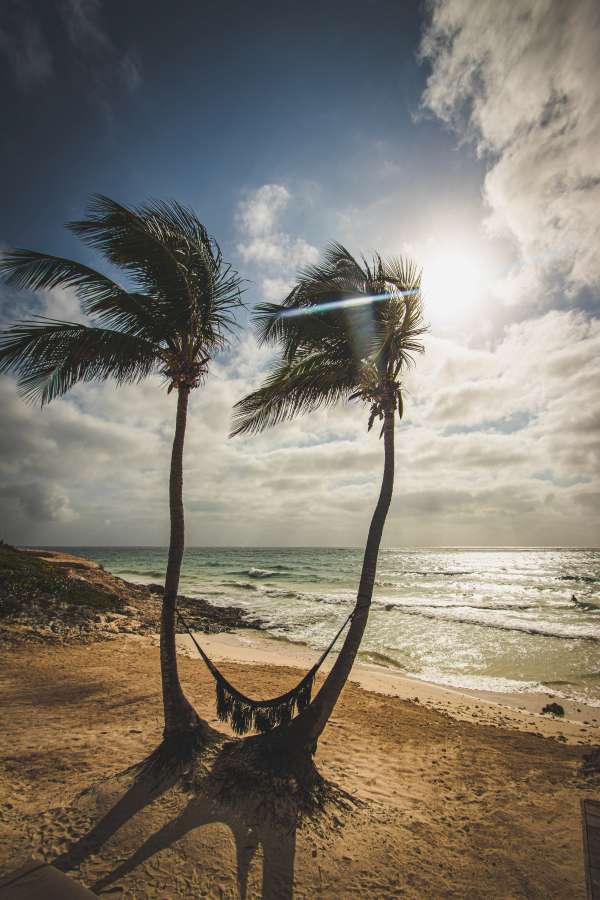 3 week itinerary in Yucatan
Below you will find my proposal for a 3-week road trip around Yucatan. I tested this route and I sincerely recommend it to you 😉 On it you will find the attractions of the Yucatan that I have selected.
Of course, there are many other attractions on the peninsula and it is impossible to see them all in one trip. Nevertheless, I tried to capture the most interesting of them. I hope the itinerary below will make your Yucatan vacation unforgettable!
Day 1-3 Tulum Downtown
Begin your adventure in the Yucatan with a stay in Tulum, a small resort located two hours south of Cancun. It is not without reason that this place has recently become an extremely fashionable destination. You will find here both wonderful beaches, delicious food and interesting monuments.
However, before you go to the seaside, I suggest stopping in the center of the town (the so-called pueblo) to get to know the local cuisine and culture a bit better. The center of Tulum is also much more attractive prices (compared to the seaside hotel zone) and a great starting point for nearby attractions.
Where to eat in downtown Tulum?
Downtown Tulum is a great place to try authentic Mexican food at an affordable price. Taco lovers should definitely go to Taqueria Honorio or Taqueria La Chiapaneca. Other recommended places to eat well in Tulum include Burrito Amor and DelCielo.
Day 1
Gran Cenote
On the first day of your stay in Tulum, visit one of the most famous cenotes in the Yucatan, and maybe in all of Mexico, the Gran Cenote. Cenotes in Yucatan are one of the best ways to cool off on hot days. These places are natural depressions or caves with crystal clear water where you can swim or dive.
The Gran Cenote is actually several connected cenotes where you can have a nice time diving or relaxing on a wooden pier. It is open daily from 8:00 am to 4:45 pm (last entry at 4:15 pm) and the entrance fee is 500 pesos.
Note! Gran Cenote is one of the most popular attractions in the Tulum area, so it's worth going here early in the morning, right after it opens.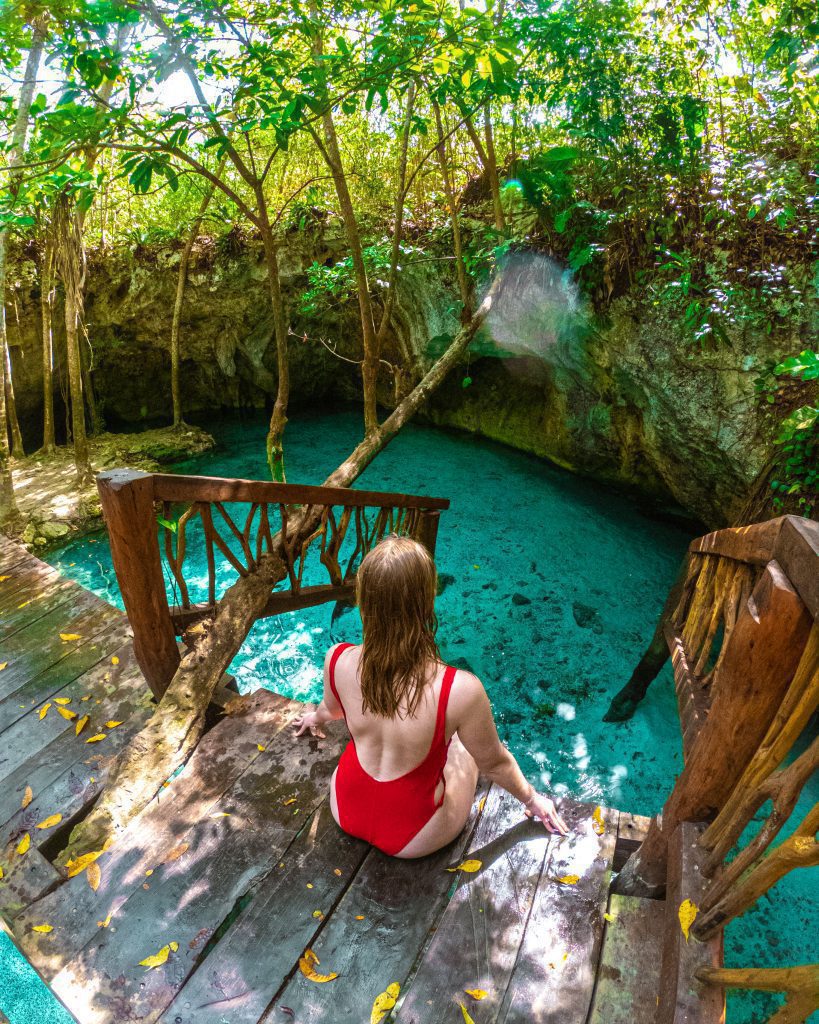 Day 2
Cenote Caracol
The next day, take a trip to the jungle, where there is a beautiful underground Cenote Caracol. To get to this place you have to overcome a long bumpy road, but believe me, it's worth it. As a reward, you will receive a breathtaking cenote, which, due to its secluded location, is not visited by many tourists. So there's a good chance you'll have it all to yourself!
You can rent snorkeling equipment on site and enjoy the crystal clear waters. If you get bored of swimming, you can go to the nearby Tamakas – Trintizia cave. Cenote Caracol is open daily from 8:00 am to 5:00 pm and admission costs 300 pesos.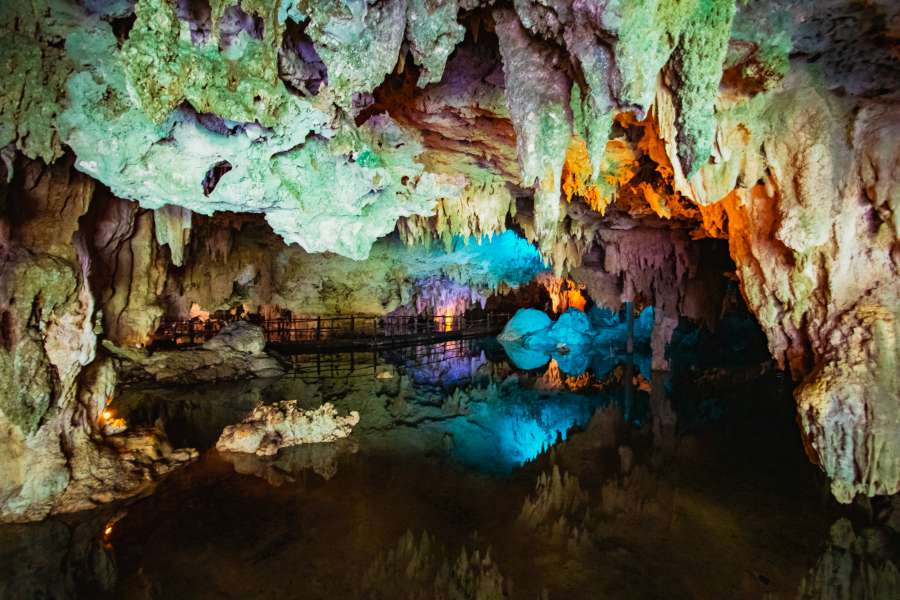 Where to stay in downtown Tulum?
For your stay in the center of Tulum, be sure to choose Hotel Tiki Tiki Tulum. This intimate hotel with an interesting design and a beautiful garden offers spacious rooms with a balcony or terrace and a large year-round swimming pool. An additional advantage of this place is a great bar where you can try delicious cocktails and extremely helpful staff.
Day 3
Kaan Luum Lagoon
On your third day in Mexico, it is worth going to the picturesque Kaan Luum Lagoon, which is considered a hidden gem of the region. The lagoon is just a few minutes from downtown Tulum, making it the perfect place for a half-day trip. This place tempts with shallow, warm waters of various shades of turquoise, which encourage long baths.
In the middle of the lagoon is a deep cenote that is best seen from a bird's eye view. There are comfortable hammocks hanging over the water, where you can spend time pleasantly. In addition, there are swings, an observation tower and a wooden platform at the disposal of visitors. The lagoon can be visited every day from 9.00 am to 4.00 pm, and the entrance fee is 300 pesos.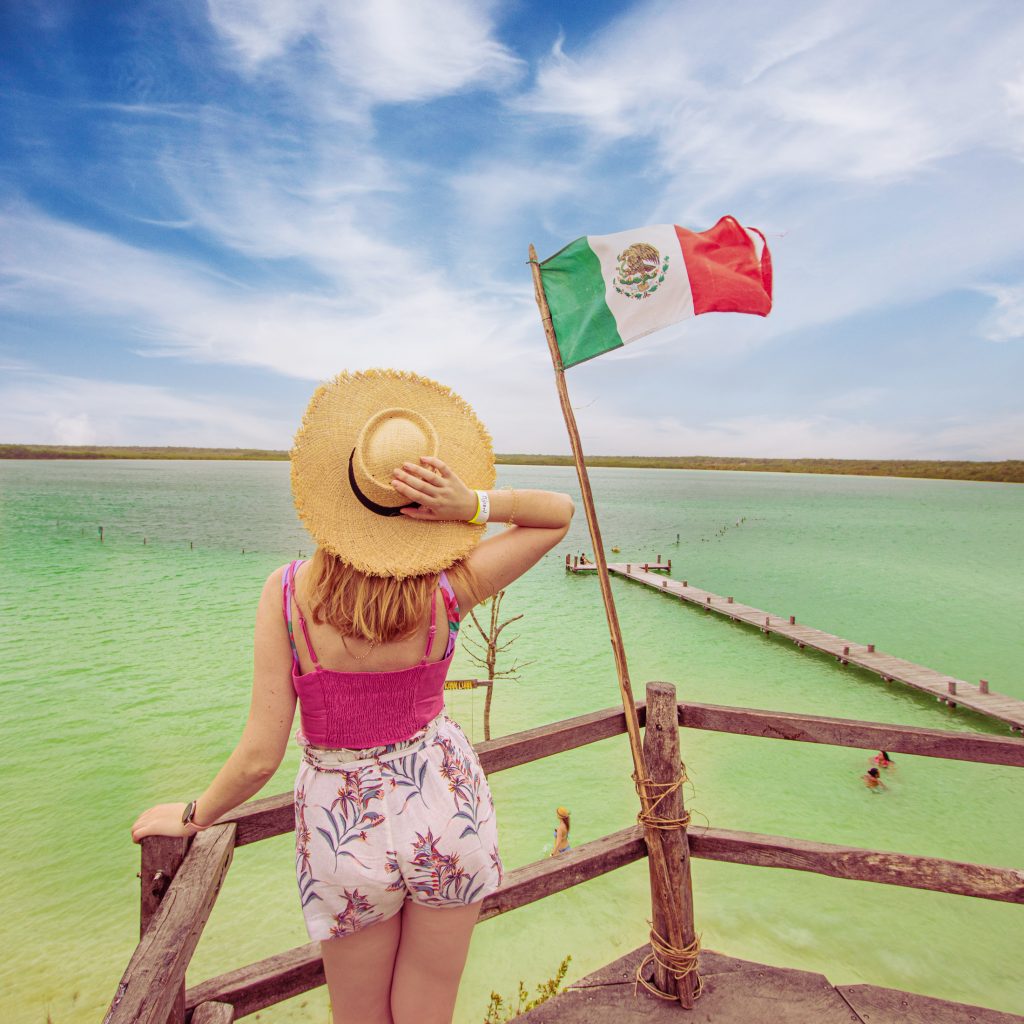 Day 4-7 Tulum Beach
Spend the next few days in Tulum by the seaside in a more touristy district called the zona hotelera. Unlike the downtown Tulum, here you will have beaches at your fingertips! An additional advantage of this part of the city are also fashionable restaurants, often located directly on the beach, which ensures an unforgettable experience. Can you imagine a better place for a romantic dinner for two?
Unfortunately, the location by the sea means much higher prices. However, I think it's worth the expense. After all, how many places in the world can you sleep in treetops or a luxurious tent in the jungle?
Where to stay in Tulum by the beach?
If you care about a unique accommodation, I recommend staying at the Our Habitas Tulum Hotel, located right next to a private beach. The place offers comfortable tents overlooking the jungle or the Caribbean Sea. Free yoga workshops are held on site, and the local restaurant serves delicious regional cuisine with a Middle Eastern twist.
Day 4
Mayan ruins in Tulum
On the fourth day in Tulum, I suggest visiting one of the most important archaeological zones of the region, i.e. the ruins of the Mayan city. What distinguishes this place from others is undoubtedly its location – the ruins are located on a picturesque cliff overlooking the sea. Once a major Mayan trading center, the site is now a popular tourist attraction.
In this former Mayan city, you must see the watchtower El Castillo (probably the oldest building in the city), the Temple of the Frescoes with beautiful paintings and the Temple of the Descending God. In addition, if time allows, it is also worth going to the charming Playa Ruinas beach, located right at the foot of the cliff. The Tulum Ruins are open daily from 9.00 am to 5.00 pm and the entrance fee is 90 pesos.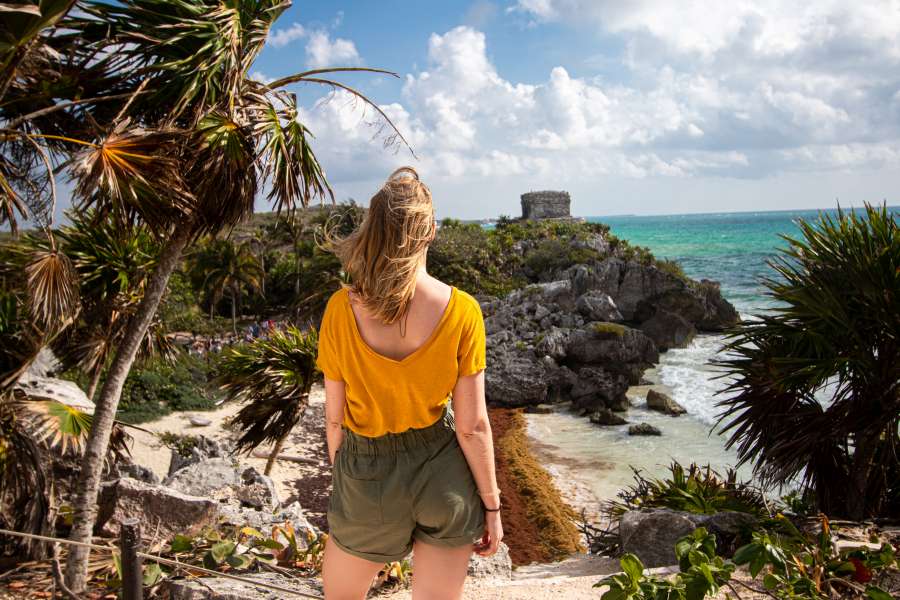 Day 5
Cenote Taak Bi Ha
The next day, for a change, head to Cenote Taak Bi Ha, less than 20 minutes from Tulum. I have to admit that of all the cenotes I visited in Yucatan, this one impressed me the most. First of all, because the place is deep underground and is adorned with amazing rock formations such as stalactites and stalagmites.
In addition, this cenote is beautifully lit, which gives you the opportunity to take unique photos. Of course, as with other cenotes, you can swim and dive in the crystal waters on site. Cenote Taak Bi Ha is open daily from 8:00 am to 5:00 pm. Entrance fee is 350 pesos.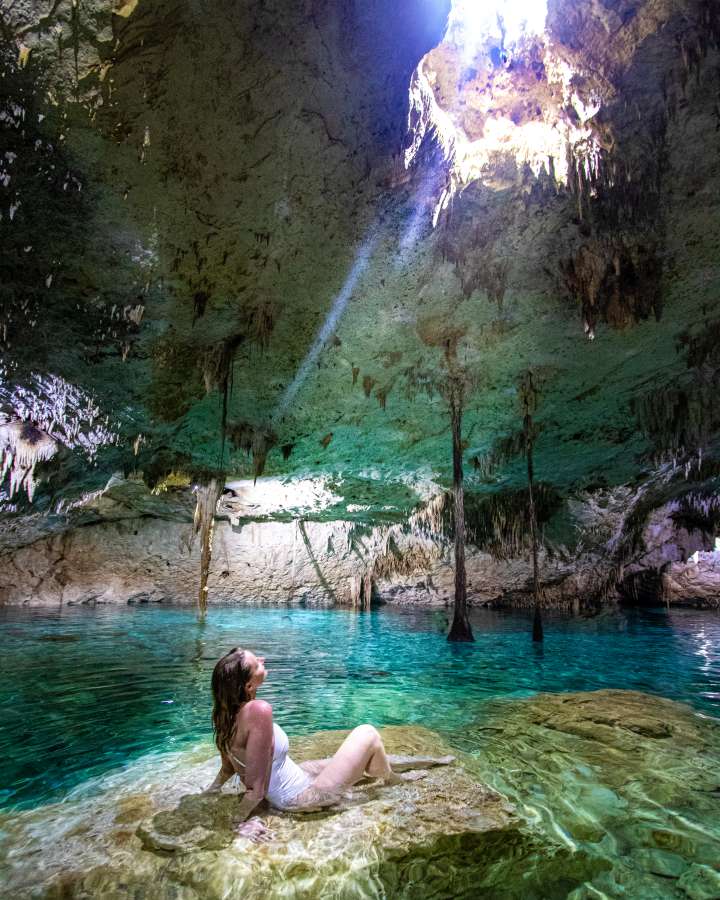 Day 6
Instagrammable places
On the penultimate day in Tulum, I suggest going to the city and visiting the most famous Instagrammable places. Even if you are not an influencer, I still think they are worth seeing, because some of them are real works of art!
One of the most popular and at the same time the most photogenic places is, of course, the wooden sculpture Escultura Ven a la Luz. You will find it in front of Ahau Tulum Hotel, on the main beach road. If you want to avoid queues, be sure to go here early in the morning.
Another place that you absolutely should not miss is the famous "Follow that dream" sign, which is located at the Lolita Lolita Tulum boutique. Other places for a unique photo session in Tulum include the entrance to the Selina Tulum Hotel, a huge pink rabbit at Conestesia, cute swings at Matcha Mamma and a turquoise tuk tuk at I Scream Bar.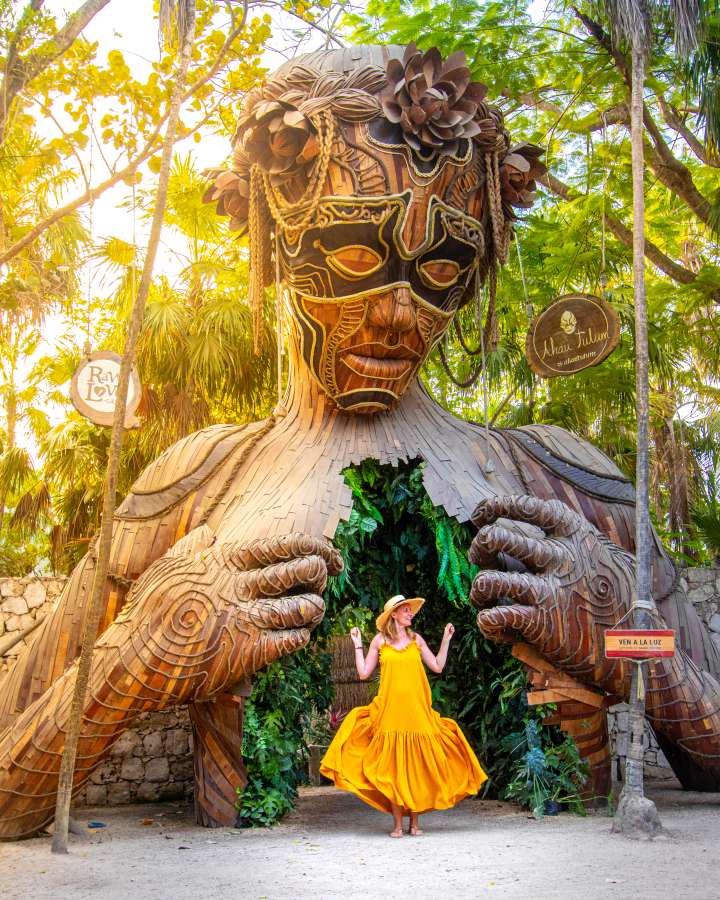 Day 7
Playa Paraiso and/or Playa Pescadores
If you get bored of the hotel beach, go to one of the great public beaches on your last day. I recommend going to Playa Paraiso, which is called a paradise beach for a reason.
Playa Paraiso beach has been repeatedly recognized as one of the best beaches in the world. It is thanks to this beach that Tulum gained its popularity. White, soft sands, turquoise sea and palm trees leaning from the wind are just some of the advantages of this place.
Another public beach worth visiting in Tulum is Playa Pescadores, a little further north. If you arrive at the beach early in the morning, you will see fishermen going out to sea. It is from the fishing boats that this place got its name. If you get hungry, it is worth going for lunch to one of the many beach restaurants where freshly caught fish is served.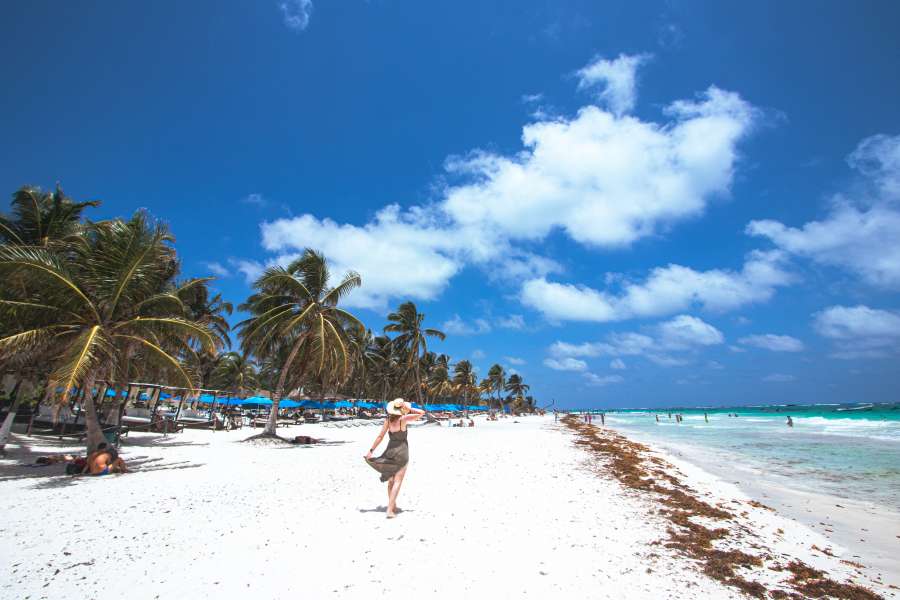 Day 8-11 Merida
On the eighth day of your vacation, leave the coast and head deep into the peninsula towards the capital of the Yucatan state, Merida. It shouldn't take you more than 3.5 hours to travel from Tulum to Merida by car.
Merida is a wonderful city with many buildings from the colonial era. Due to the large number of museums and art galleries, this place is considered the cultural center of the region.
In addition to museums, music and dance are an inseparable element of local culture. In Merida you will also find many interesting shops and some of the best restaurants in the Yucatan.
Where to stay in Merida?
If you are lovers of boutique hotels, be sure to stay at Rosas & Xocolate Boutique Hotel+Spa. This magnificent restored French-style mansion is located on Paseo Montejo, in the heart of Mérida. Compared to other buildings, this place is distinguished by walls in intense pink. Hotel guests have at their disposal an elegant restaurant where breakfast is served, an intimate swimming pool, a spa area and a rooftop terrace where you can enjoy a drink.
Day 8-9
Visiting Merida
It is worth devoting two days to visiting Merida to feel the atmosphere of the city, which, believe me, has a lot to offer. Start your walk around the city with a visit to the main square called Plaza Grande, from which free city tours depart daily at 9:30 am.
While in the square, be sure to stop by the magnificent 16th-century Merida Cathedral, which is the city's landmark. Interestingly, this cathedral was built on Mayan ruins and is believed to be the oldest in mainland America.
Then, it is worth going to La Casa de Montejo, a 16th-century townhouse founded by the main conquistador of Yucatan, which today houses a museum. It is said to be the only Renaissance-style house in Mexico that has survived for nearly five centuries.
Other interesting attractions in Mérida that are worth visiting are the Santa Lucia Park with its giant "kissing chairs", the famous Paseo de Montejo with its original sculptures, the remarkable Monumento a la Patria and the Gran Museo del Mundo Mayan – Mayan cultural museum.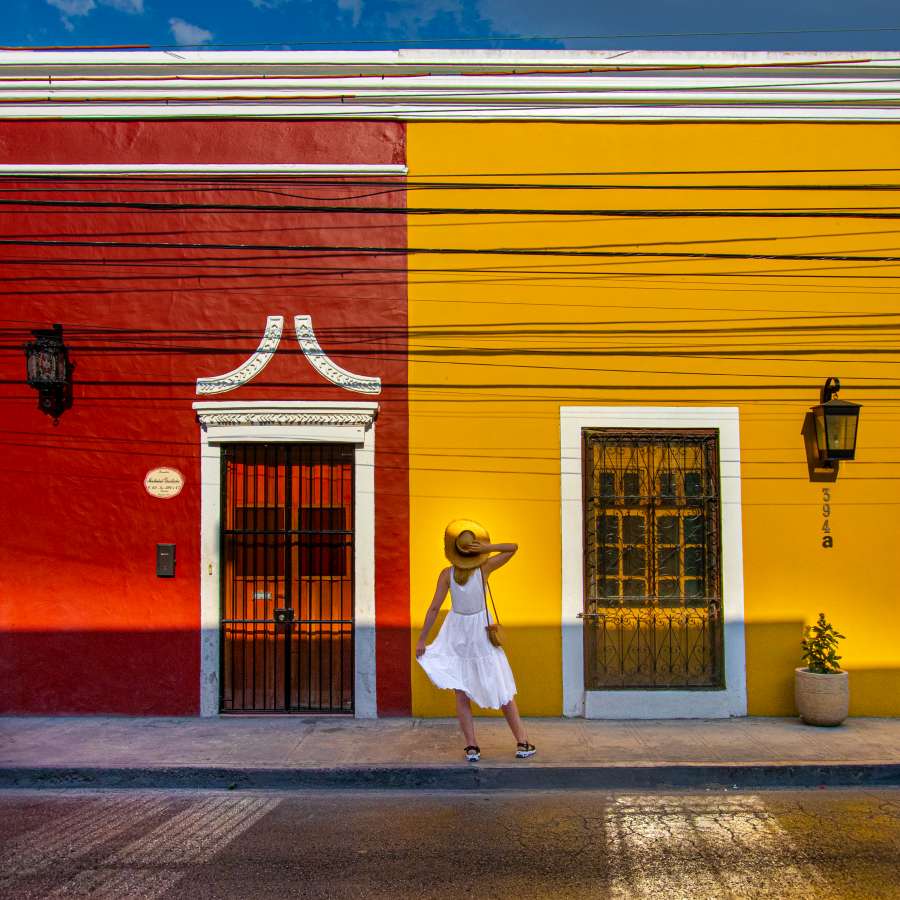 Where to eat in Merida?
Merida in the Yucatan is not only beautiful monuments and interesting museums, but also (and perhaps above all) a great culinary scene that combines traditional Mayan dishes with new trends. While in this city, be sure to go for the famous tacos at Taqueria La Lupita or Taqueria De La Union, insane coffee at Latte Quatro Sette, delicious ice cream at Pola Gelato Shop and great cocktails at Catrín.
Day 10
Uxmal
After two days exploring the Yucatan capital, take a trip to Uxmal, one of the most beautiful ancient Mayan cities. The site is a UNESCO World Heritage Site and is just over an hour south of Mérida. The city was built in the puuc style characteristic of the region, which is distinguished by impressive decorative elements.
However, what I liked most about this place is that unlike most archaeological sites in the Yucatan, in Uxmal you can still climb all the ruins except the Pyramid of the Magician.
In addition to the aforementioned the Pyramid of the Magician, which is impressive in itself, in Uxmal you can also see such wonderful buildings as: the Grand Pyramid, the Governor's Palace, Nunnery Quadrangle, House of the Doves and House of the Turtles. The ruins can be visited daily from 8:00 am to 5:00 pm at a cost of 494 pesos per person.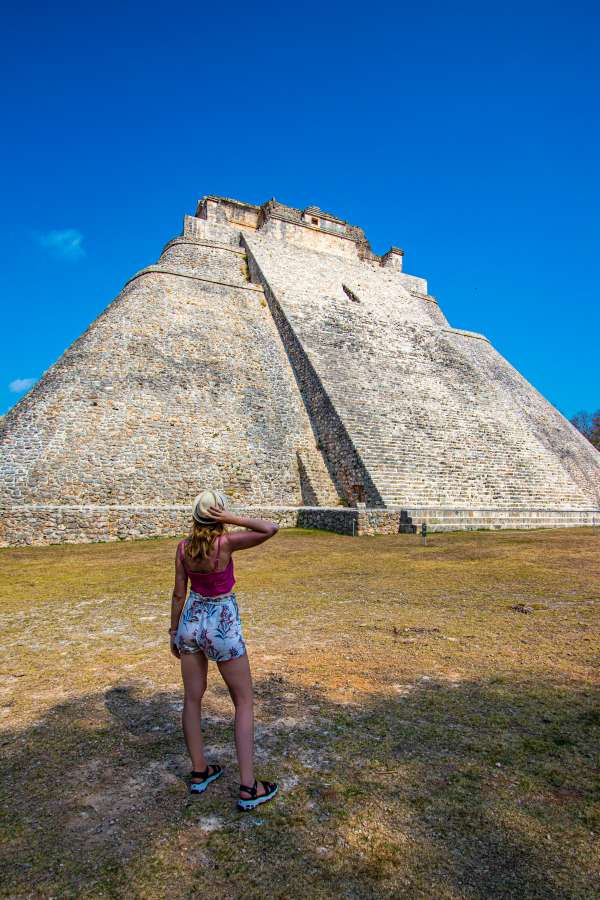 Day 11
Izamal
The next day, check out of your hotel in Mérida and head east towards Chichén-Itzá. However, before you set out to conquer the most famous Mayan ruins, be sure to visit the charming town of Izamal.
This place is called the Yellow City of Yucatan for a reason. Most of the buildings in the town are painted yellow, which gives it an amazing atmosphere.
No one really knows why the buildings were painted yellow. One theory is that it was done in honor of the visit of Pope John Paul II, another that the color is to repel insects.
However, regardless of why Izamal is yellow, one thing is for sure – this color looks beautiful against the sky and is the perfect backdrop for photos! No wonder that recently this place has gained great popularity among Instagramers.
In addition to the yellow buildings in the town, it is worth seeing the former Franciscan monastery (which, by the way, is also yellow) and the pre-Columbian Mayan ruins, which offer a nice view of the area.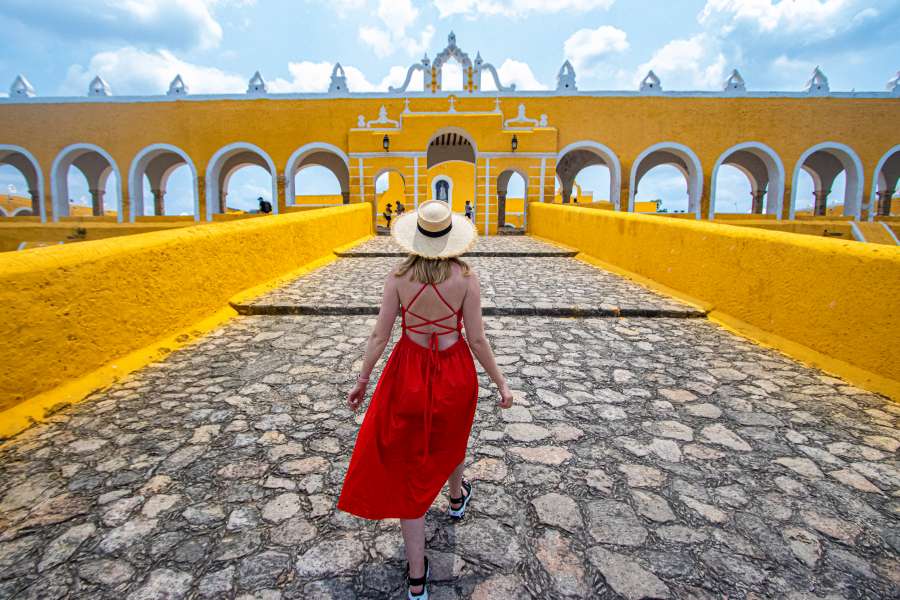 Day 12-14 Chichén-Itzá
Day 12
Chichén-Itzá
After visiting Izamal, it's time to see the most famous pre-Columbian Mayan city in the Yucatan, Chichén Itzá. Walking around this vast complex, it is not difficult to guess why this place was inscribed on the UNESCO World Heritage List, and the Temple of Kukulcán recognized as one of the seven wonders of the modern world.
Unfortunately, all this makes Chichén Itzá very crowded with tourists, so it is worth coming here early in the morning, just after opening or shortly before closing. Personally, I recommend the first option, because only in this case you will be sure that you will be able to see all the attractions.
And believe me, there's a lot to see! As many as 26 Mayan ruins await you on site. In addition to the aforementioned Temple of Kukulcán (El Castillo), noteworthy monuments are also the Temple of Warriors (Templo de los Guerreros), the Thousand Columns group, the Observatory (El Caracol) and the largest ball court in Mesoamerica.
Chichén Itzá is open Monday through Sunday from 8.00 am to 5.00 pm (last admission at 4.00 pm, adults 614 pesos). Tickets are available on site or online (by buying tickets online, you'll avoid queues, but you'll pay more – 65 USD).
Note! If you can, avoid Sundays as they are free for Mexican citizens so they can get very crowded.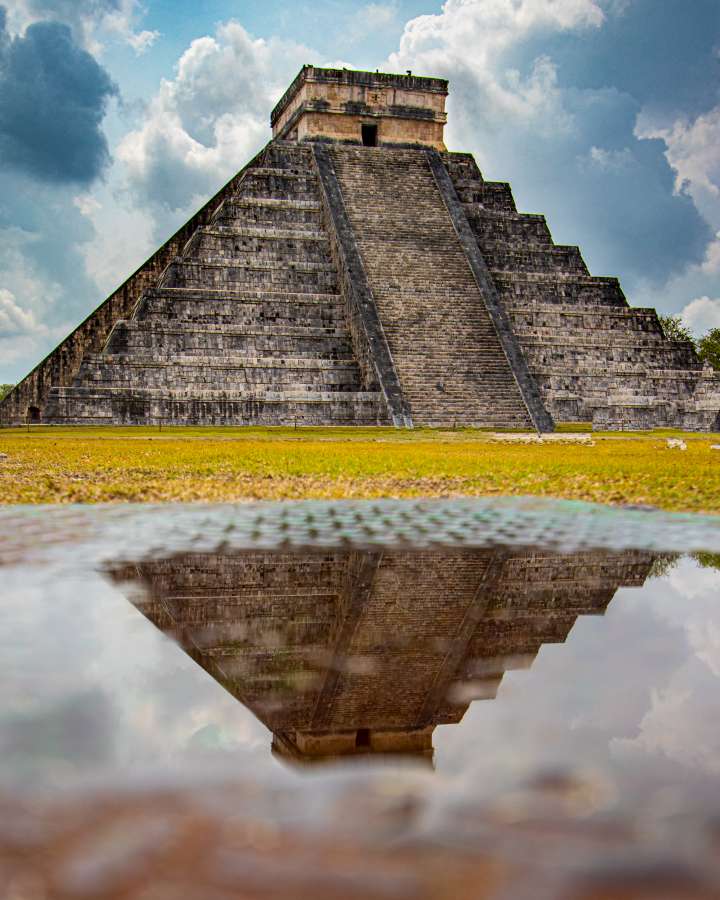 Day 13
Cenote Ik Kil
The next morning, head to the one-of-a-kind Cenote Ik Kil for a change. This cenote is just a 10-minute drive from Chichén Itzá and is considered one of the most beautiful in the region.
The well, about 80 meters deep, makes a huge impression, and the vegetation with lianas growing on its walls only intensifies this effect. As with other such sites, this cenote was once a place of Mayan sacrifice. Today it is the perfect place for a refreshing swim in crystal water.
More than 90 stone steps lead down to the water. It is from them that one of the most beautiful views of the whole cenote can be seen. At the bottom, diving platforms await visitors, from which you can jump into the water. Importantly, the safety of visitors is supervised by lifeguards.
Cenote Ik Kil is open daily from 9:00 am to 5:00 pm, and the entrance fee is 100 pesos (adults) or 40 pesos (children). There is also a restaurant and cottages where you can stay overnight.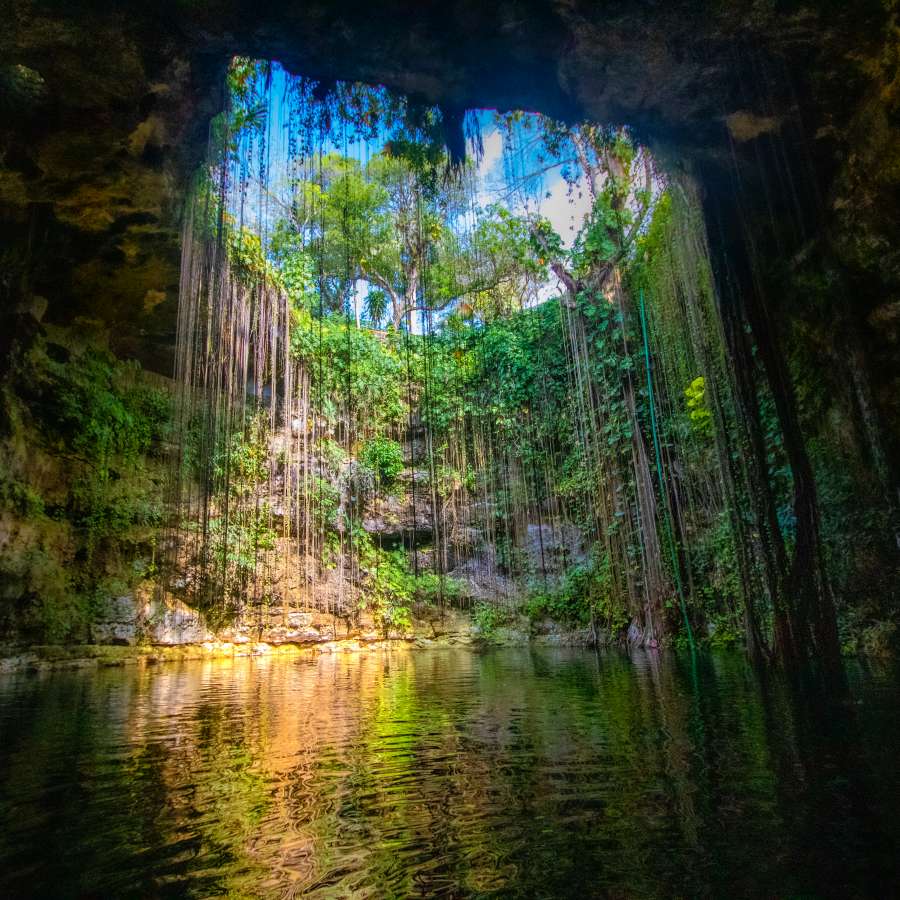 Day 14
Uayma
On your fourteenth day in Yucatan, leave Chichén Itzá and head towards Valladolid. On the way, stop in the town of Uayma, which has recently gained popularity.
All this thanks to one of the most beautiful churches I have seen in the Yucatan, i.e. Iglesia de Uayma, located right here. What makes this church unique is undoubtedly its beautiful patterned façade in white and red.
This temple was originally built by Spanish. Stones from nearby Mayan ruins (including Chichén Itzá) are said to have been used in its construction. Unfortunately, in the 19th century this church was practically destroyed and it took almost 150 years before it was rebuilt. Fortunately, today we can enjoy its view again.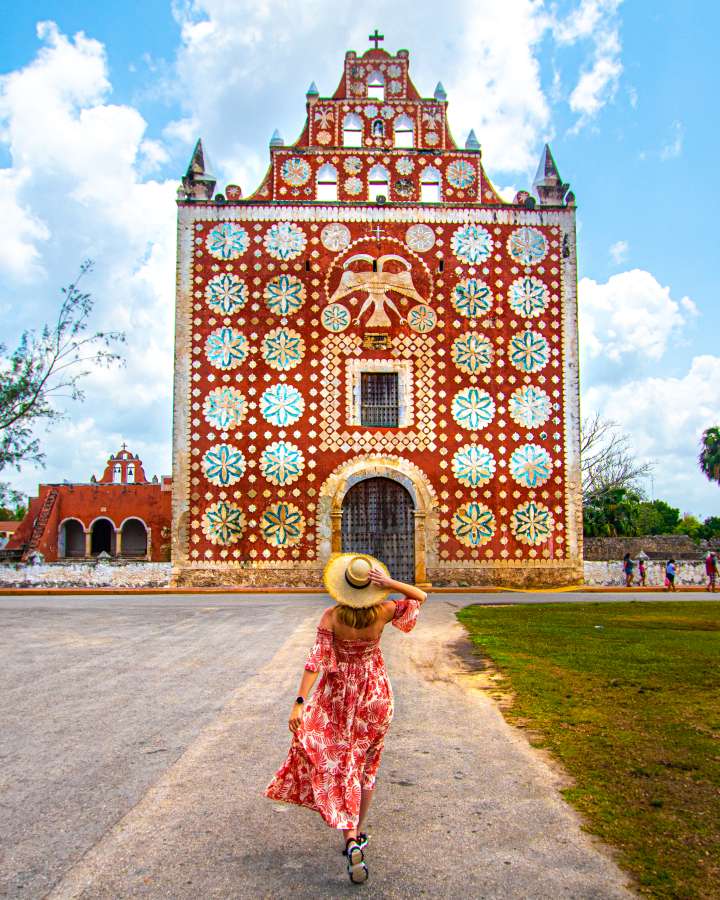 Where to stay in Chichen Itza?
In my opinion, there is no better place to stay in Chichén Itzá than Mayaland Hotel & Bungalows. Set in a unique tropical setting within the Chichén Itzá Archaeological Park, this hotel offers bungalows or spacious rooms overlooking the Mayan ruins. After sightseeing, guests can relax by one of the swimming pools or dine in the restaurant, which serves delicious local specialities.
Day 15-18 Valladolid
After visiting Uayma, head to the city of Valladolid, less than 20 minutes' drive away, where I suggest spending the next few days.
Although this place has become quite popular among tourists, it still has not lost its authentic character. If you are interested in Mayan history and culture, you should definitely go here. Valladolid is also a great base for exploring the nearby cenotes. In other words, it is impossible to get bored in this city!
Valladolid is a charming colonial town with less than 60,000 inhabitants. Interestingly, this city, as the second after Izamal, received the honorable title of pueblo mágico, i.e. the magical city of Mexico.
Where to stay in Valladolid?
If you care about an intimate hotel in the center of Valladolid, be sure to stay at Colonte Hotel Origen. Decorated in a fashionable "boho" style, this hotel offers spacious rooms, a beautiful tropical garden and an outdoor swimming pool. Guests can enjoy a delicious breakfast each morning and relax in the evening with a drink at the bar.
Day 15
Visiting Valladolid
It is worth starting visiting Valladolid from the central square, i.e. Parque Francisco Cantón de Rosado. It is there that the most important and at the same time the most famous church in the city is located, i.e. the Church of St. Gervasius and Protasius (San Servacio o San Gervasio). The construction of the church began in the first half of the 16th century, just after the founding of Valladolid.
Afterwards, it is worth going to the Mexican art museum Casa de los Venados, which boasts the largest collection in private hands.
If you want to learn more about Mayan culture, you should also visit the nearby Choco-Story museum. As the name suggests, this place is entirely devoted to the topic of cocoa, which was supposed to be more valuable to the Mayans than gold.
Another place that you absolutely cannot miss is the former monastery and church of San Bernandino de Siena, considered the oldest in the Yucatan. This temple is located a little further from the center in the Sisal district and captivates with its simple interior.
The beautiful Calzada de los Frailes street, lined with many colorful houses, leads to the gates of the monastery. San Bernardino de Siena is also worth visiting at night, when there is a light show presenting the history of the city.
If you get tired of sightseeing, you can always go to the unique Cenote Zaci, located in the city center.
Note! Cenote Zaci is a popular attraction with both tourists and locals. Therefore, if you care about a peaceful rest, go here in the morning.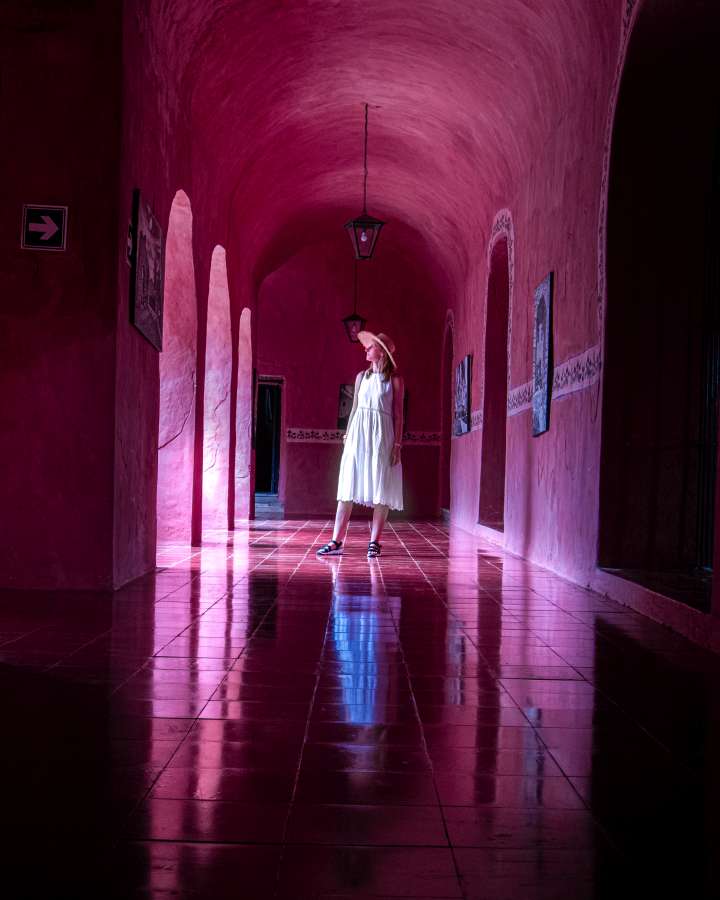 Where to eat in Valladolid?
In Valladolid you will find many places where you can eat well. Fans of Argentinian cuisine should go to Tresvanbien, where they serve the best empanadas in the city. Lovers of Mexican food at a good price should visit the Bazar Municipal market hall. Those who want to taste traditional Mayan dishes in a slightly more elegant setting should go to IX CAT IK Tradicional Cocina Maya. In turn, for delicious tacos with fish and seafood, it is worth going to Yakunaj Cocina Mexicana.
Day 16
Cenote Suytun
On the 16th day of your Yucatan tour, head to probably one of the peninsula's most recognizable cenotes, Cenote Suytun. The place is just a 15-minute drive from Valladolid and offers an unforgettable experience.
And all this thanks to the crystal clear, turquoise water, phenomenal stalactites and a long stone platform running deep into the cenote, where you can take a picture. As in the case of other cenotes, here you can also spend time splashing in the water.
What distinguishes this cenote from others is the fact that at the right time of day (and year) through a small hole in the ceiling, the light enters its interior, creating an extremely photogenic pillar of light.
Unfortunately, as this place is a showcase of the region, it is almost always full of people. The only way to avoid the crowds is to arrive early in the morning. However, if you care about the perfect photo, come here in the late morning or afternoon, when there is the best light.
Cenote Suytun is open daily from 9.00 am to 5.00 pm (last entry at 4:30 PM). Entrance fee is 200 pesos.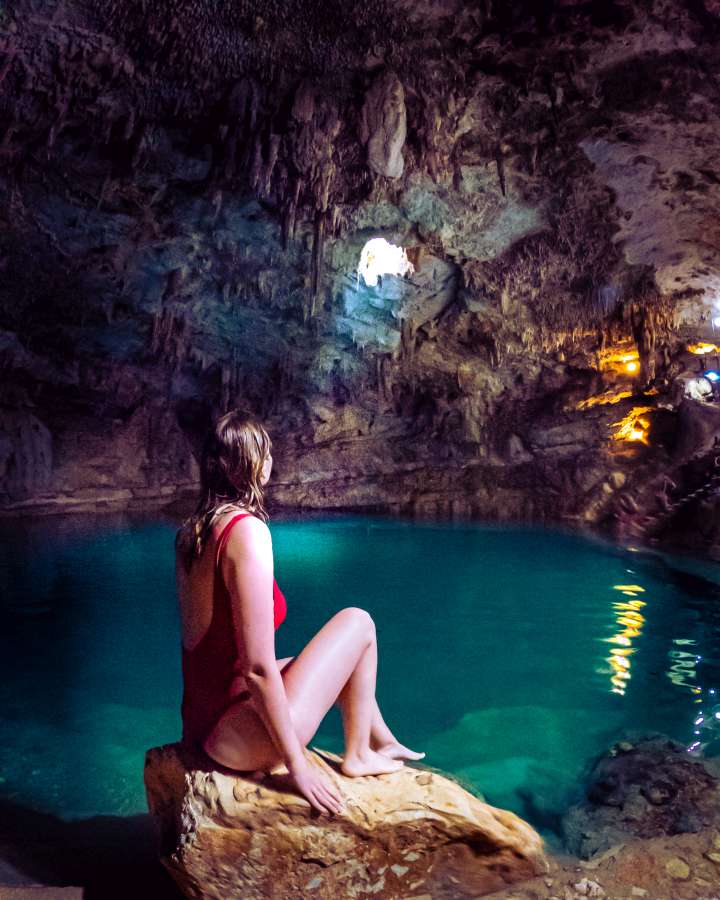 Day 17
Ek Balam
Another must-visit place in the vicinity of Valladolid is the beautiful archaeological site of Ek Balam. These ruins are about a 30-minute drive from the city and are best visited in the morning when there are not too many tourists yet.
The name Ek Balam in the Mayan language probably means "star of the jaguar", and its history dates back to 300 BC. It used to be a city of great wealth with a population of 12,000 to 18,000.
Currently, there are as many as 45 ruins surrounded by walls in the complex, so there is a lot to see. The most interesting monuments include: the Entrance Arch, the Oval Palace and a ball court.
The most impressive, however, is the Acropolis, the highest pyramid of the Mayan city. This is where the first known king of Ek Balam, Ukit Kan Lek Tok, was buried.
Unlike many other sights in the Yucatan, the Acropolis of Ek Balam is still climbable, which I highly recommend. From the very top of the pyramid there is a majestic view of the jungle and other ruins.
The Ek Balam Ruins are open daily from 8:00 am to 5:00 pm and the entrance fee is 494 pesos.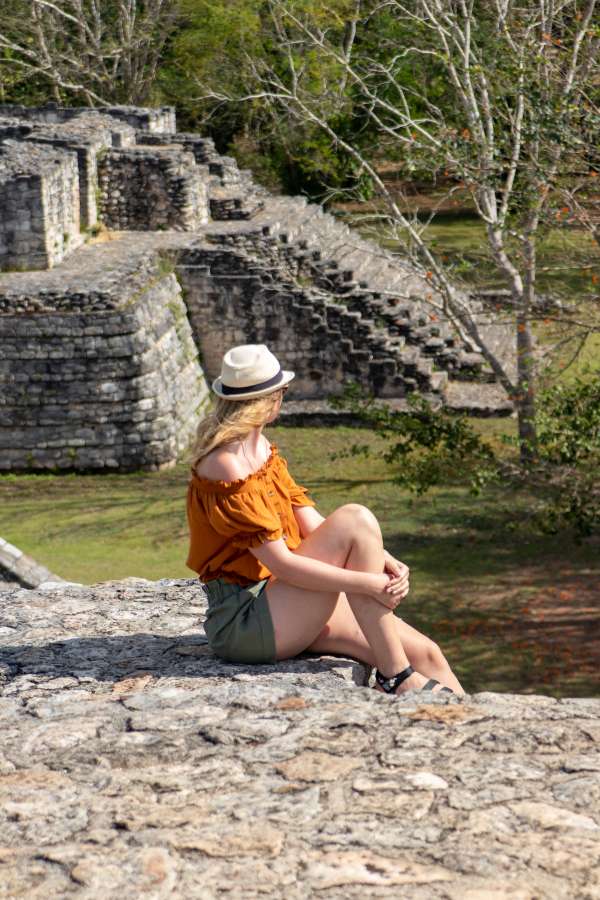 Day 18
Las Coloradas
The next day, leave Valladolid and head north towards the next attraction, the pink lagoon of Las Coloradas. The trip shouldn't take you more than 2 hours, and all the hardships are compensated by the wonderful views.
Las Coloradas is part of the Ria Lagartos Biosphere Reserve, which is known as the perfect place to spot flamingos. The pink waters of the Las Coloradas lagoon contrast beautifully with the blue sky, creating the perfect conditions for photographers. No wonder this place has become so popular with influencers.
Interestingly, the Las Coloradas lagoon was not created naturally, but as a result of a salt factory operating in the village for years. It is worth noting that the local areas were already used for salt extraction by the Mayans. Las Coloradas owes its pink color to red algae, plankton and crustaceans present in it.
Las Coloradas is best visited on a sunny day at noon, otherwise you can be very disappointed. On a cloudy day, the color of the lagoon does not look so spectacular.
Note! Due to the high concentration of salt, swimming in Las Coloradas is prohibited. Recently, entry to the lagoon area is paid and amounts to 400 pesos.

Day 19-21 Isla Holbox
I recommend spending the last three days of your holiday on blissful laziness on the tropical island of Isla Holbox. This hidden gem of Mexico is famous for its beautiful beaches, turquoise sea and laid back atmosphere.
Isla Holbox offers many interesting attractions, so it is impossible to get bored on it. Sunbathing, cycling, shark diving, or maybe a food tour around the island? It's up to you how you spend your last moments in Mexico. One thing you can be sure of, they will definitely be unforgettable!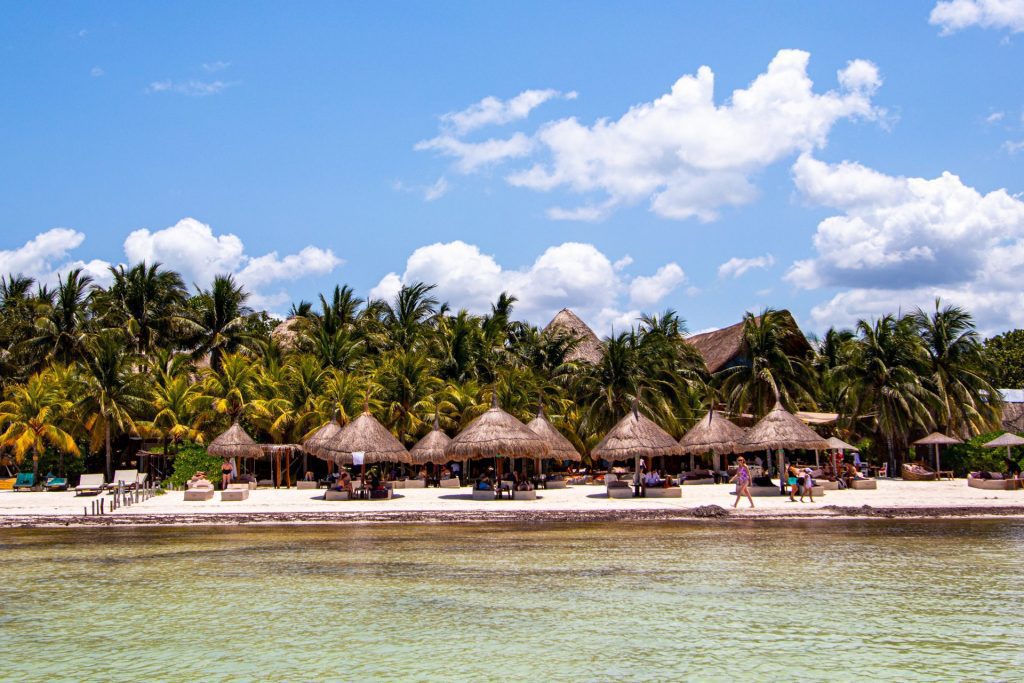 Conclusion
The Yucatan Peninsula, thanks to its rich history, but also wonderful nature, has everything you need for a successful holiday and is therefore one of the most attractive regions of Mexico.
Beautiful tropical beaches, ancient Mayan ruins and delicious local food guarantee an unforgettable experience. I hope that the above guide will encourage you to visit this fascinating corner of Mexico.
Be sure to let us know what places in Yucatan you recommend, and if you liked this article, share it with your friends!
Save this pin for later!