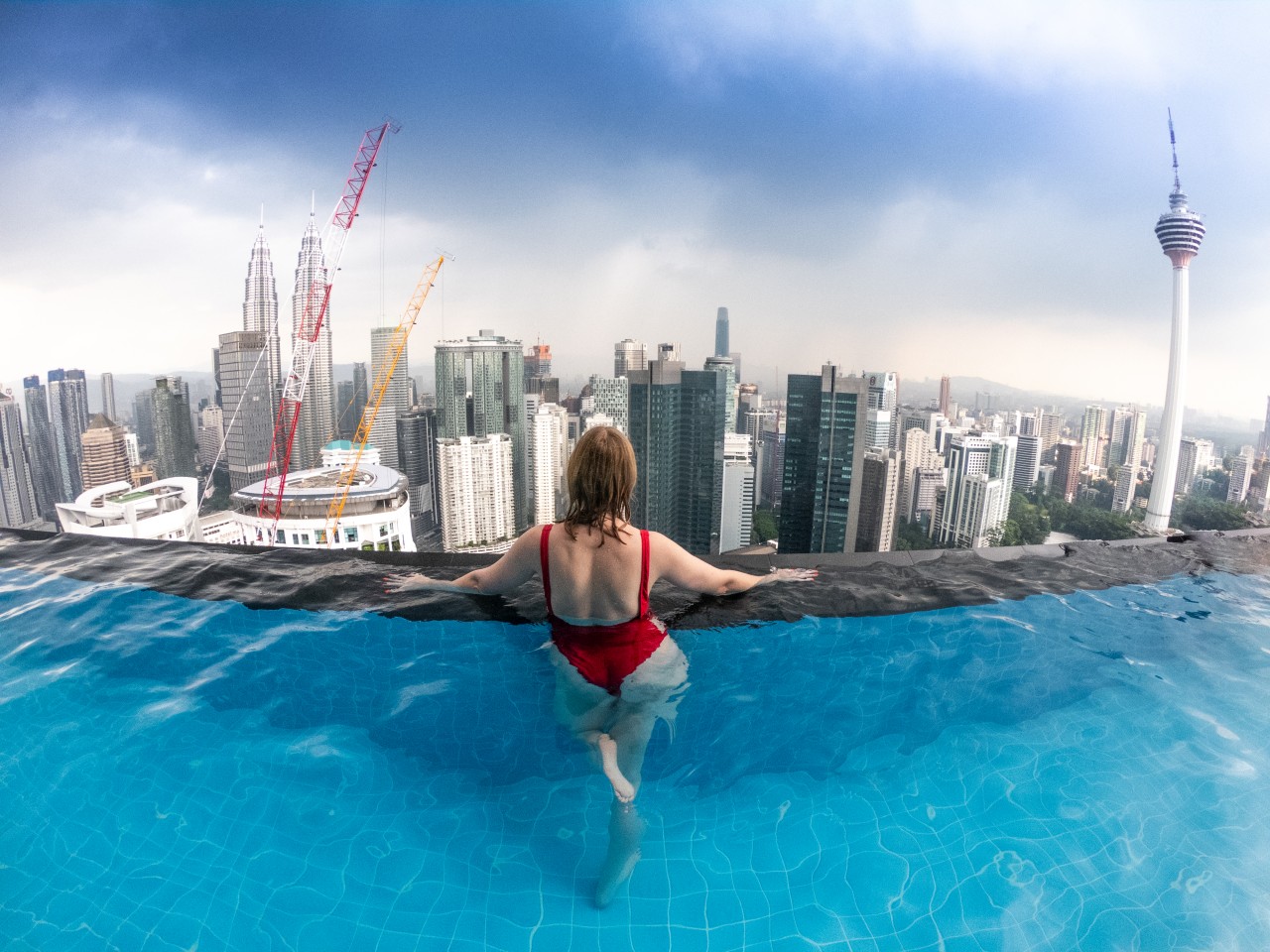 Kuala Lumpur In 2 Days – Find Out What To See And Where To Eat In The Malaysian Capital
Undoubtedly, no trip to Malaysia can be complete without a visit to Kuala Lumpur. I have to admit that this cosmopolitan capital city stole my heart, becoming one of my favorite cities in Southeast Asia. Great cuisine (in my opinion one of the best in the world), diverse culture and interesting architecture make this city truly unique. No wonder that they attract crowds of tourists from all over the world every year. I have prepared the following guide to this fantastic city especially for you. You will learn from it, among others what to see and where to eat in Kuala Lumpur in 2 days. I hope that after reading it you will immediately want to visit this amazing city 😉
Why is it worth visiting Kuala Lumpur?
Did you know that Kuala Lumpur and its suburbs have over 7 million inhabitants? Although it is still less than the population of Mumbai, this number is still impressive and shows how magnificent this agglomeration is. KL, as the Malaysians themselves often describe their capital city, owes its full name to the muddy estuary of two rivers: Gombak and Kelang. And in fact, if you look closely, both rivers are brown in color 😉 The city is a real cultural mix - you can find here residents of Malay (not to be confused with Malaysians), Hindu and Chinese, as well as representatives of many other nationalities.
The architecture here goes hand in hand with the cultural diversity. So dont be surprised when you will find an ancient Malay village on stilts (Kampong Baru), or colorful, dilapidated Chinatown buildings near the state-of-the-art skyscrapers (such as the famous Petronas Towers) 😉 So its safe to say that, like many other Asian capitals, KL is definitely a city full of contrasts.
However, what captivated us the most in the capital of Malaysia is not the architecture or monuments, but the wonderful, diverse cuisine, probably one of the most interesting in the entire continent. Thanks to the influence of many nationalities, we can find here both Malay, Chinese and Indian dishes, as well as those inspired by neighboring Thailand or Indonesia. So get ready for a real feast for the palate! One thing is for sure, you will certainly not leave KL hungry 😉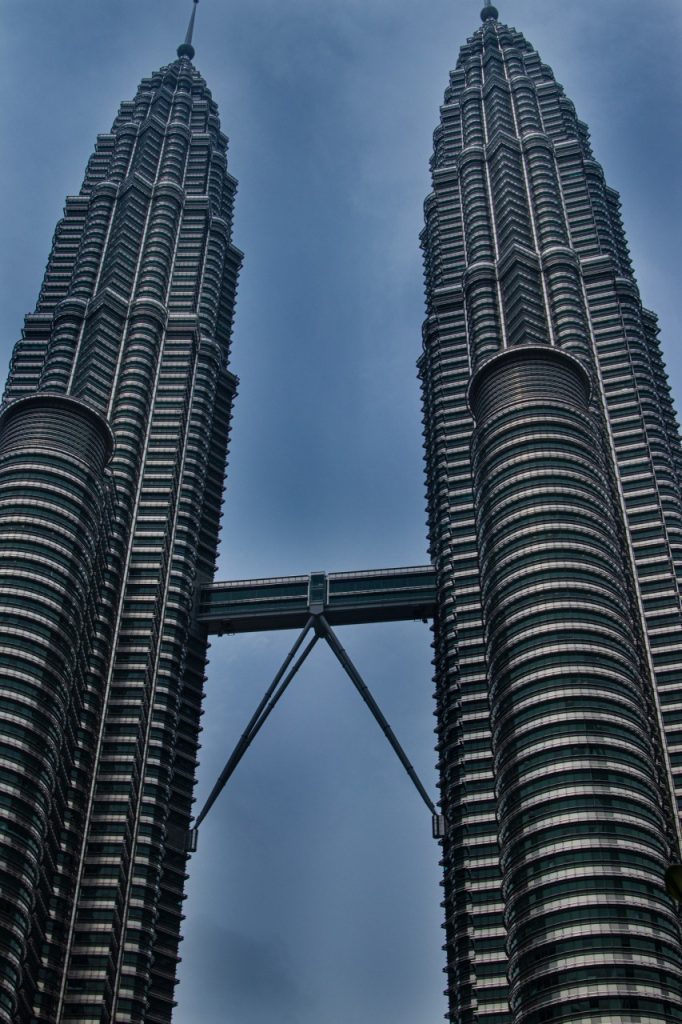 Where to stay in Kuala Lumpur?
In Kuala Lumpur you will find a number of hotels and accommodation of various types of different price ranges (the cheapest ones you will find, of course, in the Chinese district). We decided to stay in an apartment with an impressive view of the city and an equally delightful swimming pool on the roof 😉 After a long search on the Internet, our choice fell on KL Platinum Suite 42 By SNC and it was definitely a bulls eye! The apartment was spacious, functional and modern, at a decent price (€ 60 per night), and most of all it had a great view of the Petronas Towers, less than a kilometer away. The infinity pool located on the 51 (!) floor and a fitness center were at the guests disposal until late in the evening. What more could you want? Probably the only downside of this place was the lack of breakfast included in the price (although you can order breakfast in the hotel restaurant, but its cost definitely exceeded our daily budget). So if, like us, one day you will not want to leave your apartment, you can always order food by phone (we recommend the Foodpanda application - they deliver food to your door, and the cost of delivery is really ridiculously low).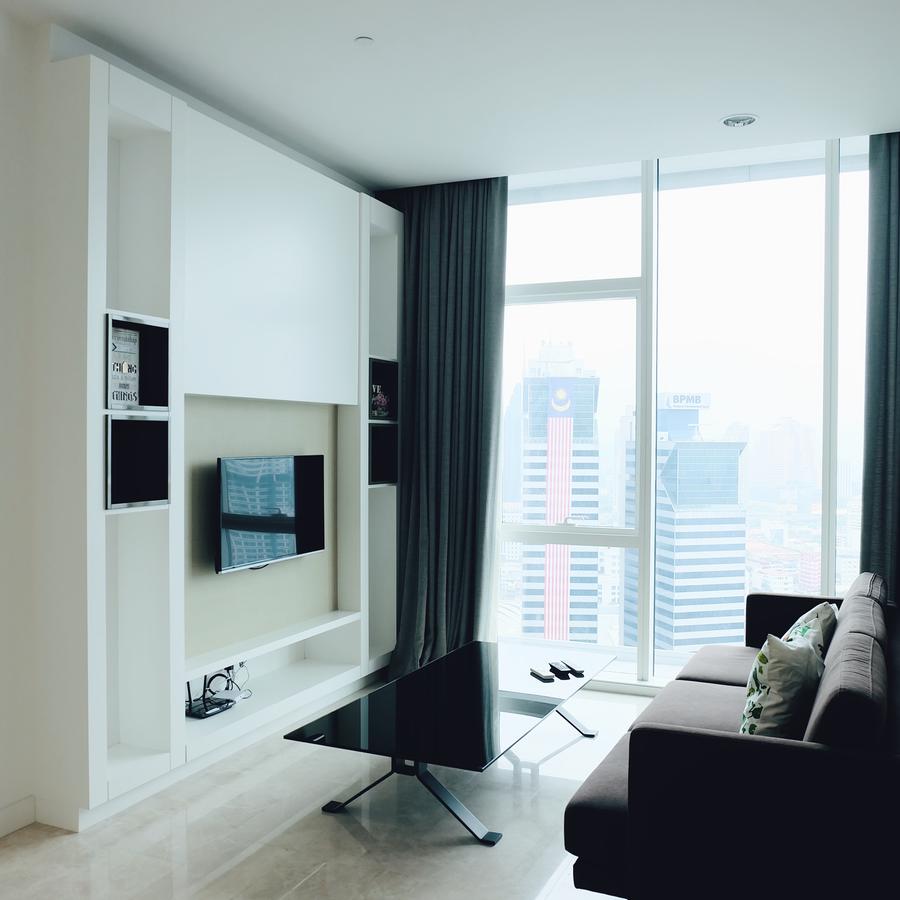 What to see & where to eat in Kuala Lumpur?
Day 1
Petronas Towers & Suria KLCC
It is worth planning your visit to Kuala Lumpur for at least 2 days (we stayed here for 3 nights and it was the optimal solution). It is worth starting your city tour with a walk to the most popular attractions, namely the twin Petronas Towers and the largest Malaysian gallery - Suria KLCC. We must admit that at the beginning we were quite skeptical about this type of place, but with time we found out for ourselves why it is said that the main national sport of Malaysians is not football at all, but wandering around the shops 😉 The key to solving this puzzle was one simple fact - in KL (and Malaysia in general) it is extremely hot (and it rains quite often), so the air-conditioned (and covered) shopping centers seem to be a perfect escape from the heat of the city.
Coming back to the towers themselves, apart from the fact that they are a great landmark in the city, they also look good (especially at night, when they are beautifully illuminated). However, while from the outside they really make a big impression, inside they do not particularly overwhelm us (they look more like a typical business center). Once the tallest buildings in the world with its 88 storeys and 452 meters, they now rank only in the top 20 (first place goes to the Dubai tower). Nevertheless, you definitely have to see them, after all, they are the most recognizable showcase of the city and the whole country 😉
If the weather is nice, it is also worth going to the observation deck located on the Sky Bridge, which connects both Petronas buildings (it is best to buy tickets online in advance, there is a limited number at the ticket office, the price per adult is 80 ringgits, more info can be found on the website). Unfortunately, we were not able to do it but we visited a different, more spectacular viewpoint, about which in the next post 😉
There is also a noteworthy aquarium near Suria KLCC, the Aquaria KLCC, which boasts nearly 250 species of animals and a glass tunnel with sharks flowing overhead (more information on the website). Certainly, it is also worth taking a walk in the well-kept park located near the towers, which is eagerly visited by locals and tourists.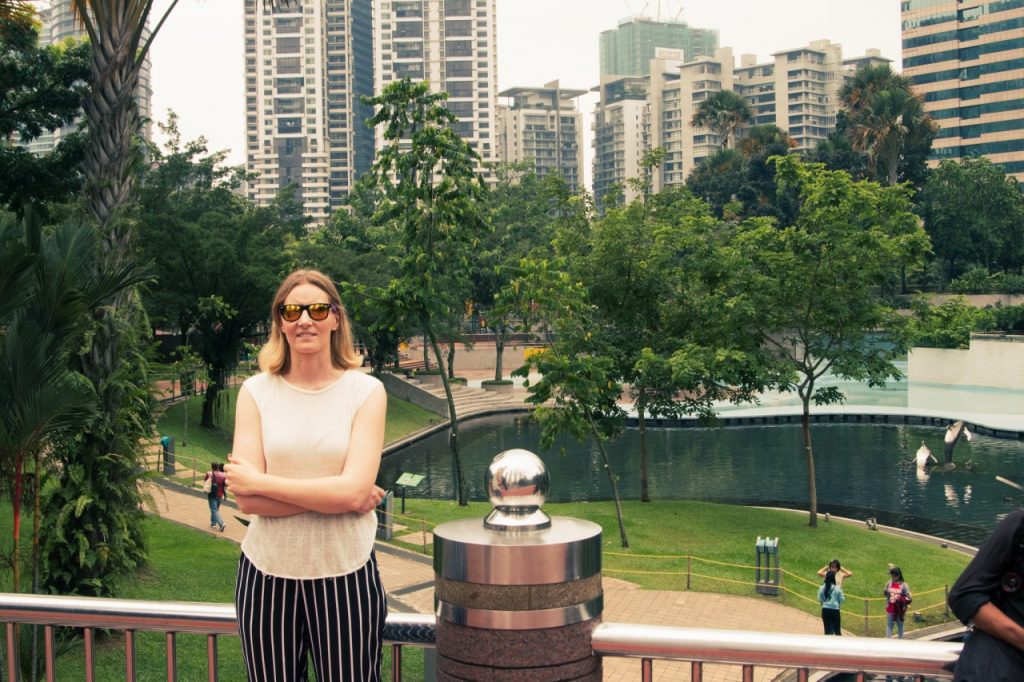 Pavilion KL & Pho Vietz
f you get hungry, like native Malaysians, be sure to go for lunch to… a shopping center. I recommend a real Vietnamese feast at Pho Vietz restaurant, serving its delicacies in the popular Pavilion Mall. The extensive menu includes the same classics of Vietnamese cuisine, such as spring rolls with prawns, meat dumplings and several types of pho soup. I recommend trying pho soup with pieces of beef and prawns, vermicelli noodles, fish sauce and lots of fresh coriander. I can assure you that everything tastes as good as it looks!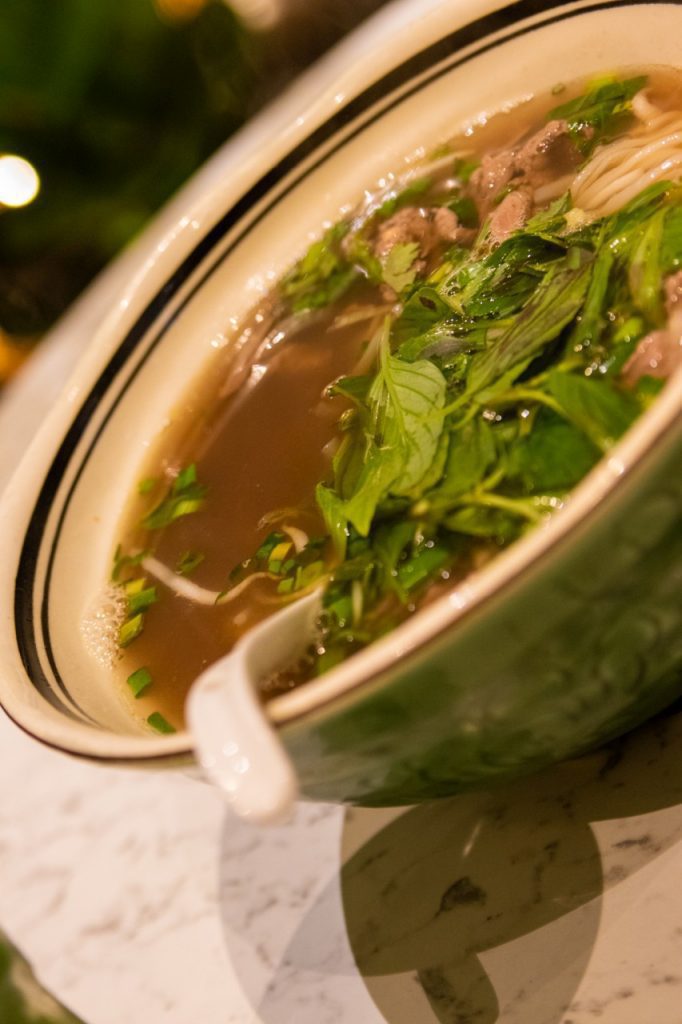 Kuala Lumpur Bird Park
After lunch, go to the Kuala Lumpur Bird Park located in the vast botanical gardens, reportedly the largest in Asia. As this place is quite far from Pavilion, it is worth ordering a taxi from Grab (I highly recommend this option, it allows you to save a lot of time and costs relatively little).
The Bird Park is a very popular tourist attraction, visited by an average of 200,000 people a year. This place is inhabited by over 3,000 birds representing nearly 200 species (90% of them come from Malaysia). Among them we can see, among others, pink flamingos, beautiful, multi-colored parrots, as well as the hornbill - the national bird of Malaysia, which is unfortunately threatened with extinction at present.
Most of the birds walk freely along the parks alleys, only a few of them are kept in cages. So do not be surprised when your path is blocked by an unshakable flock of flamingos 😉 You can feed the birds with grains available to visitors, and if you are lucky, you may also catch a feeding time or other attractions organized here. The park is divided into many thematic sections, we like the part with picturesque waterfalls the most.
Practical information
The Bird Park is open daily from 9.00 a.m. to 6.00 p.m. Admission to the park is payable and amounts to 63 ringgits per adult. It is worth allocating at least two hours for sightseeing. More information can be found on the website.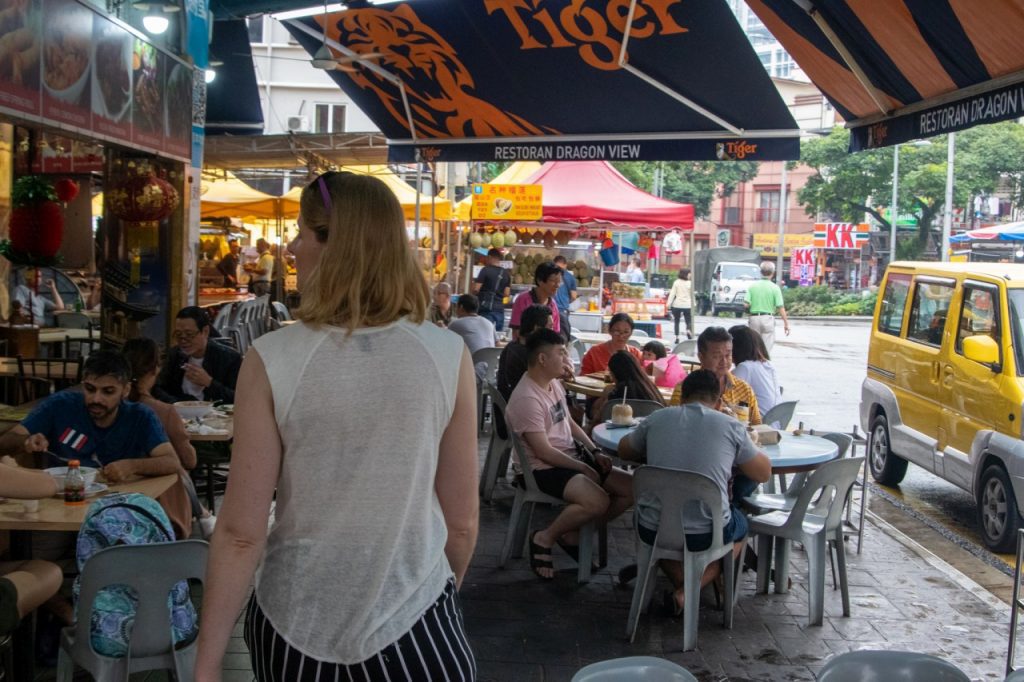 Merchant's Lane
After visiting the park, it is worth going for insane desserts and aromatic coffee at Merchants Lane, located near Chinatown. It is hard to believe that this place used to be a Chinese brothel, and nowadays they serve such delicious food here. I have to admit that this place immediately charmed me with its original decor and intimate atmosphere, and when the menus hit my hands, I knew 100% that I would not leave there soon 😉 Because who could resist a dessert with such an intriguing name as better than sex?
And so, two sweet plant specials landed on my table in turn - pandana roti with melted cheese, kaya toast ice cream (a breakfast toast popular in Singapore with coconut and egg jam), strawberries and sweet syrup and fried brooch style balls with lemon ice cream and kaya sauce. Believe me, these are some of the best desserts Ive had in all of Malaysia. In addition to sweets, there are also lunch dishes available throughout the day. You absolutely have to come here!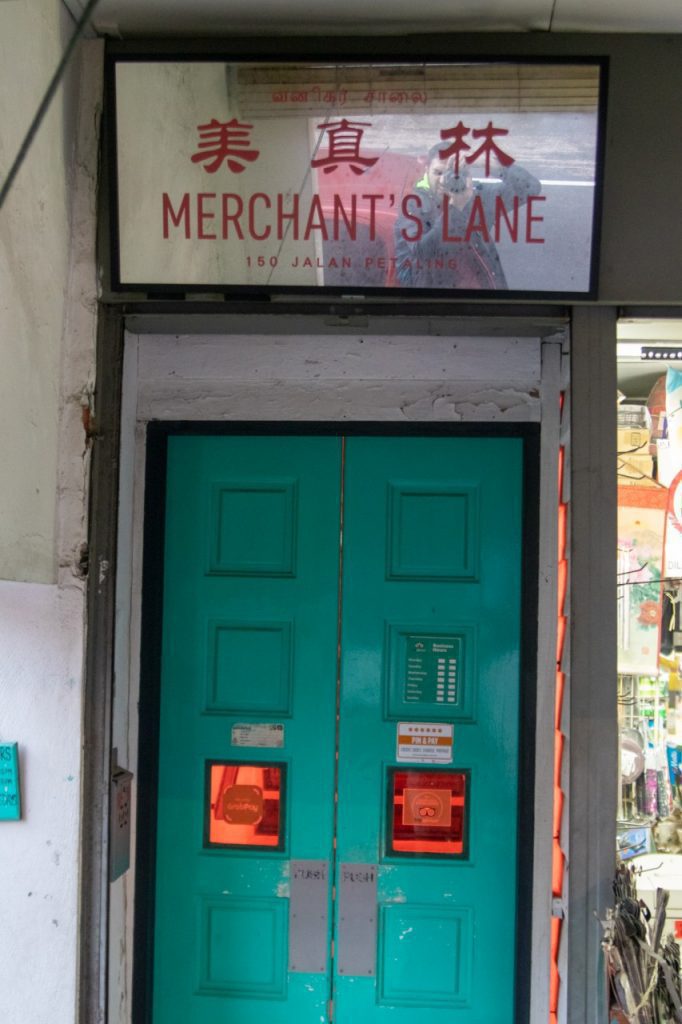 Chinatown
Another place you must visit on your first day in KL is the colorful and bustling Chinatown. Undoubtedly, the most distinctive street in the whole district is Jalan Petaling, with red lanterns, which looks particularly atmospheric at night. As it is in any typical Chinese town, here you will find a number of cheap restaurants and food stands serving such specialties as noodles with pork or wantan soup, numerous hostels just in time for the average backpackers pocket, as well as a market with bending stalls under the weight of fakes of famous brands (we are surprised, who buys it?). Fans of street food and cheap shopping will certainly not be disappointed. Just remember to always bargain 😉
Although we did not have enough time that day, while in Chinatown, it is also worth seeing the Hindu temple of Sri Mahamariamman (one of the most important in the city), as well as two Taoist temples - Guan Di and Sin Sze Si Ya (the oldest religious building of this type in KL).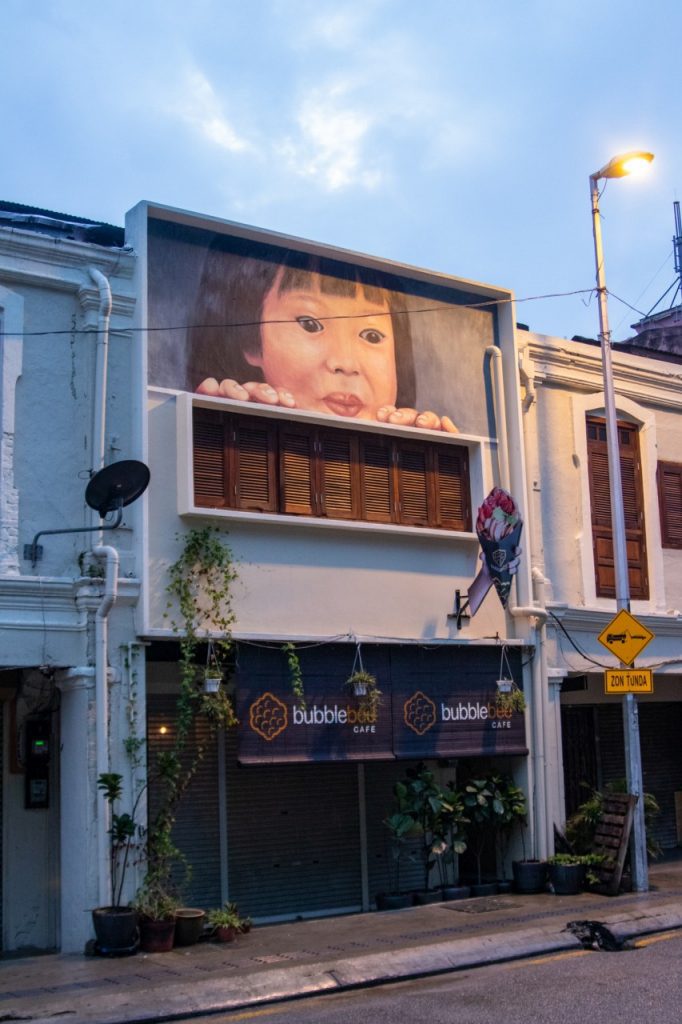 Symphony Lake Water Show
After a walk around the Chinese district, at the end of the day, it is worth going to the music and light show of fountains praised by everyone - Symphony Lake Water Show, which takes place every day at 7.30, 8.30 and 9.30 pm in front of the Suria KLCC shopping center. The performance lasts about twenty minutes and delights with music perfectly matched to the dancing colorful streams of the fountain on the lakes surface.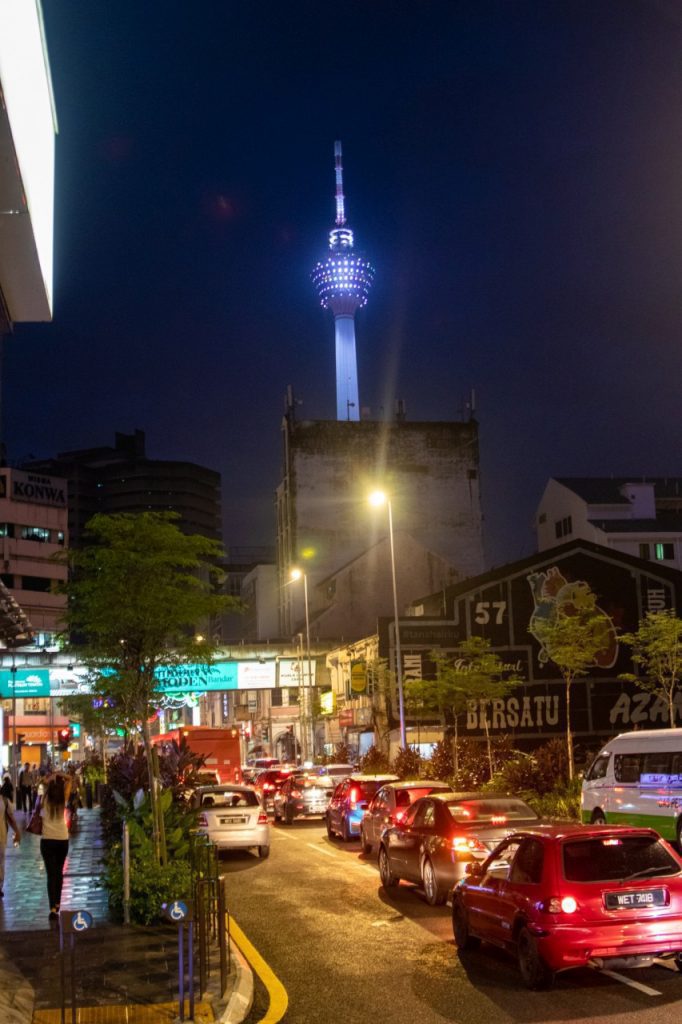 Day 2
It is worth starting your second day in the capital of Malaysia with breakfast in a quite sophisticated, by Malaysian standards, cafe-restaurant VCR Café Kuala Lumpur. VCR Café is quite a popular place in the city recently, specializing mainly in fancy breakfasts and brunches. This place has been awarded the Tripadvisor badge - Travelers choice. Both vegetarians and carnivores will eat here tasty. An interesting fact is that the pub is located in the old district of Pudu, in the building where the guards of a nearby prison used to be stationed. This place received the Tripadvisor badge - Travelers choice). Both vegetarians and carnivores will eat here tasty. I recommend trying the house specialty in the form of homemade chipolata sausage with ground lamb, baked tomato, bacon and croutons with poached egg, or vegetarian toast with feta cheese, egg and avocado puree.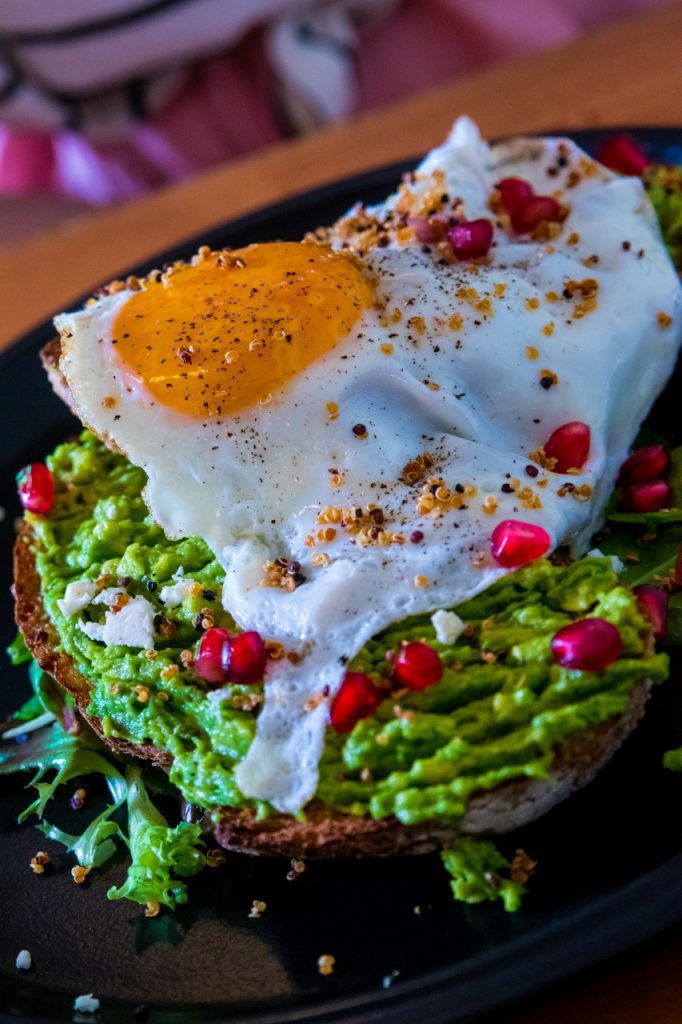 Thean Hou Temple
After breakfast at the VCR Café, head to Thean Hou Temple. This temple is said to be the largest Chinese religious building in the city and was dedicated to the goddess of the sea. What captivated me the most in this place (apart from the impressive architecture, of course), are the vast gardens with sculptures taken out of Chinese mythology and beautiful views of the city from Robson Hill. The part with souvenirs and devotional items, located on the ground floor, is what I least like.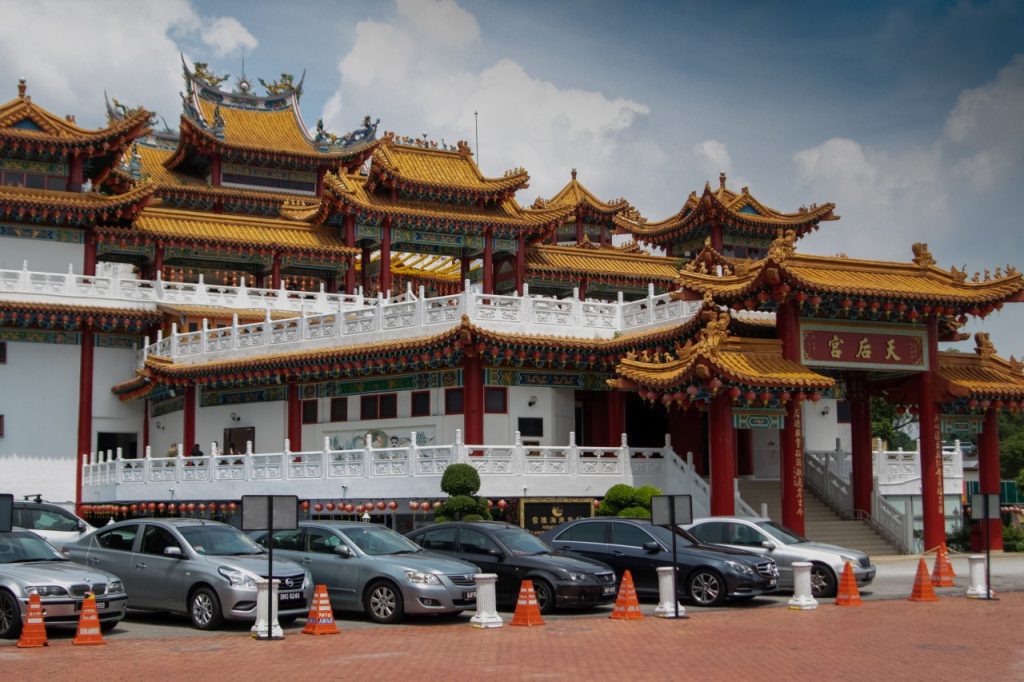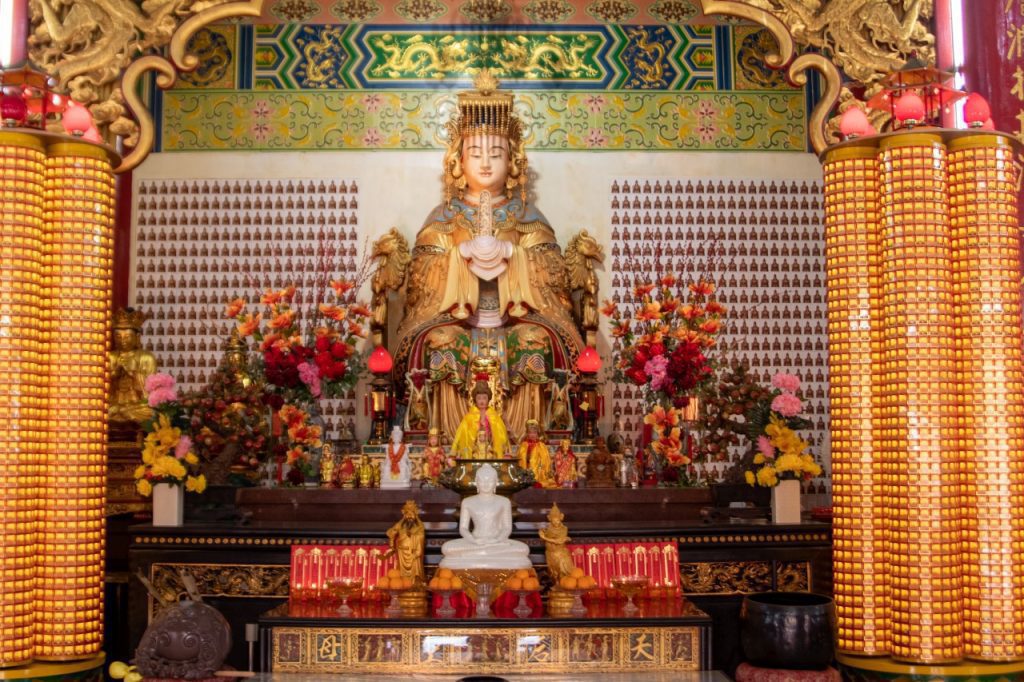 An interesting fact is that on the first floor of the temple there is a room rented for various types of celebrations, including Chinese weddings. So apart from the richly decorated prayer room with the image of the goddess herself, we also have a quite ordinary room with a waiting room with chairs, a large screen and a machine for issuing numbers. Of course, no Chinese wedding could do without a commemorative photo against the background of a photo wall specially prepared for this purpose.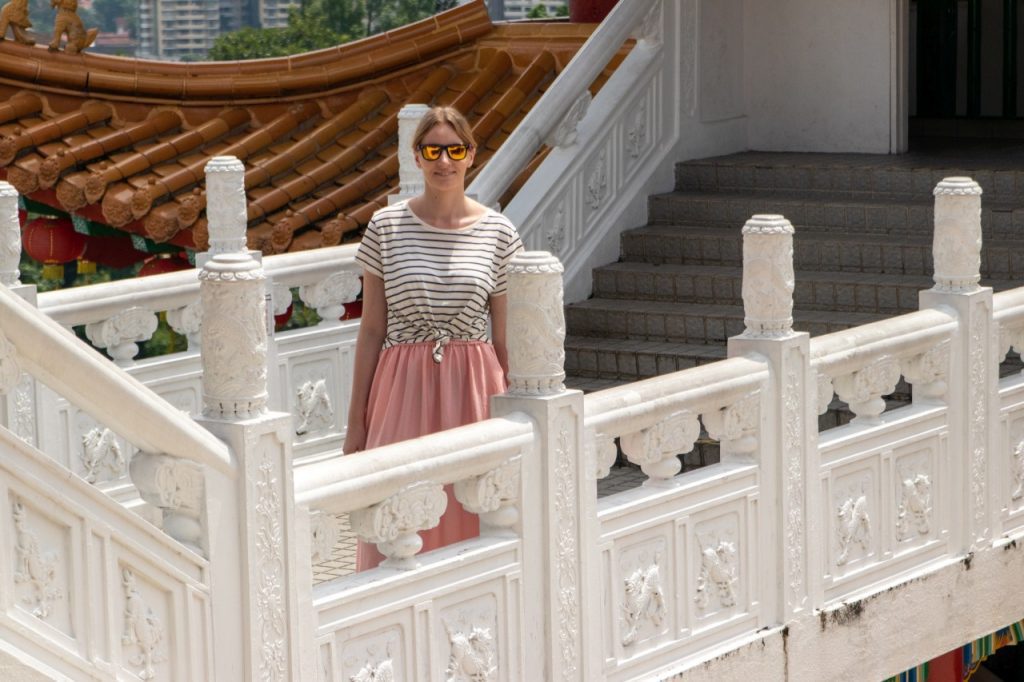 Practical information
The temple is open daily from 8.00 am to 6.00 pm. Unfortunately, there is no public transport near the temple, so it is best to go to it in the same way as we do, i.e. by taxi (it is best to use the Grab application). On the ground floor of the temple, there is a small restaurant where you can eat Chinese or vegetarian dishes for an affordable price.
Lot 10 Hutong Food Court
The penultimate place I recommend to visit on this day is a real gem on the culinary map of Kuala Lumpur - the Lot 10 Hutong Food Court located in the basement of the shopping center. This place prides itself on paying tribute to good Malaysian cuisine and the art of local food. And its hard to disagree with that. We have a choice of over 30 stands with supposedly the best food in the whole country, serving their specialties continuously for several generations.
I recommend trying the following items (all insanely delicious): wonton pork noodles from Ho Weng Kee, beef noodles from Soong Kee (both versions), char kway teow from Penang Famous Fried Kway Tiao & Prawn Mee and ais kacang from Oriental Dessert. I have to admit that ais kacang has unexpectedly become one of my favorite Asian desserts (who would have thought that beans with ice could taste so good?).
You can read more about what dishes you must try while in Kuala Lumpur in this post.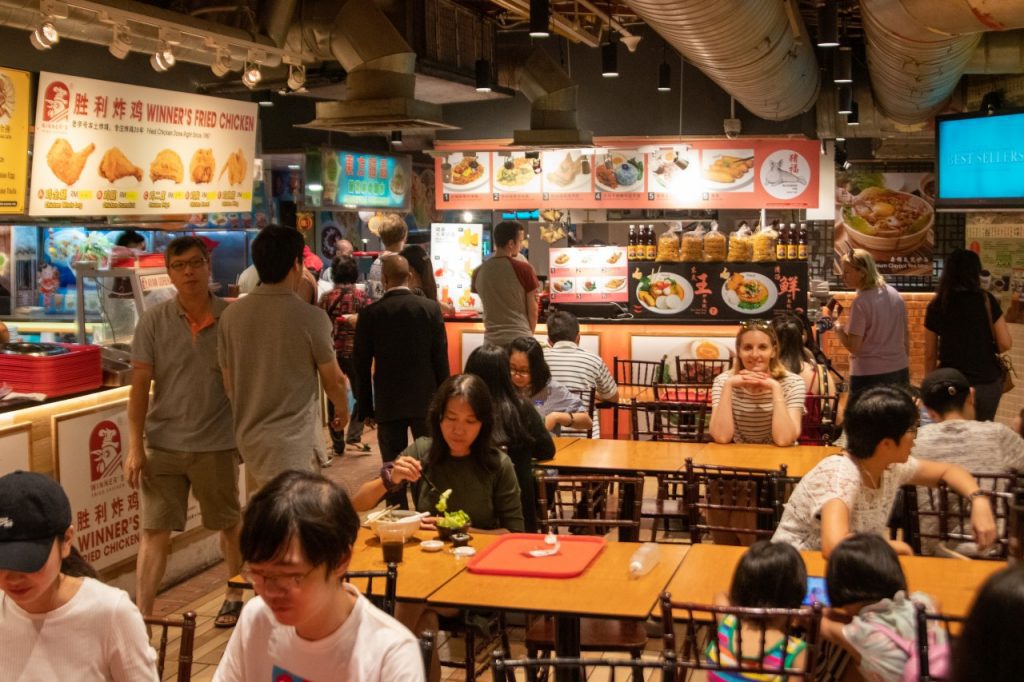 Practical information
Flight 10 Hutong Food Court is open daily from 10:00 AM to 10:00 PM. The price range is from a few to a dozen ringgits per dish. More information can be found on the website.
Menara Kuala Lumpur
After the Lot 10 feast, in the evening go to the famous observation deck on Menara - one of the tallest TV towers in the world (421 meters high), which offers wonderful views of the entire city. In addition to the terrace, at the top of the tower (282 meters above sea level) there is also a modern revolving restaurant - Atmosphere 360 (offering buffet meals for about 150 ringgits per person), and on the ground floor - an aquarium (Blue Coral Aquarium), a mini zoo (KL Tower Mini Zoo) and Formula 1 simulator.
Practical information
The observation deck on the tower is open daily from 9.00 am to 10.00 pm. Admission to the lower level (Observation Deck) costs 49 ringgits per adult, while to the higher, open terrace (Sky Deck) - 99 ringgits. More information can be found on the website.
To sum up
Kuala Lumpur is the perfect city for a two-day trip. Here you will find everything that is expected of the Asian capital and much more. The insane cuisine, which is a mixture of many influences, as well as interesting temples make it a great place for a short vacation. Be sure to let me know below what places you recommend in Kuala Lumpur!
Pin it for later!