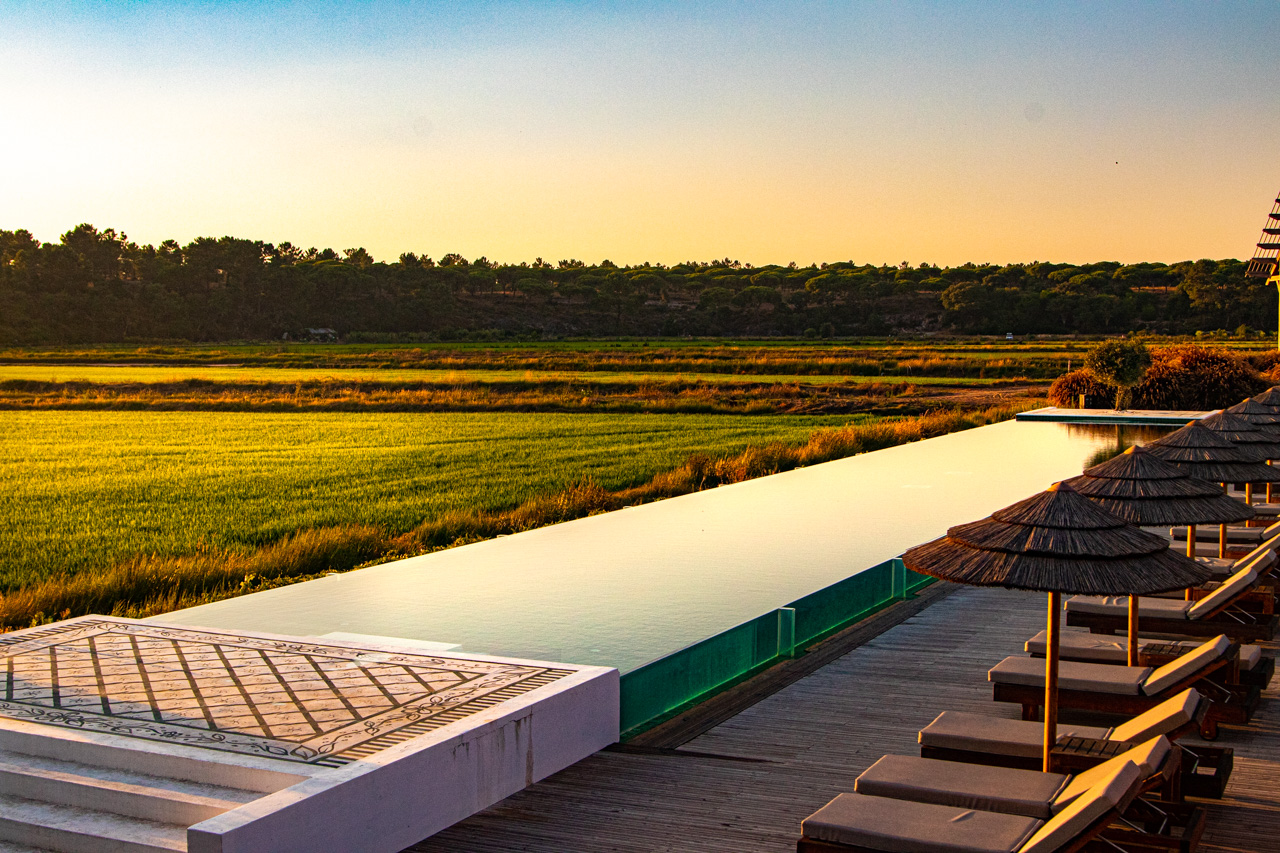 10 Reasons Why You Should Visit Comporta, Portugal
Imagine long sandy beaches, the sound of the blue ocean, fragrant pine forests and picturesque rice fields with storks. This is what Comporta on the west coast of Portugal is like. A real enclave of peace and quiet. The perfect place for a carefree holiday away from the hustle and bustle and crowds. No wonder that every year it attracts its fans from Lisbon and all those who appreciate a quiet holiday in the bosom of nature. In Comport you can really relax in great style!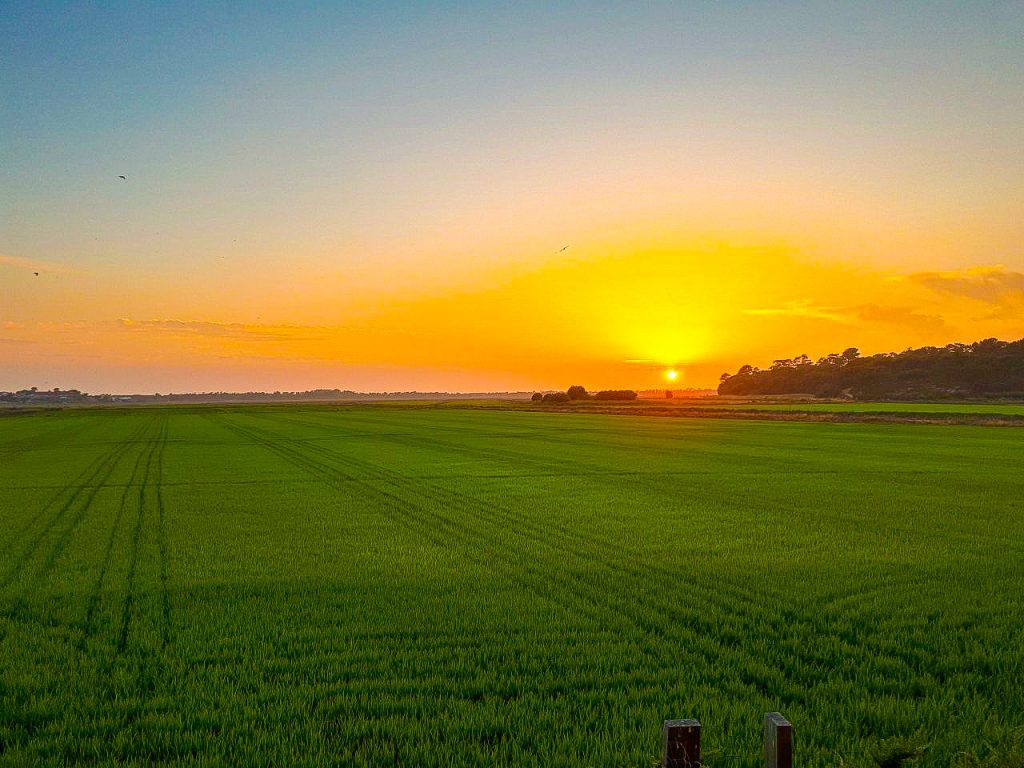 About Comporta
Comporta is a small summer resort on the Alentejo coast in Portugal, less than an hour and a half south of Lisbon, and is part of the larger area of the same name – Costa de Comporta.
Anyone who visits Comporta will surely agree that it is a small corner of paradise somewhere between the ocean and the rice field. Until recently, this place was kept a secret, recently it has gained popularity due to its unique atmosphere. Famous artists and designers are particularly fond of this region. So it's fair to say that Comporta is one of the rising stars of southern Portugal. It is the perfect place to discover the Alentejo region, famous for its stunning coastline, wild and unspoiled nature and charming medieval towns.
Below you will find ten reasons why you should definitely add this place to your bucket list.
1. To lie on the beach
Undoubtedly, one of the main reasons why you should visit Comporta are the beautiful sandy beaches that stretch along about 60 km (!) of the coastline. It can be safely said that this region can boast one of the most beautiful beaches in the whole country awarded with the Blue Flag. When we add to this fine soft sand, which perfectly contrasts with the depth of the ocean, we get a perfect duo 😉 What more could you want from a perfect vacation?
While in this region, you must go to the following beaches:
Praia da Comporta – a wonderful wide beach, located in a nature reserve surrounded by pine forests, perfect for a romantic walk for two or delicious cocktails with live music;
Praia do Carvalhal – beautiful unspoiled beach bordering dunes and rice fields, the perfect place to admire the sunset and enjoy fresh seafood;
Praia do Pego – an endless beach with golden sand and wild vegetation, hailed as one of the most beautiful in the world, a favorite meeting place of the local elite.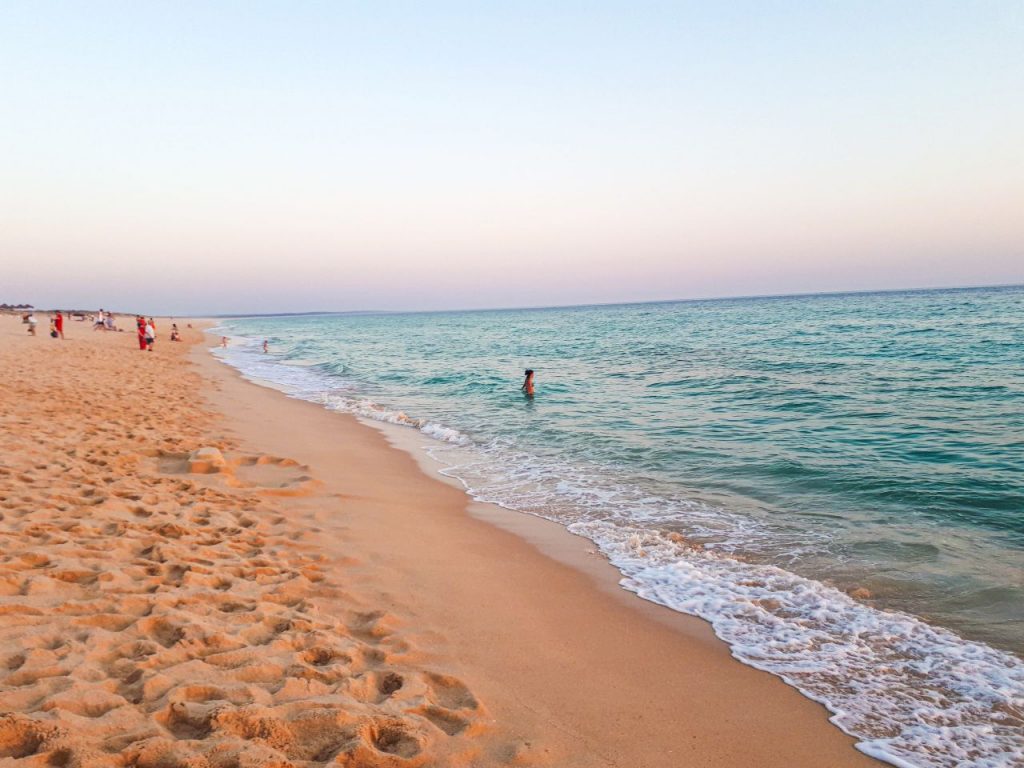 2. To admire the sunsets
Another reason why you must visit Comporta are wonderful sunsets, which of course are best admired on one of the endless beaches or from the hotel pool overlooking the rice fields, whatever you prefer 😉 However, regardless of which option you choose, one you can be sure – quite a spectacle awaits you. Can you imagine a better end to the day? We certainly do not 😉 Especially if it is preceded by a dinner with delicious Portuguese wine in one of the atmospheric restaurants.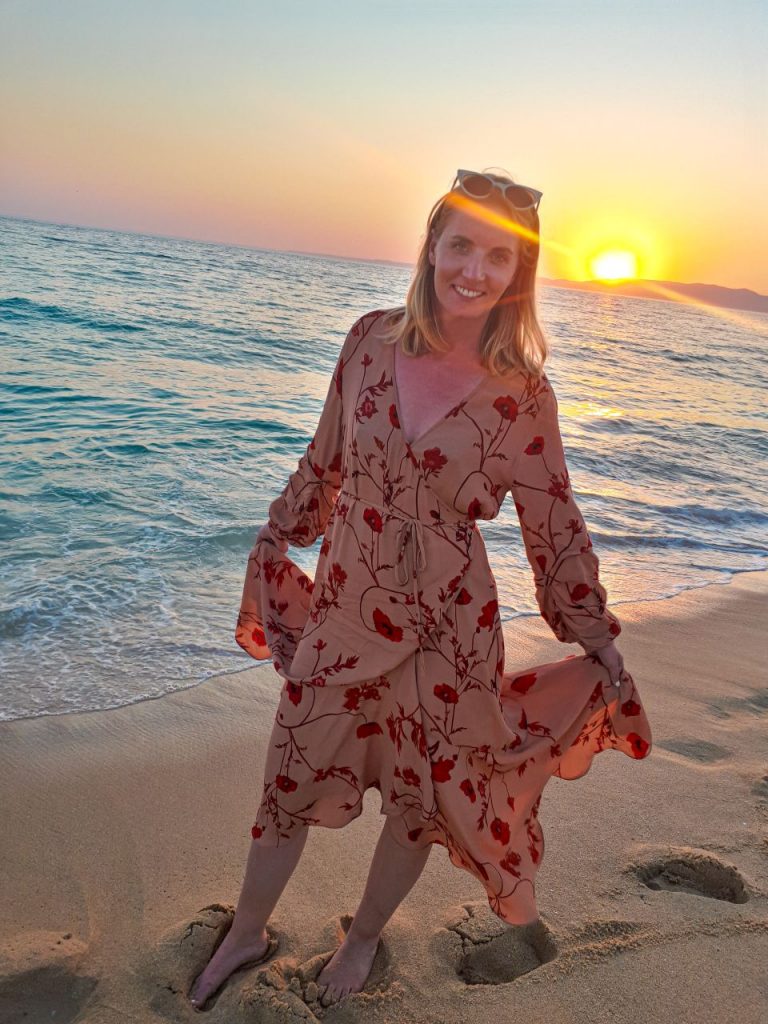 3. To taste the local cuisine
We do not hide that one of the things that we especially appreciate during the holidays is delicious food, and there is no shortage of such food in Comporta. A refreshing cocktail at a beach bar, lunch overlooking the sun-drenched rice fields, dinner for two in a former stable, or a quick snack from a food truck are just some of the options you can choose from. And believe us, there are many more of them and it's a pity not to try them all 😉
Of course, as befits the Alentejo region, the menu of the Comport restaurant includes dishes based mainly on rice. In addition to delicious risotto, expect amazing fish and seafood, considered by connoisseurs to be one of the best in the country.
The dishes you must try in this part of Portugal include the above-mentioned seafood risotto, cod soup, grilled sardines, squid, or the region's specialty – cuttlefish with garlic and coriander. Fans of sweets will also not be disappointed – we recommend trying bolas de Berlim, i.e. donuts with egg cream. Does it sound delicious?
The restaurants we have tested and we recommend to you are:
Cavalariça – a brilliant restaurant located in a former stable, serving regional dishes with a modern twist, perfect for sharing with friends;
5 Sentidos – a lovely eatery in Carvalhal where you can eat great seafood – we recommend baked octopus – and other traditional Portuguese dishes;
Sublime Comporta Beach Bar – a great restaurant on the beach in Carvalhal with a wonderful view of the ocean, where you will not only eat well, but also quench your thirst – the cocktails served here taste amazing;
Restaurante Sal – well-known and popular restaurant specializing in fish and seafood, located right next to the Pego beach;
Restaurant & Bar at the Quinta da Comporta hotel, more on that below.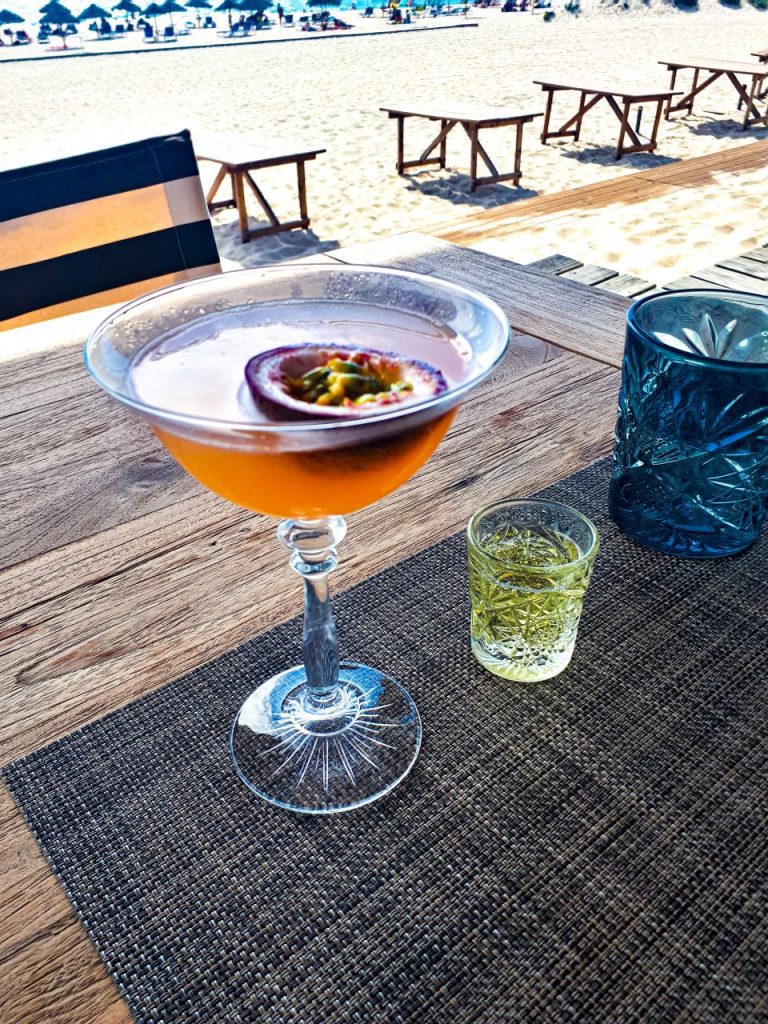 4. To swim in the Atlantic Ocean
This reason to visit this region of Portugal may seem trivial, but what's better than a refreshing dip in the ocean when the temperature is almost 30 degrees outside? Comporta is also a great place to start your surfing adventure. The mild climate, ocean waves and a long coastline are perfect for this type of activity. The best surf schools can be found on the beach in Carvalhal. Amazing experiences guaranteed!
5. To stay in a design hotel
Comporta is a real paradise for lovers of extraordinary hotels. The place has been hailed as Portugal's new stylish destination for a reason. We do not hide that initially it was one of the main reasons why we went here at all. Today we know that there are many more reasons, but nevertheless for those who, like us, do not like to sleep in a nice place, great Comporta hotels can be a goal in itself. What captivated us in this region is the fact that all accommodation facilities (of which there are not too many) have been perfectly integrated into the surroundings. It is in vain to look for eye-catching behemoths focused on the mass tourist. In Comporta, which makes us very happy, minimalism reigns. Hotels are designed in such a way as to encourage relaxation in harmony with the surrounding nature. Beautiful interiors decorated with attention to detail perfectly fit into the idyllic landscape and emphasize the character of this place.
Hotels / houses for rent that you should definitely consider when planning your vacation in Comporta include: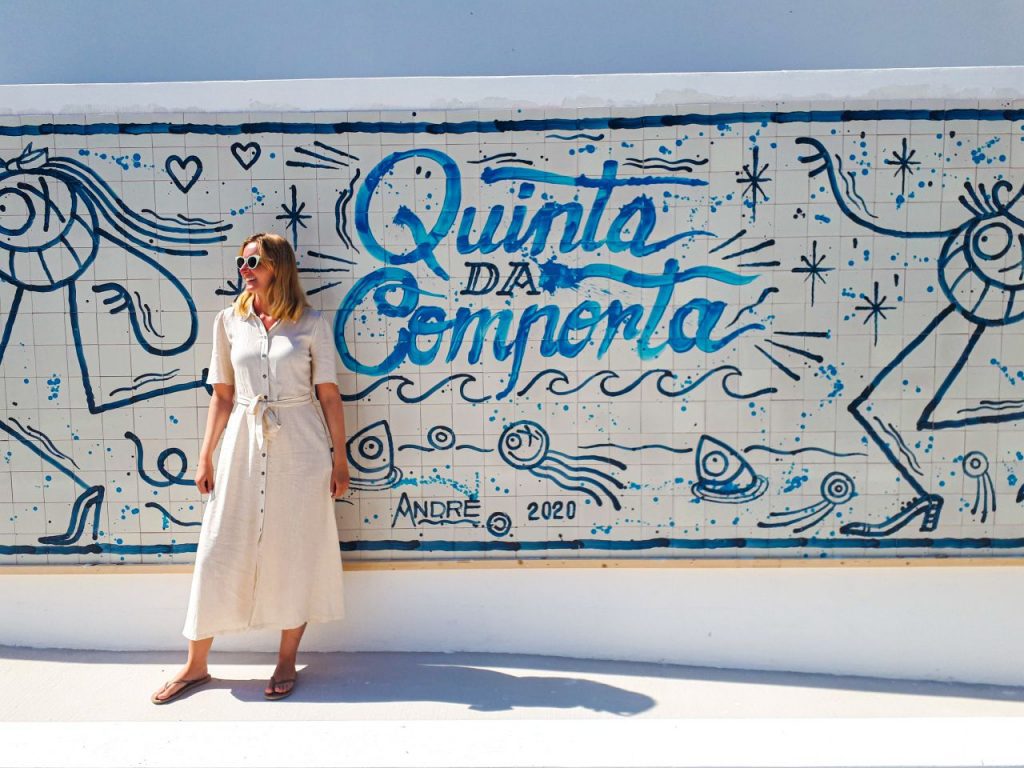 6. To walk in the rice fields
If you think that you can see the picturesque rice fields only in Asia, you are wrong. There are plenty of them in Comporta 😉 No wonder, after all, it is here that the most rice is grown in all of Portugal. So it's safe to say that the rice fields are the heart of the region and undoubtedly one of the main factors that make it so special. Regardless of whether you come to Comporta in the middle of summer or in spring, the rice fields look almost magical, giving this place a unique atmosphere. To fully enjoy them, we recommend going for a walk or a bike trip in the area, preferably at sunset. Who knows, maybe you'll meet a stork family on the way? 😉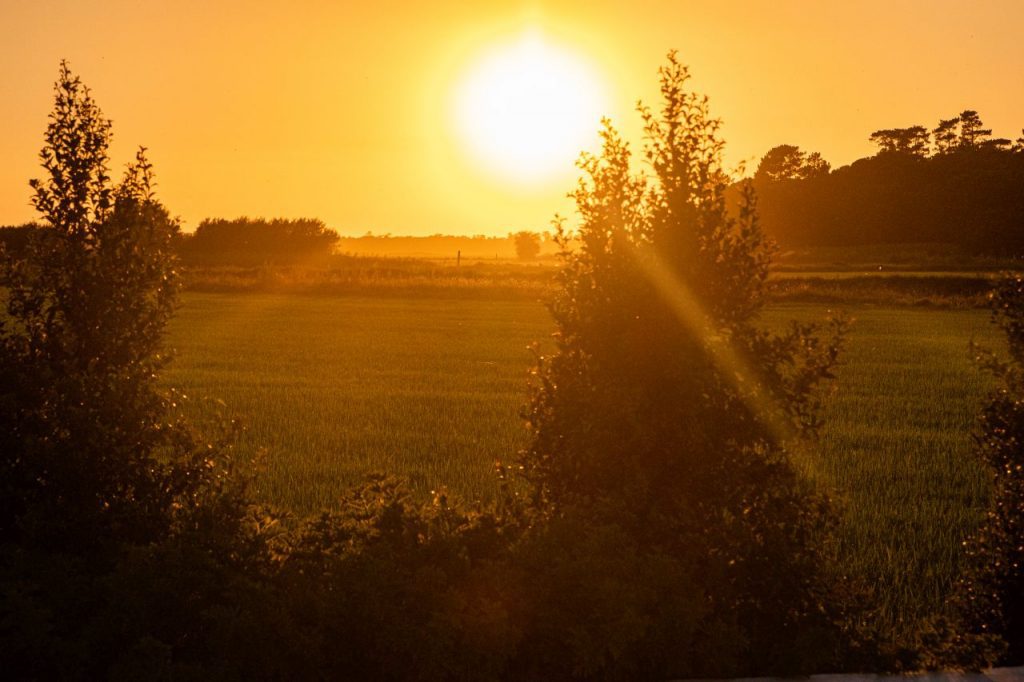 7. To take a horseback ride
When you get bored of lounging on the beach, and water sports are not your forte, you can always go for an unforgettable horse ride in the picturesque surroundings. Imagine yourself galloping along the ocean surrounded by breathtaking desert landscapes. Doesn't that sound great? You can choose from several professional equestrian centers such as Cavalos na Areia, Entre Amigos and Passeios a Cavalo. Whether you are a beginner or experienced riders, everyone should find something suitable for them. You will start your adventure with a ride through the green rice fields, and then with the wind in your hair you will go to the beach, passing more beautiful landscapes along the way. Definitely one of the better ways to discover the charms of the Portuguese countryside.
8. To see dolphins
Another great reason to visit this region of Portugal is to meet… dolphins! With a bit of luck, these beloved mammals can be seen in the nearby nature reserve at the mouth of the Sado River. A catamaran trip in search of dolphins with a local guide usually lasts two to three hours and is an unforgettable experience. In addition to the colony of dolphins inhabiting the sweet waters of Sado, you can also admire wild waterfowl and even flamingos! Recommendable companies organizing this type of trips include: Captain Arrábida, Sado Arrabida and Vertigem Azul.
9. To relax in the spa
Comporta is the perfect place to disconnect from the world and indulge in blissful doing nothing. The local atmosphere and closeness to nature undoubtedly favor spiritual and physical relaxation. After all, what could be more soothing than the sound of waves crashing against the shore or the sight of rice fields shimmering in the sun? Meditation sessions, morning yoga lessons, relaxing massages or natural spa treatments (mainly based on rice and sea salt) are just some of the options that await hotel guests. If you are interested in this type of vacation, be sure to stay in the aforementioned Sublime Comporta or Quinta da Comporta resorts – both of these places can boast a wide range of spa facilities.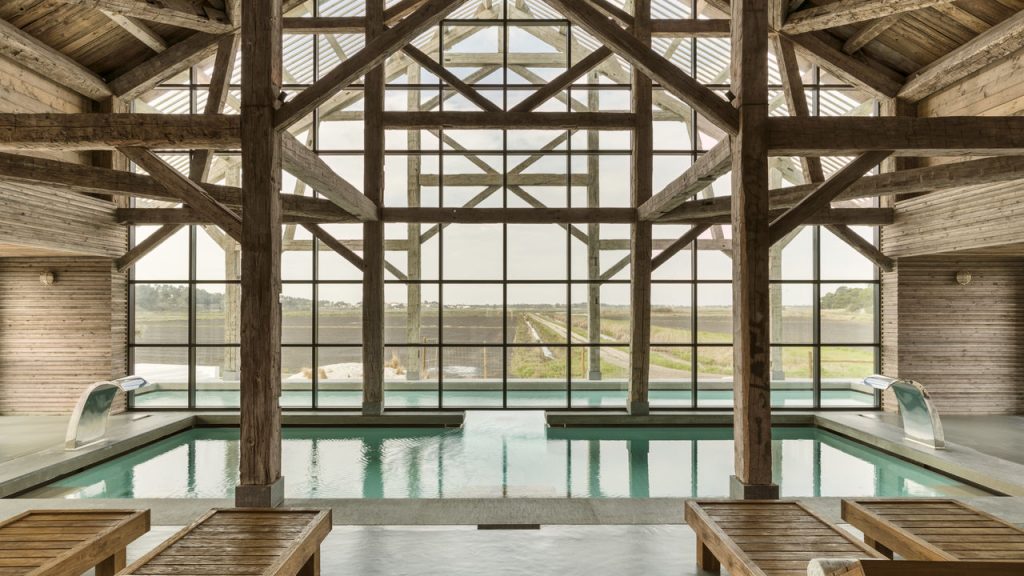 10. To discover the Alentejo region
Comporta is undoubtedly a great starting point for discovering the charms of the Alentejo region – the largest and one of the most beautiful in the whole country. Charming medieval villages, unspoiled nature and a picturesque coast are just some of the attractions in this part of Portugal. While in Comporta, it is worth taking a trip to Elvas and Évora – two climatic towns that have been included on the UNESCO World Heritage List for a reason. Lovers of monuments should also go to Viana do Alentejo, a town that boasts a charming castle. Other noteworthy cities are Marvão and Monsaraz, both located right on the Spanish border. The latter is considered by many to be one of the most beautiful towns in the whole country. While spending your holidays in the Alentejo region, it is also worth visiting one of the local vineyards, as the local warm and sunny climate is favorable for excellent wines.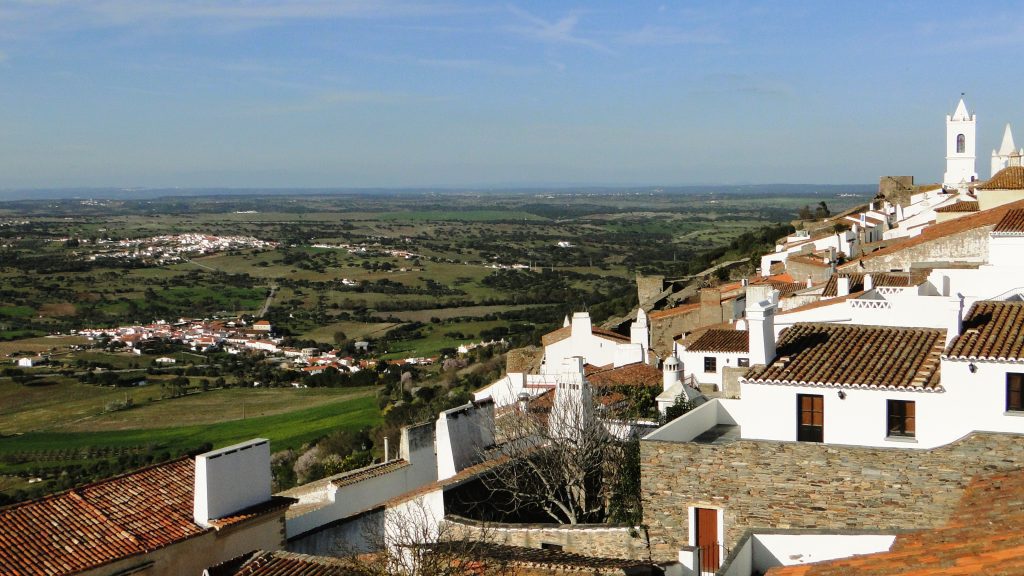 Pin it for later!
We hope that the above reasons encouraged you to go to Comporta and discover this lesser-known region of Portugal.
Be sure to let us know in comments below what do you think about this gorgeous place!