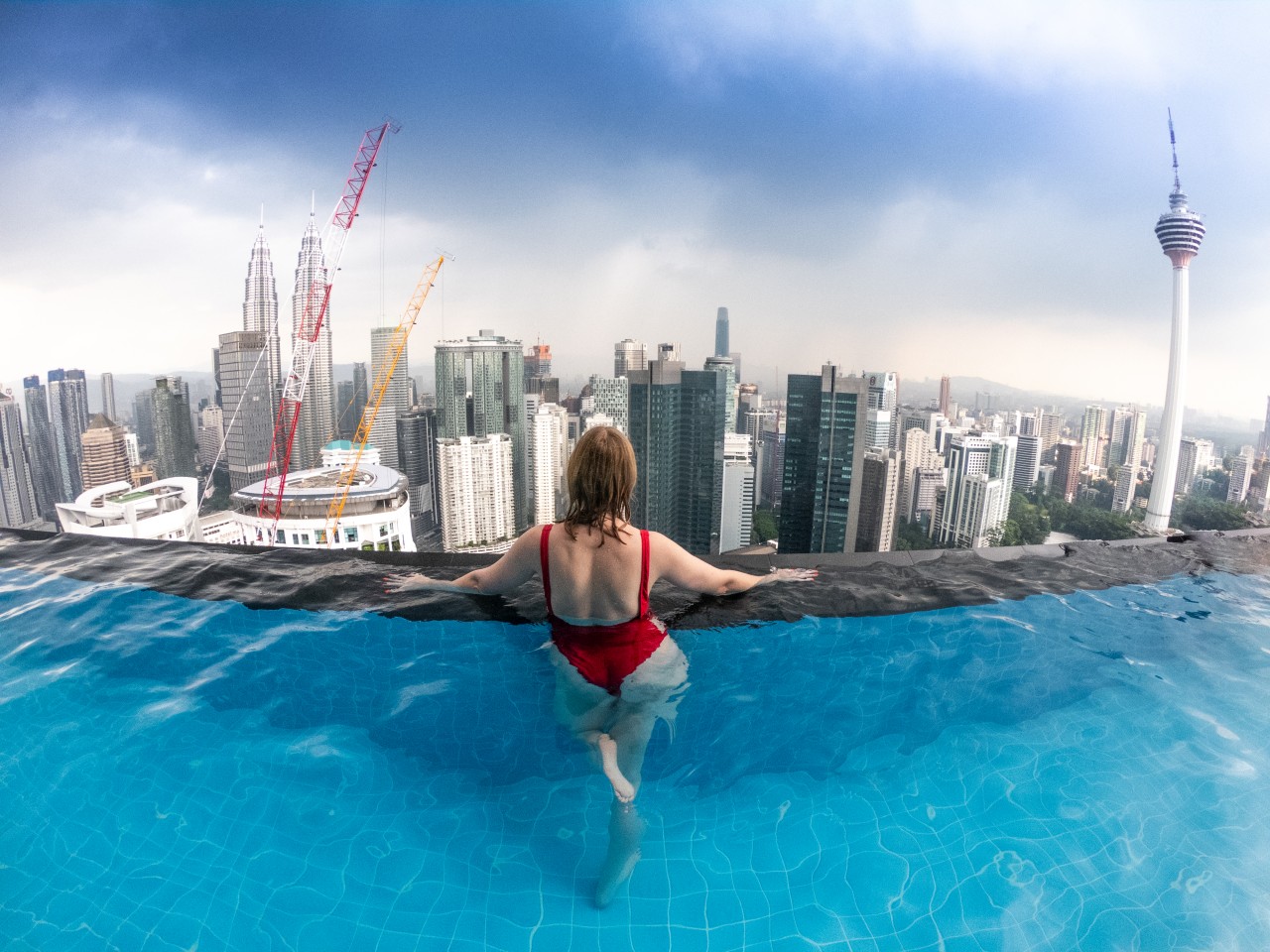 After visiting the US, we wanted to go back to our beloved Asia. As lovers of the flavors of Southeast Asian cuisine, beautiful landscapes and heavenly beaches, this time we decided to go to Malaysia. We started our adventure with this extremely diverse country in terms of culture (and not only!) with a visit to its cosmopolitan capital – Kuala Lumpur.
About Kuala Lumpur
Did you know that Kuala Lumpur and its suburbs have over 7 million inhabitants? Although it is still less than the population of Mumbai, this number is still impressive and shows how magnificent this agglomeration is. KL, as the Malaysians themselves often describe their capital city, owes its full name to the "muddy" estuary of two rivers: Gombak and Kelang. And in fact, if you look closely, both rivers are brown in color 😉 The city is a real cultural mix – you can find here residents of Malay (not to be confused with Malaysians), Hindu and Chinese, as well as representatives of many other nationalities.
The architecture here goes hand in hand with the cultural diversity. So don't be surprised when you will find an ancient Malay village on stilts (Kampong Baru), or colorful, dilapidated Chinatown buildings near the state-of-the-art skyscrapers (such as the famous Petronas Towers) 😉 So it's safe to say that, like many other Asian capitals, KL is definitely a city full of contrasts.
However, what captivated us the most in the capital of Malaysia is not the architecture or monuments, but the wonderful, diverse cuisine, probably one of the most interesting in the entire continent. Thanks to the influence of many nationalities, we can find here both Malay, Chinese and Indian dishes, as well as those inspired by neighboring Thailand or Indonesia. So get ready for a real feast for the palate! One thing is for sure, you will certainly not leave KL hungry 😉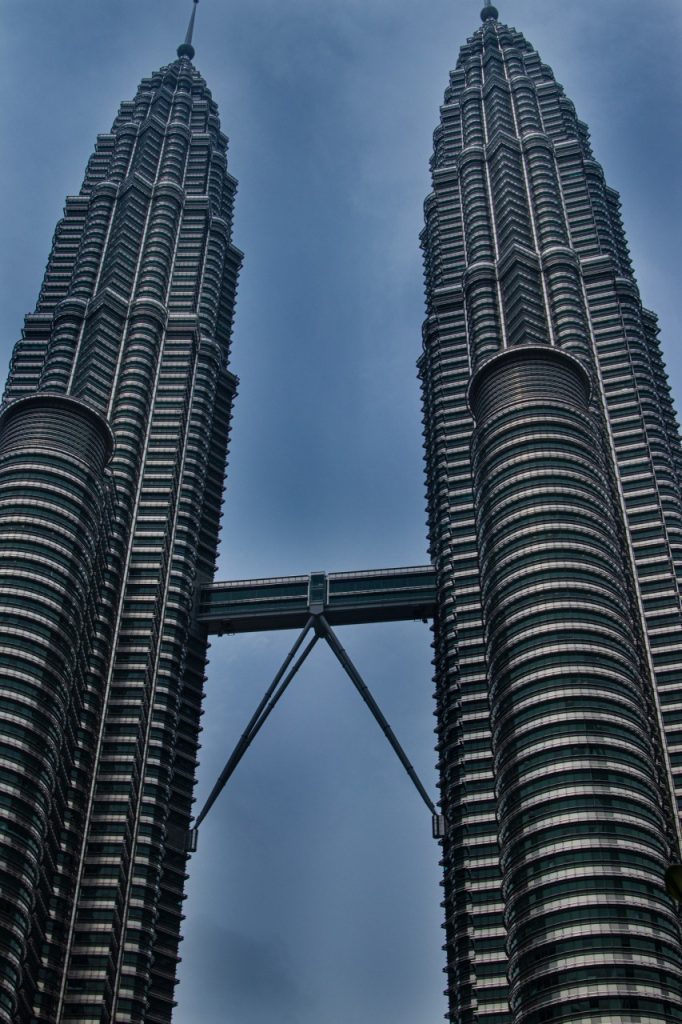 Where to stay in KL?
In Kuala Lumpur you will find a number of hotels and accommodation of various types of different price ranges (the cheapest ones you will find, of course, in the Chinese district). However, this time we decided to stay in an apartment with an impressive view of the city and an equally delightful swimming pool on the roof 😉 After a long search on the Internet, our choice fell on KL Platinum Suite 42 By SNC and it was definitely a bull's eye! The apartment was spacious, functional and modern, at a decent price (€ 60 per night), and most of all it had a great view of the Petronas Towers, less than a kilometer away. The infinity pool located on the 51 (!) floor and a fitness center were at the guests' disposal until late in the evening. What more could you want? Probably the only downside of this place was the lack of breakfast included in the price (although you can order breakfast in the "hotel" restaurant, but its cost definitely exceeded our daily budget). So if, like us, one day you will not want to leave your apartment, you can always order food by phone (we recommend the Foodpanda application – they deliver food to your door, and the cost of delivery is really ridiculously low).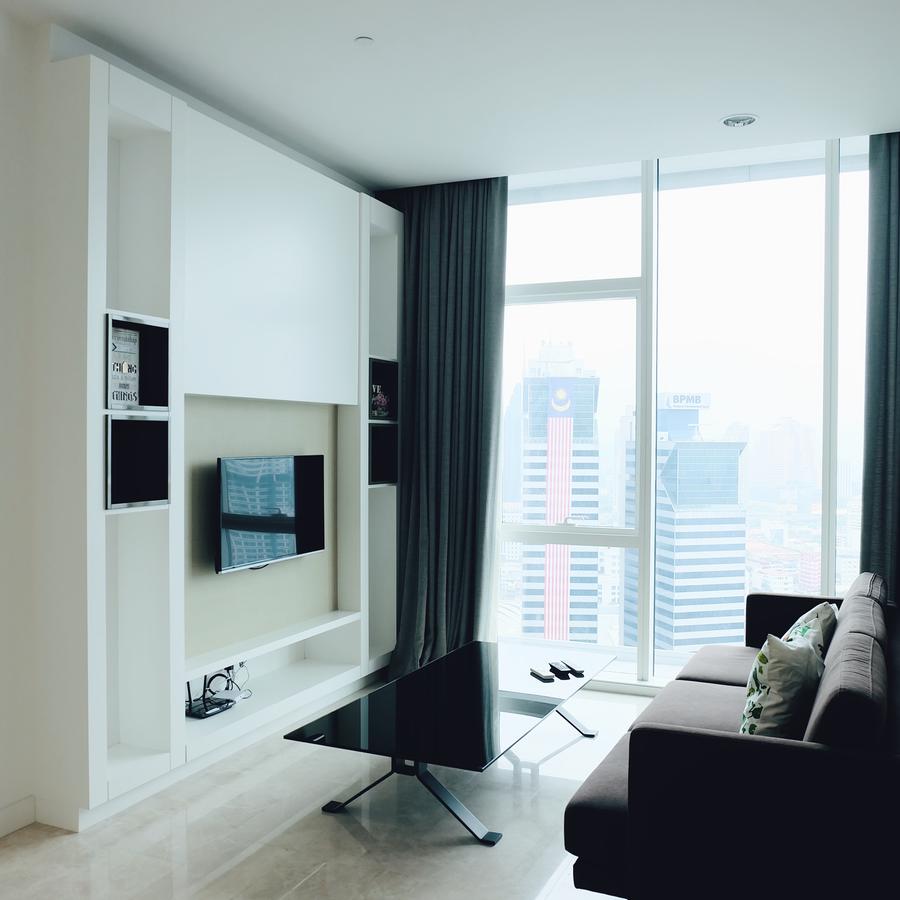 What to see & where to eat in KL?
Petronas Towers & Suria KLCC
It is worth planning your visit to Kuala Lumpur for at least two days (we stayed here for three nights and it was the optimal solution). We started our tour of the city with a walk to the most popular attractions, namely the twin Petronas Towers and the largest Malaysian gallery – Suria KLCC. We must admit that at the beginning we were quite skeptical about this type of place, but with time we found out for ourselves why it is said that the main national sport of Malaysians is not football at all, but wandering around the shops 😉 The key to solving this puzzle was one simple fact – in KL (and Malaysia in general) it is extremely hot (and it rains quite often), so the air-conditioned (and covered) shopping centers seem to be a perfect escape from the heat of the city.
Coming back to the towers themselves, apart from the fact that they are a great landmark in the city, they also look good (especially at night, when they are beautifully illuminated). However, while from the outside they really make a big impression, inside they do not particularly overwhelm us (they look more like a typical business center). Once the tallest buildings in the world with its 88 storeys and 452 meters, they now rank only in the top 20 (first place goes to the Dubai tower). Nevertheless, you definitely have to see them, after all, they are the most recognizable showcase of the city and the whole country 😉
If the weather is nice, it is also worth going to the observation deck located on the Sky Bridge, which connects both Petronas buildings (it is best to buy tickets online in advance, there is a limited number at the ticket office, the price per adult is 80 ringgits, more info can be found on the website). Unfortunately, we were not able to do it but we visited a different, more spectacular viewpoint, about which in the next post 😉
There is also a noteworthy aquarium near Suria KLCC, the Aquaria KLCC, which boasts nearly 250 species of animals and a glass tunnel with sharks flowing overhead (more information on the website). Certainly, it is also worth taking a walk in the well-kept park located near the towers, which is eagerly visited by locals and tourists.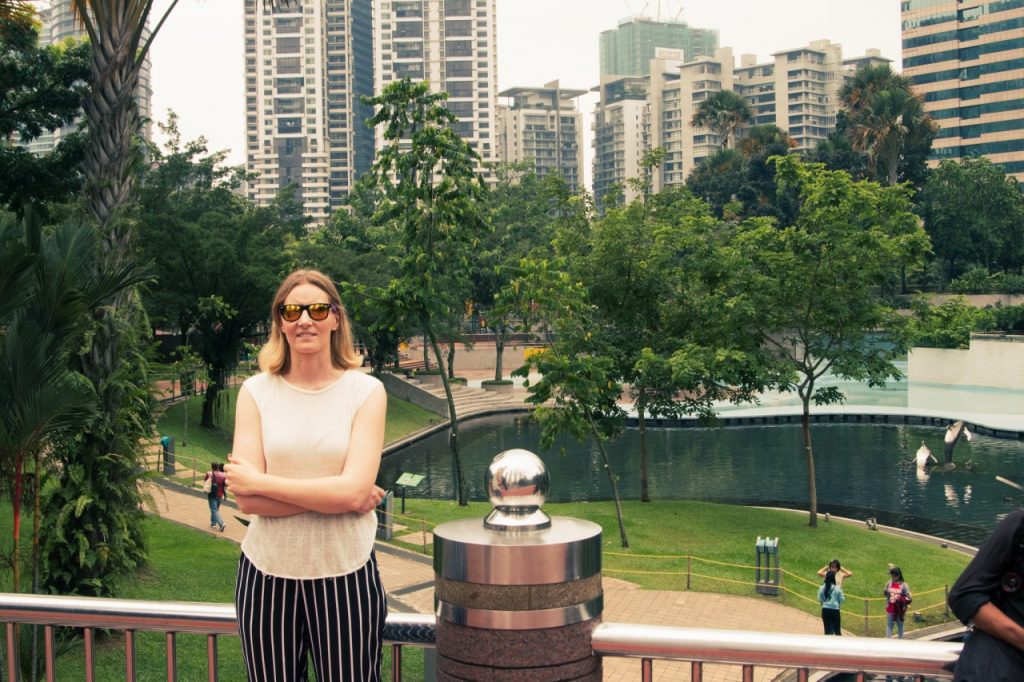 Pavilion KL & Pho Vietz
Of course, we wouldn't be ourselves if we didn't get hungry right away after a short walk around the city 😉 Our only excuse is that in Kuala Lumpur, we are tempted at every step by aromatic, fragrant food 😉 This time, however, differently than usual, like native Malaysians, we also decided to dine in… galleries, which was amazingly successful. And yes, on the first day in KL we went to a real Vietnamese feast at Pho Vietz restaurant, serving its delicacies in the popular Pavilion shopping center. We liked the menu so much that we couldn't decide for a long time. Ultimately, our choice fell on the classics of Vietnamese cuisine in the form of spring rolls with prawns, meat dumplings and two types of pho soup – with pieces of beef and shrimps, both served with vermicelli noodles, fish sauce and lots of fresh coriander (there's never too much of it! ;)). Of course, as expected, everything not only looked beautiful, but also (or most importantly) tasted great. If you are nearby, be sure to check it out!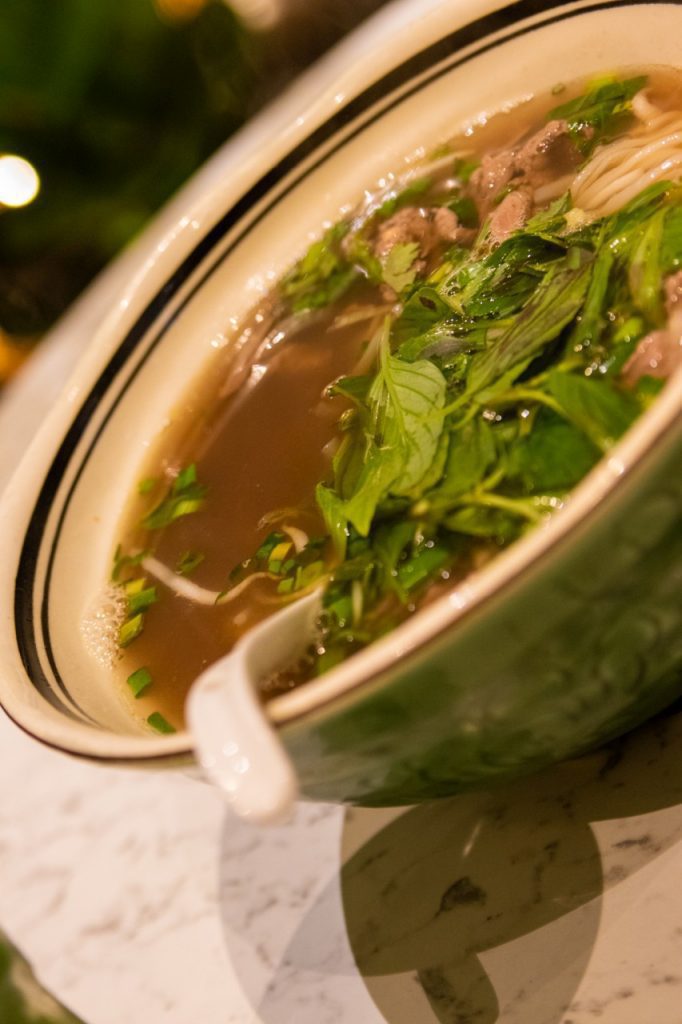 Kuala Lumpur Bird Park
Fed and fully satisfied, we set off to further conquer the city. Although the weather did not spoil us that day (it was raining and shining alternately), we decided to go to the located in the vast botanical gardens Kuala Lumpur Bird Park, allegedly the largest in Asia. As this place is quite far away from Pavilion, a taxi from Grab took us to the gates of the park (we highly recommend this option, it allows you to save a lot of time and costs relatively little). The Bird Park is a very popular tourist attraction, visited by an average of 200,000 people a year. This place is inhabited by over 3,000 birds representing nearly 200 species (90% of them come from Malaysia). Among them we can see, among others, pink flamingos, beautiful, multi-colored parrots, as well as the hornbill – the national bird of Malaysia, which is unfortunately threatened with extinction at present. Most of the birds walk freely along the park's alleys, only a few of them are kept in cages. So do not be surprised when your path is blocked by an unshakable flock of flamingos 😉 You can feed the birds with grains available to visitors, and if you are lucky, you may also catch a feeding time or other attractions organized here. The park is divided into many thematic sections, we like the part with picturesque waterfalls the most. It is definitely worth going here, and not only with children 😉
The Bird Park is open daily from 9.00 a.m. to 6.00 p.m. Admission to the park is payable and amounts to 63 ringgits per adult. It is worth allocating at least two hours for sightseeing. More information can be found on the website.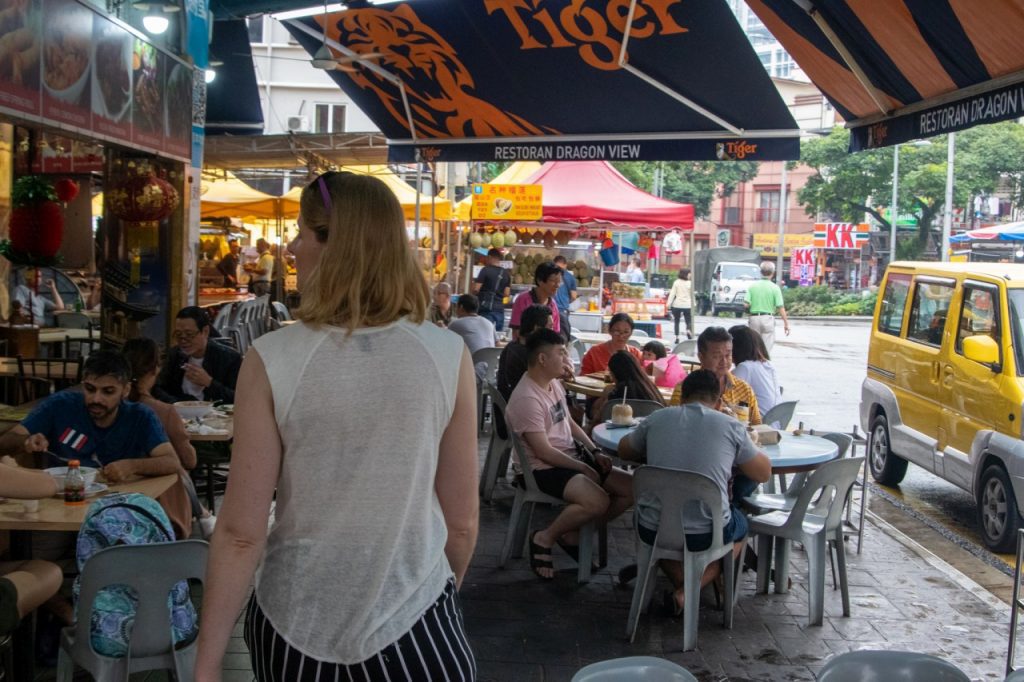 Merchant's Lane
After visiting the park, we ordered Grab again and went to Merchant's Lane, located near Chinatown, for amazing desserts and aromatic coffee. It's hard to believe that this place used to be a Chinese brothel, and nowadays they serve such delicious food here. We have to admit that this place immediately charmed us with its original decor and cozy atmosphere, and when the menus came to our hands, we knew that we would not leave there soon 😉 Because who could resist a dessert with such an intriguing name as better than sex? Certainly not us 😉 And so, two sweet delicacies of the restaurant landed on our table – pandana roti with melted cheese, kaya toast ice cream (breakfast toast popular in Singapore with coconut-egg jam), strawberries and sweet syrup and fried balls brioche style with lemon ice cream and kaya sauce. The description sounds insane, don't you think? And trust us, these are some of the best desserts we've had in all of Malaysia. In addition to sweets, you also have lunch dishes available throughout the day. You absolutely have to come here!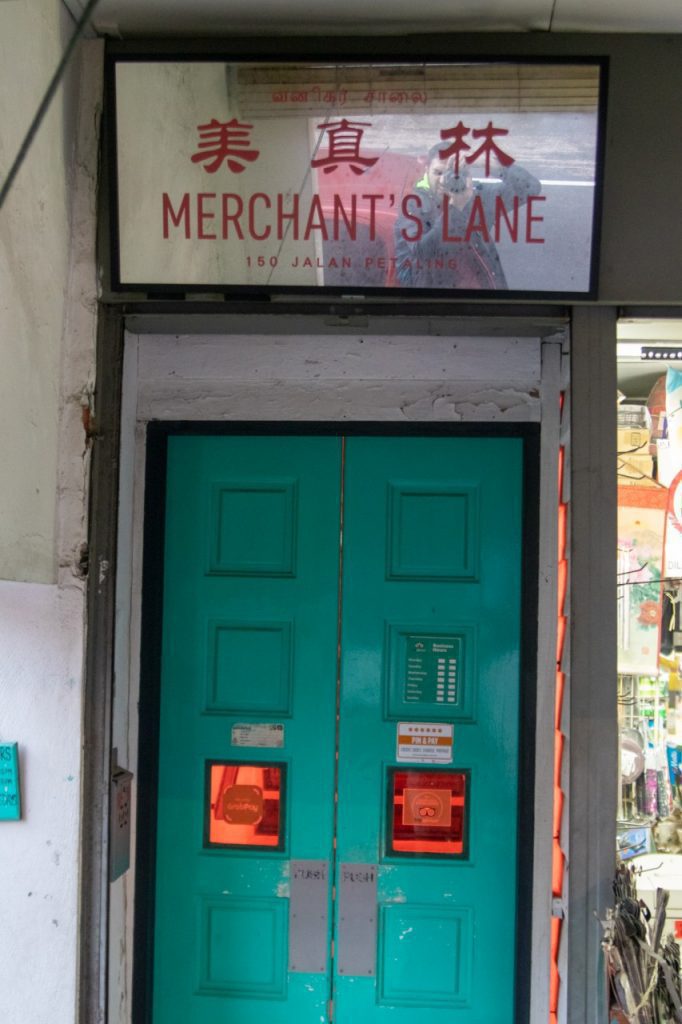 Chinatown
Another place we visit during our first day in KL is the colorful and lively Chinatown. Undoubtedly, the most distinctive street in the whole district is Jalan Petaling, with red lanterns, which looks particularly atmospheric at night. As it is in any typical Chinese "town", here you will find a number of cheap restaurants and food stands serving such specialties as noodles with pork or wantan soup, numerous hostels just in time for the average backpackers' pocket, as well as a market with bending stalls under the weight of fakes of famous brands (we are surprised, who buys it?). Fans of street food and cheap shopping will certainly not be disappointed. Just remember to always bargain 😉
Although we did not have enough time that day, while in Chinatown, it is also worth seeing the Hindu temple of Sri Mahamariamman (one of the most important in the city), as well as two Taoist temples – Guan Di and Sin Sze Si Ya (the oldest religious building of this type in KL).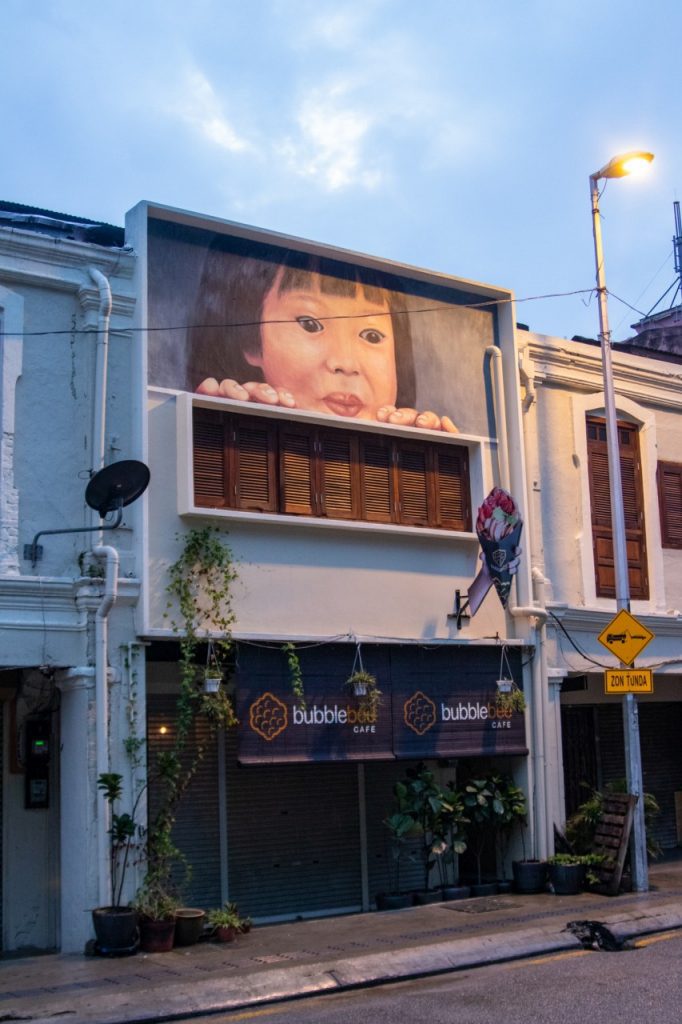 KL at night
After a walk around the Chinese district, at the end of the day, we decided to go to the twin towers once again to see how they look at night. We also hoped that we would be able to see the so-praised music and light fountain show – Symphony Lake Water Show, taking place every day at 7.30, 8.30 and 9.30 pm in front of the Suria KLCC shopping center. The performance lasts about twenty minutes and it is said that it delights with music perfectly matched to the "dancing" colored streams of the fountain on the lake. Unfortunately, it turned out that for unknown reasons, there was no show that evening. Well, maybe someday we'll see it?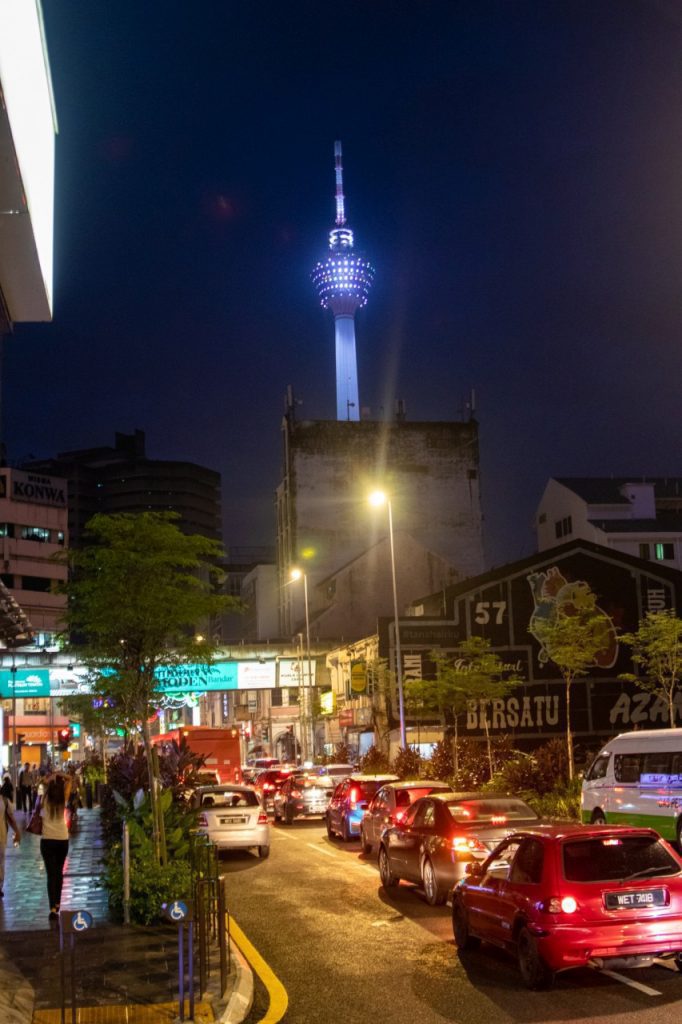 Pin it for later!