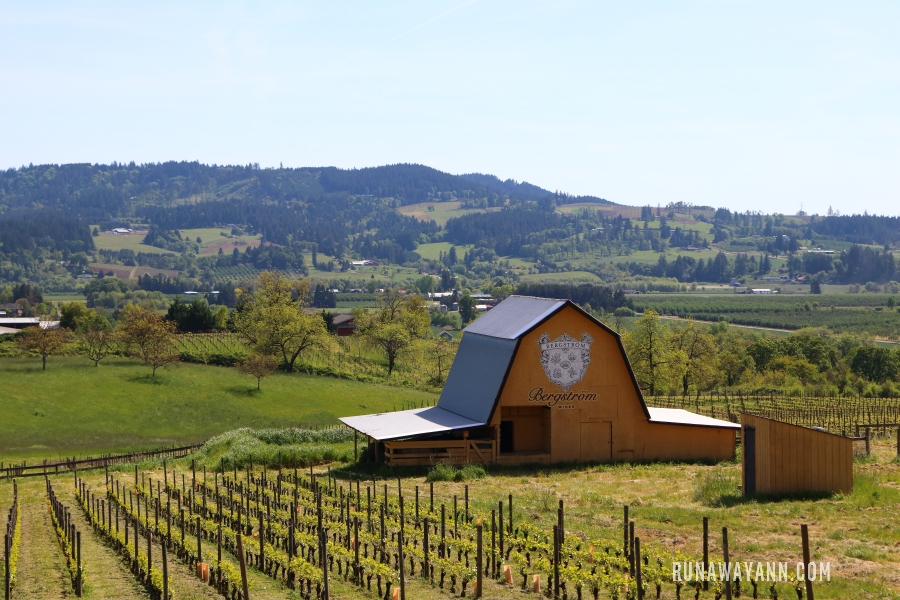 From New York we moved to our beloved West Coast of the United States. This time we visited the green state of Oregon located north of California and its famous wine land – Willamette Valley – commonly known as Burgundy of America. Beautiful landscapes in the form of picturesque vineyards located on the background of a majestic volcano and delicious local wine Pinot Noir, considered one of the best in the world, are just some of the reasons to visit this place. And we assure you that there are many more! But from the beginning…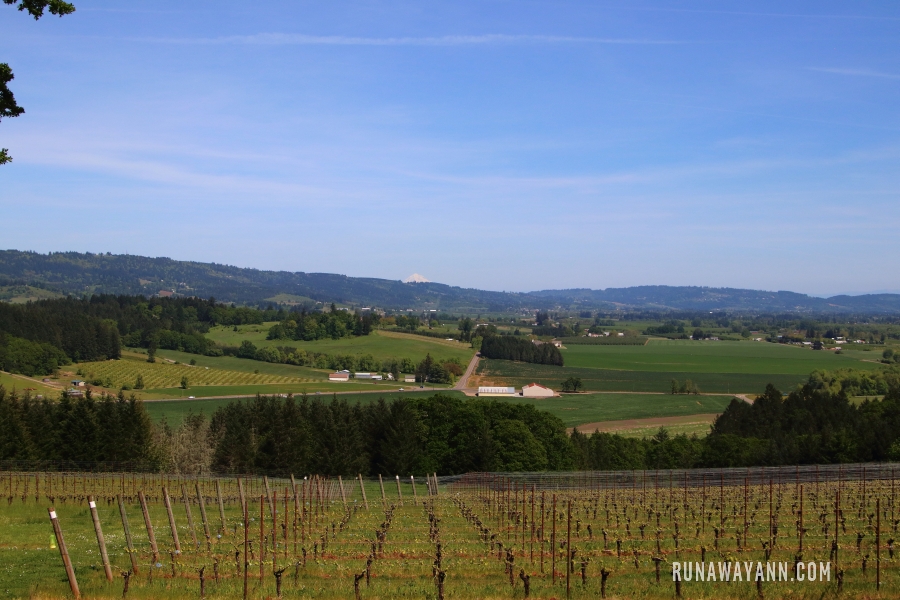 About valley
The Willamette Valley is now a leading Oregon wine region and is home to nearly 600 magnificent vineyards. Although the beginnings of viticulture in this area date back to the first half of the nineteenth century, the real flourishing of wine production took place only a few decades ago due to such visionary winemakers as David Lett from Eyrie Vineyards, or Dick Erath from Erath Winery, who unimpressed by the difficult climate have found the perfect place here for their Burgundy grapes.
Today, the Willamette Valley is considered one of the most important Pinot Noir wine production areas in the world. In addition to Pinot Noir, the local sea climate from the Pacific and the long, mild vegetation, favor the cultivation of such varieties as: Pinot Blanc, Pinot Gris, Chardonnay, Riesling, Sauvignon Blanc, or Gewurztraminer.

However, what captivated us the most in this region is the fact that, unlike the Napa Valley in neighboring California, most Oregon vineyards are small family businesses not set for mass tourism (which does not mean that they are not adapted for visitors!), therefore, being in Willamette it is worth stopping for longer, if only because it is impossible to visit all the best vineyards in one day. The accommodation base is at a fairly high level. We can choose from a whole range of atmospheric guesthouses, as well as luxury hotels, so everyone will surely find something for themselves. In addition, delicious regional food is served in many vineyards for fine wines. What more could you want? 😉
The best time to visit the Willamette valley is from April to September, when the region looks the most picturesque. The harvest period lasts from late September to early November, and the idyllic landscape of the vineyards is slightly disturbed by the view of fruit picking teams. In fact, however, there is no month of the year that is bad for a visit to Willamette, because each month has something different to offer. So there is nothing else but to pack your suitcases and go to Willamette. Ah, we would love to go back there!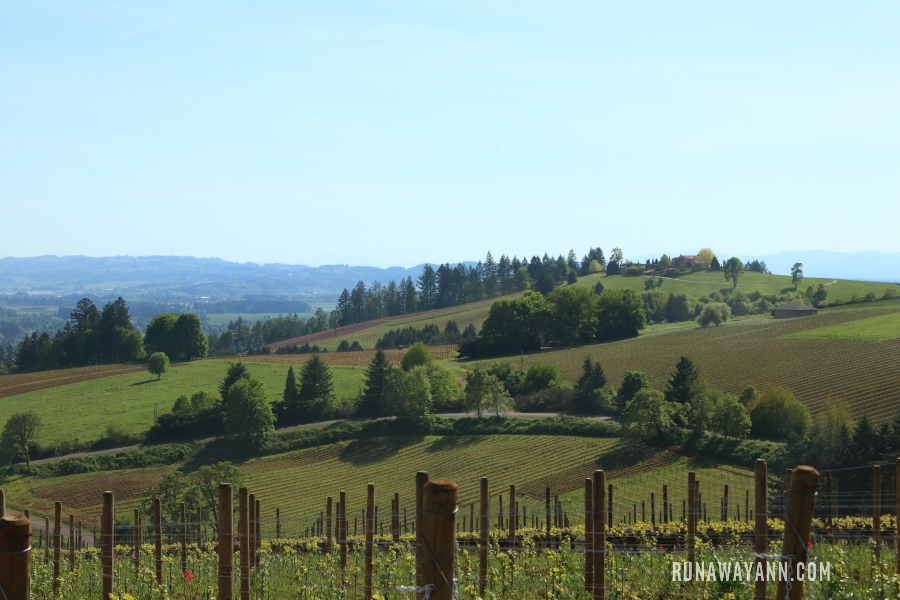 Our route
Trisaetum Winery
We began our adventure with the Willamette Valley with a visit to the family vineyard Trisaetum Winery, located less than an hour from Portland. The place is located in one of the seven main areas of Willamette, called Ribbon Ridge, and offers various wine tasting options at a price of $20 per person (the fee is waived when purchasing any bottle of wine). We decided on a mixed option, so we have the opportunity to try both delicious white (such as Riesling) and red wines (including the famous Pinot Noir).
As the weather was fine, we could enjoy the wine on the outside terrace, surrounded by picturesque hills covered with vines. You have to take our word for it that a glass of good wine drank in such a place is definitely a guarantee of a successful start of the day 😉
We liked the Oregon Pinot Noir so much that we left the vineyard with two bottles of this drink. Before leaving, we entered the main building for a moment, where there is an impressive art gallery with paintings and photographs of the vineyard owner. A place definitely worth visiting!
Useful information: the tasting room and art gallery are open daily from 11:00 am to 4:00 pm. Advance tasting reservations are recommended.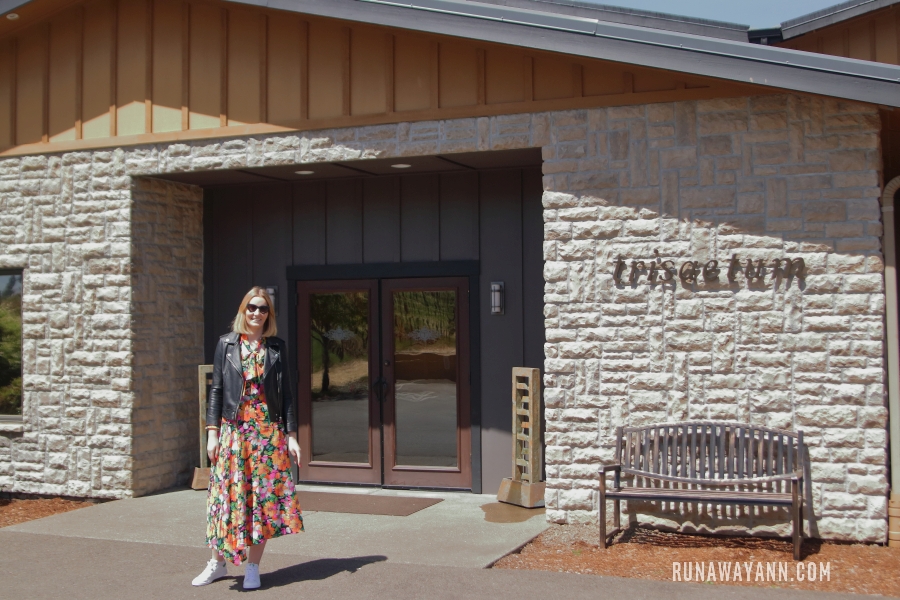 Penner-Ash Wine Cellars
Another place we visited that day is offering spectacular views of the surrounding hills and Mount Hood reigning over them, the Penner-Ash Wine Cellars. We must admit that from the very beginning this place impressed us (almost as much as the prices of Pinot Noir offered here ;)). The tasting room is located in a modern building perfectly integrated into the surroundings, around which there are wonderful views of the vineyard. It is for such wonderful landscapes that you come to the land of wine!
Penner-Ash Wine Cellars specializes mainly in the strains Pinot Noir, Syrah and Riesling, and we can enjoy delicious wine (five different types for $25) in the open air, relaxing in comfortable armchairs (even they thought about a special glass holder!). It is no wonder then that this vineyard is so popular among visitors. Who would not like to enjoy wine in such a pleasant environment? Certainly not us 😉 We recommend and will definitely be back again someday!
Useful information: the tasting room is open daily from 11:00 am to 5:00 pm, currently only by prior arrangement.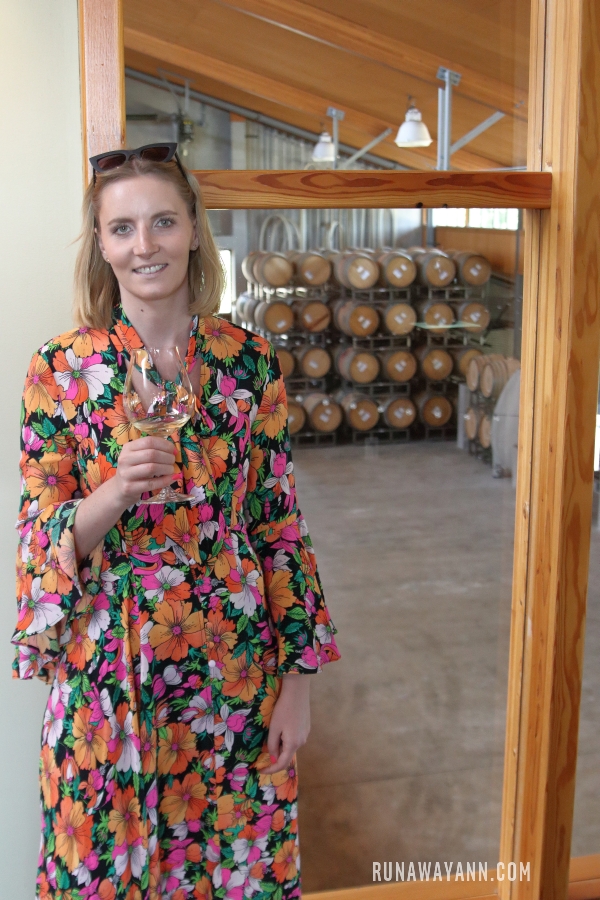 Bergström Winery
The next very scenic place on our route was located nearby Bergström Winery. This winery offers private, hourly tasting at a price of $40 per person, during which we have the opportunity to taste delicious wines from Chardonnay varieties and of course Pinot Noir. This place, like many others in the Willamette Valley, boasts a long tradition and is managed by the same family to this day, whose roots date back to distant Sweden. We at Bergström Winery are captivated by the characteristic wooden barn with the vineyard logo, which looked exceptionally picturesque against the backdrop of green hills. View like a postcard from a holiday from the Willamette Valley 😉 You must come here, just make an appointment in advance!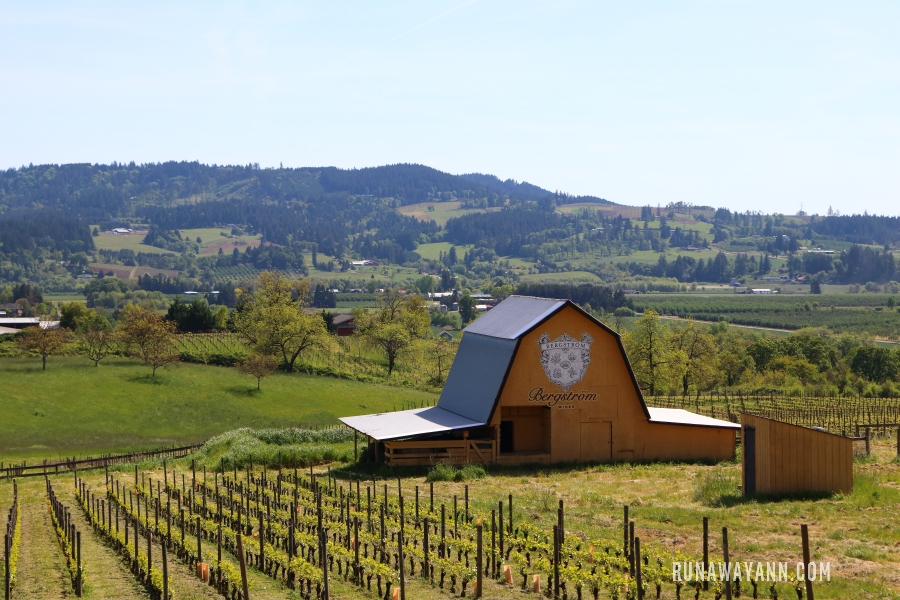 Domaine Serene Winery
The penultimate vineyard we visited that day was reportedly one of the most respected in America, namely Domaine Serene Winery. We have to admit that despite the world-class Pinot Noir and Chardonnay, an impressive tasting building and nice views, from all the vineyards we visited, this one we liked the least. Perhaps the reason was terribly high prices ($40 for tasting five wines from the prestige package) and too puffy atmosphere, but these are our feelings and we will not change them. We recommend the visit here only to true Pinot Noir connoisseurs who are willing to spend any amount of dollars for a glass of their favorite wine. We probably won't be back. Although who knows 😉
Useful information: the tasting room is open from Wednesday to Sunday from 11.00 am to 16.00, prior reservation is currently required.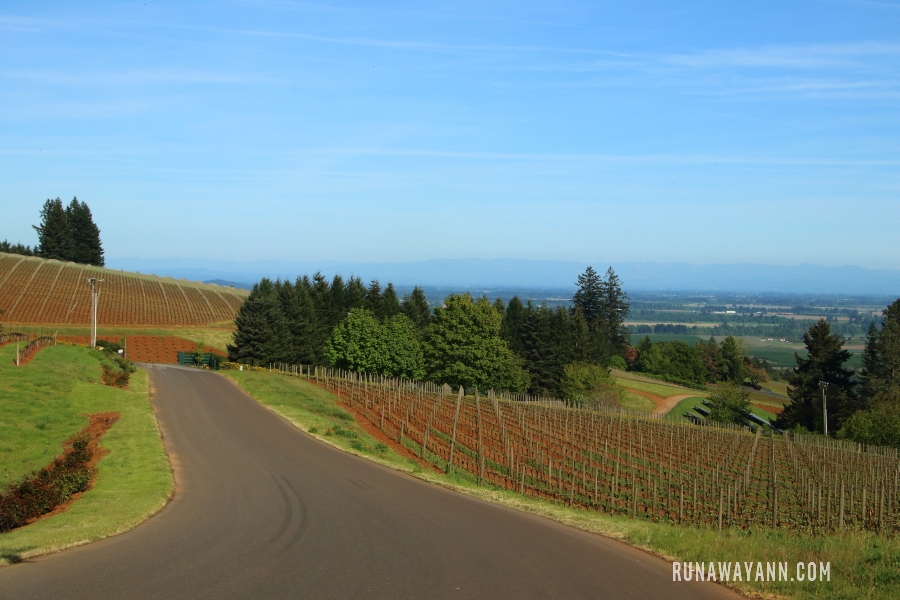 Domaine Drouhin Winery
The last place we visited was located on the picturesque Dundee Hills, Domaine Drouhin Winery. This place is run by a nice family from the French Burgundy and immediately captivated us with its atmosphere. Tastings take place on the terrace, from where there are majestic views of the entire area, with a snow-covered volcano in the background. We have several different packages to choose from, and prices start at $25 for six glasses of Pinot Noir and Chardonnay. All liquors come from family farms in Oregon and Burgundy, and the tasting fee is refundable when a minimum of three bottles are purchased. A place definitely worth visiting!
Useful information: the tasting room is open daily from 10.00 am to 4.00 pm, now it is necessary to book in advance.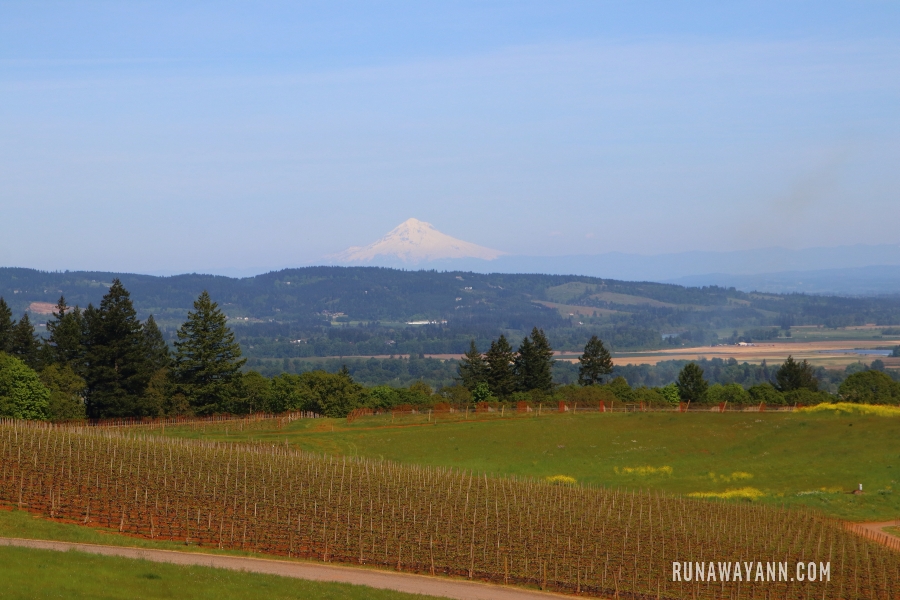 La Rambla
We ended our day in the Willamette Valley with a delicious dinner at La Rambla restaurant located in the small town of McMinnville. This place prides itself on combining the freshness of the North West with the exciting cuisine of Spain and we must admit that they do it very well! We are not surprised at all by the fact that this place has been awarded many times, including for a rich wine list. During our visit, we decided to empanadas stuffed with braised beef, pumpkin, beetroot and Manchego cheese, and a large portion of paella with seafood. Add to this glass of aromatic Oregon Pinot Noir and we don't need anything more to be happy 😉 The perfect end to a wonderful day!
Goodbye Willamette Valley, someday we'll be back again!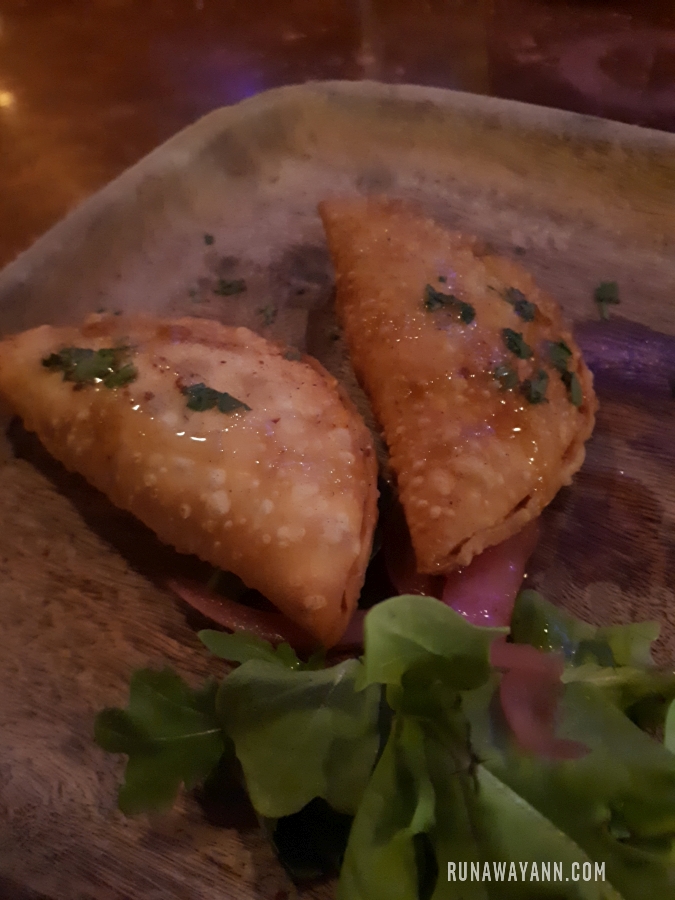 Pin it for later!