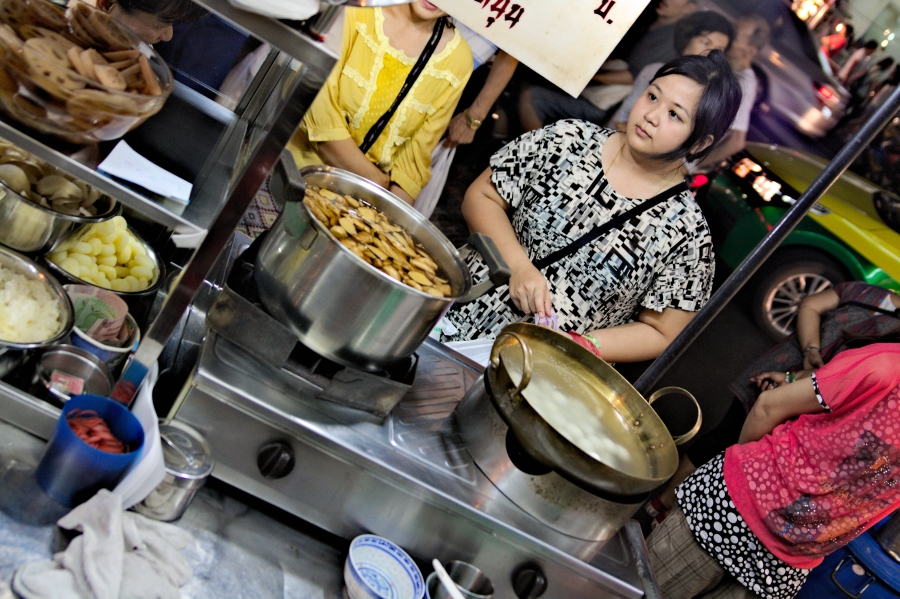 What To See In Bangkok, Thailand? Awesome Tourist Attractions To Visit In 1 Day
Bangkok is scary at first glance. Ubiquitous chaos and confusion in the streets. The bravado of drivers and the lack of sidewalks for pedestrians. Itinerant soup kitchens and tricksters appearing out of nowhere. A floating smell, a mixture of exhaust fumes and the smell of fried chili peppers. The sea of scooters and the prevailing swelter. All this makes the tourist initially feel uncomfortable here. However, it is enough to stay in this city a little longer to notice that what is initially discouraging has its own unique charm and makes it a pity to leave! We were seduced by Bangkok with its diversity, the magic of Buddhist temples, the best cuisine in the world and always smiling inhabitants. After a few days, we felt almost like locals here. What tourist attractions are worth seeing in Bangkok? Where to eat the best curry in town? You will find out by reading this post.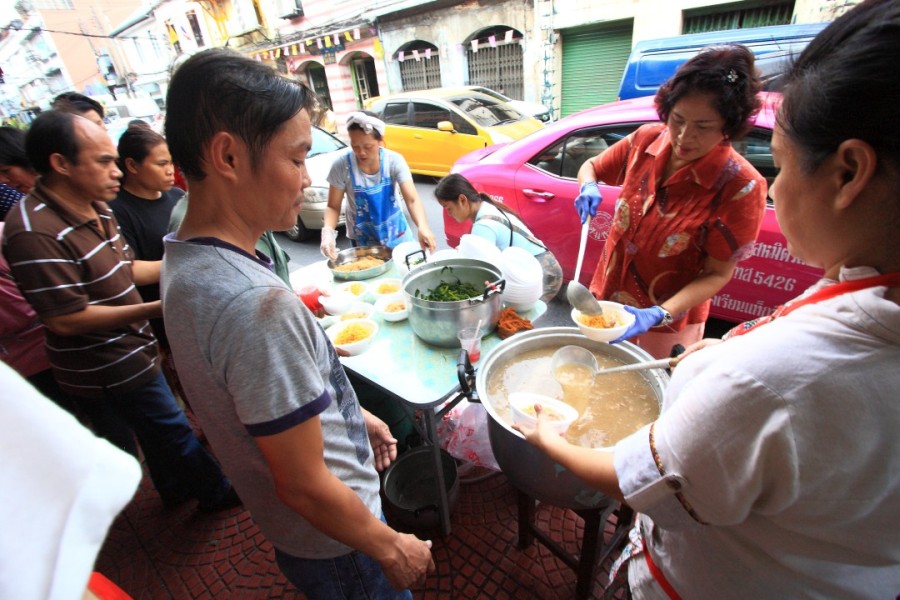 Where to stay in Bangkok?
In Bangkok, you will find a very wide range of hotels, with different price ranges, so everyone will certainly find something suitable for themselves. We decided on the boutique Chern Hostel. This hotel immediately captivated us with its open space and interesting arrangement of common areas, ideal for families with children. Our double room was clean and spacious with modern décor. Definitely not what we expected from hostels in Asia! Definitely a place worth recommending.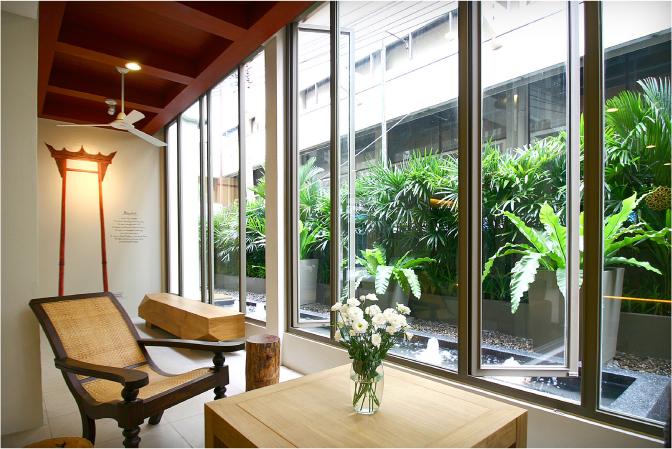 What to see in Bangkok?
Chatuchak Market
Our first day in Bangkok, we started from crossing by speed boat through khlong to Hua Chang Bridge. The Bangkoks khlongs, i.e. Thai water transport canals, once formed the basis of the communication system of the city. For this reason Bangkok was once called the Venice of the East. Currently they khlongs perform their origin function mainly in the underdeveloped western part of the city and are an interesting tourist attraction. Transit by khlong cost us about 20 baht/2 persons. Then we went to the Ratchathewi BTS Station where by the sky train (cost about 40 baht/2 persons) we arrived at the first point of our trip - Chatuchak Market.
Chatuchak Weekend Market is one of the worlds largest weekend markets covers area of 27 Acres altogether divided into 27 sections, contains more than 15 000 booths selling goods from every part of Thailand. It is hard to imagine, but daily market is visited by over 200 000 people! There you can buy almost everything, and you can always negotiate the prices. At Chatuchak Market we bought a new clothes and mini-backpacks.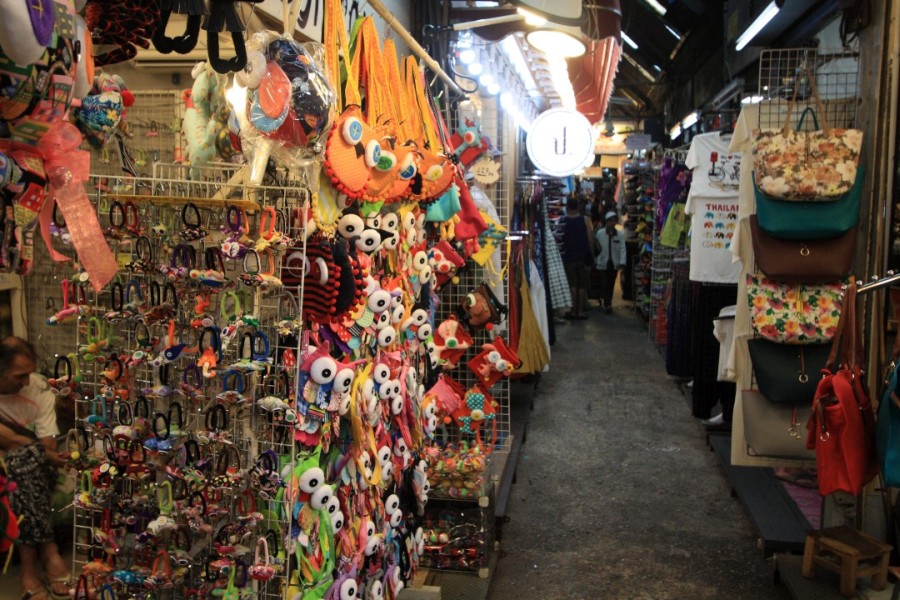 Wat Traimit, Temple of the Golden Buddha
After the morning visit on the local market, from the Metro Chatuchak Park station we headed in the direction of Hua Lamphong, the mainrailway station in Bangkok (cost about 40 baht/2 persons), from there we went on foot to the next attraction -  The Temple of the Golden Buddha, Wat Traimit.
In the Temple of the Golden Buddha located at the end of Chinatown Yaowarat Road is the worlds largest gold statue of sitting Buddha. Dating from the years 1238-1370 statue was accidentally re-discovered from layers of plaster during the renovation work in the twentieth century. An impressive statue, measuring three meters high and weighing five and a half tons, made a considerable impression on us.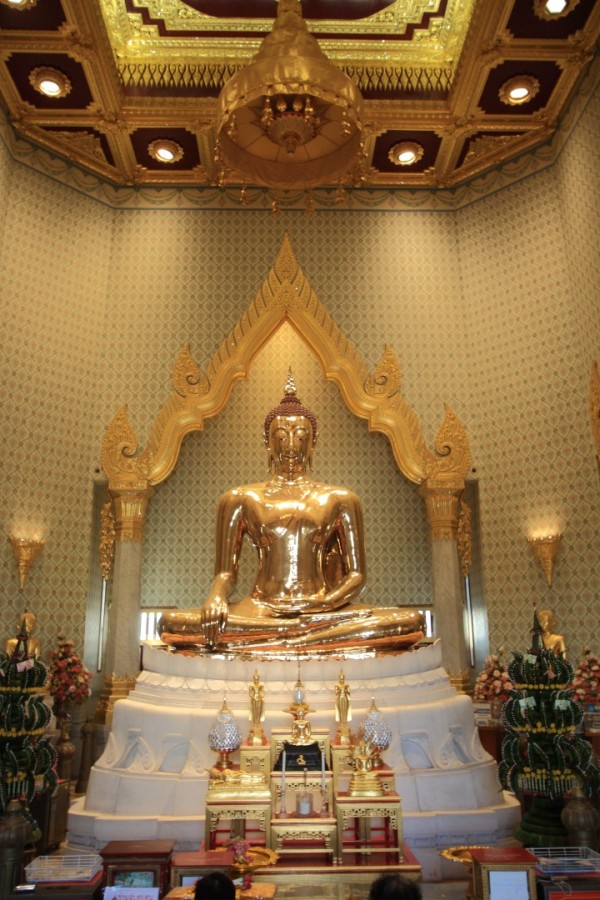 Where to eat the best curry in Bangkok?
As befits a true gourmets, at the end of the day we decided to organize a short eat trip through the streets of Chinatown. Inconspicuous-looking district at night due to lights, colorful neon lights and stalls soup kitchen turns into a true culinary center. After some searching we managed to get to Khao Gaeng Jake Puey on the Mangkon and Charoen Krung Road corner. Street eatery is famous for its lack of tables - ordered food is eaten here on a small, red stools, right next to the speeding cars. It was there that we had one of the best curry in our lives for only 30 baht per person! This is way we truly love this town 🙂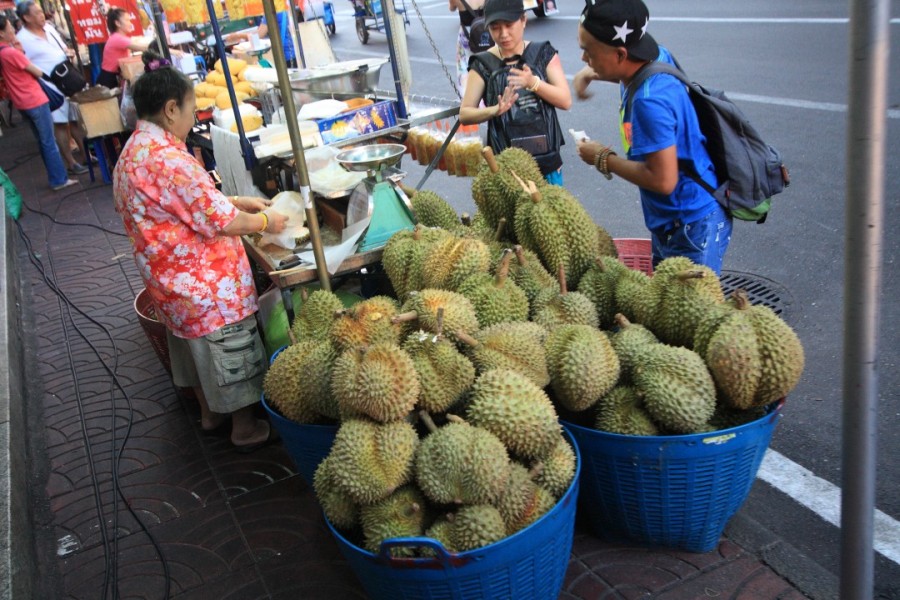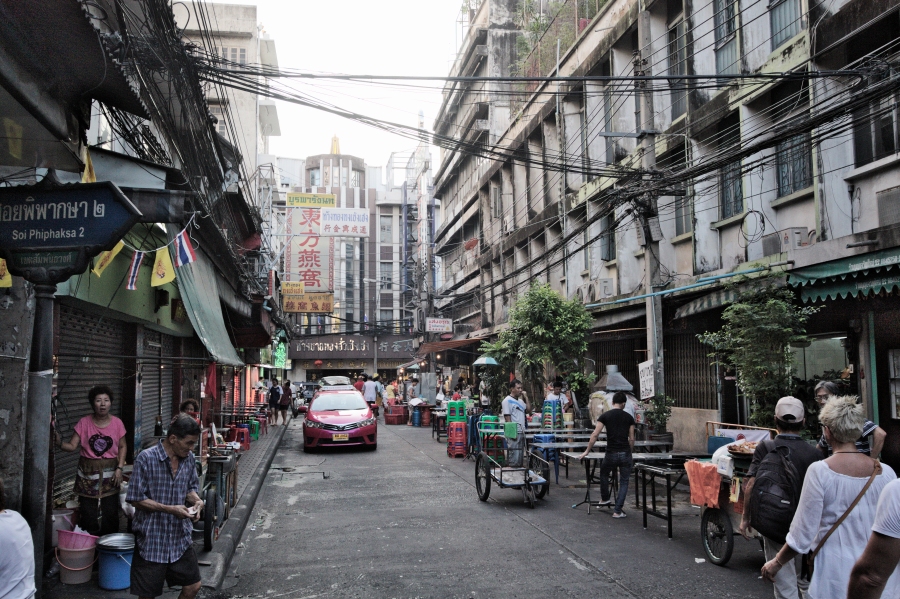 Have you been to Bangkok? What places do you recommend? Let us know below!